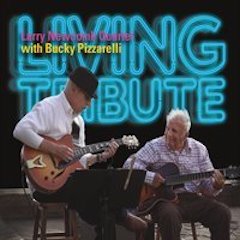 LIVING TRIBUTE
Larry Newcomb Quartet with Bucky Pizzarelli
Essential Messenger
Let's state this at the outset: Living Tribute is a beautiful, serene, engaging album, and this statement would be true even if Bucky Pizzarelli wasn't lending his six-string mastery to the superb Larry Newcomb Quartet. The Quartet, with Bucky sitting in on seven of the 11 tracks and Leigh Jonaitis adding to the appealing atmospherics with two personable vocals on Newcomb originals, plays with expected precision and synchronicity, but not without a certain swinging je ne sais quoi—that is to say, they feel the music, the four tasty covers as well as the seven Newcomb-penned tunes. Maybe everyone heard a special calling to the project's concept. Living Tribute is an album title but there is no title song. Newcomb's notes, however, specify each number as being dedicated to someone important in his life: to his wife and to his sons, naturally enough; to a spiritual mentor; and mostly to three guitar beacons, players he admired and from whom he learned life as well as musical lessons, namely two deceased greats in Dick Hall and Jim Hall, and to Bucky. So if there's a little extra glide in the musicians' stride, maybe spirits were convening to boost their efforts. Which is not to suggest they're only this good when given extra motivation. All evidence points to the contrary.
'I Remember You,' the Victor Schertzinger-Johnny Mercer gem from 1942's The Fleet's In, as performed by the Larry Newcomb Quartet with Bucky Pizzarelli on Living Tribute
'Gold Top,' a Larry Newcomb original dedicated to Dick Hall, from Living Tribute
On this outing, they are very good, and smart too, as witnessed by the telling choice of an opening number, to wit, a gently swinging instrumental rendition of "I Remember You," the 1949 chestnut penned by Victor Schertzinger with lyrics by Johnny Mercer (inspired by his unrequited love for Judy Garland) for Dorothy Lamour's 1942 film The Fleet's In. Covered by a universe of great vocalists over the years, the song has been interpreted both as an upbeat, sweet memory of a lover's enduring allure and as a melancholic musing on a lost love's persistence in memory. Newcomb and company, with Bucky taking a sunny, archtop lead out of the box, offer it as a bright, brisk shuffle, a celebration of remembrance that sets the tone for what's to come. As if to emphasize the theme, the combo follows with Cole Porter's 1943 gem, "You'd Be So Nice to Come Home To," another tune some of our great 20th century vocalists interpreted, ranging from Dinah Shore's original hit in 1943; to renditions by the Coasters, Jo Stafford and Nina Simone, all in 1960; to Julie London in 1965; and, not least among them, Jim Hall in 1975, on his Concierto album. In his notes Newcomb says he was inspired to be a jazz guitarist after hearing Hall's version, and here he does his inspiration proud. No, he doesn't have Paul Desmond, Chet Baker, Roland Hanna, Ron Carter and Steve Gadd in his group, but Newcomb and Bucky work some interesting improvisations on the melody line in full, rich tones, pianist Eric Olsen cuts out on a delightful, strutting solo as melodic bassist Dimitri Kolesnik follows him at a sprightly pace, all ahead of drummer Jimmy Madision taking center stage with a discursive, richly textured solo employing brushes on the snare and cymbal with bass drum punctuations. The subtlety and smarts this group can summon is exemplified in the spare version of "Alone Together," another Great American Songbook gem, this by the stellar team of Arthur Schwartz and Howard Dietz, introduced on record by Artie Shaw in 1939. Prominently featuring pianist Eric Olsen, the Quartet's version occupies a place somewhere between Artie Shaw's rousing big band version, jazz harpist Dorothy Ashby's mellow, romantic take in 1958 and Chet Baker's decidedly moody interpretation in 1959. But the feel of both intimacy and restraint in the solos taken by piano, guitar and the understated bass at the end, resolving into a cascade of notes in tandem with the piano, are more a nod to the Jim Hall-Ron Carter recording from 1972, which had a potent influence on the younger Larry Newcomb.
'Love is Here,' a Larry Newcomb original dedicated to his wife, Mary, with vocals by Leigh Jonaitis, Eric Olsen on piano, Larry Newcomb on guitar, from Living Tribute
In a pair of Newcomb originals dedicated to Dick Hall, Newcomb's and Bucky's clean, elegant guitar lines lead a buoyant stroll through "Round Pond Reunion," whereas "Gold Top"—so named in honor of the first Gold Top Les Paul Standard Dick Hall purchased–has a rock 'n' roll flavor about it, especially when pianist Olsen adds some very Carole King-ish flavor to the track. "Band of Brothers," the first of a trifecta of originals dedicated to family members, finds Newcomb honoring his three sons in an easygoing, midtempo solo of varying textures and tones, with Olsen adding thoughtful ruminations on piano. "One Heart Ain't as Great as Two," the first of two songs for Newcomb's wife of 25-plus years, Bucky is back on guitar and Leigh Jonaitis delivers the lyrics with straightforward conviction, no needless vocal flourishes, in enhancing the song's message affirming the power of commitment and support when the going gets tough. The cool, Latin-inflected "Love is Here" is something of a sequel to the aforementioned tune, being Newcomb's direct expression of abiding love for his significant other, feelings Ms. Jonaitis again makes more meaningful by dint of her own embrace of the message.
Horace Silver's 'Peace,' with Bucky Pizzarelli on archtop acoustic guitar, Dimitri Kolesnik on bass, Jimmy Madision on drums, Larry Newcomb on electric guitar, from the Larry Newcomb Quartet's Living Tribute
"Crossing Over," another dedication to Dick Hall, bookends "Gold Top" as another heated workout fueled by Newcomb's soaring, upper neck solo, serving as a rambunctious prelude Bucky's final appearance on the album with a mellow, introspective probing of Horace Silver's dreamy "Peace," a song Newcomb dedicates to Prem Rawat. In his notes Newcomb identifies Rawat as the person who "taught me how to find inner peace." On piano Olsen again adds immeasurably to the ambience with his right hand sprinkling notes like restorative raindrops in between the guitarists' uplifting six-string ruminations.
Living Tribute isn't a party album. It gets under your skin in a good way. The more you listen, the more you hear. In the end think of it as being much like what the great jazz critic Ralph J. Gleason once wrote of Vince Guaraldi's albums. To paraphrase, on first blush you're not bowled over, but you soon realize you're playing this music at all hours of the day, and it always sounds right. Now that's a living tribute.