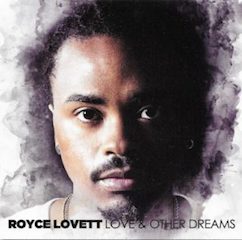 '…complicates the traditional notion of sacred music…'
LOVE & OTHER DREAMS
Royce Lovett
Motown Gospel
Royce Lovett is one of the most distinctive voices on the Motown Gospel roster. Not surprisingly, his new album, Love & Other Dreams, is as artistically unpredictable as its creator.
The guitar-playing Tallahassee, Florida, singer-songwriter splashes a palette of neo-soul on coded messages about survival in modern society. The album feels like a somnambulant journey of a soul gasping, as if drowning, for the oxygen of freedom.
Where can lung-expanding oxygen be found? Lovett answers on the album's hypnotic current single, "Up for Love:" it's in the clouds, where there are "no distractions" and a person can live at one with love. I do not believe he means Heaven but rather sees clouds as a metaphor of liberation.
Towards that liberation Lovett wings his way; he is a weightless bird flying above the heaviness of life, where "it's too crowded." In fact, being "fly," according to "Ballad," is not the physical manifestation of wealth but the capacity to overcome the aftermath of failure.
'A Hero Song,' Royce Lovett, from Love & Other Dreams
'Runnin',' Royce Lovett, from Love & Other Dreams
Lovett's own personal heaviness, perhaps one of the strongest anchors weighing him down, is expressed most acutely on "Sunday Morning (Thinking 'Bout You)." Here he mourns the loss of an unidentified loved one whose asphyxiating absence is felt most strongly on God's day. Meanwhile, on terra firma, Lovett is part of the resistance, battling sin and the magnetic pull to stray from good, all to the thudding march tempo of "Runnin'."
The six selections (a seventh is an acoustic version of "Up for Love") are introspective and dramatic, often unsettling in their honesty. "A Hero Song" is the album's most explicitly "gospel" selection. Here, Lovett cries out to God for help in melody and in a brief but impressive rap interlude. From what we've heard thus far on the album, his struggle is overwhelming.
'Sunday Morning (Thinkin' 'Bout You),' Royce Lovett, from Love & Other Dreams
Like Lauryn Hill's Man in the Fugees' "Killing Me Softly," "Mr. Radio" is an announcer who is oblivious at best, sadistic at worst. His same ol' same ol' playlist is a metaphor for the status quo and its endless stream of bad news. Changing the playlist by programming something "righteous," as Lovett recommends, leads to love. And if there is one constant on the album, it's that we need more love.
Like Andrae Crouch's perplexing "Lullaby of the Deceived," Love & Other Dreams complicates the traditional notion of sacred music by inferring rather than proclaiming the mental and physical agony of personal spiritual battles and the weightlessness of freedom from sin and suffering.
Pick: "A Hero Song."
***
'…an apt title, a captivating testimony, an important call to action…"
WE WILL RISE
Natasha Owens
Maharlow Records
Sometimes new beginnings flower from the most terrible tragedies.
That was the case for Natasha Owens. Seven years ago, her father was cleaning a gun when it misfired, killing him at age 58.
In the midst of her grieving, Owens was invited to serve as her church's worship minister. She wrote songs for her church to sing. Through music ministry, she found that the more she poured into the congregation, the more she got back. A trip to the recording studio to memorialize her songs produced a CD, the tellingly titled I Made It Through, that set her on a path to a solo career.
Owens' latest full-length project, We Will Rise, is the result of her having more songs and ideas to share. The album sails along on radio-sized worship songs that outline the many ways Jesus has impacted the singer's life and, by extension, the listener's. Owens' soprano runs from coquettish to bracing, but mostly bracing as she belts out earnest messages so even the back row of a megachurch can appreciate them.
'We Will Rise,' Natasha Owens, title track from her new album
'I Am Loved,' Natasha Owens, from We Will Rise
The album opens with songs that are reflections on Jesus's faithfulness and constant care for his people. The current single, "I Am Loved," also explains how words can be used to harm or heal. Clearly preferring healing words, Owens relates how something as simple as speaking "I am loved" can unleash one's inner power.
On the slow, dramatic ballad "Safe," Jesus demonstrates superhero abilities in saving his people from harm. The anthemic title track calls for everyone to remain resilient, regardless of what we face. "Move Me," on the other hand, switches from passive expositions of grace bestowed to an active, urgent, direct call for Jesus to "carry me when I have nothing left."
The tracks are melodically and musically consistent and easily digestible. Two, "Wings" and "Legacy," stand out for their refreshing lyric motives. "Wings" is about finding the courage, through Jesus, to face life's battles. The line, "the same wind that knocked me down gave me wings," is the best lyric sentiment I've heard in a song all year—sacred or secular. "Legacy" encourages selfless giving, an important message in a time of selfies-gone-wild and hyperbolic narcissism.
'The same wind that knocked me down gave me wings': 'Wings,' Natasha Owens, from We Will Rise
For a woman who could barely get out of bed after the death of her father to having a new career in Christian music, We Will Rise is an apt title, a captivating testimony, and an important call to action.
Picks: "Wings," "Legacy."
Thursday, August 31, 2017 — Like all Americans, Christian singer-songwriter Natasha Owens has been heartbroken over the ongoing flooding in her home state of Texas following Hurricane Harvey.
After much prayer and discussion with her team, she's decided to donate all proceeds from the retail sales of her new album, We Will Rise, through the end of the year.
"I'm proud to be a Texan, and even more proud of the way that people are coming together to help others in the wake of the devastation of Hurricane Harvey," says Natasha, whose own church is on the ground in Houston offering assistance. "Psalm 46:1 says 'God is our refuge and strength, a very present help in trouble.' That's the truth we hold to right now. Jesus is faithful to revive. We will rise!
***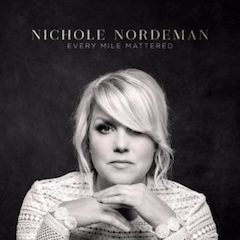 '…every thought matters…'
EVERY MILE MATTERED
Nichole Nordeman
Sparrow Records/Capitol CMG Label Group
Christian singer-songwriter Nichole Nordeman has a lot to say in her new album, Every Mile Mattered, and we need to hear it.
In a hauntingly beautiful voice that evokes contemporary folk artists Beth Nielsen Chapman and Alice Peacock, Nordeman offers a theology stripped of fiats and thou shalts. For her, it's simple: Jesus is everywhere, at all times, and in every moment of our lives. For example, in "You're Here," Nordeman hears God saying that "the only invitation that you need, is the very air that I breathe." She sings in "Lean" that Jesus loves us not in spite of our faults but because of them. Similarly, the lullaby-like chorus of "Hush, Hush" confirms that God is covering us, so we "don't have to have all the answers."
I suspect Nordeman's experience as a parent informs her vision of an all-loving Jesus who puts no asterisk next to "love one another." Indeed, the concluding track, "Slow Down," which Nordeman sings with her daughter Pepper Ingram, can be taken either as a parent's conflicted observation of her child growing up, but it can also be seen as God's own expression of love toward his children: "I am your biggest fan/I hope you know I am."
'Dear Me,' Nichole Nordeman, from Every Mile Mattered
'Anywhere We Are,' Nichole Nordeman, from Every Mile Mattered
"Dear Me" is Nichole's letter to her former self, to "the girl I used to be." It's sobering in its honesty and refreshing in its outlook. While the song shares some of the feel-no-fear philosophy of Lee Ann Womack's 2000 country hit, "I Hope You Dance," its optimistic message about living out Jesus's unconditional love despite what we have been taught to believe is the most convincing call to action and statement about love you are likely to hear this year.
But as powerful a statement as "Dear Me" offers, it is eclipsed by "Anywhere We Are." Its contemplation about what matters in life is anchored by imagery of powerful storms that threaten to destroy everything we possess. Coming out prior to Hurricane Harvey and the devastation it has left in its wake, it is difficult to listen to this emotionally taut song without thinking of the people impacted by this tragedy. Like Richard Smallwood's "Total Praise," and Micah Stampley's cover of "Come to Jesus," "Anywhere We Are" is so moving it might be prudent to pull off to the side of the road if you are listening to it in the car.
The melodies and arrangements are accessible, and Nordeman is at her most potent when simply accompanying herself on piano. Every thought matters on Every Mile Mattered. One of the best albums I've heard this year.
Picks: "Dear Me," "Anywhere We Are."
***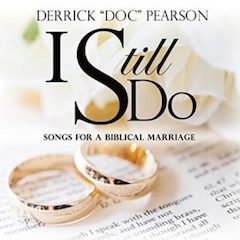 '…comes down solid on the side of good…'
I STILL DO: SONGS FOR A BIBLICAL MARRIAGE
Derrick "Doc" Pearson
I AM Music Company
Love songs have become quite popular in gospel music.
Perchance inspired by Kim Burrell's 2011 The Love Album, or Fred Hammond's 2012 2-CD release, God, Love, and Romance, several artists have written and recorded songs about Bible-based love.
Some even make for good wedding ceremony material. One of the most popular essays on the Journal of Gospel Music is a list of gospel songs fit for a marriage ceremony.
I Still Do, Derrick "Doc" Pearson's new collection of songs about marriage, echoes Hammond's album by using biblical reference points to examine the phenomenon of human love from euphoria to navigating personal differences to rekindling the spark.
Depending on your point of reference, the album's musical accompaniment is either Quiet Storm or Winans. I'm going with Quiet Storm because of bass player Pearson's foundational work with soft soul groups such as the Whispers. As on his 2015 No Greater Love project, Pearson writes the songs and hands the mic to guest vocalists who interpret them as soloists or in duet.
'I Still Do,' featuring Al Johnson and Kathy Horry, from Derrick 'Doc' Pearson's I Still Do: Songs For a Biblical Marriage
'In God's Hand,' featuring Stephan Terry and Amy Tucker, from Derrick 'Doc' Pearson's I Still Do: Songs for a Biblical Marriage
The title track is emblematic of the entire project. To a creamy smooth 1980s R&B ballad underlayment, the late Al Johnson (of the Unifics) and Kathy Horry croon the magic of a lasting marriage. "Bind Us Together," also featuring Kathy Horry, is ready-made music for a wedding ceremony or celebration.
But not all is bliss in Love Land, Pearson admits. He and wife LaMar offer a brief skit called "Adjustments (We Must Adjust)," which concludes that compromise starts when we first understand ourselves. Though too quickly dismissive of conventional marriage counseling, "In God's Hand," featuring Stephan Terry and Amy Tucker, suggests that God is the ultimate marriage counselor.
The album's most up-tempo selection, "Forgive Forget," finds E.J. Thomas and Cherlita Claiborne chanting forgive, forget, and move on. Though one might not expect a holiday selection to appear on the collection, Stephan Terry's "Quiet Christmas Night" is a satisfied parent enjoying a Norman Rockwell-esque Christmas with the family. Terry is featured frequently on the collection.
'Quiet Christmas Night,' featuring Stephan Terry, from Derrick 'Doc' Pearson's I Still Do: Songs for a Biblical Marriage
Pearson peppers his album of serious messages with tongue-in-cheek humor, such as on "Adjustments." On another interstitial skit, "The Encounter 3," Pearson suggests pre-marital counseling to a fan, with disastrous results.
The backside of the CD includes a warning that "this CD is for married couples ONLY! Experiencing music from this CD while unmarried may cause unwanted side effects." So confirmed bachelors and bachelorettes beware! But not really—this is Pearson's fun side coming out again—because despite the album's exposition of the good and the bad of marriage, I Still Do comes down solidly on the side of good.
Pick: "I Still Do."
***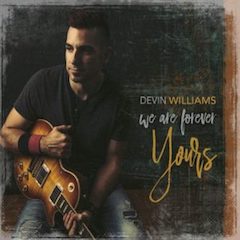 '…the power of love, given and received…'
WE ARE FOREVER YOURS (EP)
Devin Williams
Independent
www.devinw.com
The power of love, both given and received, is at the center of We Are Forever Yours, the latest release by worship leader and six-time Billboard Top 30-charting Christian artist Devin Williams.
Nowhere is this negotiation more explicit than on the current single, "Hear Our Hearts Sing." Interceding on behalf of an inferred congregation on this vibrant song of corporate worship, Williams offers God the congregation's (and his) collective hearts. But this is not a one-way proposition; in return, God will bestow peace, joy and love.
God's covering love, Williams sings on "I Will Not Fear" and "Because of You," protects him from harm. On "You Give Me Strength," he adds that the love of God keeps him strong when he wants to give up. When it comes to expressing gratitude for direct intervention from God, Williams makes his case most plain on these three songs. "I Worship You Now," on the other hand, expresses God's love for his people through Jesus's death on the cross.
'I Will Not Fear,' Devin Williams, from the EP, We Are Forever Yours
The songs are buoyed by bright, welcoming melodies flavored by energetic country-rock-meets-Coldplay arrangements and instrumentation. Williams's voice is part worship leader, part country-rocker, meaning eager, honest and genuine. There's nothing not to like about this pleasant presentation of worship songs from a Nashville guy who credits the late Chris Cornell of Soundgarden as one of his influences.
Pick: "I Will Not Fear"
***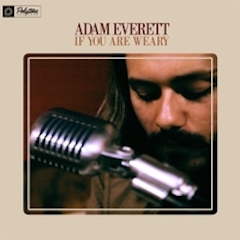 '…aims to cure what ails you…'
IF YOU ARE WEARY
Adam Everett
Polytone Records
https://store.cdbaby.com/cd/adameverett
If John Hiatt made a gospel album, it would sound like Adam Everett's If You Are Weary.
This eight-track collection of hymns and newly-composed songs, generously infused with southern soul horns, is the product of a new breed of young alt-gospel artists such as the Eagle Rock Gospel Singers (who opened for Everett's album release party), Liz Vice and Eli "The Paperboy" Reed. Together, they are taking to church the Americana soul-country-rock melange refined by JJ & Co and Neko Case (who has covered some gospel on her albums).
The most resplendent moment on If You Are Weary is "Jesus (What Grace Have I Found in Thee)." Set in the rocking chair rhythm characteristic of traditional black gospel, the song builds in intensity as blue notes and organ speckle its countrified foundation.
'There is Power,' Adam Everett, from If You Are Weary
'Pressing On,' Adam Everett, from If You Are Weary
The uptempo "There is Power" has a camp meeting singalong feel, and "He is Risen (Undertaker Blues)" tells the tale of the Passion in a bluesy way but all the while cheering Jesus for not letting any grave hold his body down. Infused by lovely harmonies from the background vocalists, "Thank You Lord" is a paean of gratitude for favor in a time of trouble that seems never-ending. Throughout, Everett's cadre of musicians demonstrate jam session cool.
The familiar songs on the album are the Gaithers' "Because He Lives" and the 1907 hymn made popular by the Carter Family, "Will the Circle Be Unbroken." Everett's take on each, however, is quite different from the original. In his hands, they become even more deeply personal and introspective.
If You Are Weary is a fine debut for Adam Everett and, true to its title, aims to cure what ails you.
Pick: "Jesus (What Grace Have I Found in Thee)"
***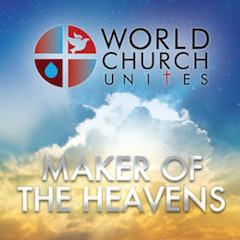 '…the purpose is more than spiritual…'
MAKER OF THE HEAVENS
World Church Unites
Third World Vision
Gospel music has a higher purpose, and in the case of Maker of the Heavens, the purpose is more than spiritual. It's about the very sustenance of life itself: water.
World Church Unites, the Lincolnton, North Carolina-based music ministry team for Third World Vision, released a CD of original music as a fundraiser to provide clean water technologies to parts of the world that suffer from a lack of clean water. Anyone who donates to the cause gets a copy of the CD in gratitude (while supplies last).
The seven original songs, all cut much from the same cloth, are earnest, melodic, megachurch-sized performances that focus for the most part on the importance of salvation. The opener, "It is Finished," riffs on a dual interpretation of the title to depict how Jesus's final words on the cross were not just about the completion of his earthly life, but the successful completion of his goal to save mankind. "To Be Saved" is another selection centered on Jesus's dying so we may live. This focus on spiritual salvation parallels the project's explicit intent to provide physical salvation to the poorest countries through supporting the World Church Unites Clean Water Mission.
'It Is Finished,' World Church Unites, from Maker of The Heavens
The album's loveliest cut is "Spirit Breathe," a liquid ballad about spiritual renewal that features a warm, throaty lead by Amber-Lee Garcia. Garcia sings background harmonies on many of the CD's other tracks, but she deserves to be heard more often as a lead singer.
The World Church Unites band features thumping rock drums, electric guitar, and Parker Sipes' rock stadium vocals. The group uses the contemporary pop music technique of pinning chiming musical motifs to song melodies to give track their instrumental hook. Although not listed as a formal member of World Church Unites, Mike Faircloth's deft piano and synth work is featured prominently through the project.
Maker of the Heavens will appeal to CCM and Christian rock enthusiasts especially, but anyone who believes in clean water for everyone will discover that receiving the CD as a way of saying thank you makes it just as nice to receive as to give. To participate, visit http://worldchurchunites.org.
Pick: "Spirit Breathe"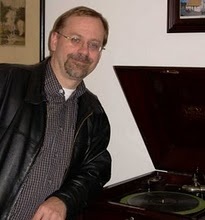 Bob Marovich is a gospel music historian, radio announcer and author. His "Gospel Memories" radio program of vintage black gospel music and artist interviews airs live first Sundays from 3 a.m. to 7:30 a.m. on Chicago's WLUW 88.7 FM, and streams live at the station's website. Snippets of recent broadcasts can be heard online at the Gospel Memories Radio Show. Bob is also the founder and editor of The Black Gospel Blog, now the Journal of Gospel Music, the source for the reviews published here. Bob launched JGM on the tenth anniversary of The Black Gospel Blog, which he founded July 28, 2004, as the first blog to cover African American gospel music. His first book, Shout Troubles Over: The Birth of Gospel Music in Chicago, is scheduled for publication in March 2015 by the University of Illinois Press as part of its Music in American Life Series. Bob lives in Chicago with his wife, author Laurel Delaney, and their two cats.