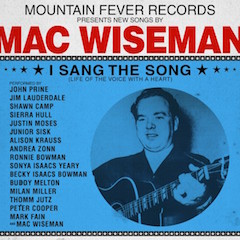 I SANG THE SONG (LIFE OF THE VOICE WITH A HEART)
Mac Wiseman
Mountain Fever Records
Failing to find ways to improve upon Peter Cooper's introduction to this fine album, allow me to quote Mr. Cooper directly, from notes he penned for the liner booklet:
Sunday afternoons the great man sat in the easiest of easy chairs, spinning stories from ninety-one extraordinary earthly years.
The sharp pain of bare feet on frosted October dirt…The train that sped past his family's Crimora, Virginia, farm at twilight, carrying silhouetted strangers to a far-away city…The catalogue guitar, neck like a wagon tongue, that became his dear companion and, eventually, his travel ticket…The thrill of cashing a $240 check that he got in 1946, for playing a recording session with Molly O'Day…The time he made it all the way to Calais, France, and found that women's laughter and babies' cries bridged cultures as common language.
Now indeed 91, roots music legend Mac Wiseman is in fine voice sitting in on I Sang the Song, a tribute to himself, in fact, steered by Peter Cooper and Thomm Jutz, who collaborated with Mac on 11 tunes based on the Bluegrass Hall of Famer's hardscrabble life and times, as Cooper outlined in his notes. Describing his trusted partner Jutz as "a guitar virtuoso raised in Germany's Black Forest" and himself as "a South Carolina-reared jack of all hillbilly trades," Cooper rightly hails this project as "a concept album about the happiest and most unusual of concepts: Mac Wiseman."
'I Sang the Song,' John Prine (lead vocal), Peter Cooper (harmony vocal), Sierra Hull (mandolin), Justin Moses (fiddle, dobro), Thomm Jutz (guitar), Mark Fain (bass). From Mac Wiseman: I Sang the Song.
To bring the Cooper-Jutz-Wiseman tunes home an all-star bluegrass quartet has been convened, comprised of Jutz on guitar, Sierra Hull on mandolin, Mark Fain on upright bass and Justin Moses doing his triple-threat thing on banjo, fiddle and dobro. Superlatives abound to describe their ensemble work, but in the end the impassioned, nuanced support they offer a host of outstanding vocalists is as impressive as their instrumental chops. Moses is simply dazzling, whether he's burning up the track with a speed-picked banjo solo on "The Guitar," crafting evocative fiddle and banjo solos alike on "Somewhere Bound" or adding sensitive dobro cries and long, lean fiddle moans to "I Sang the Song," as Hull enhances the elegiac atmosphere with tasty, concise mandolin punctuations. Listeners that appreciate precision mated to soul will marvel at Jutz's succinct, affecting guitar work, especially on poignant numbers such as "The Wheat Crop" (which concludes with a verse of "Bringing In the Sheaves," with Mac leading the congregation) and the vintage album closing beauty, "'Tis Sweet To Be Remembered," Mac's own tune dating to the launch of his solo recording career in 1951. This "devout benediction of blessedness," as Cooper calls it, finds Mac taking a solid, sensitive lead vocal reflecting on the comfort of the ties that bind loved ones through good times and bad, whether together or apart, as Jutz, Moses (on dobro and fiddle) and Hull craft a lush backdrop designed to enhance the moment's spirituality as Mac is joined in crystalline harmony by Alison Krauss.
'Simple Math,' Jim Lauderdale (lead vocal), Peter Cooper and Thomm Jutz (harmony vocals); Justin Moses (banjo and fiddle solos); Sierra Hull (mandolin solo). From Mac Wiseman: I Sang the Song.
'The Wheat Crop,' Junior Sisk, Sonya Isaacs Yeary, Becky Isaacs Bowman with Mac Wiseman (vocals), from Mac Wiseman: I Sang the Song. With Sierra Hull (mandolin) and Justin Moses (banjo and fiddle).
As for the guest vocalists, nary a one of them strikes, or sings, a false note. If anything, the conviction each brings to his or her part is indicative of the depth of love and respect Mac commands by the likes of Junior Sisk, Ronnie Bowman, John Prine, Jim Lauderdale, Andrea Zonn, Sonya Isaacs Yeary, Becky Isaacs Bowman, Buddy Melton, Milan Miller and Shawn Camp. "The Guitar" recounts a childhood struggle to master the instrument, "a ticket to the whole wide world," as the song notes, while pitching in on family chores, plaintively rendered by Hull and Moses before Mac himself enters with a touching coda in the form of the first verse to the old folk song collected by Max Hunter, "Empty Cot in the Bunkhouse Tonight," about a cowboy who died saving a stray calf stranded in a snowstorm. The narrative continues, touching on major themes and events in Mac's life, such as struggles working the land for meager returns (the folk-flavored "Three Cows and Two Horses," a lilting ballad brought to vivid life by Balsam Range's Buddy Melton with Milan Miller and Andrea Zonn adding exquisite harmony support) and simply working for even more meager returns (the driving "Simple Math," knowingly delivered by Jim Lauderdale in bringing context to Depression- and post-Depression era economics—in other words, nothing much changed—such as "Nine bucks a day to pave the road in 1928/Next year he couldn't even buy the tags/Daddy had to park his truck in 1929/Twelve months to go from riches down to rags" and so forth, up to and including getting paid $240 for picking "a borrowed doghouse bass" on the Molly O'Day session. The simple math here? "Can't spend the money you don't have/That's how it works, it's simple math…" The narrative wends its way through another unsparing account of Depression hardships in the sprightly "Barefoot 'Til After the Frost," offering Lauderdale an opening for an affecting reading infused with a survivor's pride; gives Shawn Camp a moving showcase in an wrenching account of a mountain man who discovered manganese ore on his land, sold the rights to it "for a few hundred bucks," and lost his sanity and ultimately his life, seeing others profit from the fortune he'd given away for a pittance; and wonders at the unfailing strength of faith in the reverent, fiddle-fueled "Crimora Church of the Brethren," with Junior Sisk and Ronnie Bowman teaming on the heart tugging vocals.
''Tis Sweet To Be Remembered,' the concluding song on Mac Wiseman: I Sang the Song. This live version is from Music City Roots Live from the Factory, broadcast August 24, 2014. The band includes Peter Cooper and Thomm Jutz (guitars), Mark Fain (bass), Sierra Hull (mandolin) and Justin Moses (fiddle), as heard on the album.
The denouement could hardly be more beautifully realized. John Prine, in majestic restraint, channels Mac's weathered but assertive voice on "I Sang the Song," with Cooper lending sweet harmony to a reflection on a life's journey out of poverty ("Dreams are free and not much else is/What else can a poor boy do?") to stages the world over and to crossing paths with greats through the years (name checking Gordon Lightfoot, June and John, A.P. Carter and Mother Maybelle) while reminding us "it ain't bragging if you've done it/Name the tune, I sang the song."
Concludes Prine qua Mac: "Now I'm old, no way to hide it/Wouldn't care to, truth be told/Once a man, twice a child/But I've got a hand to hold."
May we all learn to age so gracefully, to be thankful for simple gifts and to arrive at a certain age with a hand to hold. Mac's nickname, The Voice With a Heart, is well earned. But it may be an understatement.