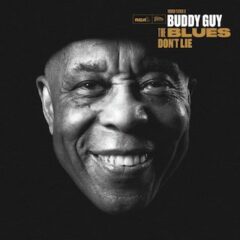 THE BLUES DON'T LIE, Buddy Guy (RCA Records)–The Blues Don't Lie continues a fruitful (three Grammys and a fourth nomination), even revitalizing, relationship the now-86-year-old blues titan Buddy Guy struck with producer Tom Hambridge back in 2008. Six of the 16 cuts feature guests in duet roles, but Guy doesn't really need a little help from his friends: his guitar work remains powerful and electrifying, as he demonstrates most emphatically on the album opening "I Let My Guitar Do the Talking," a wah-wah- and horn-drenched autobiographical rouser; but as the album unfolds his singing, especially on some tunes addressing contemporary social ills, makes this a fully realized personal statement.
For instance, unchecked gun violence directed at young students and the impotence of "thoughts and prayers" are at the root of Guy's seething indignation in "Gunsmoke Blues," a putative duet with Jason Isbell for which Isbell seems strangely detached. But Buddy carries the message with commanding conviction nevertheless. More successfully he engages a gritty Mavis Staples in an unflinching remembrance of Civil Rights era hardships, and in "Follow the Money" he slices and dices the pay-for-play-culture in frank terms, with James Taylor adding understated harmonies in support. Elvis Costello, barely able to carry a tune, can't dampen the intensity Guy brings to "Symptoms of Love." On the other hand, Bobby Rush has a grand time enumerating the little things that make life worth living ("I like my bacon crispy, a pancake cooked up right/extra butter on the biscuit/make everything all right…") in the album's funkiest workout, "What's Wrong With That," and versatile Wendy Moten sees Guy's ferocity and then raises it when she cuts loose in his incendiary wake on "House Party." Covers include a tip the hat to Slim Harpo in a potent Delta-redolent solo acoustic reading of "King Bee," and darn if Buddy doesn't shows off a B.B. King-like cry in his voice while honoring King via a grinding "Sweet Thing." A master of tone and texture, Buddy has his guitar speaking loudly and proudly for him throughout, often in piercing, urgent tones that signal him making the most of every note he strikes and every riff he fashions in the heat of the moment.  Buddy's feeling it big time her, an octogenarian on a mission. –David McGee
'We Go Back,' Buddy Guy, with Marvin Staples, from The Blues Don't Lie
HOPE, Soweto Gospel Choir (Shanachie)– Those who haven't been swept away by the passion and the power of South African choral harmonies are missing something special. The opportunity is available on Hope, the latest release by the award-winning Soweto Gospel Choir. The troupe celebrates twenty years with this collection of songs sung in South African languages such as Sotho, Zulu, Xhosa, Pedi, and Tswana. For Western audiences, there is more familiar English language fare. Given the shared experiences of discrimination and violence by African Americans and South African Blacks, the messages and musical potency transcend language and continental barriers.
'Heaven Help Us All,' Soweto Gospel Choir, from Hope
Familiar pieces for American audiences include the Impressions' "Amen," Sam Cooke's masterpiece "A Change is Gonna Come," and the Staple Singers' "I'll Take You There," complete with a lead vocalist who produces Mavis' chesty yelps with fidelity. … "Heaven Help Us All" is the album's finest track for its passionately sung message of global unity, peace, and strength. Its positive energy just leaps out of the speakers. Follow this link to Bob Marovich's review fo the Soweto Gospel Choir's Hope at his website, The Journal of Gospel Music.
THROUGH WITH COOL, Al Basile (Sweetspot Records)—Don't be misled by the title. By definition, Al Basile is cool, and that's that. However, being a highly literate songwriter (and published poet), herein he paints portraits of several misguided souls who might be said to be through with cool—like the flighty gal he unloads on in the ironically titled "Keep on Living," an album opener with sinister overtones in its exotic rhythmic pulse and the instrumental interjections by Al's cornet and Kid Anderson's guitar. Rife with both humor and truth, "Turnabout is Fair Play," a midtempo blues grinder fueled by Anderson's aggrieved guitar work, finds Al calling out the entire male species for not getting over themselves when it comes to women and adding his own piercing cornet solo in seconding those emotions. Over a decidedly noir-ish backdrop fashioned by the combination of Al's mordant cornet solo, Bruce Bears's moody keyboard flourishes and Anderson's understated, bluesy guitar punctuations—a bent note here, a trebly flurry there—Al turns "We Lie on Your Grave" into a chilling, near-six-and-a-half-minute note from underground detailing a weird, and decidedly uncool, night in a cemetery with a paramour whose favorite trysting spot it is. "It's not my night to die," Al concludes, cool amidst the uncool. –David McGee
'Turnabout is Fair Play," Al Basile, with Kid Anderson on guitar, from Through With Cool
MARKOLOGY II, Mark O'Connor (OMAC Records)— It was 1978 when the teenage Mark O'Connor released his first solo guitar album to rave reviews. Forty-three years and a celebrated, almost unprecedented career in bluegrass, country and classical music later, he issues another effort that is truly solo—the first Markology found him leading a sextet (including Tony Rice on guitar)—with O'Connor assaying seven traditional evergreens and three originals, deploying his Martin D-28, a vintage Gibson mandocello and a John Baxendale dreadnought with nary a guest in sight and his creative voice in full flight. Plaintive as ever, "Shenandoah" gets a whole new, captivating sheen via O'Connor's thoughtful probing of the melody line and the frisson his chord extensions add. The giddy-up-go struts of "Beaumont Rag" and "Alabama Jubilee" dazzle with the precision of O'Connor's speed picking and scintillate with the classical marginalia he with seamless grace. His own "Flailing" hardly lives up to its title, as a clearly in-control O'Connor fashions a richly textured piece out of breathtaking fleet-fingered passages alternating in mood with meditative chordings. A certain high-office holder in our government might appreciate the go-for-broke, blues-tinged rhythmic drive and witty, frisky solo passages of another O'Connor original, "Kamala Boogie." Instrumental mastery of the highest order, this, often challenging, always easy on the ear and bracing to the soul. –David McGee
'Shenandoah,' Mark O'Connor on the vintage Gibson mandocello, from Markology II
DAY BY DAY, Norman Blake (Smithsonian Folkways)– The voice is weathered, but affecting; the guitar playing nimble, evocative, reflective according to the moment; the mood, very interior, and probing. Witness Norman Blake's memorable new album, Day By Day (a title perhaps more telling when you reach age 83, as has Blake). Largely featuring only Blake, his voice and his guitar, seven of its nine tunes are drawn from the deep past and most of these vivid, poetical reminiscences find the singer both acutely aware of his place in nature's temple and in quiet lament for loves lost and his approaching mortality—sometimes in the same song, as in the rustic "I'm Free Again." These themes animate the likes of "Montcalm and Wolfe" (in which a 1759 battle in the French and Indian War figures prominently) and the lively old Celtic ballad, "Three Leaves of Shamrock." The beloved Rising Fawn String Ensemble materializes to add an elegiac touch to the Carter Family's "My Home's Across the Blue Ridge Mountains." "Ghost ships float through my mind, searching for a port to land," Blake confesses in his original ballad, "Time," and land aplenty they do herein, anchored in love, living life full measure. –David McGee
'I'm Free Again,' Norman Blake, from Day By Day
BLUES FROM CHICAGO TO PARIS: A TRIBUTE TO MEMPHIS SLIM AND WILLIE DIXON, Kenny 'Blues Boss' Wayne (Stony Plain Records)— In his 77th year on our planet Kenny "Blues Boss" Wayne is on a hot roll comparable to or greater than any other septuagenarian in the world, his piano artistry as elegant, inventive and soulful as ever and, especially on this outing, his warm, earthy vocalizing at an absolute peak of affecting expressiveness. The concept on this installment is fairly simple: the Blues Boss responding to his friends "around the world" expressing how much they miss the sound of piano blues; hence, "this album will feature just that," he vows. And then delivers in paying his respects to the two blues giants referenced in the album title, who teamed up on a world tour (hence the Chicago to Paris destinations) that must have been quite something to behold—Dixon, one of the greatest of all blues songwriters and bassists, Slim (neé Peter Chatman) a blues pianist of great gifts, and the two in deep communication on stages near and far. Suffice it to say if Kenny "Blues Boss" Wayne set out to pay tribute to two greats he counts as influences, he and his cohorts here have done proud by the spirits of those past masters and made a lasting statement of their own in the process. Follow this link to the full review, "The Blues Boss Goes Global," by David McGee in Deep Roots.
'One More Time,' written by Willie Dixon, performed by by Kenny 'Blues Boss' Wayne (piano, vocals) with Russell Jackson (bass, vocals) and Joey DiMarco (drums), from Blues From Chicago to Paris: A Tribute to Memphis Slim and Willie Dixon
SUBSTANCE, Marvin Sapp (Elev8 Media & Entertainment/Thirty Tigers)– "There is no failure in God" is an apt summation of the thematic content of Substance, Bishop Marvin Sapp's 15th album and latest solo effort. Though varied in arrangement, the songs essentially come back around to messages of faith in God as the rock in a weary land.
'You Kept Me,' Marvin Sapp, from Substance
Examples of the album's varied musical palette include "Serve the Lord," which Sapp calls a song "for my mother." It has a smooth modern quartet sound with the classic kick drum backbeat, bluesy vamp, and a pulpit-honed religious message of discipleship. The lead single, "All in Your Hands," opens with a purring organ that signifies a shift from the bright and rhythmic praise pop of the lead track, "Your Way is Better." Its declaration that God can make all things better is aided by a repeated line, "No one better than," that sounds like a church aphorism-in-waiting. Follow this link to Bob Marovich's review at his Journal of Gospel Music website.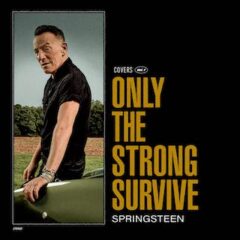 ONLY THE STRONG SURVIVE, Bruce Springsteen (Columbia)–Bruce Springsteen's millions of fans are certainly familiar with his rousing encores, when he kicks out the jams on soul or rock 'n' roll chestnuts. To the faithful, his releasing an album's worth of soul covers surely is but a minor surprise. More surprising are the terms of engagement: in almost every instance the Boss duplicates the original hits' classic arrangements. So you get the familiar sonic touchstones of styles denoting the songs' Memphis, Chicago and Motown (and points south) origins with the raspy, heavy baritone Bruce voice now being the distinguishing feature. David Ruffin raging against the elements on "I Wish It Would Rain" was not Bruce Springsteen any more than Bruce Springsteen is emulating David Ruffin when he takes the lyrics to an even darker, more apocalyptic place. Jerry Butler's, and Elvis's, "Only the Strong Survive" are both great recordings Bruce seems to acknowledge as unsurpassable by transforming the song into a gospel housewrecker with commanding Julius Cheeks-like testifying. Whether he's grooving with Sam Moore on Dobie Gray's "Soul Days" or conjuring the faux heartbreak of William Bell's Stax gem "Any Other Way," the Boss sounds in his element, doing something deep and meaningful to him, touching down in his past and luxuriating in every moment. –David McGee
'Only the Strong Survive,' Bruce Springsteen, title from his new album
DEAR ILLUSION, Steve Hill (No Label Records)– On Dear Illusion, Canada's Steve Hill, long a one-man band (his trilogy of award winning Solo Recordings albums are recognized and much-lauded classics of the form), marks his 25th year as a recording artist by punching up his sonics with a robust horn section (The Devil Horns) adding a scintillating soul/R&B edge to the proceedings and a powerhouse, much-awarded (seven times UK Blues Awards winner) drummer in Wayne Proctor pushing the rhythmic assault forward with muscular style and sensitivity. No matter the pedal-to-the-metal intensity of Hill's scorching guitar work and the urgency informing every vocal, he's a singer-songwriter in rocker's duds. Dear Illusion is arguably the best example of Hill mating fire-breathing rock-blues to thoughtful, and thought provoking, lyrics.
'So It Goes,' Steve Hill, from Dear Illusion
"Don't Let the Truth Get In the Way (Of a Good Story)" is the showcase tune, a blistering hard rock screed decrying the splintered reality created by social media, alternate facts and hyperpartisan media, with Hill's aggrieved guitar solo underscoring the narrative's gravity. The backstory informing this song: Hill started it six years ago, "after the Trump election," he says in a press statement, and it's been incubating, along with much of this album, as the pandemic raged. "It's about choosing to pretend because it's easier than facing the truth when the truth doesn't matter anymore." Follow this link to the full review by David McGee in Deep Roots.
GOSPEL, VOL. 6: FEMALE GOSPEL GROUPS 1940-1962, Various Artists (Frémeaux & Associés)– If it weren't for women, there might not be gospel music as we know it today. A gutsy statement, but accurate. For every Thomas Dorsey, Theodore Frye, and James Cleveland, there were dozens of women who, denied access to the pulpit through denominational fiat, made sacred music their evangelistic outlet. Two of gospel's first superstars, Sister Rosetta Tharpe and Mahalia Jackson, were women. The history books brim with the names of female pioneers in gospel music, among them Sallie Martin, Roberta Martin (no relation), Willie Mae Ford Smith, and Magnolia Lewis Butts.
'I Won't Be Back,' The Caravans featuring Shirley Caesar, featured on Gospel, Vol. 6 Female Gospel Groups 1940-1962
Frémeaux & Associés spotlights the estimable contributions of females, specifically female gospel groups, on Gospel: Female Gospel Groups 1940-1962, the sixth volume in its multi-disc reissue effort. The French firm has previously mined the golden age of gospel music with packages on male quartets, guitar evangelists, female soloists, and collections dedicated to Mahalia Jackson and the Roberta Martin Singers. While the 72-track, 3-CD set collection features many artists whose work has been reissued, it focuses on lesser-known gems from their catalogues, such as a live version of "The Seven Seals" by the Clara Ward Singers with electrifying steel guitar work from Sam Windham. Follow this link to Bob Marovich's full review at his website, The Journal of Gospel Music.
RICH WHITE HONKY BLUES, Hank Williams Jr. (Easy Eye Sound)– Of the many positive things to say about this nigh-on-to-startling Hank Williams Jr. album, begin with declaring it one of the best blues albums of the year—yes, a blues album, and deep blues at that. Far more important, Hank Jr.'s daddy would surely approve of what the son he nicknamed Bocephus has wrought here in acoustic and electric form both. With a huge assist from Dan Auerbach, who produced the sessions at his own Nashville studio and becomes a compelling second voice to Hank's own with several piercing electric and slide guitar solos (plus dobro on Lightnin' Hopkins' "Jesus Won't You Come By Here"), Hank reaches way down into a well of soul conspicuously absent from his recent efforts. The man is simply reasserting himself as a force of nature again, whether it's howling at the gods on his own punishing blitzkrieg (the self-lacerating "I Like It When It's Stormy," containing a chilling autobiographical lyric in "I like it when it's stormy/'cause it reminds me of my life/when lightning strikes without warning/like it has in my world one or twice…"); assertively taking no guff, lethally so, on Robert Johnson's ".44 Special Blues"; or getting the salacious most out of a couple of R.L. Burnside hill country blues gems (including "Georgia Women"). The fury is unceasing throughout, the sense of humor intact (and even subtle at points, along with one lamentable sophomoric sexual aside), and the artistry in full flower. Bocephus, don't fall off this mountain, y'hear? –David McGee
'I Like It When It's Stormy,' Hank Williams Jr. from Rich White Honky Blues
LET'S SING SOME COUNTRY!, Dailey & Vincent (BMG)– Since teaming up in 2007, Jamie Dailey and Darrin Vincent have done a lot of good things together as they rose to the bluegrass world's upper echelon; and now, all these years later, the duo is taking a detour into full-on traditional country with predictably solid results. On 11 tunes bearing songwriter credits on the order of Vince Gill (three songs, in fact, including the sadder-than-sad breakup ballad, "Colder Than Winter"), Karen Staley (two songs), Jimmy Fortune, Steve Earle and others. Add to the guest list Darrin's legendary sister, Queen of Bluegrass Rhonda Vincent (who began her solo career as a mainstream country artist), lending affecting high harmonies to the anguished, ominous ambiance of "Those Memories of You," the trio summoning every bit of the Homeric heartache of The Trio's 1987version; and producer Paul Worley (of Dixie Chicks fame, among many other major artists on his resume), who knows exactly how to frame the Dailey & Vincent country sound in a way that also does justice to the duo's bluegrass hearts (you can take the voices out of the mountains but you can't take the mountains out of the voices). Jamie Dailey, in spectacular vocal form, flat puts the hurt, the heartache and the exultation on the tales he tells, his emotive flights always hitting listeners where they live. The album opening Staley tune, "I'll Leave My Heart in Tennessee," speaks to Dailey's love for his home state's natural majesty and you don't have to listen hard to get the message. There's beauty in the balladry of "Closer to You," humor in the boozy meditations of "If I Die A-Drinkin'" and touching pathos in the frank testimony of a life saved by love in "You Rescued Me." Staunch proponents of the quartet sound, D&V get an Oak Ridge Boys-style bass-heavy foursome rolling on the instructive self-help advice of "Dig a Little Deeper in the Well." Tired of bro country? D&V are good for what ails you. –-David McGee
'Those Memories of You,' Dailey & Vincent, with Rhonda Vincent, from Let's Sing Some Country!
YOU SHOCKED ME, Bob Corritore & Friends (SWMAF Records/VizzTone)—Bob Corritore's latest album, You Shocked Me, features a total of 16 electrifying tracks that were recorded at Tempe, Arizona's Tempest Room recording studio. These sessions span from 2018 through 2022 and feature a wide range of big-name collaborations including Chicago-based bluesmen like Willie Buck, John Primer, Bob Stroger, and Oscar Wilson. But the well-traveled Corritore has also cast a wide net and captured blues talents who hail from all over the US of A.
'Back to the Crossroads,' Bob Corritore (harmonica), Clarksdale, Mississippi's Bill  'Howl-N-Madd' Perry on vocals and guitar, from Bob Corritore & Friends' You Shocked Me
Corritore's nationwide blues connections include everyone from long-time collaborators Alabama Mike and Sugaray Rayford to Mississippians Johnny Rawls along with Bill Howl-N-Madd and Shy Perry. Other blues luminaries on You Shocked Me include Jimi "Primetime" Smith, Francine Reed, and Diunna Greenleaf. The CD kicks off in fine fashion with John Primer doing his own "Hiding Place" and opening with a great riff that befits his position as someone who's played alongside a venerable "who's who" of the blues. Primer and Corritore are no strangers either. They've recorded three CDs together and with each release, their distinctive blend of old-school Chicago blues just keeps getting better. 91-year energizer bluesman Bob Stroger plays bass on this track and several others. Follow this link to the full review of You Shocked Me by Robin Zimmerman in the Chicago Blues Guide, Sept. 9, 2022.
VICENTE LUSITANO: MOTETS, The Marian Consort (LINN Records)–This disc from The Marian Consort presents a little more than a third of the total surviving output of a composer who virtually disappeared from the historical record. Herein, a glimpse into a richly imaginative work, performed with luminous clarity.
Salve Regina, composed by Vicente Lusitano, performed by The Marian Consort on Vicente Lusitano: Motets
Thanks to the publication of his book of motets in Rome in 1551, Lusitano becomes the first published Black composer. During the 1550s, Lusitano was the music tutor to the son of the Portuguese ambassador to the Holy See, and the book of motets is dedicated to the ambassador, so it is presumably him that we can thank for the book's production. Unlike some composers, Lusitano's music does not seem to have been spread by word of mouth with manuscript copies circulating. His reputation during his lifetime was mainly as a theorist rather than as a composer, and some of his music was created to demonstrate these theories. Follow this link to Robert Hugill's full review in Deep Roots.
TEN, Albert Cummings (Ivy Music Company)– "Musically diverse and emotionally cohesive" says a PR blurb for Albert Cummings's new long player. It's not hype. Ten follows the artist's outstanding 2020 pandemic-informed long player, appropriately titled Believe, with a baker's dozen originals touching down in blues, country, soul, hard-driving rock and folkish balladry. Vocally, he's even more affecting than he was on Believe, balancing thoughtful balladry with soaring, muscular sorties—sometimes in the same song, a la the tender-tough love note, "She's the One." If you're recording in Nashville, as Cummings did, why not invite Vince Gill to the studio? Indeed, Gill shows up to get rowdy with Albert on the honky-tonkin' raveup honoring closing time in "Last Call," complete with Michael Rojas beating up the 88s like the bastard son of Jerry Lee. A top-tier guitarist, Cummings cuts loose with six-string fury more often than not herein, his searing attack being especially effective in the album opening "Hard Way" and even more mercilessly in the searing blast of southern blues-rock that is "Sounds Like the Road." No wasted notes here, vocally or instrumentally, in a conceptually sound project from an artist ascending to a higher aesthetic plane with each new outing. –David McGee
'Last Call', Albert Cummings with Vince Gill, from Ten
SHANU, Monoswazi (Riverboat Records)– Shanu quite simply means "Five" in the Shona language of Zimbabwe, home to Monoswezi's lead vocalist and mbira player Hope Masike. This, their fifth album, is their most adventurous to date, as it sees the collective incorporate washes of electronics to their musical soundscape, notably in the use of the Mellotron by composer and multi-instrumentalist Hallvard Godal. His idea was to harness the instrument's potential by adding more harmonies and color to the group's trademark sound. In Hallvard's own words, "I had played the Indian harmonium on some previous tours and the album A Je but was now looking for something more flexible, less characteristic, whilst still keeping some of the acoustic feeling, and the Mellotron had that."
'Kuwonererwa,' Monoswazi, from the album Shanu. Animation video by Ronald Kabicek.
The name Monoswezi is an amalgam of the four founding member's nationalities represented in their line-up—Mozambique (Mo), Norway (No), Sweden (Swe), Zimbabwe (Zi)—and the influence from each culture is audible. Salve to the ears of those tired of cosmetic "world fusion" bands, Monoswezi plunge across international waters to meld a meeting of musics that is well thought out, well executed and an audio pleasure to be devoured. Follow this link to the full review, "Monoswezi: Experimentation is The Order of the Day," in Deep Roots.
THE ASSUMPTION, Michele Thomas (Soulstream Music)– First of all, the title of The Assumption, jazz singer Michele Thomas's third album, is a play on words. By referencing the Roman Catholic Church's belief (assumption) that Mary, mother of Jesus, departed immediately to heaven upon death, she puts a sacred touch on the project's point: trust. Second, Thomas combines her experience as a church singer, which included forming the gospel choir at North Park University, with her jazz career. The result is a sound as easy as Sunday morning but with messages that speak to Monday through Friday questions and confusions. Follow this link to the full review by Bob Marovich at his website, The Journal of Gospel Music.
'I Carry,' adapted from a poem by e.e. Cummings, Michele Thomas with Davin Youngs as background vocalist, from The Assumption
CHAPTER 1: BACK IN THE DAY, Dave Porter (MME Records)— Simply put, southern soul and the spirit of a certain time in American cultural history were shaped by songs written or co-written by Dave Porter (many in collaboration with pre-Hot Buttered Soul Isaac Hayes) during Stax Records' golden era. When the era, and Stax, faded in the '70s, Porter continued writing and recording, amassing a deep vault of unreleased songs, 10 of which are now seeing new life here, 50 years after his previous solo project. Tellingly titled Chapter 1, this high-quality vinyl release from Made in Memphis Entertainment (MIME) constitutes a new component of Porter's long commitment to supporting Memphis's local artists. In the dramatis personae department, a band comprised of Stax veterans (including guitarist and co-writer Gary Goin) ably supports a trio of expressive vocalists in Brandon Wattz, Candise Marshall and Marcus Scott plumbing the depth of Porter's music. It all sounds fresh and vital, from the deep, driving groove of "Circles" propelled by Marshall's gospel-infused testifying; to Wattz's sensitive, sensuous vow of commitment, buttressed by rap segments seconding her emotions, on the funky "By Your Side"; to Scott battling temptations of the flesh in "If I Have to Do Wrong," a lush ballad worthy of classic Stax status. Simply put, soul lives! –David McGee
'If I Have to Do Wrong,' written by Dave Porter, lead vocal by Marcus Scott. From Dave Porter's Chapter 1: Back in the Day
WONDERLAND, Martha Spencer (Bandcamp)—A modern-day product of the Blue Ridge Mountains, Martha Spencer embodies tradition, diversity and a modern sensibility on this, her second album. Bluegrass is the foundation of her style, and her reedy mountain voice (not unlike Iris DeMent, or the very young Dolly Parton) is well-suited to it and the Appalachian-tinged tunes she assays—when she digs into the tragedy of "Banks of New River," her voice rises and drops dramatically in exactly the right places to emphasize the depths of despair she's navigating with a broken heart (Kyle Dean Smith's guitar and Haggard-like tear-stained vocal makes the sorrow a two-way street). Fueled by lively banjo and fiddle support, the high-stepping jubilation of "Come Home, Virginia Rose" is all but palpable in Spencer's crystalline enthusiasm, with some added vocal heft courtesy Alice Gerrard. Spencer does right by the blues as well, delivering a freewheeling reading of the old warhorse, "Hesitation Blues" (which dates back to at least 1915 and has been covered by a artists ranging from Charlie Poole to James Reese Europe, Sammy Price, The Flatlanders and Hot Tuna, among many others), with Luke Bell, who passed away this past August at age 32, joining in on the fiddle-fired festivities with a hefty, swaggering vocal. The Legendary Imgramettes join Spencer and her claw-hammer banjo for an out-and-out gospel rave up on "Walking in Jerusalem," with Almeta Ingram-Miller inspiring hand clapping, foot stomping support with her spirited testifying. Solid playing and singing on an estimable mix of original songs and vintage covers does indeed define a wonderland of appealing, often moving performances that augur well for what the future holds for this gifted artist. —David McGee
'Banks of New River,' Martha Spencer with Kyle Dean Smith (guitar, vocal), from Wonderland
TICKET TO RIDE, Loren Daniels (LDJazz)– On Ticket To Ride, keyboarist Daniels, a 30-year veteran musician-producer-educator, working with bassist Belden Bullock and drummer Jonathan Peretz, offers up a tantalizing 10-track exploration of Lennon-McCartney tunes. In listening to some of Daniels's arrangements here, yours truly is reminded of something the revered folk artist Geoff Muldaur once said to me in explaining the Jim Kweskin Jug Band's (of which Muldaur was a founding member) choice of repertoire, to wit: "If we couldn't murder a song, we weren't interested in doing it." Which is not to say Daniels and company adopt the Kweskin model here, but the trio does venture far afield in deconstructing and reconstructing its selections from the Beatles song book. These fellows are jazz artists, after all, so enter their turf expecting liberties to be taken with melodies, tempos and arrangements. What's important is that as far afield as they might venture, they always honor the original melodies at some point, so listeners not attuned to or enamored of liberal interpretations of their most sacred Beatles tunes can still appreciate the spirit informing these efforts. Follow this link to the full review, "You Can't Do That? You Can Do That.", by David McGee in Deep Roots.
On 'With a Little Help from My Friends' 'Aaron Coplandmeets Miles Davis meets Joe Cocker meets the Beatles,' Loren Daniels says. From Ticket to Ride.
ACOUSTIC LULLABY, Tony Wray & Tim Crouch (Pinecastle Records)— Some records are so perfectly conceived and executed as to be more than the sum of their parts. In the case of Tony Wray & Tim Crouch's first collaboration, the elevated result is nothing less than a work of art. The concept teams two seasoned bluegrass instrumentalists on a mere 10 tunes most often categorized as children's songs. In arrangements for banjo, guitar, mandolin and fiddle, Wray and Crouch convey deeply felt tenderness and love to such a degree it's nigh on to palpable but isn't lacking some, oh, daring in variations on familiar themes. "Three Blind Mice" is appropriately frisky, but its bracing energy comes via the shifting textures in a spirited banjo-mandolin conversation. The old warhorse "Greensleeves," seemingly straight ahead, evolves into a fantasia for guitar and fiddle, in what may be an acoustic tip of the hat to the classic Ralph Vaughan Williams orchestral version. Conversely, less can be more: "Jesus Loves Me" is an in-the-pocket reverent reading for guitar, mandolin and fiddle honoring the song's message; and apart from a slight filigree here and there in "Silent Night," those same instruments' tradeoffs heighten the melody's spiritual pull. Herein peace and perfection reign. –David McGee
'Twinkle, Twinkle, Little Star,' Wray & Crouch, from Acoustic Lullaby
THEY CALLED IT RHYTHM & BLUES, The Duke Robillard Band (Stony Plain Records)– Exactly where does one begin enumerating the many virtues of one of 2022's most satisfying new discs? Is it in the select choice of enduring R&B evergreens from the likes of Roy Milton, Howlin' Wolf, Joe Liggins, "Lil Son" Jackson, and others? Is it in the tasty originals offered by Duke (including a powerhouse grinder, "Outta Here," equally notable for Duke's gritty vocal as it is for his stinging guitar, the horn section's robust interjections, and Bruce Bears's rippling, bluesy organ solo) and Kim Wilson (two gems from his T-Birds days, especially the red-hot plea "Tell Me Why," brought to a roiling boil by Wilson's aggrieved vocal and equally piercing harp support)? Could it be the scene-stealing distaff guest vocalists Sue Foley and Michelle Wilson, the former infusing Mickey & Sylvia's "No Good Lover" with some heated Texas blues swagger, the latter most memorably on a deep blues reading of the old chestnut "Trouble in Mind," in which the depth of her measured, plaintive reading might well bring you to your knees? Is it the sheer joy Sugar Ray Norcia exudes vocally and furiously on harp on a Chicago-styled, horn-enriched workout on Jimmy Nolan's "She's My Baby"? Well, exactly where? –David McGee
'In the Wee Wee Hours,' written by Joe Liggins, from The Duke Robillard Band's They Called It Rhythm & Blues
WHERE GOSPEL MEETS SOUL, 1952-1962, The Caravans (Acrobat Music) 🎼– Despite their massive popularity over three decades, the Caravans have lacked a proper CD retrospective. Selections have been reissued here and there, and Savoy put out a two-album set featuring most of their hits, but there has been nothing approaching a serious survey of their musical canon. That's why it was a delight to learn about Acrobat's Where Gospel Meets Soul, a two-disc, 49-track exploration of one of gospel's greatest groups.
The Acrobat collection provides nearly all the singles, both the A and B sides, in order of release from the ladies' first issue for States in 1952 through their final single for Savoy/Gospel in 1962, before joining Vee-Jay later that year. Hearing the selections in lockstep order allows the listener to experience the group as it evolved from tight-harmonizing background singers into an all-star troupe of the era's most electrifying vocalists…. Inez Andrews is at her explosive best on "Your Friend," the flipside to "Lord Keep Me Day by Day." In many ways, she's the star of the collection. Follow this link to the full review by Bob Maravich at his website, The Journal of Gospel Music.
'Your Friend,' The Caravans, with Inez Andrews on lead vocal, from The Caravans: Where Gospel Meets Soul, 1952-1962
UNCHARTED FAITH, Jason Kao Hwang & J.A. Deane (Tone Science Music/Blue Tone Music)– Out of tragedy came something exciting, challenging, edgy and, ultimately, beautiful. When his partner died in 2019, J.A. Deane (Dino, to his friends) retreated to seclusion in Cortez, Colorado. Having seen Deane, a master of musical electronics, in concert some time earlier, Hwang, son of Chinese immigrants and an electric violinist given to improvisation and experimental soundscapes, contacted him and a duo project was soon born. In May 2021 the two began exchanging tracks by mail, with Deane then mapping "a subset to another instrument (Sensei morph touch controller & Spacecraft granular synthesizer software.)" Dino encouraged Hwang to "embrace and multiply" the harmonic density of the works with multiple overdubs. In early July Dino revealed to Hwang that this would be "the final project" of his life, having been diagnosed with Stage 4 throat cancer and declining treatment; on July 23, 2021, Dino, 71 years old, passed away. Hwang carried on, embellishing and improvising Dino's innovative electronics with his Tucker Barrett electric solid body violin, fashioning six tracks into a 50-minutes-plus album, Uncharted Faith. It won't be everyone's cup of tea, but there is order amidst its seeming chaos, beauty in the synergy between the raw, shifting textures Hwang coaxes from the Tucker Barrett and the flow of Dino's electronic soundscapes. There's more to the backstory, and a good summary of it can be found at www.jazz.pt. Even so, the heart and love informing this work needs no further explication. –David McGee
'Speaking in Tongues,' J.A. Deane & Jason Kat Hwang as Dino Duo, from Uncharted Faith.
PRECIOUS THINGS, Choral Music by Bernard Hughes, The Epiphoni Consort, Conducted by Tim Reader (Delphian)– This new disc Precious Things from Delphian features a selection of unaccompanied choral music by Bernard Hughes, performed by The Epiphoni Consort conducted by Consort founder Tim Reader. Many of the works on the disc were written for the BBC Singers, and in fact Hughes was drawn to writing for vocal ensembles after a BBC Singers workshop at the Huddersfield Contemporary Music Festival back in 2002. Since then he has developed a close relationship with the BBC Singers.
'Perhaps,' The Epiphani Consort, Tim Reader, from Precious Things (film by Ben Tomlin)
The music is generally tonal and beautifully written for voices. I know from experience that Hughes music is both satisfying and challenging to sing, as well as being rewarding for both singer and audience. Mainly dating from the period 2014 to 2021, these pieces show Hughes's remarkable consistency of approach. Whilst his music is tonal, it is never obvious; there is a sense of coming to tonality sideways and he never seems to take the easy way out. This is certainly not minimal music, nor is it boringly the same; within his chosen compass, Hughes provides us with remarkable variety. Follow this link to the full review, "When Tonality Means a Journey," by Robert Hugill in Deep Roots.
MUSIC FOR HOPE, Amjad Ali Khan-Wu Man, With Amaan Ali Bangash, Ayaan Ali Bangash, Shane Shanahan (ZOHO)– These musicians, from diverse musical traditions, are already seeking harmony by coming together to make a new music and are finding it by responding to each other in their musical creativity. Harmony is a joining together of peoples and cultures, not just musical phrases and responses. The principal aim of this project is to support the AAPI movement and raise awareness of its struggle, which can be seen as the restoration of harmony amid the discord created by discrimination, victimization and violence. AAPI stands for Asian-American and Pacific Islander, a group that comprises dozens of ethnicities and many more languages and dialects, harmonized by their common objective of resisting discrimination.
'Rhythm of Life,' Wu Man, Amaan Ali Bangash and Ayaan Ali Bangash, Shane Shanahan, from Music for Hope
The musicians expressing this power of music, transcending national boundaries, are leading virtuosi on their instruments, and all have ventured extensively into cross-cultural collaborations. Both Wu Man and Shane Shanahan are founding members of Yo-Yo Ma's Silkroad project, and Wu Man remains an active touring and teaching member of the Silkroad Ensemble. Amjad Ali Khan and his two sons, Amaan Ali Bangash and Ayaan Ali Bangash, represent the sixth and seventh generations of a family of sarod masters. Follow this link to the full review, "Restoring Harmony in Discordant Times," by Neil Sorrell in Deep Roots.
MY COLORFUL CHRISTMAS, Regina Belle (Tashi3  Entertainment/Altavoz Distribution)– My Colorful Christmas, the first yuletide album from GRAMMY Awardee Regina Belle, and issued on her own imprint, Tashi3 Entertainment, traverses mostly familiar holiday fare. Traditional carols and more recently composed Christmas songs receive bubbly jazz and R&B arrangements tagged with improvisatory, and sometimes downright evangelistic, codas.
'A Baby Changes Everything,' Regina Belle with her daughter, Sydni Battle, from My Colorful Christmas
Indeed, the spiritual codas from Belle and her background vocalists are what distinguish this album from other Christmas collections by popular singers. For example, Belle tags the Latin-flavored "Silent Night" with a sobering allusion to Easter when she sings, "He was born to save me." The musicians bestow an island vibe to "O Little Town of Bethlehem," complete with real or simulated steel drums, as the background singers bake robust gospel choir harmonies into the score. A Latin rhythm, subtle but unmistakable, also informs "Away in a Manger." Follow this link to the full review, "The Beauty of Belle at Yuletide," by David McGee in Deep Roots.
I GOT LOVE, Al Castiglia (Gulf Coast Records)– The new album, which showcases 11 blistering, blues-drenched tracks, is a personal and powerful statement from Castiglia. "I Got Love is a musical essay documenting the last two years of my life: two years of many highs and lows," Castiglia offers. "It's about falling, failing, adapting, reinventing, surviving and becoming triumphant. It contains musings of an unemployed man, a covid-stricken idiot and getting through it like Andy Dufresne in The Shawshank Redemption.  The blues and blues-infused music is rooted in truth. This album is my truth. To ignore the events of the past two years (the covid era) and write about anything else would not be my truth. I went through it all–loss, depression, illness, fear of the unknown. I know I couldn't have been the only one that went through it. This collection of songs is for those who felt like I did. It's for those who went down fighting and those who keep on fighting. For many of us in my profession and in the gig economy, this was our great depression. Some of us are doing well and some of us are still trying to find solid ground.
'I Got Love,' Al Castiglia, title track from his latest album
"This album is for everyone. It's also a thank you to those who helped keep us alive; the folks that contributed to my virtual shows and took guitar lessons from me. This album's also for Rick Lusher, who retired from the radio promotions business and handed the keys over to my wife at a time when we really needed it. It's about love, gratitude and becoming a better person from the shittiest of circumstances. It's my blues in its truest form." Follow this link to the full review in bluesrockreview.com.
BLUEGRASS 2022, Various Artists (Pinecastle Records)– An all-instrumental project assembled by banjo master Scott Vestal (who not only plays the instrument with the best, but also designs the instrument and sells his creations through his Stealth Banjos business) boasts a career resume that includes work with a Who's Who of bluegrass and country greats in addition to two Banjo Player of the Year awards (from the IBMA and Bluegrass Now) and, in 2017, the Steve Martin Prize for Excellence in Banjo and Bluegrass. These instrumental projects are old hat to Vestal, who began the series with Bluegrass 95, concluded it with Bluegrass 2001, and revived it 2005. The 2022 edition features 10 tasty tracks featuring the combined masterful efforts of Vestal, Cory Kilby (guitar), Tim Crouch (fiddle), Randy Kohrs (resophonic guitar), Byron House (bass) and Jonah Horton (mandolin).
'Steam Powered Aereo Plane,' written by John Hartford, performed by Bluegrass 2022 from the album of the same name.
A high-strutting "John Hardy" kicks things off in fiery fashion, with speed-of-light soloing 'round the horn setting the stage for Horton's mandolin pyrotechnics in David Grisman's "EMD," with Crouch coming in behind him in furious fashion. A fiddle-fired take on Bill Monroe's "Gold Rush"; a jubilant trot through the traditional "Blackberry Blossom"; Vestal leading the way on banjo in the late, great John Hartford's airborne "Steam Powered Aereo Plane"; a lively workout on Vassar Clements's "Lonesome Fiddle Blues," the life of which belies the title's solemnity, as Crouch's moaning fiddle is surrounded by life affirming solos from guitar, rest guitar, banjo and mandolin, and there's a hint of jazz sensibilities evident in the adventurous soloing. In short, everyone gets into the picture, and they all have star turns. This is super session stuff, to be sure. —David McGee
DEVIL MAY CARE, Tinsley Ellis (Alligator Records)– Count Tinsley Ellis among those artists who benefitted, so to speak, from a pandemic pause that found him retreating into a period of reflection and renewal far from the madding crowds. Renewed and reinvigorated, he crafted a bevy of new songs, many exploring various hard-luck scenarios, all redolent of the various influences he's absorbed into his own sound. From this comes what will surely be recognized as one of the finest albums in his 20-album career as a bandleader. The tone is set with the first stinging notes of the Allmans-like twin guitar attack of the album opening "One Less Reason," a driving beauty distinguished by the howling twin guitars and for Ellis mostly blaming himself, rather than a woman, for his deepening despair. The wickedly slinky groove and percolating percussion of "Juju" is a righteous celebration of a particular woman's hold on Ellis's soul, with emphasis added by Kevin McKendree's celebratory piano workout. "Step Up" adds a tasty blast of southern R&B in its tart horn parts complementing the razor-edge guitar and enhancing Ellis's aspirational lyrics. "This way of life chose me," Ellis sings in "One Last Ride," and for this we can be grateful. –David McGee
'One Last Ride,' Tinsley Ellis, from Devil May Care
AMAZED, Isaac Cates & Ordained (Independent release)–Gospel music enthusiasts who want to "bring the choir back," though truthfully the choir really hasn't gone anywhere, will be amazed by Amazed, a 70-minute CD from Isaac Cates & Ordained. The album brims with contemporary gospel and some traditional flourishes, as well as praise and worship music tinged with semi-classical influences and all delivered with great gumption by the choir and a troupe of skilled musicians, Cates foremost among them.
'In Due Season,' Isaac Cates & Ordained, featuring Molly Hammer, from Amazed
From Kansas City, Kansas, Cates & Ordained secure for the project a battery of respected lead vocalists. For example, Tobbi and Tommi White of the sister duo Tobbi & Tommi lend their individual talents here. Tommi shouts and squalls through the traditional-flavored "Step Back and Watch Him Work." Set in the classic "rocking chair" time signature of 12/8, the song sounds for all the world like a long-lost Christian Tabernacle Concert Choir piece. Tobbi's estimable efforts on "Real Love" is preceded by a poem from Ezekiel Azonwu that sets the stage for this song about the mutual love between Christian and Savior…. Whether the songs are rhythmic or balladic, dramatic or exciting, Isaac Cates & Ordained deliver thoughtful arrangements, polished harmonies, and expressive lead vocals. The group's musicality reflects Cates' church and conservatory training, and his love for all styles of gospel. Follow this link to Bob Marovich's review of Isaac Cates & Ordained's Amazed.
REVELATION, Robert Hill & Joanne Lediger (Independent release)– Backed by a ferocious troupe of musicians, indie blues performers Robert Hill and Joanne Lediger cover classics from a certain gritty guitar evangelist and also offer newly-composed tunes on their eleven-track Revelation. Think the Americana folk band Ollabelle partaking of mojo at Schwab's in Memphis and you have a sense of the sound of this album.
'John the Revelator,' written by Blind Willie Johnson, performed by Robert Hill & Joanne Lediger, from Revelation
As it turns out, Ollabelle covered one of the tracks on Revelation, Blind Willie Johnson's "Soul of a Man." Multi-instrumentalist Hill & vocalist Lediger deliver a few other songs from Johnson's catalog, notably "John the Revelator," "Nobody's Fault but Mine," and "If I Had My Way, I'd Tear the Building Down" (titled "Sampson and Delilah"). Hill's aggressive slide guitar work, reminiscent of George Thorogood, is the star of the CD. It shines most brightly during extended instrumental breaks on his own composition, "Jesus by the Riverside," and while holding down the John Lee Hooker-style boogie beat for "Run On." Follow this link to Robert Marovich's review of Revelation at his website, The Journal of Gospel Music.
GOSPEJAZZICAL, VOL. 1 (LIVE), John Paul McGee (Jazz Urbane)– Well, here's something you don't encounter very often, at least on disc: a gospel, classical and jazz hybrid. And a mighty fine hybrid it is, both in its original songs by pianist John Paul McGee (no relation) and stirring, even surprising interpretations of ever-relevant warhorses such as "Amazing Grace" and "The Lord Will Make a Way" along with contemporary gospel landmarks such as Benjamin Winans's "Heaven."
'Amazing Grace,' John Paul McGee with bassist Joel Powell and drummer Tyson Jackson from Gospejazzical, Vol. 1
The players being jazz artists should tell you some chances will be taken, and so it is. "Amazing Grace," for instance, finds McGee, oh so melodically, breaking down the melody line and exploring hidden nuances and tones, even tempos, as Powell fashions measured bass lines and Jackson sets down a textured percussive backdrop with rolls, cymbal splashes and hi-hat thumps, all in service to McGee's continuing exploration in tandem with Walton's warm baritone establishing the soundscape and then taking off on atmospheric flights away from the original melody before ceding the platform back to McGee's ever-bluesier sorties (bassist Powell also gets a crowd pleasing moment of his own here). At the end, the whole thing explodes into a wild, seemingly free-form outburst with McGee and Walton busting out all over. Follow this link to the full review, "Fresh Utterances of Life Force," by David McGee in Deep Roots.
CHRISTMAS WITH CHRIS RUGGIERO
www.ChrisRuggieroSings.com– Chris Ruggiero is not a household name, but he's on his way, via appearances on PBS specials and on concert stages near and far, and now we can chalk up the 23-year-old's first Christmas album as another reason he's going to be better known soon. The self-released Christmas With Chris Ruggiero comes out of nowhere to stand toe-to-toe with any major label established star contribution to the 2022 Yuletide season. Although he draws on pop and soul influences in this impressive 12-song holiday outpouring, to these ears Ruggiero's pliable, tuneful tenor voice, and the arrangements surrounding it here, bespeak an artist deeply invested in group harmony and doo-wop. He can soar into the ether when necessary, his voice always remaining clear and plaintive, and when the tune demands it he can simply emote a tender lyric in a forthright but nuanced pop style. Underneath the singing, impressive in its own right, is something else that seems to escape too many contemporary "singers," and that is pure, unadulterated heart—Ruggiero feels every note he sings in a palpable way, adding powerful subtext to the most ordinary phrases, in the same way, say, the Flamingos' Nate Nelson always gave more than the lyrics would suggest on their surface. Or, say, the way Donny Hathaway invested his every phrase with so much feeling and sincerity as to escort a listener onto an elevated plane of emotion.
'This Christmas,' written by Donnie Hathaway, from Christmas With Chris Ruggiero
Small wonder, then, that Ruggiero would begin his festivities here with Hathaway's enduring contribution to the holiday season, "This Christmas," with the singer soaring over a brassy, pulsating arrangement unfolding in a tender whisper and then rising to anthemic belting, flawless and potent melodically and sonically. The Hathaway song sets the tone for what's to come, namely 11 mostly familiar songs ranging from Bing Crosby's 1943 hit, "I'll Be Home for Christmas," to the David Foster-Linda Thompson-Jenner co-write, the aspirational "Grown-Up Christmas List," originally recorded by Foster and Natalie Cole in 1990 for Foster's River of Love album, revived two years later for inclusion on Amy Grant's Home for Christmas album, covered by Kelly Clarkson in 2003 and revived anew this year as the theme song for a like-titled Hallmark Channel movie. Follow this link to the full review, "The Heart of the Matter," by David McGee in Deep Roots.
TAKE MY RIDER, Douglas Avery (CD Baby)–Long before he made his debut as a recording artist with 2022's Take My Rider, native Los Angeleno Douglas Avery had taken the road less traveled. Engaged with music from childhood both as a fan and as a budding musician/vocalist, he got at least part of a foot in the door of L.A.'s jazz scene in the late '60s. Then he became a world citizen in the Endless Summer mode, seeking out those countries where the waves spoke to him as a skilled surfer, and as a surf photographer contributing to all the right journals. Returning to California, he moved into sports and fashion photography, successfully so, even as he continued capturing his musical idols on film. He came to the blues harp seriously in the early '70s, and in the ensuing years befriended numerous L.A. players, including the Doors' Robbie Krieger, with whom Avery continues to perform periodically today. Some of those L.A. musicians he met back in the day joined him in the studio for this project, and a terrific combo they are: Carl Sonny Leyland on piano; Franck Goldwasser on guitar; Ralph Carter on bass, bongos and organ; Johnny Morgan on drums; and a trio of horn players in Aaron Liddard (saxophone), Jerome Harper (trombone) and Simon Finch (trumpet). It says much about Avery's skill level that he always sounds like he belongs, and his mates give every indication of being totally immersed in the moment, never overplaying, never grandstanding, supporting his vocals and harp work with sensitivity and subtlety.
'Riding With the Devil,' Douglas Avery, from Take My Rider
Most of the tunes here are Avery originals in a style blending traditional and contemporary elements. For old school fans, Avery goes deep into the Delta for his "Jelly Jelly," a wailing, grinding groove dug deep by Goldwasser's resophonic riffing shadowing Avery's moaning, shimmering harp and sly, suggestive vocal. Pairing with Goldwasser again, Avery offers cautionary advice about disdaining the entreaties of a certain shady character in the Delta boogie groove of "Riding With the Devil." Staying in the south but moving farther east, "How Long Can This Last?" brings the piano, pumping horns, raw-edged guitar, howling harp and thumping drums into a Muscle Shoals-like workout with Avery rolling out the tale with Jagger-like swagger. Covers of John Mayall's "Sonny Boy, Blow!" (from 1967, a boogie-woogie barnburner) and a teenage Little Walter's driving "Just Keep Loving Her," a steady-rollin' workout fueled by Morgan's indefatigable drumming and Avery's straight-ahead testifying and jubilant harp work, come naturally to him. Given his history, Avery might well be off to another adventure in a whole other field by now, but if he wants to pass this way again any time soon, with band and harmonica in tow, he's most welcome. –David McGee
MIDNIGHT BLUES, Crystal Shawanda (True North Records)– A Northern Ontario native, by way of the Wiikwemkoong First Nation, on Manitoulan Island, and raised in Sault Ste. Marie, Crystal Shawanda is fast being recognized as a formidable blues vocalist. Right off the bat, this, her fifth blues-based album, emphasizes her trajectory into the top ranks of the blues realm with two gritty, deep blue outpourings that bring out the best in her raspy voice and affecting phrasing. One is the smoldering kissoff that is the title track, the other a lusty investigation of Buddy Guy's "What Kind of Man Is This" (remarkable as well for her husband/producer Dewayne Strobel's raging upper neck guitar sorties). "Midnight Blues" and five other tracks are Shawanda originals and illustrate her continuing growth blending craftsmanship with emotional depth—she's got it all going for her.
'I Want My Soul Back,' Crystal Shawanda, from Midnight Blues
But Midnight Blues also offers a hint of the side of Shawanda her long-time fans will recall, namely as a country artist. In 2008 her debut album on RCA Nashville, Dawn of a New Day, topped the Canadian Country Albums chart, and her 2010 long player, Just Like You, won a 2013 Juno Award for Best Aboriginal Album. Among the selections here is a gripping version of a "Why Do I Love You," a tune penned by one of country's finest songwriters, Jim Lauderdale, that, in the depth of its balladic ache, touches down in classic country, blues and R&B territory all at once, behind a wrenching vocal that would do Etta James proud. Follow this link to the full review by David McGee in Deep Roots.
SONGS OF LONELINESS: SOLOS, DUOS AND TRIOS, Noah Max (Composer), Raymond Brien (clarinet), Philip Haworth (oboe), Zoe Solomon (piano), Brompton Quartet, Barbican Piano Trio (Toccata Classics)– This new disc from Toccata Classics features chamber music by the young composer Noah Max. Under the title Songs of Loneliness: Solos, Duos and Trios we have a "Sonatine for Cello," "Sunset Sketches: Three Sonnets for Solo Piano," "Sojourn" for string trio, "It Comes in Waves" for solo piano, "Cornucopia: Three Bagatelles for Solo Oboe" and "Vignette" for piano trio, performed by Raymond Brien (clarinet), Philip Haworth (oboe), Zoe Solomon (piano), members of the Brompton Quartet (Maja Horvat, Kinga Wojdalska, Wallis Power) and the Barbican Piano Trio (Sophie Lockett, Robert Max, James Kirby).
'It Comes in Waves,' written in memory of a friend who died in tragic circumstances at the age of nineteen. Solo piano by James Kirkby, as performed on Noah Max: Songs of Loneliness: Solos, Duos and Trios
The music is all relatively recent, dating between 2018 and 2020, and in his booklet note, Martin Anderson talks about "the sense of loss pervading almost everything recorded here; where the music does not seem to be grieving, it is angry." But for me it wasn't so much the sense of loss as the nebulous quality to this music. There is great stylistic variety here, but in each piece the music seems to elude our grasp somewhat. Follow this link to the full review, "Where Grief and Anger Share Space," by Robert Hugill in Deep Roots.
A DREAM IS A WISH: A SPECIAL ACOUSTIC TRIBUTE to the MAGIC KINGDOM—Tony Wray & Tim Crouch (Pinecastle Records)– Seems like only yesterday when Tony Wray and Tim Crouch surprised us in nice way with their mellow guitar-and-fiddle (mostly) collaboration on 10 children's songs every bit as evocative and soothing as its title, Acoustic Lullaby, suggests. In fact it was only this past May when the duo's first collaboration was released, only to be followed this past September by another 10-song gem lovingly celebrating songs from the Disney catalogue over the years. It's still Wray (guitar and banjo) and Crouch (fiddle) on every tune save "Cruella De Ville" from 1961's 101 Dalmations, a leisurely, bluesy instrumental driven by Crouch's tuneful, countrified fiddling given additional subtle support from Dana Farnsworth on piano and Les Stroud on harmonica, with both taking expressive solos along the way, Stroud especially standing out by bobbing and weaving around the melody line between succinct guitar and fiddle dialogue. Follow this link to the full review, "No Goofy Exercise," by David McGee in Deep Roots.
'Bare Necessities,' written by Terry Gilkyson for the 1967 Disney animated film The Jungle Book. With lead vocals by Quillan and Kim Roe, Jim Denman and Tony Wray, Wray & Crouch's A Dream is a Wish: A Special Acoustic Tribute to the Magic Kingdom
TRANSITIONS, Brian Courtney Wilson (Motown Gospel)– On Transitions, gospel singer-songwriter Brian Courtney Wilson wraps his honeyed baritone around mostly new selections in an atmosphere set up to simulate a live impromptu jam session.
Whether intentional or not, much of Transitions feels like a musical kin of Marvin Gaye's 1971 What's Going On, but with the aid of modern production techniques. Not only does Wilson's vocal delivery evoke Gaye's earnest crooning, but the loping rhythm of "All I Can Say" and the bongo-like percussion at the opening of "Monday's Pain" and "Call My Name" evoke "Mercy Mercy Me," "Inner City Blues," and "What's Going On." Given that the album is on a Motown imprint and Wilson has a deep respect for Marvin Gaye's work—he's covered "Inner City Blues"—perhaps it's not really that surprising. … The album receives top-shelf treatment from energetic background vocalists, a tight rhythm section, and superb production from Dana Sorey, who also plays a churchy organ. The sound is big enough to bust through the speakers but intimate enough to feel like a house concert. … With Biblically-based and earnest messages set to a relaxed consommé of soul, funk, blues, R&B (and church vibes, of course), Transitions may indicate where modern gospel is, or at least should be, headed. Follow this link to Bob Marovich's review of Brian Courtney Wilson's Transitions at his website, The Journal of Gospel Music.
'Always Peace,' Brian Courtney Wilson, from Transitions
DON'T STOP CARING, Lawrence Hancock (Independent/Symphonic Distribution)– Don't Stop Caring is Bishop Lawrence Hancock once again baring his soul and sharing the raw truth from the pulpit of experience. The Stellar-nominated Christian hip hop artist's eighth album builds on his distinctive style of delivery: an atmospheric kaleidoscope of computer-generated electronica and rhythm supporting stream of consciousness lyricism. As such, Hancock is like a sacred version of a beat poet.
'Console My Heart,' Lawrence Hancock, from Don't Stop Caring
As on 2020's Who I Am and last year's Need of You, Hancock prays out loud in a pleading, multi-tracked voice that echoes off the studio walls. He evokes Peter Gabriel, if the former member of Genesis was wrestling with an existential challenge during the group's The Lamb Lies Down on Broadway era. Emerging as if from a disorienting haze, Hancock's lyrics/prayers seek semblance out of life's disorder. Follow this link to Bob Marovich's full review at his website, The Journal of Gospel Music.
SHADES OF BLUE, Kristy Cox (Billy Blue Records)– Arguably Australia's most successful export to the bluegrass world, Kristy Cox, a U.S. citizen as of October 2022 and now a Nashville resident, makes the most of her debut appearance as U.S.-based album artist. She doesn't come out of the mountains but her plaintive voice has an affecting mountain cry about it and her delivery is packed with emotion. And she has a solid creative partner in Billy Blue co-founder/A&R director Jerry Salley, a veteran who has worked with Cox throughout her Australian career, producing six albums over there before signing her to his new label. Salley has collaborated with other writers on several of the songs here, including the powerful single, "Person of the Year" (a co-write with Bill Whyte), possibly the first song to emerge addressing the courage and resilience of front-line healthcare nurses and doctors who literally put their lives on the line every day, during pandemics, wars and everyday crises from which others would run. Apart from that topical number, Cox hits the mark with "Kentucky's Never Been This Far From Tennessee," an unusual heartbreaking ballad (written by Salley, Kristi Mille rand Aaron Wilburn, who passed away before this album's release) not about lovers falling apart but rather a couple deeply missing each other while one is on the road; Marty Raybon takes the male part of the wrenching confessional, fiddle and dobro lay on the sweet ache of loneliness, and the silver lining is the knowledge that the couple will be eventually be reunited, even if in the moment the abject loneliness is engulfing each one. There's wry, sentimental good humor to be found in the examples she enumerates of good times together in the midtempo ballad "This Is Where You Kiss Me," aided by tasty dobro and fiddle atmospherics again; tough love dispensed in the ominous sonics surrounding the warnings about a gent who is not the prize he seems to be, delivered with stern authority by one he left behind in "The Devil Was an Angel Too." So it goes throughout the album's range of emotions and textures, in what is one of the finest bluegrass albums of the year. –David Mcgee
'Person of the Year,' dedicated to frontline doctors and nurses, performed by Kristi Cox on Shades of Blue.
RECOLLECTING, Mathieu Soucy (Inner-Bop Records)–Guitarist Mathieu Soucy, a 2019 graduate of Canada's McGill University, in Montreal, hits the ground running with a splendid debut album, Recollecting, on which he guides a talented quartet of young musicians through seven of his engaging compositions plus Thelonious Monk's "Reflections" and the well-traveled Rodgers and Hart standard, "Where or When" (sung by Humber College alum Caity Gyorgy).
'Where or When,' written by Rodgers and Hart, vocal by Ciity Gyorgy, Mathieu Soucy on guitar, from Recollecting
Gyorgy is heard on one other number, "Thinker and a Fool," a bright samba whose cryptic lyric is her own. Elsewhere, Soucy's nimble guitar charts the course, followed in lock step by pianist Gentiane MG, bassist Mike de Masi and drummer Jacob Wutzke. Soucy, a natural-born swinger with technique to burn, lays his cards on the table without pause on the brisk, bop-flavored opener, "Lennie's Changes," wherein Gentiane MG shows he is no laggard in that department either, and Wutzke adds his own exclamation mark. Follow this link to the full review by Jack Bowers in allaboutjazz.com.
WE OWE IT ALL TO YOU, Ellen Hayes
 (Songs & Melodies Records, LLC
)– Thanks to solid songwriting from Hayes, Michael Mindingall and Sean Hardin, the album contains a greater number of individually distinctive and quality gospel songs than one typically finds on albums today. Some are aisle walkers, such as the openers, "Walk in the Spirit" and "Yes Lord." With its 12/8 rocking chair tempo, the encouraging "God Will Supply" also has a traditional feel and features Hayes's most emotional singing. Hayes and her team are at their most compelling on these older-school songs, but "Oh King," a P&W song with contemporary gospel cred, also stands out.
'God Will Supply,' Ellen Hayes, from We Owe It All to You
The Detroiter Hayes sings with flatfooted passion, most often clinging to the higher reaches of her vocal range even though she possesses a fine low range that she unveils from time to time. She shares the lead microphone at turns with Cynthia Gross and Latoya Bellafant, who supply excellent vocal work on the prayerful "Just Like You Lord." Follow this link to the full review by Bob Marovich in Deep Roots.
GENERATION HYMNS 3, Tommy Walker— On Generation Hymns 3, worship leader, singer, and songwriter Tommy Walker teams with the Bethesda Community Church Choir and several featured vocalists to bind the hymnbook in a new cover. The Bethesda choir has a smiley Jesus People vibe. Indeed, the choir, Walker, the featured vocalists, and the robust rhythm section are uniformly upbeat, even on the album's more sensitive selections like "He Leadeth Me" and "At the Cross." For his part, Walker possesses a warm, friendly baritone voice that conjures Michael Buble and Harry Connick Jr.
'He Leadeth Me (Beside the Quiet Waters,' Tommy Walker (featuring Eileen Walker U& Bethesda Music), from Generation Hymns 3
The vocal features bring a multiculturalism to the mix. The husband-and-wife gospel team Jerard and Jovaun makes cameo appearances on "Standing on the Promises," a surprisingly funky "They'll Know We Are Christians By Our Love," "At the Cross," "Just As I Am," and "Give Me Jesus." Linda McCrary Fisher of the McCrary Sisters is also present on "Give Me Jesus," "The Love of God," and offers an especially emotional reading on "Just As I Am." Eileen Walker, Tommy's daughter, also makes several appearances, lending her country-flavored vocals on the acoustic guitar-accompanied "He Leadeth Me," "Give Me Jesus," "Just As I Am," and "The Love of God" (not the Soul Stirrers / Voices of Tabernacle version). Follow this link to the full review by Bob Marovich at his website, The Journal of Gospel Music.
WALKING IN THE DARK, Julia Bullock & Christian Reif with the Royal Philharmonic Orchestra (Nonesuch)– "Darkness is a place where we may find protection and safety… hold intimate secrets and desires… [or] shield wounds or violent acts," writes Julia Bullock of her album Walking in the Dark. She presents us with the idea that darkness is not inherently negative (or positive). The album begins with the voice of Julia Bullock, alone for a few seconds so that we can get a taste of what the rest of the album holds; a captivating way to start a debut album for a solo voice.
'One by One, written by Connie Converse, performed by Julia Bullock on Walking in the Dark
In "Brown Baby," Bullock's voice is reminiscent of Marian Anderson as she sings in a silky contralto register; her performance conveys the sweetness of the libretto—in which the singer wishes the best of life to the eponymous baby—and sometimes reminds me of Black American spirituals I heard in church or in school growing up. For Bullock, whose first solo as a child was singing "Follow the Drinking Gourd," deciding to include spirituals in this album, and indeed perform them in concert, involved an evolving understanding of what they're for, and what they mean to her; she told me that, to her mind "[spirituals] actually weren't reflections on God, necessarily, but that these songs were a way to voice rebellion, were a way to voice that you were not complicit in the state of the world…" Follow this link to the feature/review of Julia Bullock's solo recording debut by Quentin Neroes at www.wqxr.org
WALKIN' ON A WIRE, Danni Leigh (BFD/Audium Nashville)– In 2007, Danni Leigh, then a promising, tradition-based newcomer to country music, took a Stateside powder, built a fan base overseas and eventually came home to Virginia to raise a family. Now, with her first new recording in 15 years, she resurfaces in a country genre radically altered from the one she left, but no matter—in a voice deeper and more commanding with age, she still sings it like she's sure Hank done it this way, or more to the point, the way Melba does it, meaning '70s country icon Melba Montgomery, who collaborated with Leigh on a steel-drenched, twangin' country plea to a straying paramour, "My Arms Stay Open Late." It closes the album as a scintillating bookend to Leigh's self-penned opener, "A Honky Tonk Song," a thumping tribute to "a way of life that's barely hanging on" and "to those who paved the way." In between these two gems, she nails every key emotional touchpoint, from the horn-fired heartbreaker "You're Gonna Lose Him" to the southwestern-flavored (complete with mariachi horns) "Pain of Surrender," a master class in plumbing the depths of heartache and betrayal. Whew! Welcome back, indeed. –David McGee
'My Arms Stay Open Late,' Danni Leigh, writing with Melba Montgomery, from Walkin' On a Wire
CLARITY, DOE (RCA Inspiration/Life Room
)– An extension of DOE's self-titled 2001 EP, Clarity has the gentle, intimate vibe associated with the Grammy-nominated songwriter and former lead singer of forever JONES. But if the grooves are dreamy and some songs gush with gratitude, others are earnest expressions of vulnerability and imperfection. All point to God as the mooring in a complex world. For example, on "When I Pray," DOE sings everyone's quiet part out loud: "I'm not very eloquent in speech/I don't always know how to sound holy when I speak." But, she adds, she can get a prayer through because God, ever constant, doesn't stand on ceremony.
'Take Me Back,' DOE, from Clarity (also featured on the artist's self-titled 2001 EP)
Songs toggle between a smiling look at life ("Good Now" and "So Good") and the challenges of being a public persona in an era when every move is captured on YouTube. "Give the people what they want or I'mma catch hell." she bemoans on "I Try," originally released on the EP. A young veteran of the spotlight, DOE concludes "performance can't buy you love" but doesn't mean she's not going to do her best. Follow this link to the full review by Bob Marovich in Deep Roots.
THE FLAT CONSORT: Duos for Two Bass Viols, Composer: Matthew Locke, by Fretwork (Signum Classics)– Matthew Locke was born 400 years ago this year, in 1622 and we remain in hope that centenary celebrations and recordings will help bring to prominence the music of this fascinating and still under-explored composer. His surviving music is not, perhaps, as immediately appealing as that of Henry Purcell, but without Locke's example you feel that there might not have been the Purcell that we know and love.
The Flat Consort, Suite No. 1 in C Minor: VI. Jigg, Matthew Locke (composer), performed by Fretwork from the album The Flat Consort
This new disc from the viol consort Fretwork is an example of what we have been missing: Recordings of seven of Locke's suites that have hitherto barely made a dent in the recorded catalogue. So, on Signum Classics latest release, Fretwork are joined by David Miller (archlute and theorbo) and Silas Wollston (harpsichord) for Matthew Locke's five suites, The Flat Consort and two duos for two bass viols.
THE GOSPEL ACCORDING TO NIKKI GIOVANNI–Javon Jackson
 (Solid Jackson)
– The Gospel According to Nikki Giovanni is a Black History Month treat from a jazz combo led by Javon Jackson, saxophonist and former member of Art Blakey's Jazz Messengers, and the iconic poet and national treasure who lent her name to the album's title.
'Night Song,' Nikki Giovanni (vocal) with Javon Jackson's combo (Jackson on sax, Jeremy Manasia on piano, David Williams on bass and drummer McClenty Hunter on drums), from The Gospel According to Nikki Giovanni. Nina Simone, friend of Giovanni, covered this song (written for the Broadway musical Golden Boy, starring Sammy Davis Jr.) in 1964.
The album came about after Jackson, a faculty member at the Hartt School at the University of Hartford and director of its Jackie McLean Institute of Jazz, invited Giovanni to speak to his students. In the auditorium, Giovanni heard Steal Away (Verve, 1994), Hank Jones and Charlie Haden's magnificent collection of jazz interpretations of spirituals, playing over the P.A. system. It was in the spirit of Steal Away that Giovanni curated, and Jackson's combo performed, the folk spirituals that comprise this nearly hour-long program. Indeed, the restful and righteous arrangements are reminiscent of Steal Away. Follow this link to the full review by Bob Marovich in Deep Roots.
ANGIE & FRIENDS LIVE AT DAYWIND STUDIOS: I FEEL LIKE SINGING (New Day Entertainment)–Certain records capture the unconstrained joy of traditional gospel and hymn singing better than others. One that captures it precisely is singer Angie Primm's Live at Daywind Studios: I Feel Like Singing. Gathered in the famous Hendersonville, Tennessee, Daywind Studios, the Angie & Friends troupe establish the theme of the album from the start, on the lead (and title) track. They namecheck gospel songs and spirituals in an informal group sing reminiscent of the Gaither Homecoming sessions (it's not a stretch; Primm has sung with the Gaithers). It's almost entirely traditional hymns, gospels, and spirituals from then on.
'I Will Trust in the Lord,' Angie Primm and husband John Primm in a powerhouse duet from Angie & Friends: Live at Daywind Studios: I Feel Like Singing
Primm is the quintessential traditional female church singer, the one who stands before a congregation and sends it into holy fits with her trills, runs, moans, scoops, and shouts, as on "He's a Wonder." And she has a sister, Gale Mayes-Stuart, an equally striking contralto, who joins her on "Oh, How I Love Jesus." Bass singer and southern gospel quartet star Gene McDonald (formerly of the Florida Boys) features on Alma Androzzo's heartwarming "If I Can Help Somebody." "I Surrender All" receives an equally delicate treatment, with Primm delivering sweet, round tones. "Oh, I Want to See Him" features Primm and southern gospel favorite Russ Taff backed by a small ensemble of background vocalists. Follow this lnk to the full review by Bob Marovich at his website, The Journal of Gospel Music.
SONGS FROM MY JOURNAL, Nona Brown (Signature Music Group)– Bay Area singer-songwriter Nona Brown's new album is a follow-up to her Songs From My Journal, Volume 1. On this second volume and live outing, she sings her way through a stack of worship songs from her own portfolio.
The energetic "All Unto You" is a conventional worship service opener, with plenty of call-and-response between Brown and her background vocalists. The late tenor Leonard Conner is featured vocalist and duets with Brown on "Praises to You," a mellow but all-too-brief component of what she describes to the live audience as a medley of her worship songs. Also in the medley are the melodic "In Your Presence" and "Fill This Place," each of which, along with "Praises to You," would have benefited from a full-length rendition.
'Most Worthy,' Nona Brown, from Songs From My Journal, Vol. 2
Throughout, Brown's voice is confident and strong. Her commanding presence in the live recording environment is testimony to decades of performance experience as well as participation in such institutions as the Gospel Music Workshop of America. To the latter point, "Most Worthy," complete with an extended squalling solo by Jonathan Johnson on the supercharged vamp, has the most gospel DNA of all the songs on the package. Follow this link to the full review by Bob Maravich at his website, the Journal of Gospel Music.