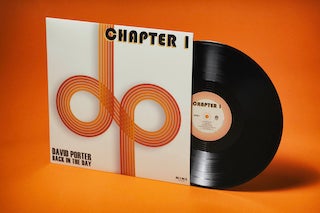 CHAPTER 1: BACK IN THE DAY
Dave Porter (MME Records, 2022)
Simply put, southern soul and the spirit of a certain time in American cultural history were shaped by songs written or co-written by Dave Porter (many in collaboration with pre-Hot Buttered Soul Isaac Hayes) during Stax Records' golden era. When the era, and Stax, faded in the '70s, Porter continued writing and recording, amassing a deep vault of unreleased songs, 10 of which are now seeing new life here, 50 years after his previous solo project. Tellingly titled Chapter 1, this high-quality vinyl release from Made in Memphis Entertainment (MIME) constitutes a new component of Porter's long commitment to supporting Memphis's local artists. In the dramatis personae department, a band comprised of Stax veterans (including guitarist and co-writer Gary Goin) ably supports a trio of expressive vocalists in Brandon Wattz, Candise Marshall and Marcus Scott plumbing the depth of Porter's music. It all sounds fresh and vital, from the deep, driving groove of "Circles" propelled by Marshall's gospel-infused testifying; to Wattz's sensitive, sensuous vow of commitment, buttressed by rap segments seconding her emotions, on the funky "By Your Side"; to Scott battling temptations of the flesh in "If I Have to Do Wrong," a lush ballad worthy of classic Stax status. Simply put, soul lives! –David McGee
'If I Have to Do Wrong,' written by Dave Porter, lead vocal by Marcus Scott. From Dave Porter's Chapter 1: Back in the Day
***
DEAR ILLUSION
Steve Hill (No Label Records, 2022)
On Dear Illusion, Canada's Steve Hill, long a one-man band (his trilogy of award winning Solo Recordings albums are recognized and much-lauded classics of the form), marks his 25th year as a recording artist by punching up his sonics with a robust horn section (The Devil Horns) adding a scintillating soul/R&B edge to the proceedings and a powerhouse, much-awarded (seven times UK Blues Awards winner) drummer in Wayne Proctor pushing the rhythmic assault forward with muscular style and sensitivity. No matter the pedal-to-the-metal intensity of Hill's scorching guitar work and the urgency informing every vocal, he's a singer-songwriter in rocker's duds. Dear Illusion is arguably the best example of Hill mating fire-breathing rock-blues to thoughtful, and thought provoking, lyrics.
'So It Goes,' Steve Hill, from Dear Illusion
Roaring out of the gate with "All About the Love," Hill fashions a merciless, pounding assault betraying wanton lust fueled by pulsating horns and his own stinging guitar and fierce staccato vocal. In the title track, a relatively subdued Hill reveals self-lacerating regrets over being played by someone he loved as the horns suddenly roar in to underscore the folly of it all, shattering the fleeting calm here. "Don't Let the Truth Get In the Way (Of a Good Story)" is the showcase tune, a blistering hard rock screed decrying the splintered reality created by social media, alternate facts and hyperpartisan media, with Hill's aggrieved guitar solo underscoring the narrative's gravity. The backstory informing this song: Hill started it six years ago, "after the Trump election," he says in a press statement, and it's been incubating, along with much of this album, as the pandemic raged. "It's about choosing to pretend because it's easier than facing the truth when the truth doesn't matter anymore."
'Until The Next Time,' Steve Hill, from Dear Illusion
A thoughtful, close-miked ballad, rife with regret and melancholy, "So It Goes" laments things gone wrong, from friendships to love affairs, over tender fingerpicked and slide guitar support. But two songs later, in "Until the Next Time," over triumphant horns and jittery guitar riffing, Hill, falling on his own sword for his abject failures in a relationship, nonetheless sees hope for righting things in the future: "There were times I remembered to forget you/there were times I'd be sober for a while and we'd just find/I'd wake up just to go out there and chase down my dreams/and be back where we start up the thing and do it all over again/until the next time." It's all in keeping with his own appraisal of what he wrought on Dear Illusion: "No matter what happens, you should give it all you got, and move on, be the best person you can be, and no matter what the sun will rise again. Don't dwell on suffering, slap it on the back and say, Thanks for teaching me."
If it all sounds close to the bone, that's because it is. –David McGee
***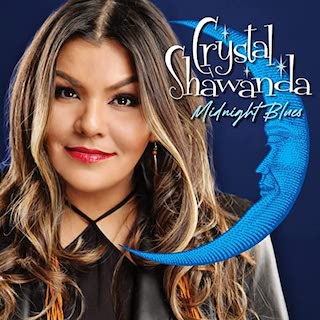 MIDNIGHT BLUES
Crystal Shawanda (True North Records, 2022)
A Northern Ontario native, by way of the Wiikwemkoong First Nation, on Manitoulan Island, and raised in Sault Ste. Marie, Crystal Shawanda is fast being recognized as a formidable blues vocalist. Right off the bat, this, her fifth blues-based album, emphasizes her trajectory into the top ranks of the blues realm with two gritty, deep blue outpourings that bring out the best in her raspy voice and affecting phrasing. One is the smoldering kissoff that is the title track, the other a lusty investigation of Buddy Guy's "What Kind of Man Is This" (remarkable as well for her husband/producer Dewayne Strobel's raging upper neck guitar sorties). "Midnight Blues" and five other tracks are Shawanda originals and illustrate her continuing growth blending craftsmanship with emotional depth—she's got it all going for her.
'Take a Little Walk With The Moon,' Crystal Shawanda, an original song from Midnight Blues
'I Want My Soul Back,' Crystal Shawanda, from Midnight Blues
But Midnight Blues also offers a hint of the side of Shawanda her long-time fans will recall, namely as a country artist. In 2008 her debut album on RCA Nashville, Dawn of a New Day, topped the Canadian Country Albums chart, and her 2010 long player, Just Like You, won a 2013 Juno Award for Best Aboriginal Album. Among the selections here is a gripping version of a "Why Do I Love You," a tune penned by one of country's finest songwriters, Jim Lauderdale, that, in the depth of its balladic ache, touches down in classic country, blues and R&B territory all at once, behind a wrenching vocal that would do Etta James proud. In a nice bit of sequencing, the Lauderdale song is followed by a grinding cover of Willie Dixon's (originally recorded in 1954 by Howlin' Wolf) "EVIL," in the context of this album a warning against the kind of man Shawanda has sussed out in the Lauderdale song. She makes it a trifecta drama with her own "I Want My Soul Back," a roiling soup of percussion, B3 and guitar over which the singer belts out the raw confession of "holding out for something that can make me feel alive—I want my soul back!" So much tumult on this album, but she goes out on a uplifting note with two more originals, a rock steady reading of "Hold Me" and a sweet, swaying R&B-tinged love song, "Take a Little Walk With the Moon," with a tender, soulful, Wynonna-style vocal riding on a wash of B3, arpeggiated guitar chords and an ethereal steel guitar solo that may well interpolate a snippet of melody from Santo & Johnny's classic "Sleepwalk." It's kind of a musical sigh, an exhale, after all the preceding emotional trauma. Who knows? Maybe it's where her next album begins. Behold, a concept. –David McGee
***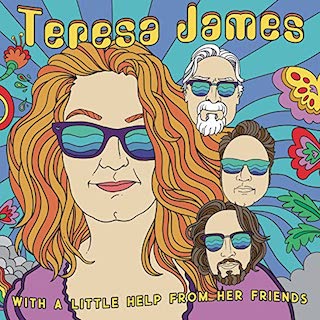 WITH A LITTLE HELP FROM HER FRIENDS
Teresa James (Blue Heart Records)
Since the earliest days of Beatlemania, artists of all stripes have set out to investigate, if you will, the songs of Lennon-McCartney and Harrison from their own perspectives, from the Hollyridge Strings' pop orchestral renditions in '64 and Chet Atkins's countrified instrumentals in '66 to, most recently, jazz pianist Loren Daniels's adventurous reimagining last year on Ticket to Ride (reviewed here in Deep Roots).
'Taxman,' Teresa James, from With a Little Help From Her Friends
The versatile Texas-born blues singer Teresa James now joins this growing sub-genre in impressive fashion, traversing all of the group's eras, always respecting—as is required—the melody and spirit of the originals while putting her own stamp on 10 gems. The 1964-65 years leading up to Rubber Soul are prominent. From 1964, "I'm Happy Just to Dance With You" is recast in a deep Memphis soul groove with organ and a silky female backup chorus complementing the yearning in the singer's reedy, suggestive vocal, whereas '65's "Ticket to Ride" is altogether more fatalistic in this stomping, blues-drenched treatment. From the Help! soundtrack ('65) the artist recasts "Hide Your Love Away" as a midtempo blues ballad, underscored by the disbelief informing her deliberate reading. The transitional Rubber Soul yields two tunes, including a bluesy heartbreaker treatment of "Think for Yourself" and "You Won't See Me" reconsidered as a smoky blues ballad, with Ms. James's soft, sorrowful vocal carrying a subtext of all-consuming lament and regret. whereas Revolver, finds Ms. James engaging"Taxman" as a slow-boiling rock dirge with howling guitar and a thoroughly threatening, intentionally bloodless delivery. Her version of "Oh Darlin'" from Abbey Road, is delivered as a fiery, grinding blues take with guitarist Yales McKendree adding scorching punctuations to gritty, scalding vocal. The end times also give us "Don't Let Me Down," a tad jazzy, more than a bit bluesy, sensuous and fatalistic alike in this singer's nuanced style; and "Everybody's Got Something to Hide Except Me and My Monkey," stomping and romping, more restrained than the original but also more suggestive in Ms. James's smoldering vocal. In the ever expanding body of Beatles musical "literature," Teresa James's entry is a keeper. –David McGee