By David McGee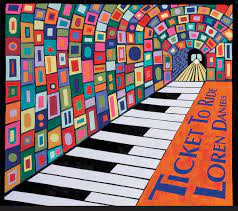 TICKET TO RIDE
Loren Daniels
LDJazz
From the Beatlemania days to the present time, Beatles' music has been a magnet for artists of pretty much all stripes to interpret, reimagine, deconstruct and reconstruct, or simply to be faithful to the originals without completely, shamelessly imitating them. Go back to 1964 and the studio orchestra known as the Hollyridge Strings, specialists in was then called "easy listening" tributes to popular individual artists or groups, which charted with The Beatles Song Book, the first of multiple volumes the Strings devoted to Fab Four songs (two volumes of Beach Boys songs and a Nat King Cole song book also struck responsive chords to the tune of low chart positions). Say this for the Strings: when those players got hold of a melody, they found its romantic center (the first Beach Boys Song Book album is quite a heart tugger, in fact), and so the orchestra's first Beatles project was pretty cool as novelty items go, with "All My Loving" being a modest chart and radio hit.
'Eight Days a Week,' Loren Daniels, from Ticket to Ride
Cut to 2012 when the Havana String Quartet teamed up with Cuban guitarist Carlos Barbosa-Lima on Beatlerianas, both an album title and a serious seven-song suite of Lennon-McCartney songs arranged by Cuban composer Leo Brouwer for guitar and string orchestra at the urging of Japanese guitarist Ichiro Suzuki. In transposing it for his guitar and the Havana String Quartet (Hoang Linh Chi, 1st violin; Eugenio Valdés, 2nd violin; Jorge Hernandez, viola; Deborah Yamak, cello), Barbosa-Lima (who recorded it first in 1997, on a now-out-of-print album) subtly underscored the beauty and lyricism of the Lennon-McCartney songs comprising the suite, with a sharp focus on the melodic textures and fascinating rhythmic alterations that were less apparent in the string orchestra versions in Brouwer's 1985 iteration. It's a timeless work, arguably the finest interpretation of Beatles songs yet released.
'For No One,' Loren Daniels, from Ticket to Ride
Loren Daniels has nothing to do with the Hollyridge Strings's take on Beatles tunes but is at least a spiritual traveler with the Havana String Quartet's approach. On Ticket To Ride, keyboarist Daniels, a 30-year veteran musician-producer-educator, working with bassist Belden Bullock and drummer Jonathan Peretz, offers up a tantalizing 10-track exploration of Lennon-McCartney tunes. In listening to some of Daniels's arrangements here, yours truly is reminded of something the revered folk artist Geoff Muldaur once said to me in explaining the Jim Kweskin Jug Band's (of which Muldaur was a founding member) choice of repertoire, to wit: "If we couldn't murder a song, we weren't interested in doing it." Which is not to say Daniels and company adopt the Kweskin model here, but the trio does venture far afield in deconstructing and reconstructing its selections from the Beatles song book. These fellows are jazz artists, after all, so enter their turf expecting liberties to be taken with melodies, tempos and arrangements. What's important is that as far afield as they might venture, they always honor the original melodies at some point, so listeners not attuned to or enamored of liberal interpretations of their most sacred Beatles tunes can still appreciate the spirit informing these efforts.
On 'With a Little Help from My Friends' 'Aaron Copland meets Miles Davis meets Joe Cocker meets the Beatles,' Loren Daniels says. From Ticket to Ride.
Daniels, blessed with a soothing, emotive voice that is multitracked at times into a backing chorus, leads the charge on the keys throughout and works some interesting variations on melody and phrasing in setting the scene for the soloing. A percussion-heavy rendition of "Ticket to Ride" may be too busy for some, but at 6:11 it's one of the album's most ambitious cuts, both in Peretz's aggressive percussion attack, which gives way at one point to a texturally striking Bullock bass solo, and in Daniels's angular rethinking of the melody lines, all in service to a vocal attack that, in multitracked form, takes off in to Lambert, Hendricks & Ross vocalese territory. Taken at a 5/4 tempo, "Eight Days a Week" has a sensuous Stevie Wonder quality in the vocal and arrangement alike, embracing the intensity of the original while lending it an earthy quality in the instrumental interludes. In many ways the most delightful number is a funky take on "Come Together," as you might imagine with Daniels having fun with the wild wordplay from which the group takes off instrumentally into exotic territory, especially in Daniels's Rhodes soloing, which has a frisky Jimmy Smith quality at points. To these ears the driving version of "Blackbird," despite Daniels's commanding vocal, loses its poignant quality amidst the muscular piano and drums set-to; on the other hand, the deliberate rendition of "For No One," enhanced with an ethereal touch of melodica in the instrumental lineup, hits exactly the right tone in concept and execution simply by keeping the arrangement spare and haunting. These are a few highlights of a fine work, and other listeners can chew on songs such as "With a Little Help From My Friends" (described by Daniels in his liner notes as "Aaron Copland meets Miles Davis meets Joe Cocker meets the Beatles"—you can't improve on that description), an organ-driven, finger-popping "I'll Follow the Sun" (with Daniels's long-time collaborator Reggie Pittman on flugelhorn amidst a 6/8 Afro-Cuban pulse) and a bluesy, soaring take on "You Can't Do That," one of the group's early gems, for other pleasures.