By Robert M. Marovich
A meaningful meditation on struggle, sacrifice, resilience, liberation and victory…
THE GOSPEL ACCORDING TO NIKKI GIOVANNI
Javon Jackson

Solid Jackson

The Gospel According to Nikki Giovanni is a Black History Month treat from a jazz combo led by Javon Jackson, saxophonist and former member of Art Blakey's Jazz Messengers, and the iconic poet and national treasure who lent her name to the album's title. The album came about after Jackson, a faculty member at the Hartt School at the University of Hartford and director of its Jackie McLean Institute of Jazz, invited Giovanni to speak to his students. In the auditorium, Giovanni heard Steal Away (Verve, 1994), Hank Jones and Charlie Haden's magnificent collection of jazz interpretations of spirituals, playing over the P.A. system. It was in the spirit of Steal Away that Giovanni curated, and Jackson's combo performed, the folk spirituals that comprise this nearly hour-long program. Indeed, the restful and righteous arrangements are reminiscent of Steal Away.
'Night Song,' Nikki Giovanni (vocal) with Javon Jackson's combo (Jackson on sax, Jeremy Manasia on piano, David Williams on bass and drummer McClenty Hunter on drums), from The Gospel According to Nikki Giovanni. Nina Simone, friend of Giovanni, covered this song (written for the Broadway musical Golden Boy, starring Sammy Davis Jr.) in 1964.
'Wade in the Water,' with Christina Green reciting Nikki Giovanni's poem 'A Very Simple Wish', from Javon Jackson's The Gospel According to Nikki Giovanni
When Christina Green recites Giovanni's poem "A Very Simple Wish" over "Wade in the Water," it evokes Truth is on its Way, Giovanni's 1971 album with the New York Community Choir. On that album, Giovanni's poetry gave pointed notice to a racist society in such works as "Great Pax Whitey"/"Peace Be Still." More than fifty years later, on Jackson's album, Giovanni sings the beautiful and moving "Night Song" in tribute to her friend, the late Nina Simone, who covered the song (from the musical Golden Boy) in 1964. Jackson's sax work on this selection is mournful as midnight but somehow still manages to engender a sense of hope. It is the album's highpoint.
'Didn't My Lord Deliver, Daniel,' Javon Jackson and combo, from Javon Jackson's The Gospel According to Nikki Giovanni
'Mary Had a Baby, Yes Lord,' a Christmas spiritual from Javon Jackson's The Gospel According to Nikki Giovanni
Jackson's tones are warm and three-dimensional. His combo of pianist Jeremy Manasia, bassist David Williams, and drummer McClenty Hunter offers ample support while each musician takes his turn in the solo circle. Williams shines on the intro to "I Opened My Mouth to the Lord," and Hunter has his spotlight moments near the conclusion of this track as well as during "Didn't My Lord Deliver Daniel." Manasia stands out for his muscular and musical solos, especially on the Christmas spiritual "Mary Had a Baby, Yes Lord," and the bluesy "Leaning on the Everlasting Arm." In fact, he almost steals the show. The swing element of "Swing Low, Sweet Chariot" is a playful take on the title and expresses the joy and freedom anticipated in the afterlife.
I wish Giovanni would have graced us with even more of her vocals, maybe read a couple more poems, but if there was one track to be had, I'm glad it was "Night Song." The Gospel According to Nikki Giovanni is a meaningful meditation on struggle, sacrifice, resilience, liberation and victory.
Picks: "Night Song," "Wade in the Water"
***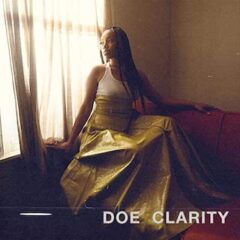 Minimalist production, intimate music…
CLARITY
DOE

RCA Inspiration/Life Room

An extension of DOE's self-titled 2001 EP, Clarity has the gentle, intimate vibe associated with the Grammy-nominated songwriter and former lead singer of forever JONES. But if the grooves are dreamy and some songs gush with gratitude, others are earnest expressions of vulnerability and imperfection. All point to God as the mooring in a complex world. For example, on "When I Pray," DOE sings everyone's quiet part out loud: "I'm not very eloquent in speech/I don't always know how to sound holy when I speak." But, she adds, she can get a prayer through because God, ever constant, doesn't stand on ceremony.
Songs toggle between a smiling look at life ("Good Now" and "So Good") and the challenges of being a public persona in an era when every move is captured on YouTube. "Give the people what they want or I'mma catch hell." she bemoans on "I Try," originally released on the EP. A young veteran of the spotlight, DOE concludes "performance can't buy you love" but doesn't mean she's not going to do her best. Other carryovers from the EP include the single "Brighter," an effervescent love song to the Lord; and "Hey You," DOE's duet with Jonathan McReynolds, her musical doppelganger.
'Clarity,' DOE, title track from the new album
'Hey You,' DOE with Jonathan McReynolds, a carryover from the artist's self-titled 2001 EP
Among the new songs, the title track is DOE at her most vocally soulful, punctuating the melody line with soaring high notes. She continues to explore the higher reaches of her range during "Mercy," all the while offering plaudits to the Most High. The Holy Spirit-invoking "What I'm Waiting For" combines the dramatic theatricality of Hillsong United with a Lady Gaga-like expansive vocal line. Like "Brighter," "Undoing" is a song of loving praise.
'Take Me Back,' DOE, from Clarity (also featured on the artist's self-titled 2001 EP)
DOE's guitar and keyboard work dominate the album's minimalist production, which accentuates the intimacy of the music. The melodies are buoyant and approachable, sweet but not too sugary. And as on the EP, "Take Me Back," with its yearning for an emotionally simpler time, is still the top track. DOE could easily become a neo-soul artist, but she sticks with gospel and the genre is all the better for it.
Picks: "Take Me Back," "Clarity"
***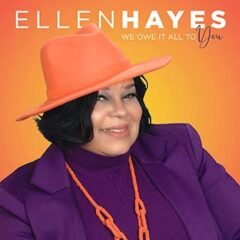 Less is more and the last shall be first…
WE OWE IT ALL TO YOU
Ellen Hayes

Songs & Melodies Records, LLC

Any new album featuring A. Jeffrey LaValley is going to grab my attention.
LaValley, the veteran gospel musician whose "Revelations 19:1" was famously sampled on Kanye West's Jesus is King, wrote a couple of instrumentals and handles keys for some tracks on Ellen Hayes's solo album, We Owe It All to You. Thanks to solid songwriting from Hayes, Michael Mindingall, and Sean Hardin, the album contains a greater number of individually distinctive and quality gospel songs than one typically finds on albums today. Some are aisle walkers, such as the openers, "Walk in the Spirit" and "Yes Lord." With its 12/8 rocking chair tempo, the encouraging "God Will Supply" also has a traditional feel and features Hayes's most emotional singing. Hayes and her team are at their most compelling on these older-school songs, but "Oh King," a P&W song with contemporary gospel cred, also stands out.
'God Will Supply,' Ellen Hayes, from We Owe It All to You
'Peace Be Unto You,' Ellen Hayes, with A. Jeffrey LaValley on piano, from We Owe It All to You
The Detroiter Hayes sings with flatfooted passion, most often clinging to the higher reaches of her vocal range even though she possesses a fine low range that she unveils from time to time. She shares the lead microphone at turns with Cynthia Gross and Latoya Bellafant, who supply excellent vocal work on the prayerful "Just Like You Lord." As forty percent of its seven-plus-minute running time doesn't add much more to the original motif, it could have been edited out without any loss of meaning.
The background vocalists shine most brightly on the closing benediction, "Peace Be Unto You." With LaValley accompanying on piano, this Hayes composition is the album track with the greatest potential to enter the repertories of church choirs. It reinforces the notion that less is more and the last will be first.
Picks: "Walk in the Spirit," "Yes Lord," "God Will Supply," "Peace Be Unto You"
***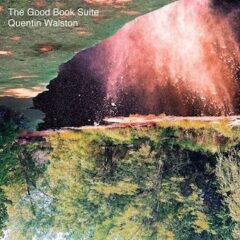 A short but affecting spiritual suite…
THE GOOD BOOK SUITE (released November 20, 2021)
Quentin Walston

Pianist-composer Quentin Walston's The Good Book Suite is a four-part instrumental jazz piece with a spiritual foundation. A trio of piano, drums, and bass interprets Bible passages that brought Walston and his family through the financial and emotional ebbs and flows caused by the pandemic. The first two parts of the suite borrow their text from Isaiah 41:10. The incrementally dramatic tensions that ultimately envelope the opening section, "Fear Not," resolve and transition peacefully into the optimistic "I'm With You."
'Til The End,' inspired by Matthew 28:30, Quentin Walston from his album The Good Book Suite
'Of the Age,' the final section of The Good Book Suite by pianist-composer Quentin Walston
Matthew 28:30 fuels "Till the End." A foreboding string bass gives way to a sonic landscape with apocalyptic flourishes and no apparent horizon. Walston's piano anchors the piece until it is the last sound left to bring closure. "Till the End" transitions into the final section, "Of the Age." Opening with cautious optimism, the trio plus organ blossom into confident assurance of the suite's premise that if God is with you until the end of the world, who shall be against you?
The Walston trio offers quality playing throughout the suite. It is difficult to tease out one track, as they are meant to be heard together, but for the sake of argument, "Of the Age" is the most compelling for its melody and dynamics. Quentin Walston's short but affecting spiritual suite will leave the listener longing for more.
Pick: "Of the Age"
***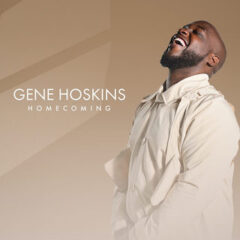 Combining his passions to provide insight and encouragement…
HOMECOMING (Deluxe Edition)
Gene Hoskins

Shanachie Entertainment (released October 29, 2021)

Gene Hoskins, a mental health therapist and gospel singer from North Carolina, combines his passions to provide insight and encouragement on Homecoming (Deluxe Edition). Eliding seamlessly, the first two selections, "Prodigal P.O.V." and the title track, are the physician healing himself. Hoskins meanders on an introspective electronic R&B path, a sort-of gospel recitative on his journey back to spiritual clarity.
The album truly comes alive, however, with "Make It With Jesus," an explosively churchy piece. The single, which hit #14 on Billboard's Gospel Singles chart, gave Hoskins' self-released January 2021 Homecoming a new life. Seeing promise, Shanachie Entertainment re-released it in October as a deluxe version with three new tracks.
The Holy Week ballad "Blood Love," which interpolates "Nothing But the Blood," showcases Hoskins' elastic tenor and the harmonizing skills of his background vocalists. Unlike the two opening songs and "Unconditional Love," which rely heavily on electronic vocal manipulation, "Blood Love" allows Hoskins to unveil his vocal talent by simply singing.
'Make It With Jesus,' Gene Hoskins, from Homecoming
'Blood Love,' Gene Hoskins, from Homecoming
"Deal" opens with Hoskins talking about trauma, then blooms into a relaxed ballad about taking charge of one's life. It expresses in lyric and music arrangement how grace is the antidote to trauma. This track offers some of Hoskins' best singing on the album. His voice and those of his BGVs are allowed to just be, without synthetic accoutrement.
'Deal,' Gene Hoskins, from Homecoming
"Perform Again" riffs on the premise that if God can do it once, he can do it again. The background vocalists here, as elsewhere on the album, provide crisp and competent assistance as Hoskins offers up passionate, unrestrained singing. Speaking of passionate, the always-effervescent Maranda Curtis injects extra vocal verve to the worshipful "The Greater Name." Tracks like "Undefeated" and "Champion" use battle imagery to depict Jesus as a fearless general leading his people to victory.
Long a background vocalist for top gospel artists, Gene Hoskins might just be able to ride Homecoming to the Stellar Awards.
Picks: "Make It With Jesus," "Deal"
***
GOSPEL SINGLES PICKS
All reviews by Robert M. Marovich
'I STILL GOT JOY'
Roy & Revelation
From the Malaco/4 Winds Records album, The Book of Revelation (released January 28, 2022)
South Carolina-based Roy & Revelation keeps the soul-stirring gospel quartet sound relevant with "I Still Got Joy." Complete with call-and-response and vamp, the song swaggers in the knowledge that joy cometh despite today's troubles. Not only is forsaking the devil's deceitfulness to follow the Lord the way to "make it in," but it's also the way to get a healing touch on this side of the Jordan River. If you have joy, you have plenty. A decade into their recording career, Roy & Revelation are nothing if not consistent in their pursuit of handclapping, foot-patting gospel quartet music. The goods are here.
***
'LIKE THIS'

Jamaal Miller

Enon Music Group

I know Baltimore gospel artist Jamaal Miller has a new single out called "Had He Left Me There," but I'm still living in last fall with his earlier single, "Like This." Miller and a team of sunny background vocalists (possibly his group, Purposely Anointed) riff on the "trouble won't last always" trope with a breeziness that sounds inspired by Kirk Franklin's recent output. Put it in God's hands, they sing, because "it ain't gonna be like this always." The melody, arrangement, and musicians are as bright and cheery as the message. A John Lennon quote comes to mind: "Everything will be okay in the end. If it's not okay, it's not the end."
***
'IT WAS YOU'

Keith Wonderboy Johnson

Blacksmoke Music Worldwide (released January 28, 2022)
"It Was You" is a slow, soulful testimony by quartet maven Keith Wonderboy Johnson. Backed by a quartet and musicians who deliver a deep '70s southern soul groove, Johnson expresses his relief and gratitude to the Lord for rescuing him from the miry clay of pain, trials, and tribulations. Foremost among them were acute physical challenges and years of depression. "But you brought joy into my life," Johnson concludes, "now I have no fears." He could have kept on going past the song's ending time. Those familiar with Johnson's quick-time recordings will also appreciate this intensely honest prayer-ballad, which he renders from a toolkit of blue notes, shouts and squalls like a preacher in full whoop. His conversational style of singing, with well-timed pauses and shifts in emphasis, is designed to garner rapt attention, and it does. It's that kind of song that hits you straight in the heart.
Bob Marovich launched the Journal of Gospel Music on the tenth anniversary of its predecessor website, The Black Gospel Blog, which he founded July 28, 2004, as the first blog to cover African American gospel music. He is a gospel music historian, author and radio host.  Since 2001, he has produced "Gospel Memories," a show featuring classic gospel, spiritual and jubilee music, as well as interviews with gospel legends. It airs Saturday mornings on Chicago's WLUW-FM and throughout the week on several Internet and low-power FM radio stations throughout the U.S., Canada, and Europe. Bob's work has been published in the Encyclopedia of American Gospel Music (Routledge 2005), Encyclopedia of African American Music (Greenwood Publishing 2010), and in the ARSC Journal of the Association of Recorded Sound Collections. He has presented and participated in panel discussions on gospel music at the Gospel Music Workshop of America, National and Independent Gospel Music Association Industry Summit, Blues and the Spirit Conference at Dominican University (River Forest, Illinois), the American Library Association and the Association of Recorded Sound Collections annual convention. He lives in Chicago with his wife, author Laurel Delaney, and their two cats.