By Robert M. Marovich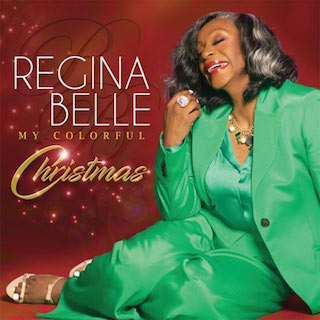 MY COLORFUL CHRISTMAS
Regina Belle
Tashi3  Entertainment/Altavoz Distribution
My Colorful Christmas, the first yuletide album from GRAMMY Awardee Regina Belle, and issued on her own imprint, Tashi3 Entertainment, traverses mostly familiar holiday fare. Traditional carols and more recently composed Christmas songs receive bubbly jazz and R&B arrangements tagged with improvisatory, and sometimes downright evangelistic, codas.
Indeed, the spiritual codas from Belle and her background vocalists are what distinguish this album from other Christmas collections by popular singers. For example, Belle tags the Latin-flavored "Silent Night" with a sobering allusion to Easter when she sings, "He was born to save me." The musicians bestow an island vibe to "O Little Town of Bethlehem," complete with real or simulated steel drums, as the background singers bake robust gospel choir harmonies into the score. A Latin rhythm, subtle but unmistakable, also informs "Away in a Manger."
The album's finest track is "A Baby Changes Everything," a lovely duet between Belle and her daughter, the lithe-voiced Sydni Battle. In my opinion, this fascinating take on the virgin birth introduced in 2008 by Faith Hill is one of the cleverer carols to come out in recent times. The mother-daughter duet underscores the song's metaphoric intent. "The First Noel" earns the superlative of the album's prettiest arrangement of a traditional carol.
'A Baby Changes Everything,' Regina Belle with her daughter, Sydni Battle, from My Colorful Christmas
'The First Noel,' Regina Belle, from My Colorful Christmas
There is one original song, "I Had to Leave (A Song from Bernie)," which Belle co-wrote with her late brother, Bernard Belle. It's not a holiday tune but a kindhearted, if wistful, ballad of gratitude and farewell with the soul of a show tune-ideal for closing a live performance.
'I Had to Leave (A Song from Bernie),' Regina Belle, written by her late brother, Bernard Belle, from My Colorful Christmas
'Silent Night,' Regina Belle, from My Colorful Christmas
My Colorful Christmas benefits from quality production with lush strings, acoustic flourishes and vibrant singing from the timeless songstress. Her voice is as strong as ever. While not breaking new ground in the production of Christmas albums, it makes for enjoyable listening and will certainly please Regina Belle's estimable fan base.
Picks: "A Baby Changes Everything," "The First Noel"
Robert M. Marovich launched the Journal of Gospel Music on the tenth anniversary of its predecessor website, The Black Gospel Blog, which he founded July 28, 2004, as the first blog to cover African American gospel music. He is a gospel music historian, author and radio host.  Since 2001, he has produced "Gospel Memories," a show featuring classic gospel, spiritual and jubilee music, as well as interviews with gospel legends. It airs Saturday mornings on Chicago's WLUW-FM and throughout the week on several Internet and low-power FM radio stations throughout the U.S., Canada, and Europe. Bob's work has been published in the Encyclopedia of American Gospel Music (Routledge 2005), Encyclopedia of African American Music (Greenwood Publishing 2010), and in the ARSC Journal of the Association of Recorded Sound Collections. His review of the Regina Belle Christmas album was first published in the Journal of Gospel Music, and is reprinted here with permission.