By Robert Hugill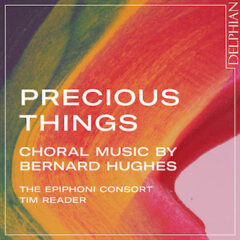 PRECIOUS THINGS
Choral Music by Bernard Hughes
The Epiphoni Consort
Conducted by Tim Reader
Delphian
This new disc Precious Things from Delphian features a selection of unaccompanied choral music by Bernard Hughes, performed by The Epiphoni Consort conducted by Consort founder Tim Reader. Many of the works on the disc were written for the BBC Singers, and in fact Hughes was drawn to writing for vocal ensembles after a BBC Singers workshop at the Huddersfield Contemporary Music Festival back in 2002. Since then he has developed a close relationship with the BBC Singers.
The music is generally tonal and beautifully written for voices. I know from experience that Hughes music is both satisfying and challenging to sing, as well as being rewarding for both singer and audience. Mainly dating from the period 2014 to 2021, these pieces show Hughes's remarkable consistency of approach. Whilst his music is tonal, it is never obvious; there is a sense of coming to tonality sideways and he never seems to take the easy way out. This is certainly not minimal music, nor is it boringly the same; within his chosen compass, Hughes provides us with remarkable variety.
Hughes is clearly one of those contemporary composers for whom tonality means a journey, from one tonality to another, and often it is the journey itself which is interesting. This can mean stark moments, interesting passages of bitonality as well as one tonality drifting into another, the overlap causing some very luscious chords. Unlike a number of the most sung contemporary choral composers, Hughes doesn't have a single manner that he sticks to. Each piece being individually crafted is what makes this disc so satisfying. Despite being made up of 23 largely short tracks, the resulting recital has nice coherence as well as compelling variety. Tim Reader has made a fine selection of works, but Hughes also rewards us with an interesting variety of approaches. In "A Ternary of Littles," Hughes deliberately set out to write each movement utilizing a single and distinct texture, imitative polyphony, homophony dominated by melody, and strong block chords. And these also demonstrate that Hughes does not shy away from strong, discordant harmonies.
The sheer variety partly stems from Hughes' eclectic selection of texts. The title track "Precious Things" sets three texts by poet contemporaries of Hughes–Antony Dunn, Helen Eastman and Andrew George (two of whom Hughes knew at university). Elsewhere there is Michael Symmons Roberts, Kevin Crossley Holland, Vera Brittain, Gerard Manley Hopkins, Longfellow, Robert Herrick, and Shakespeare, plus the Bible. In "I Sing of Love," written for Seattle Pro Musica in America in 2012, Hughes uses texts from Song of Solomon, the Islamic mystic Rumi and I Corinthians.
The sound world is some way towards a 21st century English part-song tradition, and you feel that such works as RVW's folk-song arrangements and Shakespeare songs are in the back of Hughes's cupboard along with other interesting English composers. Hughes's interest in words, per se, means that we also get a distinct whiff of the English madrigal.
Throughout, the performances from Reader and the Consort are near ideal. The choir makes a warm vibrant sound, yet with a lovely focused clarity and terrific attention to the words. Not only is there clarity of diction, but the words actually mean something.
This is a very fine disc indeed to introduce Bernard Hughes's intelligently and sympathetically written choral music.
'Perhaps,' The Epiphani Consort, Tim Reader, from Precious Things (film by Ben Tomlin)
"Perhaps"
words and music by Bernard Hughes
Posted the composer on YouTube
Perhaps some day the sun will shine again,
And I shall see that still the skies are blue,
And feel once more I do not live in vain,
Although bereft of You.
Perhaps the golden meadows at my feet
Will make the sunny hours of spring seem gay,
And I shall find the white May-blossoms sweet,
Though You have passed away.
Perhaps the summer woods will shimmer bright,
And crimson roses once again be fair,
And autumn harvest fields a rich delight,
Although You are not there.
Perhaps some day I shall not shrink in pain
To see the passing of the dying year,
And listen to Christmas songs again,
Although You cannot hear. 
But though kind Time may many joys renew,
There is one greatest joy I shall not know
Again, because my heart for loss of You
Was broken, long ago.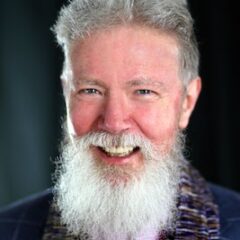 Reviews published here by permission of Robert Hugill at Planet Hugill, a singer, composer, journalist, lover of opera and all things Handel. To receive Robert's lively "This month on Planet Hugill" e-newsletter, sign up on his Mailing List. (Robert Hugill photo by Robert Piwko. This review was published at Planet Hugill on 6 June 2022.