By David McGee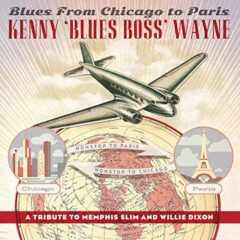 BLUES FROM CHICAGO TO PARIS: A TRIBUTE TO MEMPHIS SLIM AND WILLIE DIXON
Kenny 'Blues Boss' Wayne
Stony Plain Records
In his 77th year on our planet Kenny "Blues Boss" Wayne is on a hot roll comparable to or greater than any other septuagenarian in the world, his piano artistry as elegant, inventive and soulful as ever and, especially on this outing, his warm, earthy vocalizing at an absolute peak of affecting expressiveness. The concept on this installment is fairly simple: the Blues Boss responding to his friends "around the world" expressing how much they miss the sound of piano blues; hence, "this album will feature just that," he vows. And then delivers in paying his respects to the two blues giants referenced in the album title, who teamed up on a world tour (hence the Chicago to Paris destinations) that must have been quite something to behold—Dixon, one of the greatest of all blues songwriters and bassists, Slim (neé Peter Chatman) a blues pianist of great gifts, and the two in deep communication on stages near and far.
'Stewball,' written by Peter Chatman (Memphis Slim), performed by Kenny 'Blues Boss' Wayne (piano, vocals) with Russell Jackson (bass, vocals) and Joey DiMarco (drums), from Blues From Chicago to Paris: A Tribute to Memphis Slim and Willie Dixon
Twelve of the 17-song repertoire here comes from Dixon's prolific pen, but Slim's five tunes are hardly slim pickin"s (sorry, couldn't resist), starting with the propulsive album opener "Rock and Rolling This House," about a fine, fine woman that gets things off to a rousing start, what with its festive attack, some frisky bass soloing and vocalizing by Russell Jackson that really takes off when he trades lines with the Blues Boss. Slim's "Stewball" is a clear highlight—a slow, stealthy ode to a racehorse whose fortunes, or lack thereof, on the track undermine the singer's very existence and family life (this is not the Peter, Paul & Mary version, kids—it's much darker), with the Blues Boss working out a slinky groove on the ivories and he and Jackson adding emotive, understated vocals rich with gospel feeling. And just as his tune kicked off the album on a rockin' note, so does his "Wish Me Well" close the proceedings on a celebratory note, even though the song laments a failed relationship even as the singer sends out feelers for reconciliation ("you're a bad little girl/but you didn't intend to be") while asserting his own dignity ("I'm in love with you baby/but I just can't be your clown") in what is one of Wayne's finest vocal treatments.
'One More Time,' written by Willie Dixon, performed by by Kenny 'Blues Boss' Wayne (piano, vocals) with Russell Jackson (bass, vocals) and Joey DiMarco (drums), from Blues From Chicago to Paris: A Tribute to Memphis Slim and Willie Dixon
Not that Dixon has an easier time with the distaff side than Slim. The shuffling kissoff of "Somebody Tell That Woman" is a wonder of restrained resentment over a gal's cheating ways and an occasion for one of the Blues Boss's tastiest piano solos on the record, working the full length of the 88s for maximum textural impact. A slow blues, "Got You on My Mind," being a vivid account of love lost and lives upended, bridges group harmony and gospel styles amidst its deep blues rendering. By contrast, the boogie-woogie workout that is "The Way She Loves a Man" is not only right in the Blues Boss's wheelhouse but its celebratory recounting of a traveling man's admiration for his global paramours—who are united by the "crying shame" of the way they love a man—elicits a reading as warm as it is wry in its self-awareness. In the steady rollin' "You and I" Dixon, via the Blues Boss, extols the fulfilling love of one good woman up close and personal in any setting, sentiments sets to a jumping, high-spirited rhythmic thrust with Joey DiMarco's solid drumming propelling it forward. Suffice it to say if the Kenny "Blues Boss" Wayne set out to pay tribute to two greats he counts as influences, he and his cohorts here have done proud by the spirits of those past masters and made a lasting statement of their own in the process.