By David McGee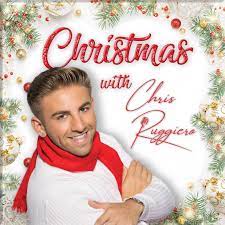 CHRISTMAS WITH CHRIS RUGGIERO
Chris Ruggiero is not a household name, but he's on his way, via appearances on PBS specials and on concert stages near and far, and now we can chalk up the 23-year-old's first Christmas album as another reason he's going to be better known soon. The self-released Christmas With Chris Ruggiero comes out of nowhere to stand toe-to-toe with any major label established star contribution to the 2022 Yuletide season. Although he draws on pop and soul influences in this impressive 12-song holiday outpouring, to these ears Ruggiero's pliable, tuneful tenor voice, and the arrangements surrounding it here, bespeak an artist deeply invested in group harmony and doo-wop. He can soar into the ether when necessary, his voice always remaining clear and plaintive, and when the tune demands it he can simply emote a tender lyric in a forthright but nuanced pop style. Underneath the singing, impressive in its own right, is something else that seems to escape too many contemporary "singers," and that is pure, unadulterated heart—Ruggiero feels every note he sings in a palpable way, adding powerful subtext to the most ordinary phrases, in the same way, say, the Flamingos' Nate Nelson always gave more than the lyrics would suggest on their surface. Or, say, the way Donny Hathaway invested his every phrase with so much feeling and sincerity as to escort a listener onto an elevated plane of emotion.
'This Christmas,' written by Donnie Hathaway, from Christmas With Chris Ruggiero
'I'll Be Home for Christmas,' Chris Ruggiero, from Christmas With Chris Ruggiero
Small wonder, then, that Ruggiero would begin his festivities here with Hathaway's enduring contribution to the holiday season, "This Christmas," with the singer soaring over a brassy, pulsating arrangement unfolding in a tender whisper and then rising to anthemic belting, flawless and potent melodically and sonically. The Hathaway song sets the tone for what's to come, namely 11 mostly familiar songs ranging from Bing Crosby's 1943 hit, "I'll Be Home for Christmas," to the David Foster-Linda Thompson-Jenner co-write, the aspirational "Grown-Up Christmas List," originally recorded by Foster and Natalie Cole in 1990 for Foster's River of Love album, revived two years later for inclusion on Amy Grant's Home for Christmas album, covered by Kelly Clarkson in 2003 and revived anew this year as the theme song for a like-titled Hallmark Channel movie. On the ballad side, Ruggiero digs into the Carpenters' 1970 hit "Merry Christmas Darling" with a sweet string backdrop and measured, heartfelt reading even dreamier than Karen Carpenter's estimable performance. Dipping into R&B balladry, he lets out a bluesy, despairing cry on Charles Brown's Yule heartbreaker from 1961, "Please Come Home for Christmas," with support from a rich, swaying horn section in an arrangement by the legendary Charles Callello, out of which bursts a strikingly heated baritone sax solo by Mike Brignola, its howl acting as a retort to Ruggiero's lonely confession. In many ways the album's most affecting and beautiful ballad is Ruggiero's warm, understated take on "It's Christmas Once Again," which may or may not have been written by Frankie Lymon but was definitely recorded by him, wonderfully so, in 1957. Ruggiero rises to his upper register here, and his voice is both reverential and full of wonder in enumerating the season's many joys over a minimal backdrop dominated by piano and bass—you'd think you were listening to Ruggiero backed by the Vince Guaraldi Trio in this intimate Christian Tamburr arrangement. Then there's "I'll Be Home for Christmas," with an instrumental and vocal arrangement right out of the Four Seasons/Bob Crewe songbook, with Ruggiero adopting the Frankie Valli role in deploying his soaring falsetto over tight group harmony echoing the phrases he's just sung and playing off his vocal flights right through to the big finish, a flourish seemingly in homage to, oh, the Seasons' 1965 minor hit "Little Boy (In Grown Up Clothes)."
'Christmas (Baby Please Come Home),' Chris Ruggiero, from Christmas With Chris Ruggiero
'Grown-Up Christmas List,' Chris Ruggiero with Darlene Love, from Christmas With Chris Ruggier
One familiar chestnut stands out in the song list: "Christmas (Baby Please Come Home)," the classic Darlene Love performance on the Phil Spector Christmas album, A Christmas Gift For You from Philles Records. Darlene Love, of course, owns this tune, and for years has been using it as the centerpiece of her annual packed-house Christmas shows, always a highlight of the season. Ruggiero's version retains a hint of Spector in the driving arrangement but with a pronounced soul feel, both in the intensity and phrasing of the singer's vocal attack (which at times, in the chorus mainly, is clearly indebted to Jackie Wilson) and in punctuations such as the sputtering, high-voltage baritone sax solo, another Mike Brignola showcase. But wait—Darlene Love is here! In a clever bit of sequencing, she joins Ruggiero immediately following "Christmas (Baby Please Come Home)" on the abovementioned "Grown-Up Christmas List," a tune whose aspirational wish for love and understanding among people of all races and creeds sounds like an updated wish list inspired by Stevie Wonder's "Someday at Christmas" from 1966. This lush, string-enhanced ballad features Love more in gospel mode, strong but restrained in her testifying as she approaches the chorus, at which point she summons the old Spector-era strength to give her words added urgency: "No more lives torn apart/that wars would never start/and time would heal all hearts/and everyone would have a friend/and right would always win/and love would never end/this is my grown-up Christmas list." Idealism never goes out of style. Horns, strings and Darlene Love—put a bow on that and you have one memorable Christmas present with which to make merry now, and for years to come. Count Chris Ruggiero among those who know how to keep Christmas well.