Getting down to a manageable number of Albums of the Year was quite a chore this time around. In the end, a dozen Albums of the Year are listed here (with two Classical releases being tied by virtue of their addressing similar environmental concerns), representing the breadth and depth of Deep Roots' territory in covering "roots music and meaningful matters." Classical releases account for a third of the honorees here, with More Different Voices by Corky Siegal's Chamber Blues joining earnest, high-concept projects by harpist Yolanda Kondonassis and composer-arranger Christopher Tin and Three Notch'd Road: The Virginia Baroque Ensemble's beautiful Shining Shore: Music of Early America among the best of the best. In the realm of repeat honorees, Melody Gardot, collaborating with jazz pianist Philippe Powell (son of the great Brazilian guitarist Baden Powell), has a no-brainer win for the third time (it would have been four, including her Sunset in The Blue album last year, had technical issues not collapsed our site and, along with it, our year-end best-of features) in the spare but potent piano-and-vocal performances of tunes original and borrowed on Entre eux Deux; and Michael Martin Murphey, returning in collaborative form as well, with son Ryan Murphey, earns his third Deep Roots Album of the Year (and begins his sixth decade of recording) with his most adventurous long player to date, Road Beyond the View, a scintillating collection of original songs rooted in southwestern-flavored jazz, bluegrass, pop and country styles, all underscoring his standing as one of his generation's finest songwriters. Moving up from Elite Half-Hundred honors in years past, third albums by the Nashville-based Twangtown Paramours and the pride of Bend, Oregon, Honey Don't (husband-and-wife teams both) are exemplary, and memorable, examples of the country-folk-pop influences inspiring each duo's principal songwriters (Mike T. Lewis from the Paramours, Bill Powell of Honey Don't), who are aided and abetted incalculably by their female cohorts—MaryBeth Zamer's soulful readings of Lewis's songs, and Shelley Gray's silky harmonies and solid acoustic bass work grounding Powers's tunes. Two albums devoted to reimagined versions of soul, R&B, country and blues tunes from the '60s through the '80s are of such inspired artistry as to sound brand new. Those would be the latest of Rory Block's concept albums, Ain't Nobody Worried: Celebrating Great Women of Song, continuing the artist's Power Women of the Blues series in stirring fashion with often startling interpretations of familiar blues, soul, gospel and R&B dating from the '60s through the '80s. Ms. Block's is also a one-woman show in other ways: she's playing all the instruments and singing all the vocals (sometimes harmonizing with herself or multitracking herself into a rousing gospel chorus) in an all-around tour de force. One of the women whose work is featured on Ms. Block's album, Mavis Staples, joined Levon Helm for one of his 2011 Woodstock "rambles," and the full powerhouse performance from that classic, timeless summit became available last year on Carry Me Home. With gospel being so prominent on the Rory Block and Mavis-Levon outings, the year's best new gospel release was uncovered by our Gospel Editor Bob Marovich. Among the many gems Bob brought to our readers last year, the live album by Bishop William Murphy, Worship & Justice, proved itself a worthy followup to his 2019 Grammy winning project, Settle Here. Herein the good Bishop "embraces the responsibility of social leadership through music ministry," Bob says, and so it is, in messages that never get old—which is the unfortunate side of Bishop Murphy still having to remind us to get on the good foot. Leading our top blues selections of the past year, veteran John Primer, in the midst of a late-career surge, gave us the gift of arguably his finest of many hours on record with the thought provoking Hard Times, on which his gritty vocalizing is on a par with, if not surpassing, his stellar guitar work and topical songwriting. To sweeten the deal, Primer introduces listeners to his gifted offspring, 17-year-old daughter Aliya Primer, who comes on like a young Carla Thomas in her self-penned blues, "Tough Times." So here it is, our best for 2022. Look for the Elite-Half Hundred of 2022—the best of the rest—later this month. –David McGee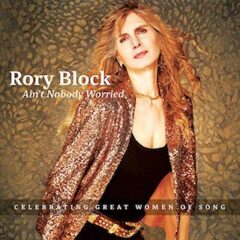 AIN'T NOBODY WORRIED: CELEBRATING GREAT WOMEN OF SONG, Rory Block (Stony Plain Records)– No stranger to concept albums, Rory Block's catalogue includes a septet of long players devoted to male blues masters of yore she befriended and studied with. Throughout her career the songs of pioneering female blues artists have made it onto her records, leading most recently to two volumes devoted to Power Women of the Blues featuring music associated with both the giants and the overlooked titans of female blues (2018's Woman's Soul: A Tribute to Bessie Smith and 2020's Prove It On Me featuring songs associated with Ma Rainey, Memphis Minnie and Helen Humes, among others). Ain't Nobody Worried makes it a triptych, with a slight difference: its timeframe has advanced to songs associated with female blues, soul, gospel and R&B artists from the '60s through the '80s–a time Ms. Block refers to in press materials as "historic, early American music." As usual, regardless of the source of her repertoire, there's nary a false note to be found amidst the captivating recasting of these mostly familiar chestnuts. Follow this link to the full review, "She'll Take You There," by David McGee in Deep Roots
'I'll Take You There,' Rory Block, from Ain't Nobody Worried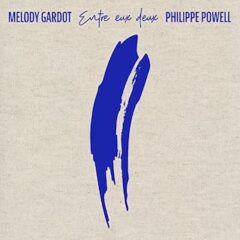 ENTRE EUX DEUX, Melody Gardot-Philippe Powell (Decca)– Over the course of six studio albums Melody Gardot has made a virtue of being unpredictable. It's impossible to see her coming, other than to know she will embody whatever environment spurs her creative impulses. Peripatetic in her ways, she turned experiences living variously in Brazil, Morocco, Hawaii and Portugal into 2013's The Absence, a concept album in which hints of her earlier work were heard fully flowering into a provocative soundscape and becoming a defining sonic element… Then she had her "Get Back" moment. In describing how her 2022 album, Entre eux Deux (literally, "Between Them Two," or loosely, "Between Us") came about, she details in her liner notes how years ago, when she was living alone in a barren apartment in Philadelphia, her label gifted her with a number of its catalogue albums, one of which was Brazilian guitarist Baden Powell's Canta Vinicius de Moraes e Paulo César Pinheiro. She fell in love with the album, sang kept me warm on cold and rainy nights. It was my only company when I was alone." All of which is prelude to Powell's son, composer-pianist Philippe Powell, making a two-week visit to Ms. Gardot's Paris studio, where they intended to make a record. She compared his artistry to that of Bill Evans—"he's just got that thing that goes so deep." Follow this link to the full review, "A Man and A Woman," by David McGee in Deep Roots.
'Darling Fare Thee Well,' Melody Gardot and Philippe Powell, from Entre eux Deux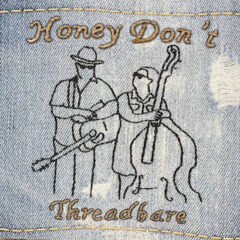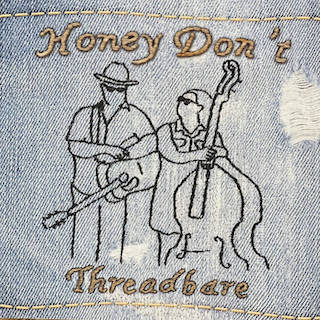 THREADBARE, Honey Don't (Bandcamp)—A few things have changed since the husband-and-wife team of Honey Don't–Bill Powers (songwriter, guitarist, vocalist) and Shelley Gray (bass, vocals)—last appeared on record. For one, nearly eight years have passed since the duo's justifiably acclaimed sophomore effort, Heart Like a Wheel, was released, which came five years after their outstanding debut. For another, the principals have relocated from the artist-centric burgh of Paonia, Colorado, to Bend, Oregon. For yet another, Powers and Gray look more rustic nowadays and sound better than ever, and Powers continues to impress as one of the finest roots songwriters extant. Though they have physically left Colorado, Threadbare is very much a love letter to their former home, and a beautiful one at that. The music—betraying roots in bluegrass, traditional country, folk and blues, with ample atmospherics courtesy dobro and fiddle amplifying Powers's deeply rendered love of the land he called home for so long—tells of an environment from which Powers felt inseparable, along with cautions against disfiguring its natural beauty. Follow this link to the full review, "Hey Colorado," by David McGee in Deep Roots.
'Threadbare,' Honey Don't, performing the title song from the group's new album, January 26, 2022 at McMenamins Old St. Francis School in Bend, Oregon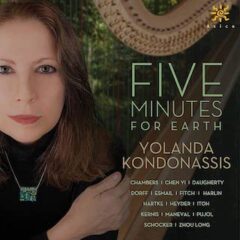 (TIE) FIVE MINUTES TO EARTH, Yolanda Kondonassis (Azica) & TINY BIRDS, Christopher Tin (Decca Classics)–Earlier this year, classical harpist Yolanda Kondonassis delivered Five Minutes For Earth, an ambitious—and brilliant–project that, as she writes, "both celebrates our planet and illuminates our challenge to preserve it." The concept: Ms. Kondonassis invited 15 composers to contribute new original works for solo harp of no more than five minutes in length expressing their own feelings about the issues facing our planet. This multi-generational grouping, comprised of rising young composers; experienced, lauded veterans; two Grammy winners; and a Pulitzer Prize winner (plus one artist who is both a Pulitzer and Grammy winner), responded with heart and soul, and Ms. Kondonassis took all their contributions to the next level with her interpretive harp performances.
'Inconvenient Wounds,' composed by Reena Esmail for the Yolanda Kondonassis project, Five Minutes for Earth. Yolanda Kondonassis on harp.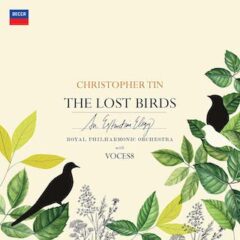 Grammy winning composer Christopher Tin (who has the distinction of being the only composer ever to win a Grammy for a song written for a video game) is both despairing and hopeful in expressing his environmental concerns on the latest powerful entry in his recent works devoted to underscoring the gravity of diminishing natural resources; this one, The Lost Birds: An Extinction Elegy, offers his orchestrations, sensitively (and often majestically) performed by the Royal Philharmonic Orchestra, of 10 poems by female poets of the 19th century who were even then suggesting the magnitude of humanity's loss should birds vanish from the skies, with the poets' words given enhanced gravitas by the haunting choral performances of VOCES8. Follow this link to the full review, "Hope Is the Thing With Feathers," by David McGee in Deep Roots.
'I Shall Not See the Shadows,' composed by Christopher Tin for The Lost Birds. Vocals by VOCES 8, with artistic director Barnaby Smith, and the Royal Philharmonic Orchestra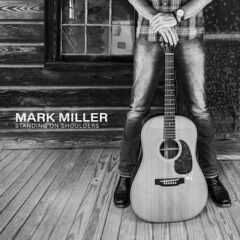 STANDING ON SHOULDERS, Mark Miller (Independent release)– You don't have to go too far into Mark Miller's Standing on Shoulders to recognize songwriting of so high an order you feel transformed after listening to him. A product of pandemic-induced isolation and reflection, Miller's elegant, exquisitely crafted songs reveal his complete immersion in family history as related (and experienced) by his elders. Miller took the raw material of his bloodline and made of it a profoundly moving tale, replete with characters beset by devils within and without, living hardscrabble lives under difficult circumstances–difficult spiritually and materially alike–clinging to hope of, at the very least, inner peace, or maybe a sense of resolve between God and man, to justify carrying on.
'Hard Providence,' Mark Miller, from Standing on Shoulders
As vividly as he recounts existential tumult, so does his music animate the narratives by its very restraint–Miller keeps the soundscape lean and clean, deeply evocative of the raw feelings and the foreboding landscapes in which his characters play out their lives. Behold the narrator of "Hard Providence" whittled down to one leg in the Civil War, betrayed by the land when he moved to Oklahoma—"I'm losing my mind," he sings with understated rage, "hard Providence came and cut my soul down/hard Providence came and stole my sacred ground." Behold the Civil War veteran in "Rebel Blue" awaking to the horror of what had transpired and how it had ravaged his soul and the green earth. Over his tender fingerpicked guitar and Scott Peters' soothing cello, Miller's title track pays tribute to the family history bequeathed to him. Each one of Miller's eight original songs is dedicated to a family member, many in the "great-great" and "great-great-great" categories. It's deep. One slight departure on this journey comes via Miller's producer, Robin Dean Salmon, whose strong, solemn "Superman (I'll Be Your Ghost)" is as beautiful a vow of everlasting love and commitment as you're liable ever to hear, and Miller brings the full weight of its vows home so movingly with an earnest reading that pierces a listener right where he stands. Although Miller didn't write this song, he treats it with the gravity he brings to his own songs: he sings it all as if something crucial is at stake. –David McGee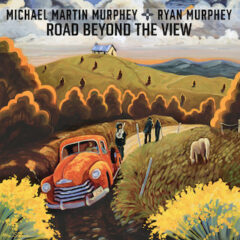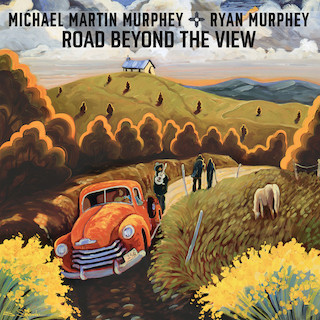 ROAD BEYOND THE VIEW, Michael Martin Murphey & Ryan Murphey (Wildfire Productions)– Now, come 2022, Michael Martin Murphey, collaborating with son Ryan, arrives with Road Beyond the View, a quiet storm of intriguing Southwestern-flavored originals that mark yet another new wrinkle in his musical identity, but one wholly true to the roots of his raising. The title is telling, given how the roads the Murpheys take on this outing may well have been beyond the view of all but the hardest of hard core Murph fans, no matter how natural they seem to the artist in question. At nine cuts, all originals credited to Michael and Ryan (save for one Ryan solo copyright), it's a succinct, atmospheric, intimate document. Apart from Murphey père et fils on guitars, bass is handled by Howard Hudiberg; drums and percussion by John Hammond; and on the title track, slide guitar by Aaron Tudon. The ensemble touch is intoxicating in its sustained understatement—never overplaying, they give the entire enterprise something akin to a cabaret feel in keeping with a repertoire betraying an art song influence. Given the setting, Murph's feathery tenor has rarely been more evocative. Follow this link to the full review, "Wherein Murph Lights Out for the Horizon, Yet Again," by David McGee in Deep Roots
'La Plaza,' Michael Martin Murphey with Ryan Murphey, from Road Beyond the View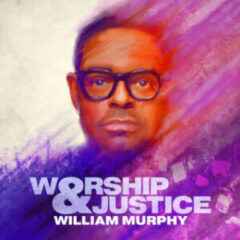 WORSHIP & JUSTICE, William Murphy (RCA Inspiration)– Do gospel artists have a responsibility to speak truth to power through their songs? Isn't all gospel music message music, or should it be more explicit when it comes to the social gospel? Answers vary from artist to artist. For his part, Bishop William Murphy embraces the responsibility of social leadership through music ministry on Worship & Justice, his seventh album and first since 2019's Grammy-nominated Settle Here. Recorded live in December 2021, at dReam Center Church in Atlanta, the album finds Murphy an ambassador for expressing the anger, frustration, sadness and, yes, hope of his congregation, African Americans, and any sentient being with a conscience. Follow this link to the full review, "Church Music as Catalyst for Change," by Bob Marovich in Deep Roots.
'The Just Shall Live,' Bishop William Murphy, from Worship & Justice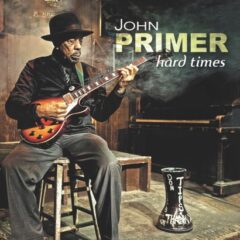 HARD TIMES, John Primer (Blues House Productions)–It's always a good year for the blues when John Primer surfaces on record. This has been true whether he's been sideman, special guest or titular artist on some 85 albums now; but especially in recent years, his appearances as a recording artist have been rather spectacular, especially his memorable collaborations with Bob Corritore (2017's Ain't Nothing You Can Do, 2020's Blues Music Awards nominee The Gypsy Woman Told Me). Hard Times, his first new album with his Real Deal Blues Band since 2019's The Soul of a Blues Man, continues this trend in a big way. Bravura displays of singing, songwriting and guitar virtuosity define Hard Times. In addition to the palpable soulfulness of the impeccable Real Deal Blues Band (long-time drummer Lenny Media; bassist Dave Forte; Steve Bell on harmonica), Primer gets enhanced support from guests Rick Kreher on rhythm guitar and, notably, the fabulous Johnny Iguana on piano. No one really steals the show from Primer himself, although formidable competition is on hand in the artist's 17-year-old daughter Aliya Primer, making her recording debut as both songwriter and singer with a slow-boiling but uplifting blues, "Tough Times." Follow this link to the full review, "Let the Hard Times Roll," by David McGee in Deep Roots
'Hard Times,' John Primer, title song from his 2022 album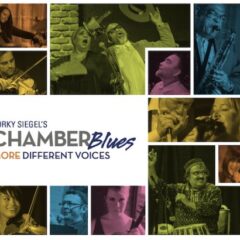 MORE DIFFERENT VOICES, Corky Siegel's Chamber Blues (Dawnsearly Records)– As far back as 1966 veteran bluesman (harmonica and piano) Corky Siegel, who made his mark in that tumultuous decade as co-leader, with guitarist Jim Schwall, of the respected Siegel-Schwall Band, began fashioning a scintillating chamber music-blues hybrid. A scant two years later the band's progressive approach was credible enough for it to be invited to accompany noted orchestras—the Chicago Symphony, the New York Philharmonic, Boston Pops—and to be featured on a 1973 Deutsche Grammaphon recording with Seiji Ozawa conducting the San Francisco Symphony Orchestra performing composer William Russo's "Three Pieces for Blues Band and Orchestra." All the while, from the late '60s through the mid-'70s, Siegal-Schwall was recording steadily for Vanguard and RCA and touring all over. Siegel himself appeared on harmonica and piano on another Russo composition released as an album in 1979, again on DG, titled Russo: Street Music—Op. 65—A Blues Concerto. So by the time his Chamber Blues project began in 1994, it had been incubating in various forms for almost three decades. Arguably, his most fully realized recording in this vein came with 2017's Other Voices, heralded in these pages and in many others as a full realization of Chamber Blues working on a higher plane of expressiveness and virtuosity. Now, five years later, comes a seventh blues-classical hybrid from Siegal and his Chamber Blues cohorts in the form of More Different Voices. A formidable followup to its predecessor it truly is, what with world music elements informing several of its arrangements, the blues sounding rawer than ever and the classical conversations veering into Impressionistic improvisational feels. Follow this link to the full review, "Chamber Blues on a Higher Plane," by David McGee in Deep Roots
'Oasis,' Corky Siegel's Chamber Blues, written by Ernie Watts (on sax), from More Different Voices
CARRY ME HOME, Mavis Staples-Levon Helm (Anti)– In 2011, when Mavis Staples showed up to join in one of Levon Helm's midnight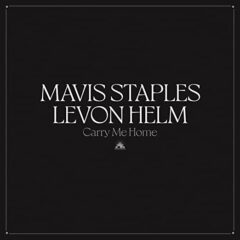 "rambles" at his Woodstock home studio, she took these legendary proceedings to higher ground with a set deeply rooted in gospel and social messaging. The Staples voice is commanding and beautifully nuanced throughout, and Levon, recovered from the throat cancer that silenced him for five years, is ragged but right in execudting a telling turnaround to make on passage of a powerhouse "The Weight" into a poignant personal statement while mostly contenting himself to simply drumming with singular sensitivity and funkiness. A roiling version of Curtis Mayfield's ever timely "This is My Country" kicks things off, and the path forward includes a sprint through "You Got to Move" and an ominous reading of "This May Be the Last Time," gospel testimonies of redemption and salvation, respectively, previously secularized by the Rolling Stones. Arguably the most moving moment, the a cappella version of "Farther Along," featuring Mavis and the gospel chorus in deep communion, might well be speaking to her and Levon's personal journeys through troubled times. Words cannot do justice to artistry of this order. To feel it is to understand it. –-David McGee
'Move Along Train,' Mavis Staples and Levon Helm, from Carry Me Home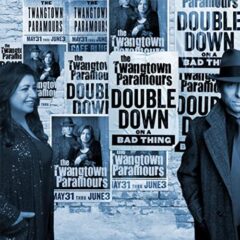 DOUBLE DOWN ON A BAD THING, Twangtown Paramours (Inside Edge Records)–They materialize far too seldom, these Twangtown Paramours (comprised of husband-and-wife team Mike T. Lewis and MaryBeth Zamer), Double Down on a Bad Thing being but the couple's third album following 2010's startling eponymous debut and 2012's solid followup, The Promise of Friday Night. Lewis's original songs are the Paramours' meat and potatoes, and what's he done over three albums is establish himself as an eloquent, insightful observer of relationship nuances, as well as the broader strokes of same, that make these things work or not. Unsurprisingly, then, Lewis—who has another career as Jimmie Dale Gilmore's touring bassist (on those rare occasions when Gilmore actually tours)—expertly works the gray areas, as if ever mindful of Yogi Berra's oft-quoted maxim, "It ain't over 'til it's over." Follow this link to the full review, "Always More Love to Be Had," by David McGee in Deep Roots
'Sincerely Yours No More,' Twangtown Paramours, from Double Down on a Bad Thing
SHINING SHORE: THE MUSIC OF EARLY AMERICA, Three Notch'd Road: The Virginia Baroque Ensemble (www.tnrbaroque.com)– Named for a colonial route through central Virginia, Three Notch'd Road: The Virginia Baroque Ensemble specializes in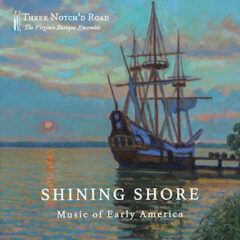 the performance of historical repertoires from both sides of the Atlantic. Shining Shore explores the group's own Virginia heritage, presenting music from the 17th to the 19th centuries that would have been heard in Virginia. In the booklet note they say that their purpose in making this recording was "to open to the listener beauties of a time and place far from our own, both strange and strangely familiar." And of course, making the disc in 2020 (recorded December 16-19, 2020 at Sono Luminus Studios, Boyce, VA) meant that "these songs' texts about mortality and hope held a deep significance for us." The performers have assembled an engaging and varied program, which is delightfully and imaginatively presented. Their flexible line-up means that we have varied sounds and instruments, yet each has a sense of historical rightness; whilst listening to the disc it is easy enough to imagine that you are eavesdropping on some sort of historical event. Follow this link to the full review, "A World Strange Yet Familiar," by Robert Hugill in Deep Roots.
'Garden Hymn,' from The Southern Harmony, arranged for Historical Clarinet, Baroque Violin, Harp and Baroque Cello, performed by Three Notch'd Road: The Virginia Baroque Ensemble, from Shining Shore: Music of Early America