By David McGee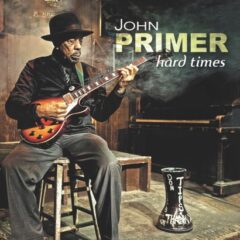 HARD TIMES
John Primer
Blues House Productions
It's always a good year for the blues when John Primer surfaces on record. This has been true whether he's been sideman, special guest or titular artist on some 85 albums now; but especially in recent years, his appearances as a recording artist have been rather spectacular, especially his memorable collaborations with Bob Corritore (2017's Ain't Nothing You Can Do, 2020's Blues Music Awards nominee The Gypsy Woman Told Me). Hard Times, his first new album with his Real Deal Blues Band since 2019's The Soul of a Blues Man, continues this trend in a big way.
'Tough Times,' written and performed by Aliyah Primer, from John Primer's Hard Times
'Hard Times,' official video, John Primer and the Real Deal Blues Band, from Hard Times
Bravura displays of singing, songwriting and guitar virtuosity define Hard Times. In addition to the palpable soulfulness of the impeccable Real Deal Blues Band (long-time drummer Lenny Media; bassist Dave Forte; Steve Bell on harmonica), Primer gets enhanced support from guests Rick Kreher on rhythm guitar and, notably, the fabulous Johnny Iguana on piano. No one really steals the show from Primer himself, although formidable competition is on hand in the artist's 17-year-old daughter Aliya Primer, making her recording debut as both songwriter and singer with a slow-boiling but uplifting blues, "Tough Times." Whereas the title suggests doom and gloom, Aliya's lyrics are anything but despairing. In a plaintive, keening voice so reminiscent of the young Carla Thomas, young Ms. Primer offers an assured, emotional delivery beseeching someone (or, more likely, all of us) to stick together as the best route to better days. It may be blues in form, but it's gospel in feel and aim, a song of salvation in many ways.
'You Mean So Much to Me,' John Primer, from Hard Times
Apart from this high point, John sallies forth with 11 originals built to last. His searing electric slide attack kicks off the title song and Steve Bell adds shimmering harp asides as Primer declaims a tough lyric chronicling the price "hard times and trouble" exacts on a soul, leaving an opening for Iguana's furious right-hand assault on the ivories. Getting a little lowdown and frisky, Primer has splendid time salivating over the double entendre subtext of his grinding, near-eight-minute opus "Hot Meal," a tasty, you might say, showcase for Bell's shimmering, crying harmonica that sets up a richly textured Primer guitar solo rife with bent notes, arpeggiated riffing and piercing single string howls all underscoring the man's proclaimed hunger for something "good and hot, right off the stove." John Primer cannot be accused of lacking a sense of humor.
'All Alone,' John Primer and the Real Deal Blues Band, from Hard Times
'My Sugar Mama,' John Primer and the Real Deal Blues Band, from Hard Times
Letting the good times roll on "All Alone," another deceptively titled blues, Primer and band, including Iguana (spectacular throughout), romp wildly through what is actually a tender expression of a man awaiting his woman's affections at day's end. This ebullient workout is the first of a quartet of tunes documenting intense expressions of connection also informing the buoyant, hard charging blues of "My Sugar Mama" and "You Mean So Much to Me," both featuring breathtaking, expansive commentary from Iguana's furious forays, leading up to a yearning finale, "Try to Make You Mine," in which Primer's fierce guitar and Iguana's trilling asides on the 88s are as perfect a complement to the singer's expressed desire as are the lyrics thereof concerning a man's determination to win the heart of a gal who's determinedly distant. Bell adds to the urgent ambience with a wailing harp solo and somehow the whole enterprise makes an emotional turn into the light as Primer vows, "I'm not gonna give up on you, baby/I know one day you will change." That's kind of the story of Hard Times, which may borrow its title from Dickens and does in fact share the novel's theme of reaping what one sows; Primer's themes, however, are more about resilience and commitment, attributes abundantly evident both in the artist's tales and in his band's empathetic, note-perfect support. If at the end, on a spirited 12-bar workout titled "Whiskey," he admits to relaxing from his labors with a little taste now and then (of liquids and herb alike), well, he's darn sure earned it by now. Well done, this, arguably John Primer's finest solo hour on disc.