By David McGee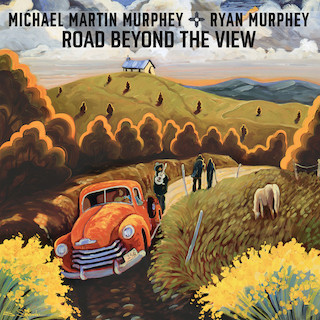 ROAD BEYOND THE VIEW
Michael Martin Murphey & Ryan Murphey
Wildfire Productions
Breathes there a soul so dead as to only know Michael Martin Murphey from his 1975 mega-hit "Wildfire"? Or perhaps only from his early '80s incarnation as a mainstream country balladeer with well-crafted, stirring tunes on the order of "Still Taking Chances", "Will It Be Love by Morning" and the chart topping (penned by Rafe Van Hoy), "What's Forever For"? Or from his mid-to-late '80s tenure with Warner Bros., when his music gradually took a New Traditionalist turn, especially as the decade neared its end and Murdph delivered two outstanding long players in 1988's River of Time (which featured one of his finest songs of the decade, "From the Word Go," and also introduced his son Ryan via a guest vocal on "Talkin' to the Wrong Man") and 1989's Land of Enchantment (the title track has been adopted by New Mexico as its state ballad)?
Maybe, maybe you caught up with Murph along about 1990, when he made one of the boldest moves a mainstream artist has ever made in pursuit of reinvention born of redefinition born of self-affirmation. Back then this son of Texas, born into a ranching family that loved the land and stories of people who worked it and lived on it going back to the Old West days, campaigned for and convinced the Warner Bros. Nashville execs to indulge him and release Cowboy Songs, which is exactly what its title says—"Tumbling Tumbleweeds, "Spanish is the Loving Tongue," "Red River Valley," "The Yellow Rose of Texas," "The Streets of Laredo," et al.—including an original, "Cowboy Logic," written by Don Cook and Chick Rains and delivered with Murph's wry wit and experiential authority in explaining the "simple solution to just about anything" common to the breed. To just about everyone's shock, and delight, it was a hit, to the tune of certified Gold. And with that, Murph settled into a cowboy groove he has never really left, even adapting his love of bluegrass into a hybrid form he calls "buckaroo bluegrass," a journey that has seen son Ryan grow into a full musical partner to his dad as a guitarist, producer, vocalist.
'Road Beyond the View,' Michael Martin Murphey & Ryan Murphey, written by Ryan Murphey, title track from the new album
'La Plaza,' Michael Martin Murphey & Ryan Murphey, from Road Beyond the View
Now, come 2022, Murph arrives with Road Beyond the View, a quiet storm of intriguing Southwestern-flavored originals that mark yet another new wrinkle in his musical identity, but one wholly true to the roots of his raising. The title is telling, given how the roads the Murpheys take on this outing may well have been beyond the view of all but the hardest of hard core Murph fans, no matter how natural they seem to the artist in question. At nine cuts, all originals credited to Michael and Ryan (save for one Ryan solo copyright), it's a succinct, atmospheric, intimate document. Apart from Murphey père et fils on guitars, bass is handled by Howard Hudiberg; drums and percussion by John Hammond; and on the title track, slide guitar by Aaron Tudon. The ensemble touch is intoxicating in its sustained understatement—never overplaying, they give the entire enterprise something akin to a cabaret feel in keeping with a repertoire betraying an art song influence. Given the setting, Murph's feathery tenor has rarely been more evocative.
'Golden Summertime,' Michael Martin Murphey & Ryan Murphey, from Road Beyond the View
'Blues for 66,' Michael Martin Murphey & Ryan Murphey, from Road Beyond the View
While retaining the southwest flavor of Murph's extensive catalogue, that flavor is delivered with ambitious spices of cool jazz and country-folk, even a scintillating detour into bossa nova, for that matter. In the frisky western swing of "El Dorado" Murph evokes a couple of his notable past triumphs in references to "Geronimo in the Caddy" and to chasing "that mountain ghost around that trail again." Ever the superb balladeer, Murph hits a high note with a captivating torch-style gem, "Golden Summertime," featuring nuanced nylon-string guitar punctuations and impressionistic lyrics (in English and Spanish) contemplating lost love's lingering presence. Among the uptempo standouts, "La Plaza," also in English and Spanish, is a cool summer breeze of bossa nova, whereas "Gallery Row" is built on a foundation of Latinalia and rock, with Ryan's stinging electric guitar driving a narrative musing about an elusive lover. And Murph ends the album by making it official: Bobby Troup is no longer the only person to write a memorable song about Route 66, the Mother Road. Closing with "Blues for 66," Murph name checks the many familiar towns Troup hailed, and a few more, along with sights peculiar to the route—"Roslyn's got the UFOSs/Scientists in Los Alamos…," jackalopes, Arizona sunsets—setting up the winning refrain, "So long I-40/this guy's buggin' out." This is all set against a laid-back bluesy arrangement with brush drums and some tasty hollow-body electric marginalia creating a soundscape you can imagine the King Cole Trio of '46 approving of were they still with us.
Showing no signs of diminishing skills at age 77, Murph rises to every challenge he sets for himself, and then some. Road Beyond The View stands with Blue Sky-Night Thunder and Red River Drifter among top albums. A continuing collaboration with ready-for-prime-time son Ryan seems a distinct possibility, but the only sure thing in Murph's career arc is change. Thus the one question left hanging: What's next?