By David McGee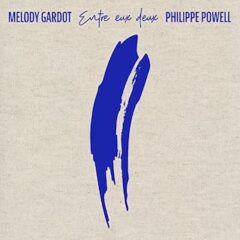 ENTRE EUX DEUX
Melody Gardot-Philippe Powell
Decca
Over the course of six studio albums Melody Gardot has made a virtue of being unpredictable. It's impossible to see her coming, other than to know she will embody whatever environment spurs her creative impulses. Peripatetic in her ways, she turned experiences living variously in Brazil, Morocco, Hawaii and Portugal into 2013's The Absence, a concept album in which hints of her earlier work were heard fully flowering into a provocative soundscape and becoming a defining sonic element, such as the Latin underpinning discretely deployed on her 2009 Larry Klein-produced gem of romantic balladeering, My One and Only Thrill. This, plus her lyrics' ambivalence in matters of the heart transforming into existential questions defying anything but rhetorical answers. Come 2015, an extended stay in the Los Angeles area found her reuniting with Larry Klein and delivering a brilliant followup to The Absence in the socially conscious, and often hard-edged outpourings of The Currency of Man as she observed in the City of Angels' seamy underbelly, her songs evoking a metaphysical and spiritual burning of the city every bit as evocative and provocative as the Los Angeles of both Nathaniel West's and Joan Didion's time, with a nod to the type of characters animating Tom Waits's early writing. In part, my take in Deep Roots on The Currency of Man's landscape noted, "It's not the natural forces of hot winds and a restless transform fault causing 'the weather of catastrophe, of apocalypse,' as Joan Didion observed. Instead it's us—a society losing its compassion, discarding any semblance of civility, devaluing personal integrity, becoming desensitized to true intimacy, replacing real communication with 140-word blurbs (descriptions without context, 'facts' sans proof, and self-aggrandizement without merit.)" That same review also observed how she has "very much created her own alternate, fully realized universe on record."
Entre lux Deux: A Day In The Life—The Making of Entre eux Deux, Melody Gardot & Philippe Powell, directed by Louis Marie
She's also created it in fact. Following The Currency of Man, Ms. Gardot up and moved to Paris. From the City of Angels to the City of Lights she went, where, in the midst of the pandemic's first wave, she re-teamed with Larry Klein for a remotely produced beauty titled Sunset in Blue, featuring sumptuous strings by the Royal Philharmonic Orchestra and note-perfect instrumental support from a carefully chosen band whose parts were recorded remotely and pieced together artfully in the studio. Sunset in Blue was also her first full foray into collaboration: in addition to tunes by Lesley Duncan, Jule Styne and Sammy Cahn ("I Fall in Love Too Easily") and Mercer-Mancini's "Moon River," the album features soulful, finely crafted co-writes between Ms. Gardot and Dadi Cavahlo, Pierre Aderne (two songs), Jesse Harris and Reese Richardson; the two songs bearing only her name as writer are both in the Portuguese language. In contrast to The Absence and The Currency of Man, however, on Sunset in Blue Ms. Gardot returns to the romanticism of her early years, her approach—even her voice, at times—evoking memories of Piaf, Yves Montand, Charles Trenet and Mireille Mathieu, primarily. And of course, with Klein behind the board, she had the guidance of the producer who knows her well and best knows how to surround her elegant style with empathetic sonics.
'This Foolish Heart Could Love You,' Melody Gardot & Philippe Powell, from Entre eux Deux
Then she had her "Get Back" moment. In describing how her 2022 album, Entre eux Deux (literally, "Between Them Two," or loosely, "Between Us") came about, she details in her liner notes how years ago, when she was living alone in a barren apartment in Philadelphia, her label gifted her with a number of its catalogue albums, one of which was Brazilian guitarist Baden Powell's Canta Vinicius de Moraes e Paulo César Pinheiro, a record she fell in love with, sang along with everywhere: "It went from kitchen music to music that kept me warm on cold and rainy nights. It was my only company when I was alone." All of which is prelude to Powell's son, composer-pianist Philippe Powell, making a two-week visit to Ms. Gardot's Paris studio, where they intended to make a record. She compared his artistry to that of Bill Evans—"he's just got that thing that goes so deep.
"We opened a bottle of wine, and then we opened our mouths," she writes. "We shared ideas, our love of inspiration, stories of our pasts and concepts of life. We were like leaky faucets—you couldn't shut us off. We knocked out nearly one song a day…creating together what would be the final recipe for each dish on this album: Entre Eux Deux."
'Plus Fort Que Nous,' from the Claude Lelouch film, A Man and A Woman, covered by Melody Gardot and Philippe Powell on Entre eux Deux
There was more drama in the recording sessions, due to technical problems, but a change of studios, followed by two days of music making, got the job done. The result is a quiet, introspective beauty, Ms. Gardot (who for the first time on record does not play piano) singing, sometimes in French, in that smoky, seductive voice so full of mystery and sensitivity, remaining within and outside the lyrics just enough to keep you off balance, underscoring the message she sent on Sunset in The Blue: Love is a many-splintered thing. For his part, Philippe Powell amply illustrates why Ms. Gardot refers to him as "the Bill Evans of Brazil," and advised him early on that the tone she wanted to strike was "Tony and Bill," a reference to the classic Tony Bennett-Bill Evans summits in 1975 and '76. Powell adds more than a second voice to Ms. Gardot's; he injects splashes of feeling, of emotion, suggesting the interior architecture of the world Ms. Gardot's character inhabits, and using silence as a powerful sonic statement—although it's debatable as to whether Powell is as creative with silence as Ms. Gardot, who has proven herself a master of the element in recent years.
'Samba Em Preludio (Un Jour Sans Toe),' written by Baden Powell, covered by Melody Gardot and Philippe Powell on Entre eux Deux
In a way, the spirit of Claude Lelouch's 1966 French film classic, A Man and A Woman, informs the style of Entre eux Deux. The film's deliberate pace and intimate dialogue are mirrored in the performances here. Is it an accident that one of the songs the duo did not write is a somber cover of "Plus fort que nous" ("Stronger Than Us") from the Francis Lai-Pierre Barouh soundtrack? That Powell's deep, almost spoken, vocal could well be Barouh's voice as heard on the soundtrack?  That Ms. Gardot's tender but melancholy reading mirrors the tension Anouk Aimee reveals in her widowed character Anne Gauthier's feelings? Is it an accident that one of the soundtrack's songs is a French version of Baden Powell's "Samba de Benção"? The senior Powell is present on Entre eux Deux, though, by way of Ms. Gardot trading soft verses with Powell the younger on a smoky, multi-textured exploration of "Samba Em Prelúdio," written by Baden Powell and his colleague Vinicius de Moraes.
'What of Your Eyes,' Melody Gardot and Philippe Powell, from Entre eux Deux
The album begins with "This Foolish Heart Could Love," the one Gardot-Powell tune that could well have fit well on Sunset In the Blue. A classic piano bar kind of heartbreaker, its lyrics describe the singer's ambivalence about a love affair that may be ill-advised but is certainly ill fated; and true to her form, Ms. Gardot at times rises into a hopeful lift in timbre, only to quickly return to a sorrowful near-whisper, all but sighing, enervated by a task suddenly rendered hopeless. This same fatalism informs the spare ballad "What of Your Eyes," where the Melody Gardot we've come to know across all these albums emerges in full ambivalent romantic yearning. It begins:  "Look at the way the stars intertwine/like the kiss from your lips if only you were mine…Heaven only knows what I've been dreaming, darling…" at which point, in character, she disappears and leaves the soundscape to Powell's piano for a few bars before returning, with a question: "What of your eyes/what do they tell me?" A series of questions follows, all in search of the truth about a paramour's aims, all having no answers, until finally, almost tearfully, she offers an entreaty, "What of your eyes, like stars that shine?" And once again she disappears, absent for the song's final minute-and-a-half as Powell fashions an austere, introspective solo to send the plaintive melody home.
À La Tour Eiffel, Melody Gardot and Philippe Powell, from Entre eux Deux
On a lighter note, "À la Tour Eiffel," a playful musical homage both to Paris and to Gustave Eiffel, properly with French lyrics, is followed by "Fleurs de Dimanche" ("Sunday Flowers"), also in French and blessed with a light, carefree swing and nice work by Powell in following and augmenting the sweet textures in Ms. Gardot's vocal. Powell also takes the solo spotlight for a short instrumental (2:11), "Recitativo," that bridges the Impressionistic style of Debussy with that of Bill Evans, the latter being heavily influenced by the former.
'Darling Fare Thee Well,' Melody Gardot and Philippe Powell, from Entre eux Deux
In many ways the final song, "Darling Fare Thee Well," offers all the elements combining to make Entre eux Deux a haunting work of art. The heartbreak simmering in so many songs here—but notably in "What of Your Eyes," possibly a prequel to this tune–is fully and unambiguously expressed at journey's end. For the first half of the song's 4:45 running time, Powell is almost a ghostly presence, sparingly appearing to accent the ethereal vocal, until halfway through the track, at which point the singer exits. Stepping up for a minute-plus solo, Powell begins softly, probing, before rising to a startling burst of left-hand melodic variations as the right hand plays a supporting ostinato; a few bars later, Powell recedes into the background, understated, as Ms. Gardot returns with a bittersweet coda that hangs in the air like gossamer after the song has ended, a broken-hearted adieu: "One of us remains/what's waiting 'round the bend/when I see your eyes/I see the nearing ending/oh my love, I loved you very well/but now I see your eyes are crying, so, darling, fare thee well…"
'Perhaps You'll Wonder Why,' Melody Gardot and Philippe Powell, from Entre eux Deux
So much about Melody Gardot's music is about subtext and heart tugging sublimity in the way a turn of phrase can illuminate a feeling, or a moment, in ways completely unexpected and unforeseen. Experiencing her albums is to understand Tom Waits when he described hanging with Keith Richards: "You see what's in the frame, but you realize that the most interesting things happening are happening outside the frame." Entre eux Deux may be, as the artist writes, about "two artists, destined to meet," but where they meet—outside the frame—is where it gets interesting, for them and for us.
The Gardot Files in Deep Roots
"Dietrich. Denueve. Garbo. Gardot." Review of The Absence (January 15, 2013, Deep Roots Album of the Year, 2012)
https://deeprootsmag.org/2013/01/15/dietrich-deneuve-garbo-gardot/
'The Mystery Endures" January 20, 2016 Review of The Currency of Man (Album of the Year, 2015)
https://deeprootsmag.org/2016/01/20/the-mystery-endures/
"Live is a Many Splintered Thing," March 1, 2022 Review of Sunset in the Blue
https://deeprootsmag.org/2022/03/01/love-is-a-many-splintered-thing/
'Live in Europe': Intimate and Commanding, Melody Gardot Bares Her Soul, review by Charles Waring in www.udiscovermusic.com, reprinted in Deep Roots, #2 in the Deep Roots Elite Half-Hundred of 2018
https://deeprootsmag.org/2019/02/01/the-deep-roots-elite-half-hundred-of-2018-pt-1/