By David McGee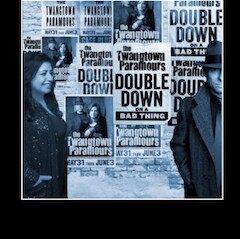 DOUBLE DOWN ON A BAD THING
Twangtown Paramours
Inside Edge Records
They materialize far too seldom, these Twangtown Paramours (comprised of husband-and-wife team Mike T. Lewis and MaryBeth Zamer), Double Down on a Bad Thing being but the couple's third album following 2010's startling eponymous debut and 2012's solid followup, The Promise of Friday Night. Lewis's original songs are the Paramours' meat and potatoes, and what's he done over three albums is establish himself as an eloquent, insightful observer of relationship nuances, as well as the broader strokes of same, that make these things work or not. Unsurprisingly, then, Lewis—who has another career as Jimmie Dale Gilmore's touring bassist (on those rare occasions when Gilmore actually tours)—expertly works the gray areas, as if ever mindful of Yogi Berra's oft-quoted maxim, "It ain't over 'til it's over." In a 2011 interview with yours truly, Lewis explained his modus operandi as having its genesis in avoiding the commercial Nashville approach of spelling out everything: "They don't tell you that you're driving and they don't tell you you're driving a car and they don't tell you you're driving a Chevy. They tell you you're driving a 1977 blue Impala with a tear on the left side of the headliner." Rather, Lewis cites songs by likes of Kristofferson, Townes Van Zandt, Jimmie Dale and Butch Hancock, in which "there's room for interpretation and for details to be filled in by the listener. Things fall apart, there's a circuitous force: the sun sets and rises, people die, maybe they come back, I don't know, love can die, but there's always more love to be had."
'That's What the Blues Are For,' Twangtown Paramours, from Double Down on a Bad Thing
"There's always more love to be had": thus the starting point for Double Down on a Bad Thing, albeit with some new twists—often wry—animating the usual high-caliber songwriting, arranging and, notably, the deeply felt vocals the Paramours trademarked on their first two long players. That they're expanding the well-honed folk- and blues-inspired Americana of their earlier efforts is evident right off the bat, when the album opening, southern soul-drenched title track sprints out of the gate with a greasy backbeat, tasty, understated guitar and pumping horns backing Ms. Zamer's no-nonsense vocal emphasizing her willful commitment to sticking with a ne'er do well. In a beautiful bit of sequencing, she lives to regret her decision in the very next track, "That's What the Blues are For," a deep southern blues featuring gospely Wurlitzer support by Dave Keyes bolstering Ms. Zamer's self-lacerating enumeration of the many ways love, but not the blues, has failed her.
'I Miss Who I Thought You Were,' Twangtown Paramours, from Double Down on a Bad Thing
'Talk About Peace,' Twangtown Paramours, from Double Down on a Bad Thing
There's something a bit different around almost every corner. In Lewis's funky, topical "Talk About Peace" ("Will you love your neighbor/will you turn the other cheek/or just talk about love, talk about peace") you can hear echoes of vintage Staples Singers-style messaging with an irresistible greasy groove (hats off to ace drummer Shawn Pelton here) and a freewheeling, multitracked Zamer vocal to bring it on home with support from a tasty, to-the-point guitar solo that's practically an homage to Pops Staples. Powered by an infectious midtempo swampy groove, "Sincerely Yours No More," one of Lewis's more vivid kissoff missives, is perfectly rendered by Mz. Zamer with barely contained fury in articulating the telltale signs of a relationship gone to seed and her cold-blooded farewell to it all. Arguably the most affecting moment here comes in a beautiful soul-drenched ballad, "I Miss Who I Thought You Were," which features a rare Mike T. Lewis lead vocal–hushed, measured, heartfelt—evocatively lamenting changes in his partner resulting in him no longer recognizing the person he fell in love with, leaving only "the ashes of the fire" to fruitlessly explore in the wake of passion having fled the heart.
To those who might question whether there's "more love to be had" on an outing with so many despairing scenarios among its 10 tracks, dig the bonus track, a flirty, sax-rich '50s-style R&B come-on, issued for this past holiday season, "Gingerbread Man." This tasty morsel comes complete with witty piano punctuations courtesy Dave Keyes and lively tenor sax commentary to shadow Ms. Zamer's delightfully whimsical—and suggestive—lead vocal, suggesting that, yes, there is more love, much love, to be had here. It ain't over 'til it's over. (The "Gingerbreak Man" video was featured in Deep Roots this past December as part of our Holiday Music Stocking Stuffers for 2021. See it here.)