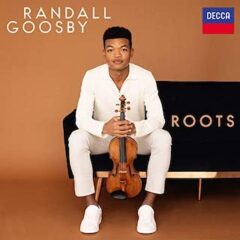 ROOTS
Randall Goosby
with Zhu Wang and Xavier Foley
Decca Classics
'Suave Sounds With No Fuss But Plenty of Style'
Roots is the debut solo disc from the young American violinist Randall Goosby. It takes a brief but affirmative glance at black US classical music, turning up a few slender but worthwhile gems. What it's not is a program dedicated to composers of color. Instead, it's partly a celebration of the fact that when there began to be an American sound in classical music, that sound came from black music. Four numbers from Gershwin's Porgy and Bess, in Heifetz's showy yet lyrical arrangements, are an obvious but apt inclusion. Dvorák's Sonatina in G, written during the Czech composer's time in New York, has spiritual and Native American music running through it.
But Goosby otherwise spotlights music by black composers, starting with "Shelter Island," a piquant and bluesy duet for violin and double bass by Xavier Dubois Foley, who gives an arrestingly virtuosic performance on bass. "Blue/s Forms," three short, sinuous solos by Coleridge-Taylor Perkinson written in 1979, are dispatched by Goosby with no fuss but plenty of style. Florence Price, whose music finally seems to be emerging from its neglect, gets another boost with Goosby and Zhu Wang's tender performance of her "Adoration" and lively, expansive ones of her Fantasies Nos 1 and 2, claimed as premiere recordings.
Follow this link to the full review by Erica Jeal in The Guardian, 24 June 2021
***
Behind the scenes with Randall Goosby on the making of his album debut
Randall Goosby: Looking to the Future
***
'…turns excavation into art…'
In Roots, his capacious debut solo recording from Decca Classics, violinist Randall Goosby turns excavation into art. In ranging from works by such Black composers as Florence Price, William Grant Still, and Coleridge-Taylor Perkinson to George Gershwin and Antonín Dvorák, this gifted young player embodies the premise that traditions are both deep and diverse. Influences run in all directions. Borrowing, grafting–and yes, appropriating–make the collective musical ground richer and more fertile.
The album opens with a personal handshake. In "Shelter Island" Goosby joins forces with bassist Xavier Foley to perform the latter's ingratiating duo composition. The title honors the spot on Long Island where the two young musicians participated in The Perlman Music Program together in 2011. In its loose-joined jazz/blues idiom, infectiously worked-through melodies, and call-and-response exchanges, the sense of a genuine, playful friendship beams out. …
'Blues Forms-II: Just Blue/s,' composed by Coleridge-Taylor Perkinson. Randall Goosby (violin), from his debut album, Roots
Three solo pieces by Coleridge-Taylor Perkinson (1932–2004) follow, each one a different slant on the blues. "Plain Blues" is short, frankly sexy and louche. "Just Blues" belies its title with melting phrases, asked and unanswered questions, and quizzical speculations. Jaunty fiddling and a jittery meandering line mark "Jettin' Blues." Goosby's easy virtuosity and chameleon-like changes of mood shine. ….
"Deep River," adapted into a piano standard waiting-to-be by the British Black composer Samuel Coleridge-Taylor and arranged by Maud Powell, may recall Jerome Kern's stately "Ol' Man River," but the spiritual's tune cuts its own deep furrow. Goosby rides the music's bends and eddies and turbulent tumbles beautifully, with a lyrical expansiveness alert to every nuance.
Follow this link to the full review by Steven Winn in SFCV.org (San Francisco Classical Voice)
***
'Adoration,' composed by Florence Price, performed by Randall Goosby (violin) and Zhu Wang (piano) and featured on Root
***
'A strong statement about who he is…'
Randall Goosby's debut album, Roots, makes a strong statement about who he is as a supremely gifted 24-year-old Black concert violinist. Instead of trotting out a Beethoven or Brahms violin concerto, the rising classical musician traces America's history of Black concert music by recording pieces like "Adoration" by Florence Price, the first Black woman composer to have a piece played by a major American orchestra. With his lush, warm tone (inspired perhaps by his teacher Itzhak Perlman) and exceptional technique, Goosby is easily winning over music lovers. But that's not all–he's showing a younger generation there are artists in classical music who look like them. –by Tom Huizenga, posted at wprl.org, June 25, 2021
***
Celebrating the Music of Black Classical Composers
Rising star violinist Randall Goosby, a protégé of Itzhak Perlman, released his debut album Roots, an exploration of the music written by black composers and inspired by black American culture, on 25 June 2021. Roots is a homage to the pioneering musicians that paved the way for Randall Goosby and his generation of young artists. The world premiere recording of "Adoration," written by African-American composer Florence Price, and recorded with violin for the first time on Roots, was released as the first single.
'It Ain't Necessarily So,' from George Gershwin's Porgy and Bess, in an arrangement by Jascha Heifetz. Randall Goosby (violin) and Zhu Wang (piano) perform this in the Finals of the Young Concert Artists International Auditions, November 11, 2018 at Merkin Concert Hall, Kaufman Music Center, New York City. The studio version if featured on Goosby's debut album, Roots
Randall Goosby said, "I am so grateful for the opportunity to share this album during such a pivotal moment in history. It has been a year of division and isolation for so many–I hope this music will inspire not only the kind of curiosity and creativity that brings people together, but also the reflection, understanding and compassion we so desperately need moving forward.
"Many of these African-American composers–William Grant Still, Florence Price, Coleridge-Taylor Perkinson–had to navigate society at a time when racism, prejudice and segregation were commonplace. Today, artists like myself, and other young artists of color, enjoy more of a sense of freedom and confidence in pursuing a career in classical music."
Read the full review at uDiscover Music.com