'The Best of the Rest of the Year Past'
HONKY TONK TIME MACHINE, George Strait (MCA Nashville)–– George Strait is steady like a river, and his new album Honky Tonk Time Machine shows just how true that platitude is. … Some years he ebbs, some years he flows, but Strait is forever present.
But rivers change. You don't notice because they carve out new banks over decades, not hours. Once in a generation there's a historical event–as happened in 2014 when Strait called it quits–that leaves a scar. In 2015 he dropped Cold Beer Conversation, an album that signaled a shift, with Chuck Ainlay taking production control from Nashville institution Tony Brown after 20 successful years. Ainlay returns alongside Strait for Honky Tonk Time Machine, and with help from Bubba Strait the pair make sure the now-65-year-old legend stays atop the crests of contemporary country without sacrificing identity. The sound is contemporary-traditional, as it has always been.
'Every Little Honky Tonk Bar,' George Strait, from Honky Tonk Time Machine
'Old Violin,' George Strait, from Honky Tonk Time Machine
This is all a way of saying that Honky Tonk Time Machine is just another George Strait album, but that summative statement is an undersell. The title track, a late-career Johnny Paycheck cover, Strait's current radio single and a police officer tribute are the signature songs on this tight western and country music mix. Each deviates from a base of easily consumable, PG-rated heart-hurt ballads pulled straight from the Strait style guide. "Two More Wishes" is beachy with a hint of Mexican surf in the distance. "Blue Waters" could be found on any of his first 29 albums. "Sometimes Love"–the best of this category–is an acoustic ballad that spans years.
"She was a sometimes love/But sometimes love hangs around a little too long," he sings–and you believe him.
Follow this link to the full review by Billy Dukes at Taste of Country.com
***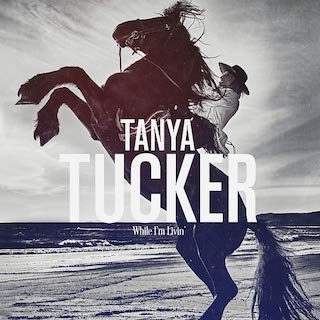 2. WHILE I'M LIVIN', Tanya Tucker (Fantasy)–Music, in its popular form, is very much the dominion of the young. Unlike many other disciplines where the wisdom of age is revered and rewarded in expanding wealth and prestige over time, music is a career that is often marked by the brightest lights near the beginning followed by diminishing returns for all but a select few who attain that coveted "legendary" status. Tanya Tucker had her first hit at the age of 13 with 1972's "Delta Dawn." Ironically, the song was about looking back at the life of a 41-year-old, her wilted beauty, and her lost lover. Tucker was so young at the time, her label Columbia Records was inclined to lie about her age. But even at 13, the voice and soul of Tanya Tucker possessed a character and feeling well beyond her years, giving her the capability to sing "Delta Dawn" and anything else with conviction and authority.
"Delta Dawn" would be the beginning of a career that would have wild mood swings of failures and successes, and was marked at times with tumultuous moments, including high profile relationship with Glen Campbell, Andy Gibb, and a much older Merle Haggard. Tanya Tucker would morph from teen country crossover to rugged Outlaw, and over it all amass stats that should eventually warrant inclusion in the Hall of Fame. But for much of the last two decades Tanya has been woefully overlooked. Now with the help of Shooter Jennings, as well as Brandi Carlile in both a songwriting and production role, Tanya Tucker is looking to cement that coveted "legendary" status for herself that insulates you from music's ageist mood swings and amnesia, and she's doing it with her first record of original material in 17 years, the aptly named While I'm Livin'.
'High Ridin' Heroes,' Tanya Tucker, from While I'm Livin'
The construction of While I'm Livin' is a little unique, with Brandi Carlile and her two famous twin collaborators Tim and Phil Hanseroth writing seven of the album's ten songs. But these were not just songs they had laying around after Carlile's own recording sessions, they're compositions they specific crafted for Tanya Tucker and taken from an intimate understanding of her life and story. Also helping to flesh out the new record is a rendition of the Miranda Lambert's biggest single "The House That Built Me" penned by Tom Douglas and Allen Shamblin, and "High Ridin' Heroes" by David Lynn Jones that was once recorded as a duet with Waylon Jennings. Tucker herself helped pen the final song of the set called "Bring My Flowers Now" with Brandi and the Hansroth brothers.
Follow this link to the full review by Trigger at Saving Country Music.com
'The House That Built Me,' Tanya Tucker, from While I'm Livin'
***
3. TEXAS, Rodney Crowell (RCI Records/Orchard Music)— If I were to challenge you to name a more authentic, living voice of Texas than Rodney Crowell who would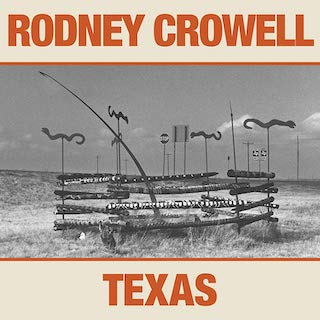 you say? Willie Nelson? Lyle Lovett? Steve Earle? Well, if you named one of those, perhaps you'd have a valid point. My answer leans more towards Rodney Crowell, but it's a win/win discussion to be sure. What makes it even better is that they're all present and accounted for on Crowell's newest effort, aptly named Texas.
Texas is an aptly named collection of songs featuring the Lone Star State as the main character and a supporting cast that includes cars, oil and gas companies, border tensions and all things Texan. The collection is presented impeccably by Crowell and co-producer Ray Kennedy as well as a collection of artists like only Rodney could assemble. Crowell's authenticity is distinct and convincing. These songs travel Texas from the Rio Grande border to the Piney Woods of East Texas and everywhere between, and they're rendered masterfully.
'The Border,' recorded live at Dan Knobler's Goosehead Palace Studio, Nashville, TN, Featured on Texas.
The Texas tales commence with the witty quality of "Flatland Hillbillies", featuring Lee Ann Womack and Randy Rogers, and gets followed by "Caw Caw Blues" which showcases the crafty guitar work and harmonies of Vince Gill. The guitar theme continues, and with no disrespect to the previously mentioned Okie guitar slinger, there's no guitarist more Texas than Billy F Gibbons. Proof lies in the rollicking and fun "56 Fury," which is 'built for comfort, built for speed'. It's distinctly Gibbons, yet more importantly, it remains distinctly Rodney. Even with all of the guest appearances throughout the album, it's never lost on the listener that this is a Rodney Crowell record. As do all of his albums, Texas contains a constant, hard to define component to it that is undeniably unique to Rodney Crowell. That component is never more apparent than in the star-laden "Deep In The Heart Of Uncertain Texas" (Ronnie Dunn, Willie Nelson, and Womack again).
Follow this link to the full review by David Nowells in Americana Highway
'Deep in The Heart of Uncertain Texas,' Rodney Crowell, from Texas
***
4. DIDN'T IT RAIN/ONLY A LOOK/THE OLD SHIP OF ZION: 1947-1962, Roberta Martin Singers (Fremeaux & Associes)– Roberta Martin is to today's
gospel music enthusiasts what writers like James Joyce and Henry James are to today's literature enthusiasts: someone whose work is considered the gold standard, but few take the time to explore the wonderment of their artistic creations.
Fremeaux & Associes in France has made it easier to indulge in the work of Roberta Martin and her Roberta Martin Singers. Offering 72 tracks and a 24-page booklet with illustrations and recording details, the new three-CD set called Roberta Martin Singers: 1947-1962 contains more than three hours of music covering most of the group's recording era.
The singing on the 72 selections washes over the soul like a warm ocean wave, leaving only the stillness of peace in its wake. It's the project Roberta Martin has deserved for decades. Thanks be to Patrick Fremeaux, Jean Buzelin, and the rest of their team for birthing it into existence. It's as essential to gospel music fans as the Sun Box is to aficionados of American roots music.
Follow this link to the full review by Bob Marovich in Deep Roots
'Yield Not To Temptation,' Roberta Martin Singers with lead vocalist DeLois Barrett Campbell, released on Apollo and featured on Roberta Martin Singers: 1947-1962
***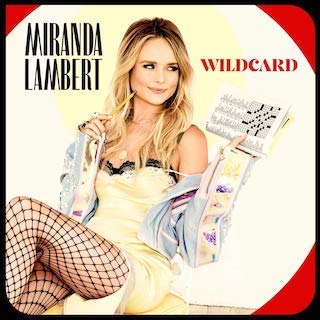 5. WILDCARD, Miranda Lambert (Sony Music Nashville)— This new Miranda Lambert album is terrible, until it's excellent. It might simultaneously be Miranda's worst and best album ever. It includes some catastrophically bad moments to the point where you feel downright embarrassed for listening, along with some of the best tracks she's ever recorded. Wildcard is just that—a spin of the wheel and a roll of the dice, because you just don't know what you're gonna get dealt when you cue up the next track. But there's too much good stuff here to cast it off as just another mainstream country pop record. You have to be willing to dig a little to get to the gold. But it's ultimately worth the patience and effort.
It was Miranda Lambert's last record, the double-sided and gatefolded The Weight Of These Wings that was supposed to present a dichotomy and counter-balance to itself. But comparatively, that effort feels incredibly even-keeled and consistent considering the manic moments that made it onto this album. The Weight Of These Wings was Miranda Lambert's singer/songwriter statement, and seemed to hint that it might be the next phase of her career. But let's face it, that Americana stuff doesn't sell, and Miranda has a franchise to support.
So since Miranda Lambert was at a crossroads in her career, teetering on the brink of radio relevance, it was time to seed the track list and live shows with some serious arena rock and outright pop stuff by bringing in one of the masters of such enterprises in mainstream country—the notorious Jay Joyce—while simultaneously trying to keep the critics and purists at bay, along with satisfying the constituents that champion Miranda as a beacon of substance in commercial country. It's a wild ride and messy at times, but Miranda accomplishes it all on Wildcard.
Follow this link to the full review by Trigger at savingcountrymusic.com
'Dark Bars,' Miranda Lambert, from Wildcard
***
6. TALL FIDDLER, Michael Cleveland (Compass Records)–It's a testament to Michael Cleveland's regal reputation within the bluegrass community that a host of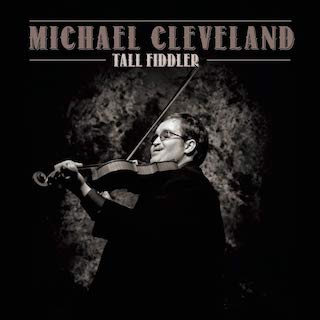 special guests were apparently all too eager to join him on his new LP, the aptly dubbed Tall Fiddler. Of course, whether he was recording solo or surrounded by his notable pals, his credence would remain both recognized and well established. Given his Grammy nod and no less than 11 wins as IBMA's fiddle player of the year, it's already a widely known fact that Cleveland resides in the uppermost pantheon of today's top players.
To his credit, Cleveland doesn't allow his accolades to circumvent his more playful instincts. Whether plying his skills on top flight instrumentals such as "5-String Wing," "Lazy Katie" and the title track–the latter of which finds him furiously trading riffs with ace guitarist Tommy "Emanuel"–or settling into the more subdued terrain embraced by "Old Time River Man" (another standout, given it features vocals from Tim O'Brien), Cleveland creates the ideal template for each of these sturdy set-ups. Others onboard for this outing include Béla Fleck, Del McCoury, members of the Travelin' McCourys, Sam Bush, Guthrie Trapp, Dan Tyminski, and Jerry Douglas, and their combined contributions add to the effusive nature of the effort overall.
Follow this link to the full review by Lee Zimmerman in Bluegrass Today
'Tall Fiddler,' the title track from Michael Cleveland and Flamekeeper's 2019 album, featuring Tommy Emmanuel on guitar
'Old Time River Man,' Michael Cleveland and Flamekeeper, with Tim O'Brien on lead vocal, from Tall Fiddler
***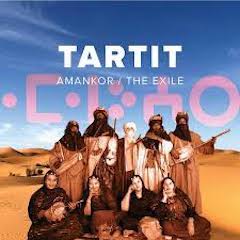 7. AMANKOR/THE EXILE, Tartit (Riverboat Records)– Although a dozen years have passed since Tartit released its acclaimed album Abacabok back in 2006, the group remains steadfast in its mission to spread the message of love, peace and the political conditions of the Tuareg people. Amankor/The Exile is a return to their hypnotic best, with heartfelt songs full of nostalgia for their homeland and a call for solidarity and a united approach towards reconciliation. Recorded live at Akan Studio in Bamako, the album has a raw and authentic edge true to the band's musical ethos.
Originally created to safeguard the Tuareg traditional music, which was slowing disappearing, Tartit's members all originated from the Timbuktu region and formed the group while in exile between Mauritanian and Burkinabe refugee camps in the mid-'90s during the Tuareg uprising. Fast forward a quarter of a century, and with the help of friends and aid agencies the band has played all around the world at many of the biggest world music festivals in Europe, North America and beyond, achieving iconic status along the way as guardians of Tuareg music. With their traditional instrumentation and repertoire their music speaks directly to the issues of today, seeking to preserve a culture under attack.
Follow this link to the full review in Deep Roots
EPK for Tartit's Amankor: The Exile–five minutes in the studio with Tartit: 'These are message of peace, of social cohesion, of the union of our people…' 
***
8. SKETCHES, Natalie MacMaster (Linus Entertainment)— Novia Scotia native Natalie MacMaster, arguably the foremost exponent of Cape Breton fiddle music,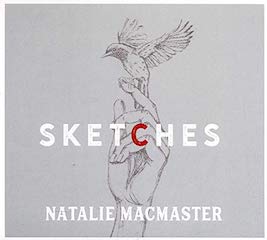 has been away from the recording scene for eight years, but it's like she never left: the traditional and original tunes on Sketches overflow with all the feelings of life lived full measure. Comprised of reels, slip jigs, strathspeys and ballads, the album is a soulful journey needing only MacMaster's sensitive, nuanced bowing and spare, empathetic backing to hit a listener right where he lives. Starting on a lively note with "Three Reels" (including her own spirited "Mary Shannon's Reel"), she offers a tender reading of James Scott Skinner's "Professor Blackie"; evokes the joyous spirit of Cape Breton square dances in the irresistible "Fill'er Up for a Set!"; and goes deep into the roots of Irish music with Turlough O'Carolan's lilting "Planxty Hewlett" paired with her own jig, "Lauchie MacDougall's." Most surprising: a fiddle-and-guitar rendition of Bonnie Raitt's 1991 smash, "I Can't Make You Love Me," wherein MacMaster and Tim Edey capture instrumentally both the heartache and resigned resolve Raitt's measured vocal imparted to devastating effect—transcendence aspired to, transcendence achieved, from first note to last. David McGee
'I Can't Make You Love Me,' Natalie MacMaster, a beauty from Sketches
***
9. SOMOS, Villalobos Brothers (Villalobos Brothers)– From the spirited, freewheeling album opener ("Xalapa Bang") with its lively lead vocal and jazzy, seemingly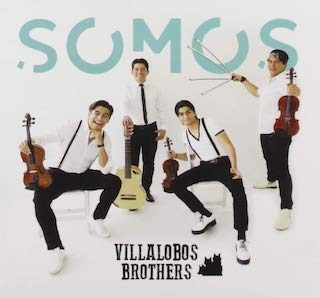 improvised dialogues between violins and keys; to the romantic Spanish-guitar enhancing the tenderness and romanticism of the love song "Destino"; and especially in the rich, decidedly foreboding soundscape augmenting the tragedy described both frankly and poetically in "Hombres de Aricilla" (a searing lament for students attending a teachers college in Ayotzinapa, Mexico, who disappeared after their school was attacked by police in 2014), Somos (the telling translation: We Are) finds the Villalobos Brothers, natives of Veracruz, making their move on the U.S. market in powerful, socially-conscious fashion. Classically trained violinists, the three brothers are joined on guitar (and as a co-writer) by their gifted childhood friend Humberto Flores Gutierrez. The original songs address corruption, injustice, intolerance, greed, violence both local and global but from a standpoint of promoting inclusiveness and tolerance, never heavy-handed and nigh on to spiritual in their conviction. Rooted in Mexican traditional music with flourishes of classical, jazz, rock and folk evident, the music is delivered with energy and urgency, a real sense of the moment. Altogether unforgettable and compelling. David McGee
'Hombres de Aricilla,' a lament for students attending a teachers college in Ayotzinapa, Mexico, who disappeared after their school was attacked by police in 2014, Villalobos Brothers, from Somos
***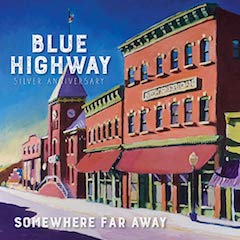 10. SOMEWHERE FAR AWAY, Blue Highway (Rounder)– It's a remarkable achievement in any genre for a band to survive largely intact for 25 years, and even more remarkable to mark a quarter-century together with one of its finest albums. So it is with the venerable bluegrass quintet Blue Highway on Somewhere Far Away. It doesn't hurt to have three of the four founding members—Tim Stafford, Wayne Taylor and Shawn Lane—recognized as top-tier songwriters, singers and pickers, or to have new member Gary Hultman stepping into Rob Ickes' very large shoes on resophonic guitar and simply making his presence felt markedly throughout. First and foremost, Blue Highway has been about songs, and on that score they hit it out of the park here. Whether recounting a turn-of-the-20th-century old timer's poignant reflections in the strutting "Both End of the Train"; anticipating a nostalgic return to the old home place in the gentle shuffle of "Dear Kentucky"; or tenderly enumerating the simple joys of a simple life in "I Already Do," enhanced as it is by heart tugging mandolin and resophonic solos, Blue Highway sings of the stuff of life, with a singular depth of feeling and profundity. David McGee
'I Already Do,' Blue Highway, from Somewhere Far Away
***
11. MONROE BUS, Andy Statman (Shefa Records)— Since emerging in the 1970s, string and reed instruments virtuoso Andy Statman has produced consistently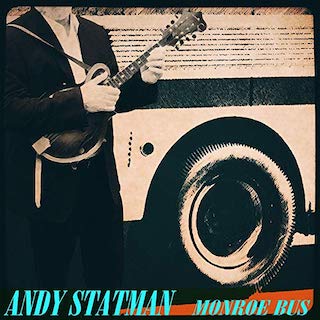 remarkable work, not the least being re-energizing klezmer music for new generations of roots music fans. On his latest album he returns to one of his principle influences, namely bluegrass music, and in particular the music of bluegrass patriarch Bill Monroe. In true Statman fashion, however, no Monroe tunes are covered; rather, Big Mon's style and sensibility inform a baker's dozen Statman originals, with empathetic support from a bevy of fellow instrumental masters and with such sonic clarity as to give the affair a live, spontaneous feel. The gracefulness of Monroe's mandolin playing is reflected in Statman's elegant soloing on the title track's gentle bluegrass swing, whereas the sheer, rambunctious, adventurous spirit of the music Monroe made informs breathtaking solos by mandolin, guitar, clarinets and cornet on the rollicking "Statman's Romp." On "Reminiscence," suitably introspective, Statman's tender picking is spiritually enhanced by Glenn Patscha's church organ support and a heart tugging coda courtesy the Statettes clarinet contingent. Jazz, gospel and pure mountain strains elsewhere make this ride worthy of the Monroe and Statman legacies both. David McGee
'Reminiscence,' Andy Statman, from Monroe Bus
***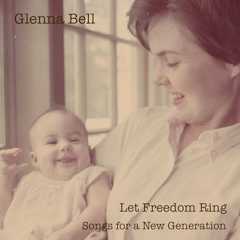 12. LET FREEDOM RING: SONGS FOR A NEW GENERATION, Glenna Bell (www.glennabell.com)– Acclaimed Houston-based singer-songwriter Glenna Bell returns in grand fashion with a seven-song celebration of freedom, commitment, abiding passion, truth and the persistence of memory. In her captivating, tremulous voice, Bell delivers her impeccably crafted songs with so gripping a sense of commitment as to bring chills at times. Such disarming intensity is especially haunting on the heartache waltz titled "Right Here Beside Me," wherein a departed lover is eerily evoked in a trembling chant of "you're right here beside me" over weeping pedal steel. In a similar vein, the stark declaration "you will make it," a repeated sentiment in the like-titled song, delivered from the edge of despair over a lonely acoustic guitar, portends not survival but inchoate inner tumult, despite the singer's seeming optimism that "you'll contend and you'll contend again." On the other hand, the ragtime-based "So Many Good Times With You" celebrates a joyous relationship in the here and now, whereas the old-school-styled folk anthem "Let Freedom Ring" calls for "every woman, every man" to join together in pursuit of inevitable, positive change. Rarely has a septet of songs packed so visceral a punch. David McGee
'Right Here Beside Me,' Glenna Bell, from Let Freedom Ring: Songs for a New Generation
***
13. LIVE ON THE EAST COAST, The Lee Boys (M.C. Records)— Live on the East Coast, the Lee Boys' first album since 2012's Testify and the group's first for Mark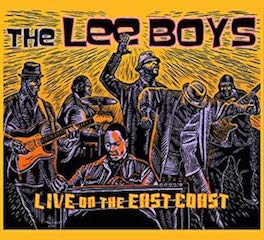 Carpentieri's M.C. Records, is a smoking hot sanctified-meets-steel workout.
Recorded in late 2018 at three live appearances—-Virginia, Florida and North Carolina—-Live on the East Coast could just as easily have been titled Live in the Southeast. Name aside, the album combines traditional gospels and spirituals, newly-composed songs such as the title track from the group's Testify album, and soul classics such as the Staples' "I'll Take You There" and a bouncy cover of Bobby Blue Bland's "Turn On Your Love Light." The live environment delivers additional voltage to what would have already been electrifying performances.
The Lee Boys, like the Campbell Brothers, introduce a church-based music into the mainstream. Their roots are from the House of God, where their father, Elder R. E. Lee, was a pastor and their uncle, Lorenzo Harrison, a sacred steel player. This distinctive string-based sound, as sacred steel authority Robert Stone explains in the album notes, was popularized in the Church of the Living God.
Follow this link the complete review by Bob Marovich in Deep Roots
'Don't Let the Devil Ride,' The Lee Boys, from Live on the East Coast
***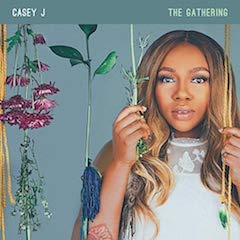 14. THE GATHERING, Casey J (Casey J, LLC and Tyscot Records)– The Gathering cements Casey J's place in the pride of young lionesses of Praise & Worship, a cadre that includes such artists as Tasha Cobbs Leonard, Preashea Hilliard, Bri Babineaux and Dominique Jones.
Fascinatingly, what makes The Gathering work is not the characteristically P&W songs like "Hosanna" and the popular "1,000 Hallelujahs," though the latter's chimeric Afro-Caribbean rhythm separates it from the pack. It's the musical risks Casey J takes by incorporating into the album's selections styles of American music not typically associated with P&W.
I'm referring to the prominence of the banjo on "Resting Place," which gives the song a distinctly country feel, while the handclapping on every beat in common time evokes the alt-Americana of Nathaniel Rateliff and Mumford & Sons. The fusion happens again on "Grace Wouldn't Leave Me" with a Scotch-Irish folk song quality and cut time rhythm (again with handclapping) that bring Southern Harmony hymnody to mind, albeit at cut time. On the other side of the spectrum is "Everything I Do," an ode to discipleship awash in energetic EDM.
Follow this link to the full review by Bob Marovich in Deep Roots
'Resting Place,' Casey J, from The Gathering, bringing a touch of bluegrass to P&W
***
15. LEONARDO: SHAPING THE INVISIBLE, I Fagiolini (Coro)– How to celebrate Leonardo Da Vinci in music? Leonardo was known to be musical, yet nothing
survives and any reconstruction of the "music of his time" would be largely speculative and still say very little about his painting, engineering and scientific studies
So Martin Kemp (Emeritus Professor in the History of Art at Trinity College, Oxford) and Robert Hollingworth, artistic director of I Fagiolini (the British music ensemble specializing in Renaissance and contemporary music) have put together a recital on Coro that pairs Leonardo's works of art with music. The musical selection is eclectic, and avoids concentrating on Leonardo's time with performances from I Fagiolini of music from the 1500s to the present day.
The forces used are diverse from a consort of four singers to full choir. For Monteverdi's Tempro la cetra tenor Matthew Long sings solo with an instrumental ensemble, and for the Bach fugue the four singers go into real Swingle Singers mode. Some of the choices are left-field: Jean-Yves Daniel-Lesur's setting of a passage from the Song of Songs for Leonardo's St John the Baptist, the combination of the erotic with the religious in the Song of Songs intended to echo the same odd mixture in the rather knowing and sexy figure in the painting.
'Music cannot be regarded other than as the sister of painting,' said Leonardo, so for the 500th anniversary of his death in 2019, I Fagiolini and Martin Kemp offer reflections of his images in vocal music: aural fantasia dei vinci–art through the prism of music, in works by Tallis, Victoria, Monteverdi, Bach, Howells and Daniel-Lesur. Robert Hollingsworth, musical director of I Fagiolini, introduces the new album, Leonardo: Shaping the Invisible, explaining: 'You end up looking at the art through the prism of the music, and vice versa.'
This eclectic mix gives a hint of the diversity that exists in Leonardo's interests, something which is frankly difficult to capture nowadays as so much has been lost so that our view of Leonardo is somewhat lopsided (fantasies about flight, but very little of his real engineering; none of his music at all, though he may have been employed as a musician).
Follow this link to the full review by Robert Hugill in Deep Roots
From Leonardo: Shaping the Invisible, 'Salvator Mundi' paired with Thomas Tallis' and Herbert Howells settings of 'Salvator Mundi' (1575 and 1936 respectively), by I Fagiolini. Geek point: the Tallis is heard here at the written pitch given in the 1575 print, and not the transposed up version suitable for modern SATB choirs. Even more interesting than the pitch is the voicing this produces: high voice, tenor, tenor, baritone, bass, allowing the part-writing in the middle voices to be better heard.
***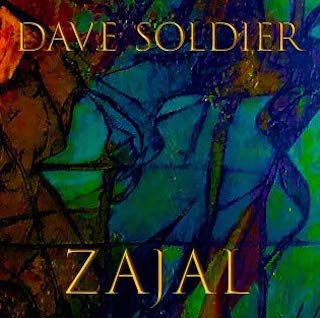 16. ZAJAL, Dave Soldier (Mulatta)— Flamenco guitarist, composer, multi-instrumentalist and musical visionary Dave Soldier has been blazing fascinating, culturally transcendent boundaries his whole life, from founding a string quartet that fused punk, classical and R&B to playing punk Delta Blues and starting the Thai Elephant Orchestra with real pachyderms.
So we shouldn't be surprised that on his latest majestic epic, Zajal, he surrounds his joyfully rhythmic, ultra-infectious flamenco fire with a vast palette of sweeping musical colors and intricate, exotic textures that illuminate a fascinating slice of Spanish history.
On the 11-track collection, which features a large global ensemble of vocalists, musicians and dancers, Soldier showcases the fruits of his personal exploration of popular song, mining pure sonic gold and spirited adventures from a spot 1000 years ago at the intersection of Muslim, Jewish and Christian cultures in the Andalusian region of southern Spain.
Follow this link to the full review by Jonathan Widran at The JW Vibe
'Non Me Mordas Habib (Don't Bite Me Baby,' Dave Soldier, from Zajal
***
17. GOOD AS YOUR LAST DOLLAR, Fruteland Jackson (Electro-Fi Records)— Fruteland Jackson has been on the scene for over thirty years and is a writer and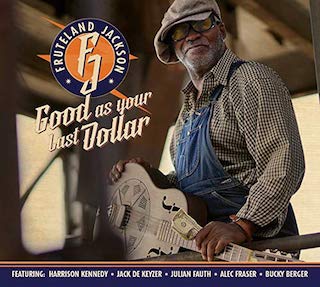 educator (a significant contributor to Blues In The Schools programs), as well as a working musician. He has played with many of the great acoustic musicians, mostly sadly no longer with us: Honeyboy Edwards, Homesick James and Henry Townsend, to name just three and, in recent times, is a cancer survivor. Indeed, this is his first release for some time and it is a welcome return. Although based in Chicago, Fruteland went to Toronto to record this album, aided by a solid cast of Canadian players, many regular contributors to Electro-Fi recordings: Jack De Keyser is on guitar, Harrison Kennedy harp and backing vocals, Bucky Berger drums and percussion and Alec Fraser bass; Julian Fauth adds occasional piano. Alec also produced the disc which has crystal clear sound in which you can hear every instrumental nuance. Fruteland wrote half the material, two being reworkings of older songs, with three "Traditional" songs and covers of Johnny Shines, Robert Johnson and Johnny Nicholas.
We open with Johnny Shines' "Two Steps To Hell," a real "down on your luck" blues with tales of hard times and "hellhounds on my tail." The traditional "When Death Comes Creepin' In" does little to lighten the mood, despite the uptempo accompaniment of mandolin, piano and guitar and Harrison's excellent backing vocals which act as a counterpoint to Fruteland's lead. Fruteland's "Good As Your Last Dollar" is a classic song for a period of economic depression, a time when a man's word no longer has value, only hard cash: "Cash in hand beats a payment plan and you'll never fall behind." Fruteland gives "Careless Love" a Delta makeover with Harrison's spiky low-end harp buzz beneath the jagged piano and mandolin before Fruteland revisits a song he first released back in 1995, "All The Dad I Had," in which Fruteland's father is revealed as a guy who never praised his son's achievements, but you have to make the best of what you have in life.
Follow this link to the full review by John Mitchell at Blues Blast Magazine.com
'Peace in Hell,' Fruteland Jackson, from Good as Your Last Dollar
***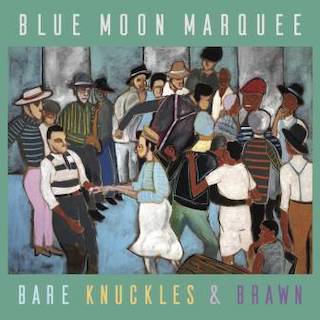 18. BARE KNUCKLES & BRAWN, Blue Moon Marquee (Blue Moon Marquee Music)— For a band that so freely reaches back into the tradition, be it blues, jazz, freak-folk, swing, or ragtime, Blue Moon Marquee is entirely unique.
Much like and entirely different from Bill & the Belles, I can picture Blue Moon Marquee around a single mic in a cramped, dusty, and isolated rural radio station circa 1928, pounding out songs long into the night. Where Bill & the Belles are light and buoyant, Blue Moon Marquee are dark and considered.
Vocally, A. W. Cardinal (guitar) doesn't mess around, his David Johansen/Tom Waits growl beyond low and gritty. Recorded to 2-inch tape through vintage RCA mics, Blue Moon Marquee is most interested in realizing a timely sound, authentic to a previous generation. Mission achieved.
The album takes its title from "As I Lay Dying," one of the more earthy numbers and one of several utilizing Indigenous imagery. The aggressively-voiced "High Noon" is infused with a jumping swing beat: "If you have any last words to spill, now is about time you did." Similarly, the light romp of "The Red Devil Himself" is at odds with its lyrical content: "My mind gets so ragged, Ragged like a cedar tree; My heart gets so heavy, like a rock cast into the sea."
Follow this link to the full review by Fervor Coolee at www.fervorcoulee.wordpress.com
'As I Lay Dying,' Blue Moon Marquee, from Bare Knuckles & Brawn
***
19. FIVE MILES FROM TOWN, The Ebony Hillbillies (EH Music)— By way of the vanished past and the tumultuous present come eight gifted artists assembled in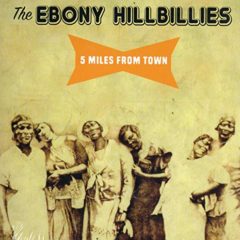 New York City by violinist/vocalist Henrique Prince. A modern-day extension of the black string bands of yore—Prince's study of this tradition took him beyond the Mississippi Sheiks into the music's obscure 19th century origins—the Ebony Hillbillies have entertained and educated adults and children alike from the streets of New York to the Smithsonian Museum, in visual artist collaborations at museums, at guest school programs and more.
On this, its fifth CD, the group's old-timey sound (shaped by fiddle, banjo, washboard percussion, shaker bones) evokes, on the one hand, bygone eras in the jubilant bones- and fiddle-fired title track and horrific modern-day tragedies rooted in racial animus in the grinding call-and-response blues of "Another Man Done Gone (Hands Up Don't Shoot Me)."
Follow this link to the full review by David McGee in Deep Roots…
'I'd Rather Be,' The Ebony Hillbillies, a live version of a song featured on 5 Miles From Town. Posted on YouTube by Music Fog.
***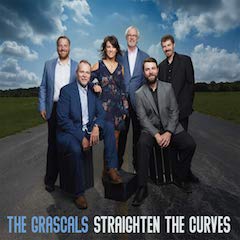 20. STRAIGHTEN THE CURVES, The Grascals (Mountain Home)–With the addition of their newest member, Chris Davis on guitar and vocals, the Grascals add on to the chart-topping success of 2017's Before Breakfast with their recent release of Straighten the Curves. Davis fills the spot vacated by founding member Terry Eldredge, who decided to retire from the road. Davis' vocals fit perfectly with bandmembers Terry Smith and John Bryan, continuing the Grascals' tradition of soulful lead vocals and smooth harmonies.
The Grascals have numerous well-earned awards, and this release should earn them some more. The Grascals have a reputation for country-tinged modern bluegrass that sources songs from well outside the standard bluegrass catalog. Instead of rehashing old bluegrass standards, they borrow from Becky Buller ("My Virginia Mama") and Old-Time banjo player, Chris Coole ("Straighten the Curves"). Songs include drivers such as "Heartbreak Hall of Fame" and the album's title track, mixed with gospel numbers ("The Shepherd of My Valley" and Davis' "What Does God Look Like?") ballads ("Don't Leave your Memory Behind" and "They Laughed"), as well as "Haggard," an appreciation for a dog that howled along with his namesake.
Follow this link to the full review by Steve Margulis at the Hudson Valley Bluegrass Association website
'Don't Leave Your Memory Behind,' The Grascals, from Straighten the Curves
'Haggard,' The Grascals, from Straighten the Curves
***
21. HARVESTING MY ROOTS, Ivy Ford (Ivy Ford)-– Ivy Ford is one of the up and coming stars in the blues world. At 26 years of age this young lady and her band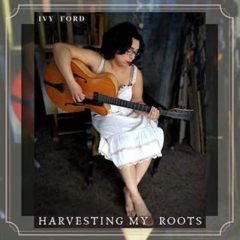 were finalists at the 2019 International Blues Challenge (representing Crossroads Blues Society), have released two fantastic self-released albums and garnered many invites to play at big festivals across the U.S. and Canada.
Harvesting My Roots features all original music. The album begins with the title track.  Ivy opens with an acoustic guitar modified to sound like a resonator and then adds electric guitar to the mix.  The song showcases her heritage, with divergent yet complementary roots from Africa and Norway in her parents. The music she learned from her father coupled with the independence and soul of her mom have produced an independent and confident woman who is grabbing the blues world's attention.  The resonator varies from her live performances of the song and it is quite cool.  The electric guitar coming into the mix adds punch as she plays along with herself on the acoustic guitar.  The vocals are spot on in this blues song that pays tribute to Chicago Blues while taking them to a new level with both a Delta and modern vibe. … Ivy opens with piano on the next track entitled "Daddy Of Mine," a slow blues where Ivy opens her heart to forgive her Dad and embrace him into her life. She soulfully sings, "There is no precious time to waste," as she plays the piano with equal soul and feeling as her vocals.  It is a beautiful and moving piece.
Follow this link to the full review by Steve Jones in Chicago Blues Guide
'Harvesting My Roots,' Ivy Ford, from Harvesting My Roots
***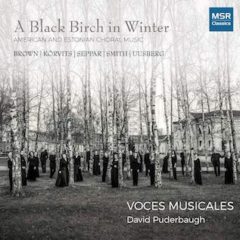 22. A BLACK BIRCH IN WINTER: AMERICAN AND ESTONIAN CHORAL MUSIC, Voces Musicales Chamber Choir, David Puderbaugh (Conductor) (MSR Classics)— Choral enthusiasts generally fall into one of two camps: those pursuing a fresh "take" on an established classic, and those who are eager to explore the unfamiliar and unknown. This recording unashamedly appeals to the latter: the Estonian ensemble Voces Musicales declares that its mission is to present "works that are seldom performed due to their difficulty." This anthology exemplifies this through a fascinating program of music by contemporary American and Estonian composers.
First, to address technical concerns, we should acknowledge that this is a beautifully engineered disc, capturing the balanced sound of twenty-four expert voices in the supportive acoustic of St. Jacob's Church, Viimsi, just north of the capital Tallinn. This is the first Lutheran church built in Estonia since World War Two, and its clean lines allow the choral sound to bloom without compromising enunciation. The ensemble comprises excellent voices that have been trained to blend seamlessly, whether the text be in Estonian, English, or Italian. Leading them is David Puderbaugh, an Iowa-based academic, who first sang with the group when on a Fulbright scholarship, and subsequently has worked with them as both singer and conductor. This recording was made during a visit he made to Estonia in early 2018.
Second, though this anthology largely devotes itself to younger, contemporary composers, it is sufficiently varied to keep the listener's attention. By definition, this is an eclectic selection, and one bound to fascinate devotees of choral music. Five composers are represented on the disc: two are American, and three Estonian. From the former, Kile Smith is the older, offering a three-movement cycle, "Where Flames A Word," written in 2009 for the Philadelphia-based choir, The Crossing. Smith's harmonic language is approachable and complements the lyrics well. Gregory W. Brown (b. 1975) provides settings of Richard Wilbur and John Muir; his musical palette is reminiscent of Elliott Carter, with counterpoint that is both sure-footed and well paced.
If Brown gives the disc its title (one of his Richard Wilbur settings), it is the Estonian repertoire that offers the listener the most arresting music.
Follow this link to the full review by Philip Barnes at www.search.proquest.com
'Where Flames a Word: III. I Know You, You Are Deeply Bowed,' Voces Musicales Chamber Choir, from A Black Birch in Winter–American and Estonian Choral Music
***
23.MAN OF MANY BLUES, Paul Gabriel (Smoke Ring Records)–Paul Gabriel was on three albums with the late Harry Chapin and played slide on Rory Block's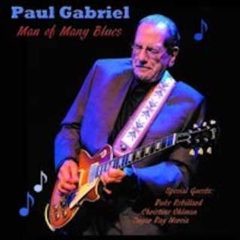 Grammy-nominated Mama's Blues. This solid disc is his second collaboration with Duke Robillard following 2013's What's The Chance. Paul wrote all the material, collaborating on two songs, and handles vocals and guitar with a core band of Robillard regulars, Mark Teixeira on drums and Bruce Bears on keys with bass duties divided between three players: Scott Spray, Frank Davis and Paul Opalach. Duke plays second guitar on six cuts and Christine Ohlman of Saturday Night Live fame adds B/Vs to four. Tenor and baritone saxes are added to five tracks by Roomful Of Blues horn man Mark Earley, three of which also feature another Roomful alumnus, Doug James, on baritone. Duke produced the album, recorded at Lakewest studio in West Greenwich, Rhode Island, with Jack Gauthier behind the desk.
Opener "I Feel Good" is a mid-tempo blues groove driven by the twin horns while Paul delves into soul-blues on the outstanding cut "Cold, Cold, Cold", a lovely tune with fine horns by Mark. Paul's voice works particularly well on this one, adding a touch of vulnerability on a song with bittersweet lyrics and aided by Christine's backing vocal support on the chorus. The horns also work well on "No Finance, No Romance" which has a Little Feat feel (who also did a song with a similar title – "Romance Without Finance" on their 1995 album Ain't Had Enough Fun).
Follow this link to the full review by John Mitchell at Blues Blast Magazine.com
'Blues for Georgia,' a Paul Gabriel original dedicated to the late gospel/blues great Georgia Lewis, with whom Gabriel worked for many years, featured on Man of Many Blues
***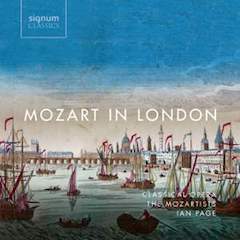 24. MOZART IN LONDON, The Mozartists & Ian Page (conductor) (Signum Classics) [Works by Karl Friedrich Abel (1723 – 1787), Thomas Augustine Arne (1710 – 1778), Samuel Arnold (1740 – 1802), Johann Christian Bach (1735 – 1782), William Bates (died 1778), Egidio Duni (1708 – 1775), Wolfgang Amadeus Mozart (1756 – 1791), Davide Perez (1711 – 1778), Giovanni Battista Pescetti (circa 1704 – 1766) and George Rush (circa 1730 – circa 1780)]— Unlike most of the Twenty-First Century's population centers, London was by the turn of the Nineteenth Century a teeming metropolis. It is estimated that, by the time of the death of Elizabeth I in 1603, London's streets were congested by the traffic of 100,000 residents, and nearly 1.1 million Londoners were counted when the first modern census was conducted in 1801. Eight hundred miles away, there were likely 15,000 inhabitants of the Austrian city of Salzburg, then an independent archiepiscopal seat, when Wolfgang Amadeus Mozart was born there on 27 January 1756. Neither a small town as suggested by the fictional incarnation of Antonio Salieri who appears in Peter Shaffer's Amadeus nor the cultural Hinterland depicted in early biographies of Mozart, Salzburg was nevertheless dwarfed by London, which the composer's youthful eyes first beheld on 23 April 1764, when he arrived from the Continent with his father and sister, poised to beguile the music-loving denizens of Georgian society.
Had encounters with The Mozartists and Ian Page transpired during the Mozarts' 457 days in England, the family might well have remained in London indefinitely. A lingering problem in performances of music dating from the first two decades of Mozart's life is the tendency to approach the music from the perspective of the works of his final fifteen years, unnecessarily and in many cases detrimentally imposing an inflated grandiosity on the music. No one now questions the legitimacy of Mozart's genius: performing the works of his youth as though were written with the same inventiveness that shaped later pieces enlarges the distance between Mozart and the listener. This is a mistake never made by The Mozartists, whose goal to recreate the sound world in which Mozart was immersed in London in the 1760s is achieved with that most vital of historically-informed virtues—common sense.
Symphony No. 1 in E-Flat Major, K. 16: I. Molto allegro, The Mozartists, with Ian Page conducting, from Mozart in London
In terms of aural balances, clarity and avoidance of distracting noises off, these discs, recorded during concerts in London's Guildhall School of Music and Drama, offer the listener an ideal sonic environment in which to appraise the novelties of this music. This is of course inconsequential if the quality of the performances is inferior to that of the recorded sound. Page ensures that the musicianship on Mozart in London is pristine, conducting with his customary stylistic flexibility and unflagging concentration. The musical dialects spoken by these pieces range from late Baroque to fledgling Romantic, and Page communicates effectively in each of them. The Mozartists play with indefatigable elegance that never stands in the way of evincing the music's inherent passions. The instrumentalists play with an incontestable sense of responsibility for the successes of both Mozart in London and their performances of Grabmusik and Bastien und Bastienne. Their endeavors engender discs for which any musician would be proud to claim responsibility.
Follow this link to the full review by Joseph Newsome in Deep Roots
'Jesu, was hab' ich getan,' from Mozart's Grabmusik (K 42/35a), recorded for Grabmusic and Bastien und Bastienne (K 50) by tenor Jacques Imbrailo and soprano Anna Lucia Richter, with The Mozartists as conducted by Ian Page
***
25. EAR WORMS, The Duke Robillard Band (Stony Plain)– There comes a point during the experience of listening to Ear Worms when superlatives can't really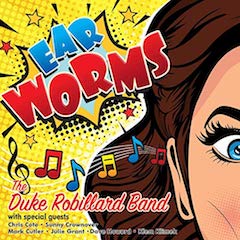 explain what's happening on the disc better than a simple, "Man, Duke and company really got it together this time." This is not to suggest Duke and company haven't really got it together many times before this, but something is special in the way of conceptual execution, energy, commitment and sheer soulfulness going on here with the ultimate effect of making the entire endeavor seem transcendent—everyone's working on a higher plane, from the stalwart band members to the guest artists to Duke himself, who simply fashions and blazes away on some of his finest guitar solos in recent memory (and that's saying something in and of itself).
Duke has always made exploring the music of his formative years essential to his professional persona, and he's not changing up now. Although neither designed nor promoted as a tribute album, Ear Worms' cover tunes represent an especially deep and moving cavalcade of the wide scope of roots music Duke absorbed as his musical identity was taking shape. Even the lone Robillard original here, the album opening "Don't Bother Trying to Steal Her Love," a lighthearted, rocking ode to unswerving commitment with Dave Howard's gritty lead vocal underpinned by muscular piano soloing courtesy ever-steady Robillard band stalwart Bruce Bears, at times fleetingly quotes Chuck Berry's "C'est La Vie." Chuck is a more pronounced presence later on the album, when the band gets to cooking behind Duke's roaring six-string on Chuck's "Dear Dad," which apart from the fiery Robillard guitar work echoing his master's voice, is driven by more Bears keyboard fireworks and Klem Klimek's swaggering, humorous vocal turn.
Follow this link to the full review by David McGee in Deep Roots
'You Belong to Me,' the 1952 pop evergreen made legendary by Jo Stafford, as performed by the Duke Robillard Band, with lead guitar by Duke, organ by Bruce Bears, featured on the Duke Robillard Band's Ear Worms
***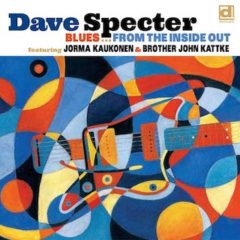 26. BLUES FROM THE INSIDE OUT, Dave Spector (Delmark)—Blues From The Inside Out is the new CD from renowned Chicago blues guitar great Dave Specter and the first CD featuring Dave testing out his vocals (spoiler alert–he does a great job!). He has appeared on over 40 albums in his 35-year career and was inducted into the Chicago Blues Hall of Fame last year. Blending blues, jazz, and soul has been his trademark and he continues his run of excellent recordings with this new album. The album also features some great guests, including Hot Tuna/Jefferson Airplane legend Jorma Kaukonen on guitar on two tracks and Brother John Kattke on keyboards and organ and also with vocals on four tracks. …
Specter makes his vocal debut on the opening track, the title cut.  He does a great job singing about paying your dues playing the blues and gives us some wickedly cool guitar to enjoy on top of that. He follows up his debut with "How Low Can One Man Go," a commentary on Donald Trump.  The title says it all for lyrical content. Jorma Kaukonen lays out some nasty licks in support of Dave, some really cool stuff. Dave sings with passion and grit, delivering a fine performance. "Asking For A Friend" is the other Specter vocal track, a slick number about his woman who is sneaking out on him.  He solos on guitar twice with some slick licks, too. He seems comfortable singing lyrics he writes, so perhaps this is just the start of many more great songs with Dave fronting the band!
Follow this link to the full review by Steve Jones in the Chicago Blues Guide.com
'How Low Can One Man Go?,' inspired by a certain occupant of the White House, with Dave Specter on lead vocal, Jorma Kaukonen on lead guitar, from Dave Specter's Blues From the Inside Out
***
27. THAT'S WHERE IT'S AT, Michael Jerome Browne (Borealis Recording)– Before Google there were volumes of encyclopedias. Before the point and click of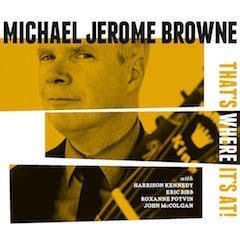 digital music and streaming, there were low-fi recordings of field hollers and spirituals, gospel and blues that formed the bedrock of folk and rock and roll. Michael Jerome Browne is a walking encyclopedia of all this, and his new record, That's Where it's At, celebrates his long love of pre-war blues and country and blends it with his take on modern pop and soul music.
Browne is an interesting troubadour. He is a virtuoso on guitar, banjo, mandolin, harmonica and fiddle. On his latest album he mixes soul and R&B tunes with older blues and spirituals. In lesser hands it would make for an album with too many disparate sounds to ever be seen as a cohesive musical document. Browne accomplishes this by stripping the modern songs down to their acoustic bare bones, and then putting just enough flesh on those bones to make them tasty. The end result is a group of songs that thematically and stylistically make for a piece of whole cloth, connecting our present with our past, into a tapestry that tells a very human story. It's also a damn good time.
This time out Browne mixes an interesting assortment of covers from the likes of Randy Newman, Stevie Wonder, and Bobby "Blue" Bland, Al Green and Sam Cooke with a fresh batch of original material. The emphasis is on fun and it pays off for the listener.
Follow this link to the full review by Joseph McSpadden in Deep Roots
'Pharaoh,' Michael Jerome Browne, from That's Where It's At
***
28. OLD TIME GOSPEL, Kimberly Kaye (www.kimberlykayebachman.com)– Listening to Kimberly Kaye Bachman's Old Time Gospel EP is like listening to an early Sunday morning radio broadcast emanating from an AM station in her native Iowa. The only thing missing is an encouraging emcee to introduce the singer and the songs.
Kimberly does everything on the EP but engineer it; that task is entrusted to Eric Domkowski of Firewheel Audio. Otherwise, she deftly handles the lead vocals, the close country harmonies and plays all of the stringed instruments (guitar, banjo and mandolin).
The track list includes classic hymns as well as Kimberly's own compositions arranged in the southern gospel tradition. The nineteenth-century hymn "Are You Washed in the Blood" has a Carter Family thrum, while Kimberly's take on the traditional spiritual "Children Go Where I Send Thee" sounds inspired by country picker Ricky Skaggs' 1980s-era interpretation.
Follow this link to the full review by Bob Marovich in Deep Roots
***
29. B'S HOT HOUSE, Al Basile (Sweetspot)— Few artists have produced as consistent a recording track record as has Al Basile, and on B's Hot House, produced with a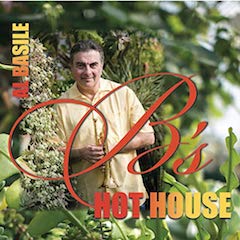 light touch by his Roomful of Blues compadre Duke Robillard, the storyteller in this published poet emerges to reflect with bracing results on life as he turns 70. The outstanding band—Al on vocals and cornet; Duke on guitars; Brad Hallen on bass; Bruce Bears on keyboards; Doug James on tenor sax; Jeff "Doc" Chanonhouse on trumpet; Mark Texeira on drums—is tight, tasty and attuned to Al's moods. Which means they can slide into a ferocious stomp to emphasize the danger false words can carry in "Don't Fool with the Truth" (with Duke punctuating the point with a wailing guitar solo); ride Bruce Bears's steady organ groove through the tough shuffle of "Razor Wire," Al's discourse on raw wounds inflicted by angry words; or, to put a serene capper on this particular triptych, the swaying, horn-fueled soul groove devoted to the healing power of intimate conversation in "Talking in a Room," featuring Al's touching, reflective cornet solo in a starring role. Verily, the septuagenarian soars. David McGee
'So-Called Storyteller,' Al Basile, from B's Hot House
***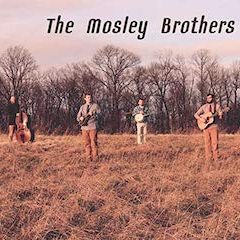 30. THE MOSLEY BROTHERS, The Mosley Brothers (Patuxent Records)– A young quartet of old souls, the Mosley Brothers—Joey and Jacob Mosley with Johnny Calamari and Dean Phillips—step squarely into the vanguard of bluegrass music's new generation with a sensibility rooted in solid bluegrass tradition while also embracing progressive rhythmic ideas. Exploring themes of love and loss, home and family, struggle and spiritual longing, the band gets to the heart of the human experience. In "Exactly What I Need," a captivating midtempo ballad fueled by Dean Phillips's low-key banjo, a man "broken as a broken man can be" realizes the world's riches are no substitute for a good woman's enduring love. In "Carry Me," a driving arrangement is the backdrop for a close-harmonized, intense plea for emotional support through hard times. The dirge-like "Rain and Snow," featuring a discursive mandolin solo out of the Chris Thile playbook, is a harrowing kissoff of an abusive partner, whereas abject heartbreak could hardly be expressed with more piercing poignance than it is in "My Baby's Gone," a Louvin Brothers gem done to a T here. One album does not a career make, but it can be a career making moment. Behold. David McGee
'Carry Me,' The Mosley Brothers
***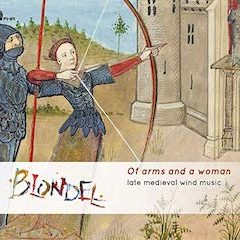 31. OF ARMS AND A WOMAN: LATE MEDIEVAL WIND MUSIC, Blondel (First Hand Records)– This delightful disc is inspired by the writings of Christine de Pisan (1364-1430) who, remarkably, produced a wide body of romantic poetry as well as Livre des fais d'armes et de chevalerie (The Books of Feats of Arms and of Chivalry), which just about defined chivalry and modern warfare for the Middle Ages, including the idea of the just war (fought by Kings in the name of God). There is only one surviving contemporary setting of Pisan's poetry, so here we have a wide selection of chansons that reflect the themes of her work in versions for Medieval wind ensemble performed by Blondel (Louise Anna Duggan, Emily Baines, Daniel Serafini, Lizzie Gutteridge and Belinda Paul) on First Hand Records. Whilst many of the works on the disc are anonymous, we also have music by Dufay, John Bedyngham, Gilles Binchois, Johannes Ciconia, Baude Cordier, Guillaume de Machaut, Solage, Robert Morton, Francesco Landini and Josquin des Pres.
The result is 24 short tracks that engage with the melodic freedom of the music and delightful imagination of the scoring. Blondel use a mixture of instruments—recorders, shawms, bagpipes, slide trumpets, sackbuts, frame drum tabor and tamburello—so that each item has a sound world matched to it, from the martial combination of shawms, sackbut and tabor to the more gentle ensemble of three recorders. For the anonymous Allez a la fougere we have the amazing sound of three bagpipes, and for Machaut's Aymi! dame de valour bagpipes and tamburello.
Follow this link to the full review by Robert Hugill in Deep Roots
A sampling of tracks from Blondel's Of arms and a woman: Late Medieval Wind Music. Blondel is comprised of Emily Baines, Lizzie Gutteridge, Belinda Paul (recorders, shawms, bagpipes); Daniel Serfafini (slide trumpets, sackbut); Louise Anna Duggan (frame drum, tabor, tamburello).
***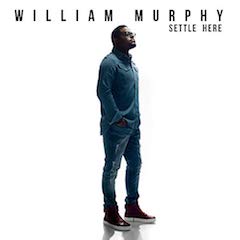 32. SETTLE HERE, William Murphy
 (RCA Inspiration)– William Murphy uses home court advantage to his best advantage on his sixth and latest solo album, Settle Here. Recorded live on a rainy evening at Atlanta's dReam Center Church, where Murphy is worship leader, Settle Hereoffers ten superb P&W songs instead of replicating a worship service, warts and all, in lockstep fashion.
For example, the album opens not with the almost compulsory cookie-cutter aerobic praise piece but with Christian artist Zach Williams' dramatic "Chain Breaker." The song, recorded previously by Angela "Missy" Billups, is an excellent vehicle for Murphy's husky, pulpit-honed voice. …
"Bliss" is a gentle worship ballad filled with creamy harmonies and a melody that evokes the songwriting of VaShawn Mitchell. Murphy's demonstrative singing and fiery preaching at the end of "Love Never Fails" so stirs the congregation, and apparently Murphy himself, that it moves the entire company into a praise break. "The devil tried it, but I'm still here," sing Murphy and the backing vocalists and, very likely, the live recording audience along with them.
Follow this link to the full review by Bob Marovich in Deep Roots
'Love Never Fails,' William Murphy, from Settle Here
***
33. PLAY, Pacific Harp Project (Pacific Harp Project)— You don't often get a jazz album led by a harp this side of Alice Coltrane, so Megan Bledsoe Ward shows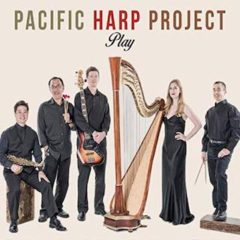 some moxie by bringing her heavenly instrument to the fore along with a jazz team of Noel Okimoto/vib, Todd Yukumoto/ss, Jon Hawes/b and Allan Ward/dr. The best part about the album is that the harp doesn't sound forced upon us or gimmicky; it is used as a part of an organic whole.
The team is at times augmented by the wordless and lyrical voice of Jamie Jordan, adding to the pretty cadence and accenting vibes o "Lily Lou" and French vocals to the dreamy "La Lettre." A four movement "Sketches of Scintillation" mixes the harp in strummed and plucked form with mixes of quirky percussion via Noel Okimoto's marimba, some gorgeous soprano sax by Todd with Allen Won and exotic grooves veering in and out.
Follow this link to the full review at www.jazzweekly.com
'The Vastness,' Pacific Harp Project, from Play
***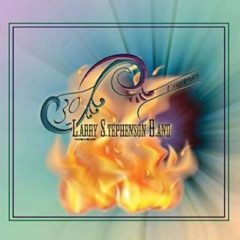 34. 30, Larry Stephenson Band (Whisper Dream Music)— A true musical devotee and revered bluegrass staple, Larry Stephenson has plied his craft in service to that seminal sound for the past three decades. It's little wonder then that 30 serves as an apt testament to his tenacity and perseverance. Indeed, Stephenson has never wavered in his efforts to preserve an archival approach that doesn't find a need to concede to any commercial concerns. As Stephenson himself declares on the new album's standout track, "I Was Bluegrass (When Bluegrass Wasn't Cool)," he's never wavered in his adherence to the form, even when more trendy options awaited.
That attitude is also signaled in such songs as "Two Ol' Country Boys Like Us," Ernest Tubb's "Journey's End," the Kostas composition "Timber, I'm Falling In Love," Felice and Boudleaux Bryant's "Tears" and the traditional tune "Darling Little Joe." Each of these offerings finds the band–Stephenson (vocals, mandolin), Derek Vaden (vocals, banjo), Nick Dauphinais (vocals, guitar) and Matt Wrihgt (vocals, upright bass)–blending their voices in close harmony while picking and strumming with seeming abandon. Their down-home delivery is effusive without ever seeming self-conscious, even though certain songs–"Blue Memories" in particular–sound like sure standards echoed from a bygone era. On the other hand, their take on the Randy Van Warmer chart topper, "Just When I Needed You the Most," remakes that classic hit by convincingly casting it as a genuine bluegrass ballad.
Follow this link to the full review by Lee Zimmerman in Bluegrass Today
'Tears,' written by Felice and Boudleaux Bryant, by the Larry Stephenson Band, from 30
***
35. HOME LIGHT, Ernie Watts Quartet (Flying Dolphin)– When the story of this era's jazz masters is told, West Coast tenor man and bandleader Ernie Watts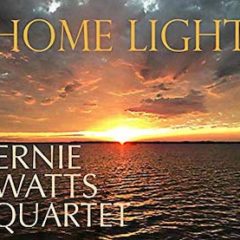 ought to be prominently featured. Watts, perhaps once underappreciated because of the overtly commercial bent of many of his '70s and '80s recordings, has evolved into a saxophonist whose sound is simultaneously brawny and beautiful, an instrumentalist who explores every part of his horn and knows how to write and/or pick tunes perfectly suited to his approach. His Coltrane-inspired playing is sometimes tender, sometimes fierce: Check out his take-no-prisoners rampage near the end of quick-twisting bop romp "Frequie Flyiers," during which he's joined only by drummer Heinrich Koebberling.
That tune, midway through Home Light, another high-caliber release from the leader's long-running European quartet, is immediately followed by a lush ballad, "Horizon," co-written by Watts and the group's pianist, Christof Saenger. Watts' sound here is warm, lilting, and buoyant, and Saenger gets well-utilized solo space. Koebberling, too, contributes a track: His laidback "Café Central 2am" allies stop-time figures with a flowing tenor melody.
Follow this link to the full review by Philip Booth in Jazz Times.com
'I Forgot August,' Ernie Watts Quartet, from Home Light
***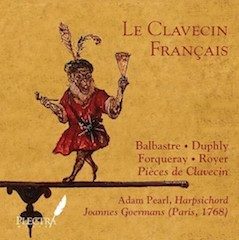 36. LE CLAVECIN FRANÇAIS: PIÈCES DE CLAVECIN, Adam Pearl, arpsichord (Plectra Music)– Playing a bright-timbred instrument by Dutch-born maker Joannes Goermans, dated to 1768 and expertly restored in 2014 by California-based harpsichord builder John Phillips, prize-winning harpsichordist Adam Pearl makes this volume in Plectra Music's Le Clavecin Français series an astonishingly vivid portrait of a period in which the French school of composition taught some of its most representative lessons from the keyboard. Working in Paris from the time of his arrival in the city, circa 1730, until his death in 1777, Goermans witnessed the advancement of writing for the harpsichord surveyed on this disc, lending the choice of instrument particular relevance.
La d'Hericourt, Adam Pearl, harpsichord, from Le Clavecin Français
'Chaconne,' composed by Duphly; Adam Pearl, harpsichord, from Le Clavecin Français
Placing the harpsichord in an acoustic space reminiscent of an intimate but vibrant salon, the immediacy of the recording is astounding: there is a compelling sense of experiencing a performance rather than hearing a recording of it. Both a scholar and a practitioner (his doctoral thesis dealt with French Baroque harpsichord music), Pearl plays all of the selections on this disc with the kind of virtuosity that encourages the listener to concentrate on the wonders of the music rather than those of the musician's technique. These are not performances that conjure ghosts of the past: Pearl reveals that this music lives as viscerally today as it did two-and-a-half centuries ago.
Follow this link to the full review by Joseph Newsome in Deep Roots
***
37. WORK, Ray Blue (Jazzheads)— The New York-based tenor saxophonist Ray Blue, who has a deep tone and a melodic style, is featured on Work, a set of accessible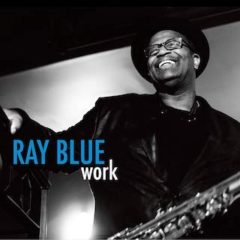 yet quietly creative music. The program mixes together three of his originals with surprising versions of standards and lesser known but superior jazz songs. He and Randy Klein, head of Jazzheads Music Group, worked diligently to achieve the appealing Old School feel and sound that Blue's listeners want to hear.
Blue teams up with three pianists (Sharp Radway, Kirk Lightsey and Benito Gonzalez), guitarist Jeff Barone, bassist Essiet Okon Essiet, drummer Steve Johns and, on three songs apiece, the rambunctious trombonist Ron Wilkins and percussionist Neil Clark. Starting with the exuberant "Work," the program includes such surprises as an uptempo transformation of "Lift Every Voice And Sing," two versions of "That's All" (including a duet with pianist Lightsey), a playful rendition of "Don't Know Why," and a cooking "Everything Happens To Me" which is normally taken as a slow ballad. Blue, displaying a large tone that almost sounds like a baritone in spots, is heard at his best on his original ballad "My Friend And I Took A Walk" and "Our Day Will Come" which benefits from a shuffle rhythm. Trombonist Wilkins is quite boisterous on Nat Adderley's soulful "Sweet Emma," the Jimmy Smith minor blues "Mellow Mood," and George Coleman's "Amsterdam After Dark." Another highpoint is Blue's "Attitude" which, after an energized and surprising melody, becomes a hot swinger that features the composer.
Follow this link to the full review by Ja Supreme at The Urban Music Scene.com
'Our Day Will Come,' Ray Blue, from Work
***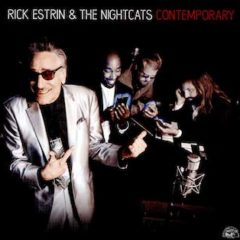 38. CONTEMPORARY, Rick Estrin & The Nightcaps (Alligator)— One of the blues' longest running acts, Rick Estrin & The Nightcats, is back with Contemporary, a strong new release on Chicago's legendary Alligator Records that continues a nearly unprecedented run that began over forty years ago. On their latest studio album, Rick and the band deliver a stylish, highly listenable release that taps into blues tradition while highlighting current issues in their trademark witty and wise cracking way.
Contemporary starts off fast, hitting the ground with "I'm Running", a tense, film noir like opening theme that addresses the concerns of aging baby boomers. Instead of invoking the traditional blues hell hound, Rick sings "Father Time is on my trail/I feel him breathing down my neck," following up with the first of many tasty harp solos, one of the major reasons to listen to a Nightcats release. Schooled by the classic Chess recordings of blues harmonica masters Sonny Boy Williamson, a.k.a. Rice Miller, and Little Walter Jacobs, Estrin has become one of the foremost blues harpists of today. … Respected Bay Area bluesman Joe Louis Walker helped Rick to write the next cut, "Resentment File", a tongue-in-cheek swinging gentleman's guide to the modern gal. "You can't do these women like you used to" lectures Professor Estrin in Relationships 101, warning of a "deep well of resentment/be careful/she ain't ever going to forget it."
Follow this link to the full review by Greg Easterling at Chicago Blues Guide.com
'I'm Running,' Rick Estrin & The Nightcats, from Contemporary
***
39. PIECES, Jason Barie (New Day Entertainment)– Having played with some of the finest traditional bluegrass bands of the past two decades, Jason Barie has well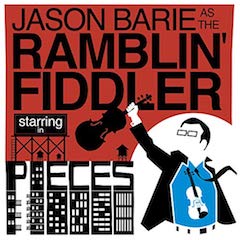 earned his Ramblin' Fiddler nickname. Underscoring his peripatetic ways, his solo career always includes guest artists representing a spectrum of modern bluegrass styles. So it is on Pieces, and it's not a bad deal when your lineup includes the likes of Del McCoury, Paul Williams, Doyle Lawson, Becky Buller, Kristen Scott Benson, Brandon Rickman and Darrin Vincent, among others. Barie kicks things off with a statement of his own via his fast and furious fiddling on the album opener, "Waiting on Isaac," before ceding the spotlight to Benson's sparkling banjo retort. But the album really sails when Barie shows off his tender side with howling cries behind the aching twin vocals of McCoury and Williams (in the first-ever recorded teaming of these two bluegrass titans) on "I'm So Lonesome I Could Cry" and elegant long lines underscoring the loss and longing Corey Hensley and Mike Rogers express with penetrating conviction in "Diary of My Mind." With a live feel and soulful execution, Pieces hits the heart dead center. David McGee
'I'm So Lonesome I Could Cry,' Jason Barie on fiddle, featuring lead vocals by Del McCoy and Paul Williams, the first time the two bluegrass titans have been teamed on record, from Pieces
***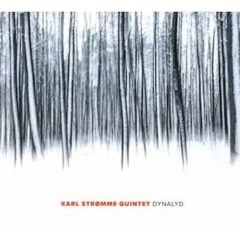 40. DYNALD, Karl Strømme Quintet (Riverboat)— What sets the Karl Strømme Quintet apart from their contemporaries is the way their respect for the modern jazz tradition is mixed with references and experiences from other musical styles, giving their music a fresh and exciting edge. Inspired by the likes of Miles Davis, Kenny Wheeler and Joe Zawinul, band leader and trumpeter Karl Strømme gives the music a unique flavor with the use of an analog synthesizer he plays in tandem with the trumpet, and in his words "gives simpler but stronger melodic lines when improvising–like painting with a broader paintbrush.
With a classic line-up of trumpet (flugelhorn), tenor saxophone, double bass, guitar and drums Dynald is an album recorded with very few overdubs, thus keeping the live sound and achieving the desired vintage feel with minimal effects. Add in the synthesizer to this natural acoustic sound, following the trumpet like a shadow, and the music is given a beautiful contrasting texture. Listening to Dynald there is a palpable sense of synergy within the band with Karl having worked with saxophonist Hallvard Godal for almost twenty years in a variety of bands and collaborations. Completing the quintet are guitarist Per-Arne Ferner, drummer Per Oddvar Johansen and double bassist Trygve Waldemar Fiske, all cherry picked by Karl for this project, creating an ensemble with the shared desire and willingness to push the envelope of Nordic jazz.
Follow this link to the full review in Deep Roots
'Dynald,' Karl Strømme Quintet, title track from latest album
***
41. GLYPHONIC, Lowland Hum (Lowland Hum)— Pushing themselves to the brink, Lowland Hum returns with Glyphonic, a song cycle that challenges the artist and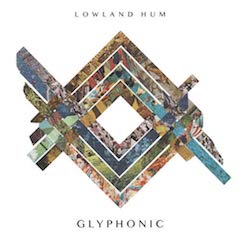 listener alike to resist the gravitational pull of the material world and to choose to live with intent. As with their 2017 release, Thin, the duo of Daniel and Lauren Goans wrestle weighty questions with grace and aplomb. The title of the album is our first clue. Glyphs bring to mind the picture stories of ancient chroniclers. Phonic brings to mind sound, and so we have an album of picture-story songs. The Goans have compiled snapshots of the road they have travelled which offer insights into our own journeys. As usual, they make going deep look easy.
One of the first things apparent on Glyphonic is the Goans' understanding that it is the silent spaces in a song that gives it its strength. Hence their commitment to champion quiet music. It is knowing what to leave out, coupled with knowing what to put into an arrangement, that seems to come naturally to them. It is an instinct that the best artists nurture and develop and one that makes their best work endure the test of time.
'Salzburg Summer,' Lowland Hum, from Glyphonic
The test of time, and what to do with it, is one of the central themes Lowland Hum has been wrestling with the last few years.
Follow this link to the full review by Joseph McSpadden in Deep Roots
***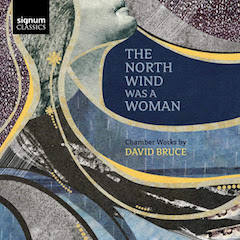 42. THE NORTH WIND WAS A WOMAN: CHAMBER WORKS BY DAVID BRUCE, Avi Avital, Dover Quartet, Nora Fischer, The North Wind Ensemble, Camerata Pacifica (Signum)— I first came across the music of David Bruce when his opera The Firework-Maker's Daughter was performed at Covent Garden in 2013. And his work Gumboots, for clarinet, popped up on a disc from Julian Bliss and the Carducci Quartet. On this new disc from Signum Classics we hear two chamber works and a song-cycle for soprano and ensemble. Central to the disc are the talents of mandolin player Avi Avital, he and the Dover Quartet perform Bruce's Cymbeline, whilst Avital is part of The North Wind Ensemble, which accompanies soprano Nora Fischer in the song cycle The North Wind was a Woman, which sets poems by Bruce himself and Alasdair Middleton. The final work on the disc is the instrumental suite "The Consolation of Rain" performed by the Camerata Pacifica.
The North Wind Was a Woman: I. The Snow is Completely Without Hope. Nora Fischer, David Bruce, The North Wind Ensemble, Dover Quartet, from The North Wind Was a Woman
'The Consolation of Rain': I. Camerata Pacifica, David Bruce, from The North Wind Was a Woman
Cymbeline was written specially for Avi Avital, and the title refers to an old Celtic word meaning Lord of the Sun, rather than referencing Shakespeare's play. It is in three movements, representing Sunrise, Noon and Sunset, the outer movements more contemplative whilst the central one is livelier. Essential to the work is the fascinating sound combination of mandolin and strings Bruce employs to create a wide variety of textures. All three movements have a distinctive, very idiomatic character, but I kept hearing both Oriental influences and American folk (as in Appalachian music), yet with popular rhythms too, all combined into something rather appealing. …
The disc's subtitle, Chamber Works by David Bruce, does not do it justice, and the three pieces on this disc are written with great flair and imagination. Whilst Bruce does write lyrically (he describes The Consolation of Rain as a series of songs without words), his music is complex and richly textured and certainly repays repeated listening.
Follow this link to the full review by Robert Hugill in Deep Roots
***
43. TWO PARTS, Tucker Brothers (Tucker Brothers)— As instrumentalists and composers, The Tucker Brothers had already made a strong impression with their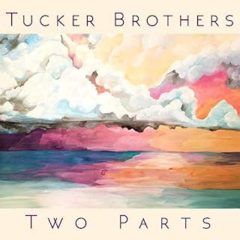 previous releases Nine Is The Magic Number and Writing Prompts. Two Parts, which is their strongest statement so far, has nine new pieces (six by guitarist Joel and three from bassist Nick) that are performed by their quartet with tenor-saxophonist Sean Imboden and drummer Brian Yarde. Four guests make significant contributions to one song apiece.
The opening "Warm Heart" has a haunting atmospheric melody with Elena Escudero's voice adding a great deal of color to the ensembles. "When Souls Meet, " a rhythmic, romantic and spiritual piece, features both Walter Smith III. and Sean Imboden trading back and forth on tenor during a performance that gets increasingly passionate as it evolves. Imboden is in the lead during the explorative yet accessible "October Third, " while the moody "Lifely" has a fine spot for guitarist Joel Tucker. Pianist Ellie Pruneau joins the group for "Two Parts, " a dramatic fusion-oriented performance that has some fiery playing from Joel Tucker. The last of the guests, altoist Amanda Gardier, is a key part of "Sundancing, " engaging in colorful interplay with Imboden and taking an exciting solo on the infectious number. The final three originals, the moody jazz waltz 'Paisley, " the initially introspective "Heavy Drop, " and the laidback "Return To Balance, " each contain some of the finest playing by both of the Tucker Brothers, a pair of siblings whose playing and writing grow in depth with each recording.
Follow this link to the full review in Jazz News
'Two Parts,' Tucker Brothers, featuring Ellie Pruneau, from Two Parts
***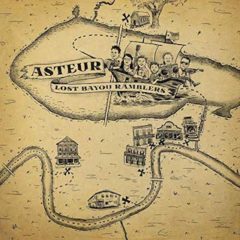 44. ON VA CONTINUER!/ASTEUR, Lost Bayou Ramblers (Lost Bayou Records)— This combined DVD-CD offering of the documentary On Va Continuer! and the live album Asteur celebrates the Lost Bayou Ramblers' 20th anniversary as a group. In 2016, director/cinematographer Bruno Doria was filming the Dockside Studio flood when he met the Ramblers fiddlin' frontman Louis Michot, which led to Doria capturing various live performances and the recording of the album Kalenda. Doria was also present when Kalenda reached its zenith by winning a Grammy in 2018 and the band's jubilant post- celebration. …
Asteur features well-received live performances from seven New Orleans area venues. Though it draws on several selections from Kalenda, there are another seven tunes ("Steh," "New Iberia Haircut," "Hwy 90") never released by the Lost Bayou Ramblers. "Bosco Stomp" and "Côte Clair" sound closer to vintage Cajun music than "Freetown Crawl/Fighten' ville Brawl" and "Kalenda"—those are considerably more untamed and unruly than their studio-produced counterparts. Given the hypnotic percussion, feedback, distortion, drones and far-out futuristic effects, by the time "Tune Up" and "Dans Les Pins" end, you feel like you've survived a physically- grueling, mind-altering ordeal.
Follow this link to the full review by Dan Willging at www.offbeat.com
'Les Mardi Gras,' Lost Bayou Ramblers, from Asteur
***
45. BEYOND THE BLUE DOOR, Ronnie Earl and the Broadcasters (Stony Plain)— Guitar tone is an important ingredient in rock and roll and blues. Think about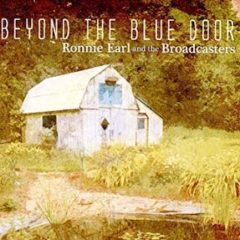 Ike Turner's distortion on "Rocket 88." Or Jimi Hendrix's out-of-phase guitar work. Or Stevie Ray Vaughan's gigantic sound. It's not just about the notes; there needs to be something magical transmitting them, too. Which is why Ronnie Earl and the Broadcasters' Beyond the Blue Door is such a fascinating album. Earl, a master blues guitarist, shows off considerable taste and skill using an impressively spartan tone…. One of the album's strongest tunes is Earl's cover of Bob Dylan's "It Takes a Lot to Laugh, It Takes a Train to Cry." It's rawer than Dylan's studio version, featuring delicate acoustic guitar and chillingly lonely vocals from David Bromberg (who also did an amazing job on the album's liner notes). Earl holds his own with just his electric guitar. The track is just the two artists and while the Broadcasters are a fantastic backing band, it shows the power Earl can wield with just his guitar (and, to be fair, Bromberg's voice). … This isn't a wild, raucous kind of album. It's got a mellow energy, which is nice, because it lets you hear and appreciate the different pieces comprising it.
Follow this link to the full review by Steve Ovadia at American Blues Scene.com
'It Takes a Lot to Laugh, It Takes a Train to Cry,' Bob Dylan via Ronnie Earl and the Broadcasters, with David Bromberg on lead vocal, from Beyond the Blue Door
***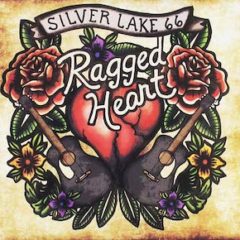 46. RAGGED HEART, Silver Lake 66 (Saw Tooth Monkey Music)–Portland, Oregon-based Silver Lake 66's Ragged Heart reminds us that country music is best when it wears its heart on its sleeve and speaks in the straightforward language of the everyman. The duo of Jeff Overbo and Maria Francis stay the course they set on their 2016 debut recording. Ragged Heart is the confident statement of a couple that knows their strengths and how to play to them, and to us.
Solid songwriting is the core of Ragged Heart and is buttressed by appealing restraint—in making the right choices in arrangements and in the artists' wisdom to tell stories in an unvarnished, emotionally honest way. Those might seem like obvious things for artists to do, but it isn't always easy to accomplish. How many times have you heard a record self-destruct because an artist overcomplicated a project with too much production and dense arrangements that buried the truth of the material? Overbo and Francis, by contrast, make smart choices and make them seem natural.
Follow this link to the full review by Joseph McSpadden in Deep Roots
'Ragged Heart,' Silver Lake 66, a live version of the title track from the duo's new album
***
47. PURE IMAGINATION, Amber Weekes (Amber Inn Productions)— Singer Amber Weekes is a name more jazz fans should know. Her new album, Pure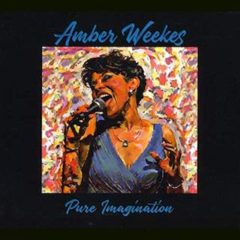 Imagination, is an exploration of classics that shows off her flexible voice, lighthearted style and uncanny ability to choose the right musicians to work with
Weekes' project arrives in the hands of listeners by way of a GoFundMe campaign and her own talent. One listen to Pure Imagination and most audiences will wonder why they have not heard of the singer before.
Each of Pure Imagination's 13 tracks teaches listeners a little something about the voice and style of Weekes. The disc opens with the title track. The feel is a bit light, the mood set for captivating audiences. Weekes' voice is both present and agile, almost airy. She encourages listening with her phrases and the way she seems to exist within the context of each song.
In addition to the title track, Weekes also shines on "It's All Right With Me," the Cole Porter classic. Her clipped and sassy approach to a song about appreciating the traits of someone else while comparing them to a former love. Her holding of certain notes adds drama where listeners were not expecting it. Weekes' high notes on this song are delightful and classic. There is no strain or over-exaggeration. The notes, mid-range or high, seem to come as easy as thoughts to Weekes.
Follow this link to the full review by Dodie Miller-Gold at www.lemonwire.com
'Pure Imagination,' the title track from Amber Weekes' new album
***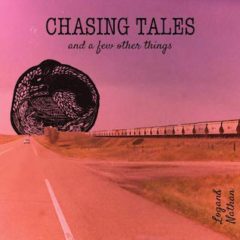 48. CHASING TALES (AND A FEW OTHER THINGS), Logan & Nathan (Fallen Tree)— Hailing from Vancouver, alternative folk duo Logan and Nathan have released their debut album, Chasing Tales (and a few other things). Consisting of a 15-song track listing, their vivid debut experiments with bare instrumentals and serene sounds that push the traditions of folk music. It's a brand of self-proclaimed "freak folk," braiding various timbres and transitions through a ghostly, unaccompanied lens.
The two came together when they were trapped in Canmore, AB during a flood that washed out all routes of escape. Seeing how the end was near, the two teamed up for one last musical hurrah, serenading the flood victims pickled blood late into the hues of a starlit night. It was here that they first combined folk with the eclectic. Imagine Johnny and June after a trip down the rabbit hole. Their music dances along the lines of Folk Music, but when they perform it turns into something else.
Logan and Nathan have brought their strange brand of freak folk all over the country, riding and performing on the Via Rail Train and playing festivals such as Arts Wells, Koksilah, and Woodstove Festival. Their music creates a space for emotions to be honest, hearts to be warm, and thoughts to be soothed with discomfort. (Source: www.raincoastchoir.com)
'Ida Mae,' Logan & Nathan, from Chasing Tales (and a few other things)
***
49. LONDON WITH A TWIST: LIVE AT BERNIE'S, Lyn Stanley (A.T. Music)— Utilizing her Jazz Mavericks, an all-star group consisting of guitarist John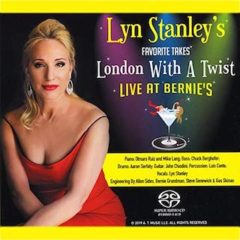 Chiodini, either Otmaro Ruiz or Mike Lang on piano, bassist Chuck Berghofer, drummer Aaron Serfaty, and percussionist Luis Conte, Lyn Stanley sounds relaxed and swinging. The singer has found that the most rewarding performances occur when she and her musicians create music spontaneously, not using any written-out arrangements. That way all of the players own the music and the results are creative, looser and joyful, sounding like a late-night set performed purely for the fun of it. And with this release, Lyn Stanley has become one of only five singers who have created a direct-to-disc vocal album containing at least three songs and 12 minutes of music; London With A Twist has over 43 minutes.
Among the dozen selections on London With A Twist are such standards as "Route 66," "Blue Moon," 'Goody Goody," 'Bye Bye Blackbird" and "Body And Soul." Adding variety are two offbeat choices, Chuck Berry's "You Never Can Tell" and Bruce Springsteen's "Pink Cadillac," that one could imagine Julie London interpreting in a similar fashion.
Follow this link to the full review at broadwaywayworld.com
'Route 66,' complete with footage shot not he Mother Road, Lyn Stanley, from London With a Twist: Live at Bernie's
***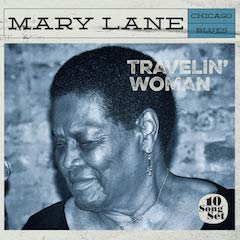 50. (Tie) TRAVELIN' WOMAN, Mary Lane (Women of the Blues Music)– Echoes of Big Mama Thornton and Koko Taylor abound in Chicago blues belter Mary Lane's sophomore album. Sassy, no-nonsense, vulnerable yet self-reliant, Lane cuts a formidable swath through 10 straight-ahead original tunes, all co-writes with producer/guitarist Jim Tullio save for one memorable acoustic number, "Make Up Your Mind," a desolate Delta blues howl addressed to a wandering mate, featuring Lane, shattered but resilient, backed by co-writer Colin Linden's spare, lonesome slide dobro. Elsewhere she's supported by an ace band anchored by Tullio on electric guitar and bass, with some reliable blues names pitching in here and there. The stomping title track soars behind Louie Zagoras's screaming slide solo with added heft courtesy a horn section featuring the legendary Gene "Daddy G" Barge on sax. A lighthearted, freewheeling workout addressed to another absent partner, "Some People Say I'm Crazy" finds Lane tender-hearted in anticipation of reuniting with her man, as blues harp titan Corky Siegal weaves in anxious solo spurts to underscore the singer's resolve. With Chris "Hambone" Cameron on B3, Lane delivers a tender vocal on the gospel-tinged love ballad, "Let Me Into Your Heart." Really, how could you not? David McGee
'Let Me Into Your Heart,' Mary Lane, from Travelin' Woman
WHY DID I CHOOSE YOU, Emi Takada (www.emitakada.com)– Japanese jazz vocalist Emi Takada has an unassuming but forceful presence on her latest album,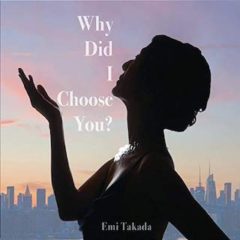 Why Did I Choose You? A collection of classics, this outing finds Takada making the most of the standards beloved by classic pop fans. With a voice that lilts with pure expression, Takada's persona is effervescent in a way that is not purely giddy, but lively with passion for the music she sings.
Two of the most outstanding tracks on Why Did I Choose You? are "It Might As Well Be Spring" and "Stormy Weather." (On the former), Takada's voice is light as it quickly picks through the metaphorical lyrics. She personifies spring and the surrounding instrumentation plays up that feeling of sunshine and flowers that Takada herself evokes with her vocal quality. From the 1945 movie State Fair, "It Might As Well Be Spring" has been done by Ella Fitzgerald among others, so Takada is taking on a bit of jazz history when she performs this song. But with her approach giving audiences another way to think of the song, it stands out on the recording.
Follow this link to the full review by Dodie Miller-Gould at www.lemonwire.com
'Why Did I Choose You,' Emi Takada, from Why Did I Choose You
Follow this link to the Deep Roots Albums of the Year 2019