'…relaxed and melodic with sudden bursts of sanctified energy…'
SETTLE HERE
William Murphy

RCA Inspiration
William Murphy uses home court advantage to his best advantage on his sixth and latest solo album, Settle Here. Recorded live on a rainy evening at Atlanta's dReam Center Church, where Murphy is worship leader, Settle Here offers ten superb P&W songs instead of replicating a worship service, warts and all, in lockstep fashion.
For example, the album opens not with the almost compulsory cookie-cutter aerobic praise piece but with Christian artist Zach Williams' dramatic "Chain Breaker." The song, recorded previously by Angela "Missy" Billups, is an excellent vehicle for Murphy's husky, pulpit-honed voice.
The album's mood is essentially relaxed and melodic with sudden bursts of sanctified energy. Most importantly, the selections sound distinct from one another, giving praise teams a bushel full of songs to learn. Each song receives solid support from cheerful backing vocalists and a team of musicians that includes Gerald Haddon, the dReam Center's music minister and member of the contemporary quartet the Soul Seekers.
"Bliss" is a gentle worship ballad filled with creamy harmonies and a melody that evokes the songwriting of VaShawn Mitchell. Murphy's demonstrative singing and fiery preaching at the end of "Love Never Fails" so stirs the congregation, and apparently Murphy himself, that it moves the entire company into a praise break. "The devil tried it, but I'm still here," sing Murphy and the backing vocalists and, very likely, the live recording audience along with them.
'Love Never Fails,' William Murphy, from Settle Here
'Chain Breaker,' William Murphy, from Settle Here
Murphy's teenage daughter Keilah makes her recording debut by opening "Face to Face." The song also benefits from lovely harmonies and brief assists from Jocelyn Bowman, Y'Anna Crawley, Charmaine Broome, and Breona Lawrence.
Though well sung and arranged, the two-part, ten-plus-minute title track is the least distinctive cut on the album, though its slow, hypnotic movement gives the assemblage a chance to cool down from the spiritual agitation of "Love Never Fails." It's followed by the relaxed 1990s mass choir vibe of "Same Grace," a melodic song that Murphy twice tells the audience wasn't supposed to be on the album, but it's a good thing it was included.
'Praise Break,' William Murphy, from Settle Here
The energetic conclusion, "Worship Forever," was written by Murphy's brother DeVaughn, who passed away in July 2017 at age 33. The album benefits from tight production by early dReam Center member Tasha Cobbs Leonard and her husband, Kenneth. Each of Murphy's six solo albums have charted on Billboard, and given the quality of its songs and presentations, Settle Here will very likely join them.
Picks: "Chain Breaker," "Love Never Fails"
***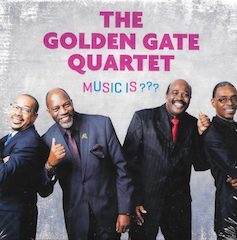 '…preparing the listener for a different experience…'
MUSIC IS ???
The Golden Gate Quartet
Cristal Groupe
From the open-ended question that is the title of their new album to the opening track, "Change," it's clear that the Golden Gate Quartet is preparing the listener for a different experience. And that's what the listener gets on the baker's dozen of selections that comprise Music Is ???—-from traditional quartet to smooth soul/R&B to vocal group harmony.
Organized in 1934, the Golden Gate Quartet helped popularize the rhythmic jubilee quartet sound through its many recordings, national radio broadcasts, appearances in films, and participation in John Hammond's historic 1938 "From Spirituals to Swing" concert at Carnegie Hall. Finding enthusiastic audiences for their singing in Europe during the 1950s, the Gates moved to Paris in 1959 and have made the Continent their home base ever since.
Today, the group consists of Frank Davis (first tenor), Michael Robinson (second tenor), Thierry Francois (bass), and Paul Brembly (baritone and group leader). These four more-than-capable singers maintain the quartet's tradition well.
Music Is ??? contains sacred and pop offerings, the latter represented by "Blue Suede Shoes" with background doo wops; the Coasters-like "Cadillac Jack"; and a salute to R&B and rock 'n roll pioneers on "We Remember Friends." For "The End of My Journey" (aka Lucie Campbell's "He'll Understand, He'll Say Well Done"), the group doo-wops like the mid-1950s Soul Stirrers, but without Sam Cooke.
The sonic change, at least for those who have not heard the quartet in recent years, is the group's surprising incorporation of MOR quiet storm R&B on "Jesus He Loves You" and the love song "Place in My Heart."
Smooth soul and R&B groups are ubiquitous but practitioners of the jubilee style that the Gates popularized are not. That's why, changes notwithstanding, the album's standout tracks are "Working on the Building," "Run On," and "Didn't It Rain." Not only do they represent the trademark Golden Gate Quartet sound, but they are distinctive because very few groups sing this way anymore. Like the work of the similarly reconstituted Fairfield Four, these "jump spirituals" are a breath of fresh air for their vocal strength, purity of technique, and timelessness.
Call me old fashioned, but I wish there were more jubilee selections on Music Is ???.
Picks: "Working on the Building," "Didn't It Rain"
***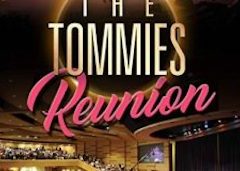 '…retaining the controlled energy of its predecessor…'
THE TOMMIES REUNION
The Tommies
Seven Legend Group/JMG Entertainment/Tyscot Records
At their apex, Chicago's Thompson Community Singers—-known affectionately as the Tommies-—were one of the most emulated gospel choirs in the country. Music ministers couldn't wait for the next Tommies album to hit record stores so they could buy it and glean new gems to teach their own choirs.
Having just surpassed the seventieth anniversary of their formation by the late Reverend Milton Brunson, the Tommies are back with their first new album in a decade. The Tommies Reunion choir is comprised of some of the principal singers, songwriters, and musicians who helped catapult the group from west side warriors to national acclaim.
Though the names are quite familiar—-Darius Brooks, Percy Bady, Leanne Faine, Kim McFarland, Kevin Brunson (son of the founder), to name a few—-the songs on the album, unlike the previous Tommies reunion projects, are newly composed.
'He Worked It Out,' The Tommies, as featured on The Tommies Reunion
'Shout,' The Tommies, with Denise Battle on lead vocal, as featured on The Tommies Reunion
The current single, Percy Bady's "He Worked It Out," is spit-polished and ready for radio, but the songs that truly remind me of the ultimate "Safe in His Arms" Tommies ensemble are "Still Faithful" and "Shout." Legendary gospel squaller Kim McFarland–-the first gospel singer I ever saw live–-gives Bady's "Still Faithful" the kind of incendiary reading that thrilled listeners then and now (the recording's live audience responds accordingly). "Shout" is a more than six-minute Chicago-style praise break with lyrics sung breathlessly by Denise Battle.
"Love Never Dies," another Bady composition (he also contributes lead vocals on the song), is the most musically interesting selection on the album. The political and spiritual messages in this majestic ode to the conquering power of love are made all the more memorable by the fascinating changes in tone color.
'Still Faithful,' The Tommies with Kim McFarland on lead vocal, as featured on The Tommies Reunion
Other songs on the album don't have that Tommies oomph as much as these do. For example, "Depending on You" fits lead singer Leanne Faine's old-school style in message, but the contemporary arrangement doesn't take full advantage of her vocal power. Nevertheless, the album demonstrates that the Tommies Reunion choir has retained the controlled energy of its predecessor and, true to its tradition, offers music ministers new works for consideration.
Picks: "Love Never Dies," "Still Faithful," "Shout"
***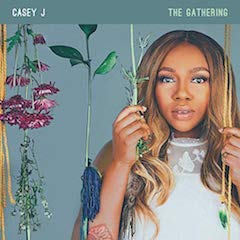 'Young Lioness of Praise & Worship'
THE GATHERING
Casey J
Casey J, LLC and Tyscot Records
under exclusive license to Integrity Music
The Gathering cements Casey J's place in the pride of young lionesses of Praise & Worship, a cadre that includes such artists as Tasha Cobbs Leonard, Preashea Hilliard, Bri Babineaux and Dominique Jones.
Fascinatingly, what makes The Gathering work is not the characteristically P&W songs like "Hosanna" and the popular "1,000 Hallelujahs," though the latter's chimeric Afro-Caribbean rhythm separates it from the pack. It's the musical risks Casey J takes by incorporating into the album's selections styles of American music not typically associated with P&W.
I'm referring to the prominence of the banjo on "Resting Place," which gives the song a distinctly country feel, while the handclapping on every beat in common time evokes the alt-Americana of Nathaniel Rateliff and Mumford & Sons. The fusion happens again on "Grace Wouldn't Leave Me" with a Scotch-Irish folk song quality and cut time rhythm (again with handclapping) that bring Southern Harmony hymnody to mind, albeit at cut time. On the other side of the spectrum is "Everything I Do," an ode to discipleship awash in energetic EDM.
'Resting Place,' Casey J, from The Gathering, bringing a touch of bluegrass to P&W
'Grace Wouldn't Leave Me,' Casey J from The Gathering, adding a touch of Scotch-Irish folk song to P&W
In addition to the musical experimentation, Casey energizes what would otherwise be lockstep lyrics by interpolating standard prayers and hymns. For example, at one point during "One Word," she intones the Protestant hymn chestnut "Holy, Holy, Holy." It happens again on the extended version of Casey's single, "If God," which she blends with the nineteenth-century hymn, "Nothing but the Blood of Jesus."
Of the more representative P&W fare, my money is on the lovely and hypnotic "Adopted," which at nearly eleven minutes in length is not likely to garner commercial air play, though I hope internet stations and brokered radio shows give it some spins.
Casey J's lyrical delivery is tailor-made for worship, and her angelic-voiced background singers deserve their propers for doing the heavy lifting throughout the album. They are the church choir to Casey's evangelist.
Picks: "Resting Place," "Adopted"
***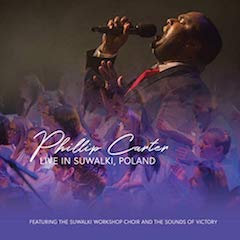 'Hands across the water…'
LIVE IN SUWALKI, POLAND
Phillip Carter
Featuring the Suwalki Workshop Choir and the Sounds of Victory
SOV, Inc.
The international popularity of gospel music has provided American choir directors and clinicians with opportunities to teach gospel vocal techniques to choirs in Europe, Scandinavia, Asia, and elsewhere around the world.
Directors Norris Garner and Phillip Carter have found working in Poland, and specifically with talented conductor Szymon Markiewicz, to be particularly fruitful. Indeed, Carter's collaboration with Markiewicz and the Suwalki Workshop Choir is the subject of his CD, Live in Suwalki, Poland.
During their stay in Suwalki, a city in northeastern Poland, Carter and his choir, the Sounds of Victory, wove the thick harmonic lines and gushing passion redolent of American gospel music into the austere choral tradition of the European Protestant church.
Under the tutelage of Carter, a Stellar Award-winning gospel singer, songwriter, and educator, the Suwalki Workshop Choir evokes the Brooklyn Tabernacle Choir in its P&W balladry, especially on the effusive "A Grateful Heart" and "Hello God." Another P&W ballad, "Spirit Come," is rendered in American and Polish versions (it is not sung in the Polish language but by the Polish ensemble). Though some soloists sound more confident than others in front of the mike, the choirs are uniformly professional in their dynamic, harmonic, and lyrical delivery.
'Hello God,' the Suwalki Workshop Choir with Phillip Carter, from Live in Suwalki, Poland
'I Love You Lord Today,' featuring the Suwalki Workshop Choir and Sounds of Victory, with soloist April Rich from Phillip Carter's Live in Suwalki, Poland
William Hubbard's composition, "I Love You Lord Today," an Edwin Hawkins classic that Phillip Carter recorded in the past and is now in hymnbooks, appears on the album. It is the undisputed highlight, too. Not only do the singers do captivating justice to the song, but a lovely instrumental coda brings it to an elegant conclusion.
The album selection that comes closest to the African American gospel tradition is "We Honor You," with its island feel and bass-heavy rhythm.
Classical-jazz compositions penned by Markiewicz and rendered by the Holy Noiz Band and the Suwalki Chamber Orchestra are interspersed throughout the live worship project. Indeed, the album's first track, the lovely "Oberek" makes Live in Suwalki, Poland the first gospel album of which I am aware that opens with an instrumental based on a Polish folk dance.
Picks: "I Love You Lord Today," "A Grateful Heart."
***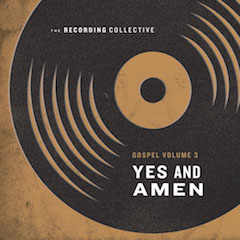 'appealing to multicultural congregations…'
YES AND AMEN: GOSPEL VOLUME 3
The Recording Collective
www.therecordingcollective.com
The Recording Collective is a largely (perhaps intentionally) anonymous ensemble created by MultiTracks.com, a company that has for more than a decade provided churches with Clicks, Loops and multitracks to give their amateur musicians a professional-sounding sonic boost.
Yes and Amen in the third volume in the company's series of albums and EPs designed, according to The Recording Collective's mission statement, to "be a resource to worship leaders and listeners in multicultural congregations around the world."
Named for the Bethel Worship hit that is among the EP's five-song selection, Yes and Amen has a utilitarian task similar to that of MultiTracks.com: to imbue congregation favorites from today's top Christian songwriters with equal doses of CCM and gospel so pastors have material that appeals to their multicultural congregations.
The EP accomplishes its mission. The songs share a gutsy P&W vibe, courtesy of a robust rhythm section and arrangements that follow gospel's longstanding blueprint: build vocally and instrumentally from peaceful to a fiery apex, then finish with a deceleration of energy, like the cool down a racer experiences after crossing the finish line.
'What a Beautiful Name,' lead vocal by Charlin Neal, from Yes and Amen: Gospel Volume 3
'Yes and Amen,' lead vocal by Onaje Jefferson, from Yes and Amen: Gospel Volume 3
For example, there's racing fuel in the arrangement of Hillsong Young and Free's "Love Won't Let Me Down," and Cory Asbury's popular "Reckless Love." Similarly, "Who You Say I Am" and "What a Beautiful Name" replace the Coldplay-like indie rock sensibility of the originals for a more rhythmic underlayment. All this is facilitated by the EP's Grammy Award-winning producer Chris Baker.
The best part of the project is hearing what technology cannot replicate: the lovely and passionate vocals of Charlin Neal (Israel and New Breed) on three tracks and Onaje Jefferson (Brooklyn Tabernacle Choir) on the other two. Neal in particular shines on "What a Beautiful Name." She deftly weaves the pretty melody through the complex arrangement with ample harmonic support.
Pick: "What a Beautiful Name"
***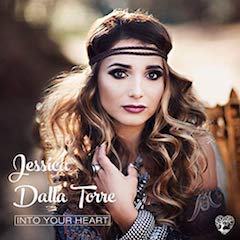 '…a melodic stream of uncomplicated praise music…'
INTO YOUR HEART
Jessica Dalla Torre
Originally from Johannesburg, South Africa, and with Portuguese roots, the angelic-voiced Jessica Dalla Torre brings her multicultural influences to bear in her worship music.MAt the same time, her latest album, Into Your Heart, was recorded in Nashville and has a distinctly American CCM flavor.
The overall vibe of the album's ten songs is of a living room jam session that occasionally blasts through the roof and explodes like fireworks. This happens whenever Dalla Torre's emotional singing reaches fever pitch (think Lady Gaga as worship leader). At that point, the zero gravity acoustic-and-strings accompaniment with soft keys and a steady beat floats down to the ground, hitting terra firma with a mighty thunder.
Dalla Torre sacrifices sonic innovation for simple but lovely melodies. The lyrics are poetic prayers of praise to God for his unceasing love for her and for all people, regardless of their sin or stain. It's evocative of Hillsong and Lauren Daigle.
'Into Your Heart,' Jessica Dalla Torre, title track from her latest album
'I'll Never Leave You,' Jessica Dalla Torre, from Into Your Heart
Album highlights include Dalla Torre's exemplary cover of Daigle's "How Can It Be"; the bright title track and single; and "I'll Never Leave You," co-written with Garner Macgregor and her father, Amadeu Lourenco. "I'll Never Leave You" features her most passionate singing.
Other covers included on Into Your Heart are "Forever" (CCM artist Kari Jobe) and "Ever Be" (Bethel Music). "The Lord is Good" is an English translation of "O Senhor e' bom," a Brazilian song from Nivea Soares. In fact, to expand her reach, Dalla Torre has translated the Into Your Heart songs in Portuguese for a parallel release called Teu Coracao.
Regardless of the language, Into Your Heart is a melodic stream of uncomplicated praise music from an artist who deserves to be at the same level of visibility as her influences.
Picks: "Into Your Heart," "I'll Never Leave You"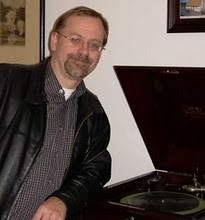 Bob Marovich is a gospel music historian, radio announcer and author. Since 2001, he has produced "Gospel Memories."  The show features classic gospel, spiritual, and jubilee music, and interviews with gospel legends.  It airs Saturday mornings on Chicago's WLUW-FM and throughout the week on several Internet and low-power FM radio stations throughout the U.S., Canada, and Europe. Bob has written about and reviewed classic and contemporary gospel music since the mid-1990s, when he was the gospel editor for www.bluesweb.com. He founded The Black Gospel Blog in July 2004. The Black Gospel Blog was nominated for a Rhythm of Gospel Award in 2013 and became the Journal of Gospel Music in July 2014. Bob has been interviewed about gospel for television, radio, and newspapers, and was featured on a BBC Radio 2 documentary on the life of Sister Rosetta Tharpe. He is the gospel editor for ChicagoMusic.org. Snippets of recent broadcasts can be heard online at the Gospel Memories Radio Show. Bob is also the founder and editor of The Black Gospel Blog, now the Journal of Gospel Music, the source for the reviews published here with Bob's permission. Bob launched JGM on the tenth anniversary of The Black Gospel Blog, which he founded July 28, 2004, as the first blog to cover African American gospel music. Bob holds a bachelor's degree in American Studies from the University of Notre Dame and an MBA from the Lake Forest Graduate School of Management. His first book, Shout Troubles Over: The Birth of Gospel Music in Chicago, was published in March 2015 by the University of Illinois Press as part of its Music in American Life Series. Bob lives in Chicago with his wife, author Laurel Delaney, and their two cats.