By Joseph McSpadden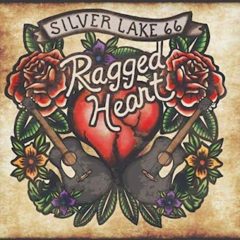 RAGGED HEART
Silver Lake 66
Saw Tooth Monkey Music
Portland, Oregon-based Silver Lake 66's Ragged Heart reminds us that country music is best when it wears its heart on its sleeve and speaks in the straightforward language of the everyman. The duo of Jeff Overbo and Maria Francis stay the course they set on their 2016 debut recording. Ragged Heart is the confident statement of a couple that knows their strengths and how to play to them, and to us.
Solid songwriting is the core of Ragged Heart and is buttressed by appealing restraint—in making the right choices in arrangements and in the artists' wisdom to tell stories in an unvarnished, emotionally honest way. Those might seem like obvious things for artists to do, but it isn't always easy to accomplish. How many times have you heard a record self-destruct because an artist overcomplicated a project with too much production and dense arrangements that buried the truth of the material? Overbo and Francis, by contrast, make smart choices and make them seem natural.
'Ragged Heart,' Silver Lake 66, a live version of the title track from the duo's new album
The album kicks off with "Blue Earth County," and finds Overbo—who hails from Minnesota farm country but has clearly found inspiration a half-continent away in Buck Owens—looking for his blessing. His trusty Telecaster has just enough twangy low-end notes to enhance lyrical laments such as:
If I knew it was this hard
I would have stayed in Blue Earth County
With Derek and the Dominoes to satisfy my mind
I've traveled a thousand miles so I can find
I need to find my blessing before I lose my mind
Maria Francis reaches for the brass ring with the title track. "Ragged Heart" is a sort of response as she sings "you never told me life would be easy." Francis's voice is a thing of wonder, by turns swooning and romantic, unpredictable and starkly honest, and, occasionally, slightly loopy. She's the one you want to hang with at the post-show party.
Describing hard times and homelessness in "Faded Tattoo," Francis's narrator is introduced while sleeping on the concrete with only her old dog for warmth. On the skids, to say the least, all she has left is the titular, well-worn tattoo. In the hands of a lesser performer the song could easily veer into saccharine and sentimental territory, or, at worst, sound insincere and patronizing. Francis neatly sidesteps such pitfalls with a pure, heartfelt vocal suffused with empathy for her subject.
"Like a River" details a relationship beginning with a seductive pull but doomed to fail. Overbo's central character knows this instinctively, but surrenders to an undertow stronger than the tractor beam of the Death Star. He won't be getting out unscathed, if he gets out at all. "Broken Dreams and Cigarettes" deals in shattered hopes and disappointment. The ballad, set over a languid pedal steel guitar, chronicles the singer's attempts to bury the pain.
Overbo and Francis co-produced Ragged Heart with Portland's resident pedal steel wizard, Bryan Daste. The skilled supporting cast provides fine backup, without ever stealing the spotlight from the duo. Theirs is a remarkable pairing. Their vocal harmonies and their ability to blend on each other's songs make for a well-rounded partnership, one where both parties shine equally, without one overshadowing the other. If you are looking for a great new country record, look not to Music City but to Rip City, and to the gifts bestowed by Silver Lake 66.
Read more of Joseph McSpadden's reviews, interviews and thoughts about contemporary music at his website, The Flame Still Burns.