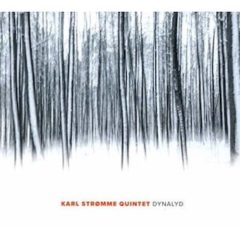 DYNALD
Karl Strømme Quintet
Riverboat
What sets the Karl Strømme Quintet apart from their contemporaries is the way their respect for the modern jazz tradition is mixed with references and experiences from other musical styles, giving their music a fresh and exciting edge. Inspired by the likes of Miles Davis, Kenny Wheeler and Joe Zawinul, band leader and trumpeter Karl Strømme gives the music a unique flavor with the use of an analog synthesizer he plays in tandem with the trumpet, and in his words "gives simpler but stronger melodic lines when improvising–like painting with a broader paintbrush."
With a classic line-up of trumpet (flugelhorn), tenor saxophone, double bass, guitar and drums Dynalyd is an album recorded with very few overdubs, thus keeping the live sound and achieving the desired vintage feel with minimal effects. Add in the synthesizer to this natural acoustic sound, following the trumpet like a shadow, and the music is given a beautiful contrasting texture. Listening to Dynalyd there is a palpable sense of synergy within the band with Karl having worked with saxophonist Hallvard Godal for almost twenty years in a variety of bands and collaborations. Completing the quintet are guitarist Per-Arne Ferner, drummer Per Oddvar Johansen and double bassist Trygve Waldemar Fiske, all cherry picked by Karl for this project, creating an ensemble with the shared desire and willingness to push the envelope of Nordic jazz.
'Dynalyd,' Karl Strømme Quintet, title track from latest album
'Porter,' Karl Strømme Quintet, featured on Dynalyd
"Dynalyd," the title track, means "dynamic sound" in Norwegian and represents the creative hub of Karl's work. The song has an African type of groove with a fun and playful melody. "Molladalen" is another highlight, inspired by the spectacular valley in the mountains on the west coast of Norway and consists of a sequence of different minor chords. Embellished by a constantly changing melody throughout, each soloist applies subtle changes from fragments of the original melody. With its distinct melodic change, "Strømme´s Mood" is a song about different emotions, with the musicians seamlessly improvising over the two different moods that merge at the end of the piece. All songs were composed by Karl Strømme, with the emphasis being very much on the lyrical melodies and giving each song its own unique build up and structure. The final track, "Portør," is a beautiful example of this approach and is built around a simple rhythmic idea with a slowly changing harmonic background. Unlike the other tracks there is no soloist which allows the whole band to wind the album down to a fitting closure as one.