26. BRAND NEW SHADE OF BLUE, Junior Sisk (Mountain Fever)–  At the end of 2017, faced with dealing with personnel changes and reforming his band, 2013 IBMA Male Vocalist Of The Year Junior Sisk decided to use this new album to refocus on the traditional music that first set his musical soul on fire. "With the loss of so many great, traditional bluegrass artists of late, like Ralph Stanley, James King, Dave Evans, and Melvin Goins," Junior says, "I really want to make a strong effort to keep their sound alive."
Sisk had a stash of good songs with enough moss on them, and he called on a powerful circle of gifted friends to bring them to life. Guest vocalists here include Del McCoury, Heather Berry Mabe, Marty and Tim Raybon, Allen Mills, and Junior's most frequent duo partner, Daniel Salyer. Wailing fiddle arrives courtesy of always-reliable Jason Carter. Justin Moses on banjo and Mark Fain on bass anchor the groove. Ashby Frank plays a sparkling, firecracker mandolin. Guitar/songwriter wizard Thomm Jutz adds guitar on three tracks. Junior brings it all home with his trademark, authentic tenor range vocals and thundering rhythm guitar, claiming every one of these new songs as his own, except, arguably, "The Guilt Was Gone," with which he shares ownership with Del McCoury. (Any time the patriarch of bluegrass music's first family sings a song, it becomes a Del McCoury song no matter who else is around the mic.) Typical of Junior's style, the songs are honest, hard-hitting and easy to relate to. Sisk never got above his raising, but on this album he gets down and wallows in it with the enthusiasm of a young man hearing the Stanley Brothers or Jimmy Martin for the first time. Follow this link to the complete review on Bluegrass Today…
'The Guilt Was Gone,' Junior Sisk, a co-write with Del McCoury, who joins Junior on vocals, as featured on Brand New Shade of Blue
---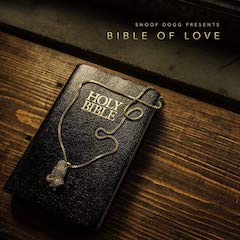 27. SNOOP DOGG PRESENTS BIBLE OF LOVE, Snoop Dogg (RCA Inspiration/All The Time Entertainment)– There's been much hoopla among gospel music enthusiasts concerning Snoop Dogg's new sacred project. Those who wondered about the purity of Snoop's intentions need not worry. Bible of Love is like a WOW Gospel project on which Snoop raps holy. The 32-cut various artist compilation contains recordings by some of today's top-selling gospel artists. The styles on the album are as varied as the artists it includes, but in general, the vibe is contemporary gospel music meets traditional church wisdom. Or as John P. Kee shouts on "Change the World:" "Snoop–let's take 'em to church." Follow this link to the complete review by Bob Marovich…
'Change the World,' featuring John P. Kee on Snoop Dogg Presents Bible of Love: 'Snoop, let's take 'em to church!'
---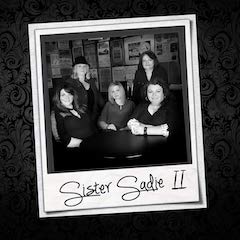 28. SISTER SADIE II, Sister Sadie (Pinecastle Records)–Sister Sadie didn't exactly come out of nowhere, given the high regard in which the bluegrass community held the individual members as artists in their own right before they joined forces on a powerhouse 2016 debut album. Their strengths, individually and collectively, are on bold display again in Sister Sadie II, as Dale Ann Bradley, Tina Adair, Gena Britt, Deanie Richardson and Beth Lawrence authoritatively and soulfully assay a dozen mostly original tunes rooted in real life issues, especially regarding matters of the heart. Bradley (five-time IBMA Female Vocalist of the Year and Kentucky Hall of Fame member) and Adair are two of the finest vocalists in any genre, and they don't disappoint here. Adair's mountain cry is epically piercing on her anguished but defiant "Losing You Blues" (an Adair co-write with Doug Bartlett), and Bradley follows her with a tender, affecting paean to lost love in the gentle, fiddle-driven shuffle of "No Smoky Mountains." And when those voices blend in longing devotion on the heartbreaking ballad "I'm Not a Candle in the Wind," they can really lay some deep misery on a listener. It hurts so good. –-David McGee
'No Smoky Mountains,' Sister Sadie, with Dale Ann Bradley on lead vocal, from Sister Sadie II
---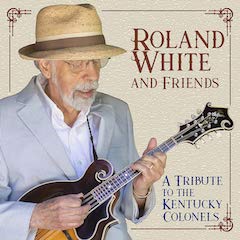 29. A TRIBUTE TO THE KENTUCKY COLONELS, Roland White and Friends (Mountain Home Music)– Within the bluegrass world, the Kentucky Colonels were a beloved, tradition-rooted band during their peak years (primarily 1957-1966) when the group lineup included a virtuoso guitarist in the late Clarence White, who became a vital addition to the late '60s Byrds and champion of the B-Bender guitar, a Fender Tele he gutted and refitted with a device to make it sound like a pedal steel. Clarence's brother and mandolinist extraordinaire Roland White, now 80, has assembled a formidable group of contemporary bluegrass artists to pay tribute to the band he and Clarence founded and steered into bluegrass legend. Age has not robbed Roland of even a smidgen of hi his picking and singing skills, as he proves throughout these dozen numbers associated with the Colonels. Among the highlights: tasty, soulful soloing complemented by Molly Tuttle's guitar on "Nine Pound Hammer"; a bluesy "Why You Been Gone So Long," notable for Roland's sensitive vocalizing backed by tender harmonizing courtesy Darrin and Brooke Aldridge; and especially a rambunctious, joyous workout on "Alabama Jubilee." Roland and his all-stars do the Colonels' legacy proud from first note to last. Somewhere on high you know Clarence is smiling and saying, "Well done, fellas!" –David McGee
'I Am a Pilgrim,' Roland White and Friends, from A Tribute to the Kentucky Colonels
---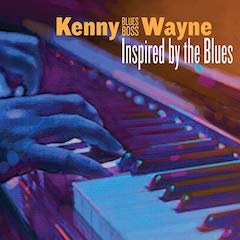 30. INSPIRED BY THE BLUES, Kenny "Blues Boss" Wayne (Stony Piain)—On this, his fourth album for Stony Plain, Kenny "Blues Boss" Wayne reaches back into the past to deliver a totally enjoyable collection of piano blues with Inspired By The Blues.
Carrying on a tradition initiated by Cow Cow Davenport, Albert Ammons, Pete Johnson, Meade Lux Lewis and Memphis Slim, this boogie-woogie keyboard master of the first order is easily recognizable by the throwback zoot suit he wears when performing. His smooth, steady, slightly-behind-the-beat delivery swings like a pendulum as it pushes the music steadily forward, breathing new life into a two-fisted technique that originated before the blues migrated from the cotton fields.
But don't be fooled into thinking this a retro album full of familiar covers played in a manner that mimics the past. Inspired By The Blues truly is inspired with Wayne fashioning 11 originals in a thoroughly contemporary package that could serve as a lesson in the less-is-more approach all but forgotten today in a world of shredders. Follow this link to the full review by Marty Gunther in BluesBlast Magazine
Introducing Kenny 'Blues Boss' Wayne's latest album,Inspired by the Blues
---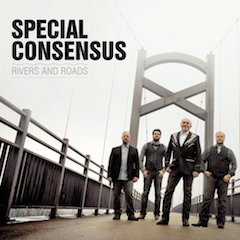 301 RIVERS AND ROADS, Special Consensus (Compass Records)– Over the past four decades-plus, veteran bluegrassers Special Consensus have served as evangelists for the genre, bringing their own spin the genre's midwestern style to audiences around the globe. Their commitment and talents have been recognized with a GRAMMY nomination and three IBMA Awards, including Instrumental Recorded Performance for "Fireball" from their 2016 release, Long I Ride.
On its 19th album, Rivers and Roads, Special Consensus offers another well-curated set of top notch bluegrass numbers brimming with wit, heart and soulful commitment. The core band—-Greg Cahill (banjo, vocals), Rick Faris (guitar, vocals), Nick Dumas (mandolin, vocals) and Dan Eubanks (bass, vocals)—-is tight as ever, displaying the depth of its vocal and instrumental mastery from the first note on the leadoff track "Way Down the River Road," a John Hartford original, augmented by the dancing feet of former John Hartford Stringband member Mark Schatz. (The Hartford family, by the way, gave its blessing to this outing.) Other standout tracks include "She Took the Tennessee River," a song destined to become a bluegrass classic, penned by Becky Buller, who also contributes a blistering fiddle solo, and featuring the inimitable Bobby Osborne on lead and harmony vocals. On "Hurting Sure," written by Mark Simos, SC enlists the talents of labelmate Molly Tuttle on lead and harmony vocals as well as a clawhammer banjo part that dovetails elegantly with Greg Cahill's Scruggs-style banjo. 10 String Symphony and album producer Alison Brown join the quartet on a virtuosic arrangement of the old time instrumental "Squirrel Hunters" with another tip of the hat to John Hartford.
'Way Down the River Road,' a John Hartford original performed by Special Consensus on Rivers and Roads (with dancing feet courtesy Hartford band alum Mark Schatz)
---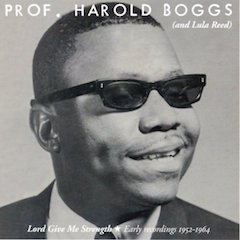 32. LORD GIVE ME STRENGTH: EARLY RECORDINGS 1952-1964, Prof. Harold Boggs (and Lula Reed) (Gospel Friend Records)— Perhaps one reason for Professor Harold Boggs not being as well remembered, or as appreciated, as his golden era contemporaries is his penchant for copying their sound. Absent a distinctive style of his own, Boggs emulated the prevailing sound of gospel music.
In other words, listening to Boggs on Per Notini's superb compilation of the blind singer's initial recordings is a gospel music history lesson in audio. The influence of the expansive-voiced Brother Joe May is evident on Boggs' earliest singles, as is the creep of rock 'n' roll rhythm on some of the late 1950s selections and the effervescence of Alex Bradford (minus the stave-topping high notes) on the latter tracks. Boggs even takes a page out of the Edna Gallmon Cooke playbook by narrating some of his recordings.
Notwithstanding the follow-the-leader strategy, one certainly not novel to any music genre, the compilation offers some stunning sides in mining Boggs' work on the King and Nashboro labels, along with one track from Song Bird Records (the second single released on the Peacock subsidiary).
'God Can Do What You Need,' a 1965 single by Prof Harold Boggs originally released on Nashboro Records
For starters, the 1953 version of "Inside the Beautiful Gate" is a hard-charging up-tempo piece, while 1960's "Heavenly Power" finds Boggs and his singers engaged in an intense session of call-and response. Boggs and the Boggs Specials command of rhythm was likely as compelling to churchgoers as to club denizens.  It's fascinating: although Syd Nathan of King Records allegedly wanted the Swan Silvertones to sing jubilee harmonies in the late 1940s, by the early 1950s he was comfortable releasing pulsating gospel sides by the likes of Professor Boggs and organist-singer J. T. Highbaugh.
Meanwhile, R&B chanteuse Lula Reed–like Boggs a resident of Port Clinton, Ohio (the two worked together in the early days)–recorded some gospel sides for King Records while Boggs was contracted to the label.  The two 1952 cuts on which she is featured here, backed by the smooth-singing Harmonaires quartet and a combo led by Reed's soon-to-be husband Sonny Thompson, demonstrate just how interdependent gospel and R&B could be. Follow this link to the complete review by Bob Marovich…
---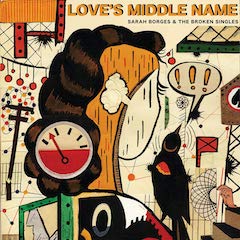 33 LOVE'S MIDDLE NAME, Sarah Borges & The Broken Singles (Blue Corn Music)— You can learn a lot about artists from the covers they choose. Sarah Borges' decision to belt out the J.Geils Band gem "Cry One More Time" (also notably covered by Gram Parsons) tells you plenty. Add obscure tracks from Brennen Leigh (a leathery "Lucky Rocks") and Frankie Miller's "I Can't Change It" (the final cut on this first studio release from Borges and her Broken Singles backing unit in four years) and it's clear she is a no-nonsense Americana rocker with great taste and a cool record collection.
The Boston based singer/songwriter/rhythm guitarist has been banging out tough, scrappy tunes and hitting the road hard (with time off for having a child) since her 2005 debut. She's an unapologetic journeywoman rocker with plenty of positive reviews, acclaim from fellow road-hardened veterans such as Dave Alvin and a sure sense of self, evidenced even on her earliest work 18 years ago. You never get the sense she's phoning in another one-nighter or that she's lusting after fame or money. To that end, she employs former Blackhearts, Yayhoos and Del Lords guitarist Eric "Roscoe" Ambel to help steer Love's Middle Name in the right direction.Follow this link to Hal Horowitz's review in American Songwriter…
'House on a Hill,' Sarah Borges & The Broken Singles, featured on Love's Middle Name
---
34. TIME AND DISTANCE, Mark Abel, with Janelle DeStefano (mezzo-soprano; Hila Plitmann (soprano); Carol Rosenberger and Tali Tadmor (piano); Mark Abel (organ); Bruce Carver (percussion) (Delos Music)— Poets, philosophers and similarly-inclined personages have long proposed music as a universal language, one in which sentiments impervious to the communicative capacities of words alone can be satisfactorily and comprehensibly articulated. Music can be argued to be a sort of communal mother tongue in which differences of accent, syntax and vocabulary do not impede understanding. Its dialects are as numerous as combinations of melody and harmony, but it is not "speaking" its language but rather hearing its discourses that wields music's true connective energy. The sounds of Zydeco are meaningful to the listener whose first language is that of Zelenka or Zandonai because they stimulate the heart as boldly as they provoke the brain. Minds perceive as they are trained to do, but hearts are governed by a consistent mechanism. One man's tunes are different from another's, but, like the hearts to which they appeal, they are propelled by beats anyone can discern.
A preview of Mark Abel's latest album, Time and Distance, a work comprised of two song cycles and three solo songs
Music can peer clear-sightedly into corners of the psyche in which the eyes perceive only darkness, but time and distance are confoundingly convoluted concepts for musical explication. Spatially, they are remarkably analogous entities: tangible in their physical manifestations but intrinsically intangible, their shared power is that of separation. The mind assesses the ravages of time and the displacements of distance, yet the solemn duty of gauging the emotional tolls of the effects of time and distance falls squarely to the heart. In the works of American composer Mark Abel featured on Delos's masterfully-recorded Time and Distance, the intricacies of the relationships inexorably linking humanity with the divisive repercussions of the physical and emotional separations wrought by time and distance are examined in songs of grace and gravity. The music on this disc does not inhabit the shadows made by abstractions. The attentive listener begins to lose track of the number of passages in this music that are so wrenchingly private as to compel the listener to ask, "How can this man whom I have never met know so much about my life?" This intuition, uncanny and unifying, is the foundation of Abel's unique musical language and the quality that makes Time and Distance a disc that severs new veins of raw emotion each time that it is heard. Follow this link to the complete review by Joseph Newsome at Voix des Arts…
---
35. A JAZZMAN'S BROADWAY, Cy Coleman (Harbinger Music)– Before he became a multiple Tony Award winning Broadway songwriting great for his contributions to shows such as Sweet Charity, On the Twentieth Century, Barnum and Little Me (book by Neil Simon), Cy Coleman was the toast of the New York's 1950s cabaret scene, performing Great American Songbook standards in Gotham's most exclusive boîtes. Reclaiming this early history, Harbinger's single-CD reissue offers two long-forgotten Coleman albums from the late '50s plus four scratchy transcriptions (sourced from original vinyl of dubious quality) of Cy's lively, romantic solo piano improvisations on evergreens from Rodgers & Hammerstein's South Pacific. Caveat emptor: Coleman the writer is absent here: A Jazzman's Broadway features only songs from two Broadway show albums–Harold Arlen-Yip Harburg's Jamaica (1957) and Rodgers & Hammerstein's Flower Drum Song (1959), along with the South Pacific numbers. Working, respectively, with a small but potent combo and a rhythmically assured trio, Coleman the interpreter offers spirited, credible renditions of the island- and Asian-inflected numbers, more than making up in personality for what little he lacked as a singular vocal stylist. While hardly transcendent, Coleman's performances are nothing if not cool and hip to the nth degree. Dig? –-David McGee
'This Nearly Was Mine' (from Rodgers & Hammerstein's South Pacific), performed by Cy Coleman and featured on A Jazzman's Broadway
---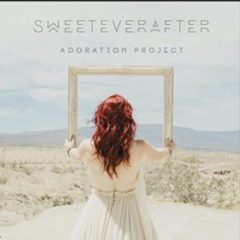 36. ADORATION PROJECT (EP), SWEETEVERAFTER (www.sweeteverafter.net) — Nearly10 years ago, husband-and-wife team Ammee Pearl and Jay Huzil formed SWEETEVERAFTER, a Christian group with a hard rock center. They earned a Metal Song of the Year nomination from the Hollywood Music in Media Awards.The duo's latest release, the Adoration Project EP, is decidedly mellower than their earlier outpourings. For this outing they set aside their electronic gear to home in on the nitty gritty of some urgent messages. Huzil's acoustic guitar leads a low-key ensemble of strings, soft percussion, piano, as a flute floats around the music and the high, lonesome twang of a steel guitar adds another evocative element. Pearl's voice evokes Jewel Kilcher in its reflective and earnest resonance. … If the melodies and arrangements on Adoration Project vary litle from a lovely, lilting acoustic filament, the lyrics are poignant and pointed.  It's as much an admonition to humanity as it is an adoration of God. Follow this link to the complete review by Bob Marovich in Deep Roots…
'Abandoned,' SWEETEVERAFTER (Ammee Pearl and Jay Huzil) as featured on Adoration Project
---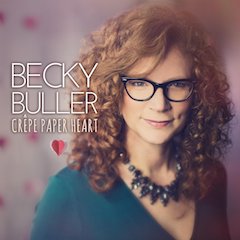 37. CRÊPE PAPER HEART, Becky Buller (Dark Shadow Recording)– From the opening notes of "Another Love Gone Wrong" to the closing of "Phoenix Arise," the 12 songs here will take you on an emotional roller coaster of thrills, tears, longing and loss. The stories are compelling, as Beck Buller songs tend to be, and the performances do them justice. Again, that's no surprise if you've followed her on stage and on record. With the collective strength of her band and an all-star lineup of guests, anything less would be shocking.
But I've said many of those things about Becky's past projects. So why am I ready to proclaim this her best work yet? Because the melodies are some of the most compelling and memorable I've heard, on any record, in any genre. They take the songs to a whole new level of emotional impact.
Beware one potential drawback. Don't be surprised if you wake up in the middle of night with a song running through your head, and when you place it, it's from Crêpe Paper Heart. For me, the earworm is "Written in the Back Of The Book," Becky's retelling of the final chapter in The Bible, The Revelation of St. John The Divine. The powerful arrangement features Becky and members of the legendary Fairfield Four trading vocal licks and fills. (Fans newer to bluegrass are in for a treat if they revisit the Four's earlier work with The Nashville Bluegrass Band). Follow this link to David Morris's complete review in Bluegrass Today…
'Written in the Back of the Book,' a retelling of the Book of Revelation, by Becky Buller with the Fairfield Four, from Crêpe Paper Heart
---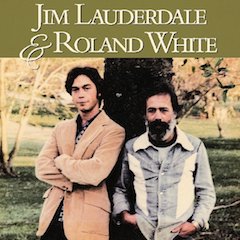 38. JIM LAUDERDALE & ROLAND WHITE (Yep Roc)– When Jim Lauderdale arrived in Nashville in the summer of 1979, he befriended the iconic bluegrass mandolinist Roland White (Kentucky Colonels, Bill Monroe's Blue Grass Boys, Country Gazette) and soon found himself recording his first-ever album, with White, in the basement of Earl Scruggs' home. Which became the finished product's home for the next 40 years, until it was accidentally rediscovered and issued in 2018. Titled simply Jim Lauderdale & Roland White, the long player illustrates Lauderdale's unambiguous old-time roots even as it amply displayed White's virtuosity and sensitivity.
Songs like "Gold And Silver" and "Gonna Lay Down My Old Guitar" show White and Lauderdale performing classic bluegrass duets with two-part harmonies, while on "Try And Catch The Wind" the duo offers up a moving take on Donovan's 1965 folk classic. Fans of Lauderdale's earliest work will be delighted by the intimate traditionalism of this unadorned recording, which merely hints at the ways in which Lauderdale would build upon his own musical foundation in the years and decades to come. (From a review by Jonathan Bernstein in American Songwriter)
A live clip from a 2011 performance at Nashville's Station Inn, featuring Jim Lauderdale and Roland White teaming on a Kentucky Colonels song, 'I Might Take You Back Again.' Their original recording of this bluegrass evergreen is featured on the Jim Lauderdale & Roland White album recorded in Earl Scruggs' basement in 1979 but unreleased until 2018.
Backed by bluegrass stalwarts Johnny Warren (fiddle), Terry Smith (bass) and Stan Brown (banjo), as well as Gene Wooten (Dobro) and Marty Stuart (lead guitar) on a dozen songs–only two of them written by then-22-year-old Lauderdale–the duo offers an intriguing program of contemporary bluegrass even as the end result reveals a path young Lauderdale might have taken had he been fully embraced by the bluegrass world at that time. While there is nothing necessarily groundbreaking on display, the performances are spirited and engaging throughout. White sings duet with Lauderdale on several songs including "February Snow" and Donovan's "Catch the Wind," and takes the lead on "I Might Take You Back Again," a song from Kentucky Colonel bandmate LeRoy Mack.
Familiar songs such as "Gonna Lay Down My Old Guitar," Clyde Moody's "Six White Horses" and the Louvins' "Don't Laugh" are also revisited while a lively picking display animates album closing "Nashville Blues." The finest performance is a seemingly tentative rendition of the Reno & Smiley classic, "Wall Around Your Heart;" with Lauderdale's vulnerability is on full display.
Well-executed, Jim Lauderdale & Roland White emerges from the dustbin of another era's history to be an unexpected bluegrass pleasure in the current era. (From a review by Donald Teplyske in Country Standard Time)
---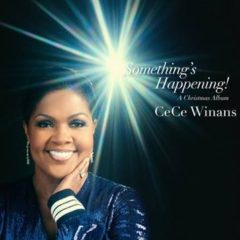 39. SOMETHING'S HAPPENING! A CHRISTMAS ALBUM, CeCe Winans (PureSprings Gospel/Thirty Tigers)— One is struck immediately with how much CeCe Winans' voice has deepened in tone since her last solo Christmas album in 1998. She wraps her mellowed voice around the holiday songs on this new release like tongues of flame around a yuletide log. The result is an album as cozy and satisfying as hot cocoa on a winter day.
Five new songs and five classics comprise the tunestack here.. Among the classics she shares is "I Heard the Bells on Christmas Day," Longfellow's poignant Civil War-era poem set to music. (The poet wrote it in 1863 in the depths of despair: two years earlier his wife had burned to death in a house fire; and shortly before he wrote the poem his oldest son, a Union soldier, had been severely wounded in battle.) Almost a century and a half later, in our tumultuous time, it remains relevant and comforting, as Winans' interpretation delivers with all its deep feeling intact.
'It's Christmas,' the Motown-influenced single by CeCe Winans from Something's Happening! A Christmas Album
Although they may not reach the level of chestnut, the new holiday songs are hopeful and tender, fully sold by Winans' earnest reading and rich orchestral accompaniment. Despite the jingle bells keeping time and the lyric reference to Jesus' birth, "Something's Happening" could be sung at other times of the year besides Christmas. Similarly, "The World Will Never Be the Same," with its clanging church bell, references the holy birth but contains a timeless message.
The brisk "It's Christmas," the current single, is fueled by a Motown beat complete with incessant tambourine. The lyrics pit the hustle and bustle of the holidays against the joy one feels when the blessed day finally arrives. "Giving Season" skips along lightheartedly to a message that encourages selfless giving, even though "checks may not come with a bonus/loved ones this year may not call." A Pentecostal beat is embedded within the rococo "The Grace of the Father." Follow this link to the complete review by Bob Marovich…
---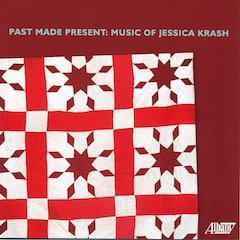 40. PAST MADE PRESENT: MUSIC OF JESSICA KRASH, featuring Emily Noël, soprano; Ian Swensen, violin; Robert DiLutis, clarinet; Tanya Anisimova, cello; Laura Kaufman, flute; Jessica Krash, piano; Members of the Washington Master Chorale; Thomas Colohan, conductor (Albany Records)— As important to the continued viability of Classical music as memorable performances by accomplished performers is the emergence of original, compelling compositional voices that communicate the modern world's complex emotional conundrums in musical language that challenges, comforts and uplifts. The legacies of previous generations of composers, bolstered by works of timeless, universal relevance, are sufficient to preserve the prestige of the genre's illustrious history, but its future cannot be secured solely by memories. In the words of the English composer Sir Malcolm Arnold, "Music is the social act of communication among people, a gesture of friendship, the strongest there is," and the world in this second decade of the 21st Century direly needs gestures of friendship. There is no surer path to friendship than mutual understanding, understanding of the kind that can be found in—and learned from—Bach's Matthäus-Passion, Beethoven's Fidelio and Carlisle Floyd's Susannah; above all, it is a quest for compassionate awareness that permeates the music of American composer Jessica Krash. With Past Made Present, Albany Records' commitment to providing this unique composer with an avenue into the public conscience is furthered with recordings of music that both manifests and encourages accord achieved through self-examination.
'Young Vilna,' featured on Past and Present: Music of Jessica Krash, performed by members of the Washington Master Chorale, Thomas Colohan, conductor; Ian Swensen, violin; Robert DiLutis, clarinet;Tanya Anisimova, cello
The pieces on Past Made Present speak with a creative voice at once wonderfully original and gratifyingly familiar. All of the music here reveals an extraordinary gift for part writing on an intimate scale to rival the work of masters of the Tudor courts of Henry VIII and his daughters Mary and Elizabeth, allied with an innate ability to craft melodic lines that grasp and retain the listener's attention. Like the music of Brahms, Krash's works disclose a command of form that enables inventiveness. Also like Brahms's best works, especially his chamber music, and Anton Bruckner's remarkable F-major String Quartet, the music on Past Made Present is shaped by a bipartite, almost ambiguous sensibility that juxtaposes an abiding aura of disquiet with haunting purity of vision. The profound and the profane coexist, agreeing to disagree, struggling for domination but held in an uneasy—and truthfully human—equilibrium by musical discourse that refuses to take sides. This music advocates no"'right" point of view: rather, the sophisticated but appealing harmonic language invites the listener into exchanges designed to nurture contemplation. Here, there are no prerequisites. Krash's music asks the listener to focus not only on how it resounds in the ears but also on how it reverberates in the heart. Follow this link to the complete review by Joseph Newsome in Voix des Arts…
---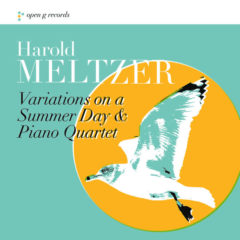 41. VARIATIONS ON A SUMMER DAY & PIANO QUARTET, Harold Meltzer with Abigail Fischer, soprano; Tara Helen O'Connor and Barry Crawford, flute; Alan Kay and Vicente Alexim, clarinet; Margaret Kampmeier, piano; Cyrus Beroukhim, Miranda Cuckson, and Andrea Schultz, violin; Daniel Panner, viola; Greg Hesselink, cello; Jayce Ogren, conductor; Boston Chamber Music Society (Open G Records)– That Johannes Brahms was one of the most powerful instigators of musical evolution is indisputable, but which bold innovation in music does one attribute solely to Brahms? The composer's genius was not in discarding established methods and fabricating new ones: he altered the course of music's cyclical metamorphoses by perfecting the forms he inherited from past masters and reshaping them to realize his own designs. As a reformer looking to both the past and the future, Brooklyn-born composer Harold Meltzer is among Brahms's most gifted 21st Century heirs. The pieces on this expertly produced Open G Records disc ask the listener not only to absorb the complexities of the sonic layers but also to consider their meaning. Why did Meltzer choose these forms, these instruments, these words? This is not arbitrarily conceived music. Like Brahms, Meltzer has crafted an individual style not by rejecting the work of his artistic ancestors but by respecting, learning from and continuing it. His is originality with purpose. Follow this link to the complete review by Joseph Newsome in Deep Roots…
Variations on a Summer Day, II: A Music More Than a Breath, Harold Meltzer, featuring soprano Abigail Fischer as heard on Variations on a Summer Day & Piano Quartet
---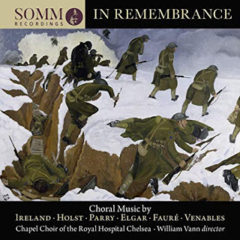 42. IN REMEMBRANCE, Choir of the Royal Hospital Chelsea, et al. (SOMM Recordings)– In the centenary anniversary year marking the end of the First World War and on the eve of the 80th anniversary of the beginning of the Second World War, SOMM Recordings pays tribute to those who fought and fell in battle with In Remembrance. A moving compendium of music spanning 130 years, it features the Chapel Choir of the Royal Hospital Chelsea, the Choir of Chelsea Pensioners, Staff and Volunteers, sopranos Katy Hill and Leah Jackson, baritone Gareth John and organists James Orford and Hugh Rowlands under the direction of William Vann.
Founded in 1682 by King Charles II, the Royal Hospital is home to the world-famous Chelsea Pensioners–retired veterans of the British army–whose contributions on three tracks add special poignancy to In Remembrance. Moving choral works commemorating courage and offering comfort by Hubert Parry (his anthemic "Jerusalem"), Gustav Holst (the stirring "I Vow to Thee, My Country") and Edward Elgar (his serene partsong "They are at rest") are heard alongside equally affecting pieces by their contemporaries and successors, namely Charles Villiers Stanford, John Ireland, Douglas Guest and Charles Harris.
'Requiem aeternam,' Chapel Choir of the Royal Hospital Chelsea, from In Remembrance, a tribute to those who fought and fell in battle in the two World Wars
---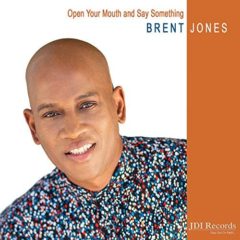 43. OPEN YOUR MOUTH AND SAY SOMETHING, Brent Jones (JDI Records)— "Don't you dare walk away from gospel music!" Brent Jones exhorts his congregation in the midst of his delightful new project, Open Your Mouth and Say Something. On his new project, the former leader of T. P. Mobb and the architect of the Easter Sunday favorite "He Rose" offers nine selections, many rendered with the talented Waco (Texas) Community Choir.
What distinguishes this project from others in rotation today is Jones' honest and humorous repartee with his live audience. Although he takes music seriously, he doesn't take life so seriously that he cannot point out the peccadilloes of fellow church folk who strive to be perfect but are, after all, wholly human. "Don't Wait Till Midnight," for example, is about how Christians wait until problems become emergencies before petitioning the Lord's help (Jones has also recorded this song with Coko of SWV).
'Open Your Mouth and Say Something,' Brent Jones, from his new live album
The radio-friendly title track turns a pulpit-honed message into a daily affirmation, much as fellow JDI artist Norman Hutchins converted "God's Got a Blessing with My Name on It" into a church axiom back in 2006. "Cry Holy" is a distinctive arrangement of the 19th Century Protestant chestnut "Holy, Holy, Holy," whereas "I Still Believe" serves as the CD's uptempo rafter raiser. Follow this link to the complete review by Bob Marovich…
---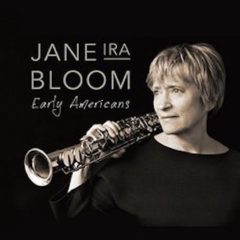 44. EARLY AMERICANS, Jane Ira Bloom (Outline)– This remarkable set from soprano maestro Jane Ira Bloom serves as a departure for the saxophonist in being her first trio album after several years of working in a quartet format.
Stepping away from having a chordal instrument as a harmonic crutch is often a leap of faith for many musicians, but a specialist in the treacherously pitched soprano saxophone is not only confronting his/her own skills and intuition as an improviser but also, as the only lead voice and main soloist,  having to dispel the preconceptions of others as to the wisdom of such a move.
Of the trio pieces, what is impressive is the way they explore a range of musical terrain while retaining the identity of the trio as opposed to simply being a disparate series of compositions with nothing to hold them together. Throughout her long career, Bloom has refined her own distinctive voice on the soprano, but this now takes on a different perspective within the paired-down line up. She is not afraid to color or dirty her tone, and can bend the fish horn to her own will, producing the most gorgeous declamatory and song-like lines on "Song Patrol" and "Hips & Sticks" to the melancholy yearning of "Mind Gray River," and the tautly articulated "Dangerous Times." She conjures up images of the East on "Rhyme Or Rhythm" and lets fly on "Cornets of Paradise" and the hard driving "Gateway To Progress" with her ideas coming thick and fast against the propulsive thrust from Mark Helias (bass) and Bobby Previte (drums). Follow this link for the complete review by Nick Lea at Jazz Views.net
'Somewhere,' from West Side Story, revisited as a solo soprano saxophone piece by Jane Ira Bloom on Early Americans
---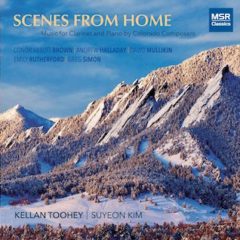 45. SCENES FROM HOME: A COLORADO COLLABORATION, Kellan Toohey (clarinet) with Suyeon Kim (piano) (MSR Classics)— Kellan Toohey, a gifted young clarinetist from Colorado, has bestowed a lovely gift upon composers "who are either from Colorado, or who have lived here for some part of their life." This well-deserved fruit of Toohey's Kickstarter campaign is music inspired by the beauties of the Centennial State's natural landscape; it is unfailingly mellow and engages the listener with genuine affection and a distinctive voice–let it be said that Mr. Toohey knows how to make a clarinet sing in beautiful tones.
David Mullikin, who wrote an oboe concerto that Colorado Symphony principal Peter Cooper recorded with the Academy of St. Martin in the Fields, contributes a playful, charming Suite antique that is most effective when it's being blithely neo-Mozartian. Nature returns magnificently with Andrew Halladay's "Five Scenes from our Aspen Grove," exploring America's innocent musical soul: open, curious and apt to break into song at any moment. Greg Simon's sad yet lovely "Two Orchids" captures memories of Denver like raindrops on a lake.
Toohey infuses his beauty of tone and gradations of nuance with thrilling flights of virtuosity, with pianist Suyeon Kim always effectively and often quite gorgeously at his side. —Laurence Vittes in Gramaphone
'Early Winter Spires,' composed by Conor Abbott Brown, performed by Kellan Toohey (clarinet) and Suyeon Kim (piano) on Toohey's Scenes From Home: A Colorado Collaboration
Here's a collection that feels like a photo collage of majestic Colorado scenery. Boulder clarinetist Kellan Toohey drew inspiration from his surroundings for his new album, Scenes From Home. He assembled five pieces by composers who have lived here in Colorado, conjuring a loving portrait of the Rocky Mountain landscape.
The music is refreshingly direct in creating a sense of place. The most bracing piece is Conor Abbott Brown's "Early Winter Spires." Brown knows the dramatic possibilities of jagged peaks against a wide open sky from growing up in Boulder, and the nearby Flatirons feel very present in the bold musical gestures. … Toohey succeeds in creating affecting musical snapshots of Colorado's natural beauty. The clarinetist also highlights the robust musical community that exists in the state. —Jeff Zumfelde, from his review posted at Colorado Public Radio
Clarinetist Kellan Toohey is the recipient of numerous awards including 2nd Prize in the International Clarinet Association's Young Artist Competition (2013 Assisi, Italy), 1st Prize and audience choice award in the University of Colorado Ekstrand Graduate Performance competition, 1st Prize in the University of Northern Colorado Concerto competition and Angie Southard Performance Competition. He was also the winner of the Colorado College Summer Festival and Greeley Chamber Orchestra concerto competitions. In November 2016 he made his recital debut at Carnegie Hall's Weill Hall in New York City. (From a bio posted at the Parlando School of Musical Arts website)
---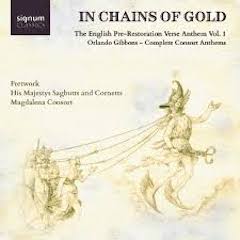 46. IN CHAINS OF GOLD: THE ENGLISH PRE-RESTORATION VERSE ANTHEM, VOL. 1: ORLANDO GIBBONS—COMPLETE CONSORT ANTHEMS, Magdalena Consort Fretwork, His Majesties Sagbutts and Cornetts (Signum)– Orlando Gibbons' verse anthems have rightly become popular with cathedral and collegiate choirs in versions for choir, soli and organ often transposed up from the original keys. This new project from the Magdalena Consort (director Peter Harvey), Fretwork, His Majestys Sagbutts and Cornetts and artistic director William Hunt presents Gibbons' complete surviving consort anthems in a recording designed to recapture the anthems' more intimate, instrumental accompanied versions. (Ed. Note: For the uninitiated, the sackbutt, or sagbutt, is a medieval form of trombone.)
We know little of Gibbons' anthems, yet one important manuscript, probably copied for Gibbons' family some time after his death, provides us with verse anthems with instrumental parts. Gibbons worked for King James I and many of these anthems were written for court use, presented in the relatively intimate confines of the King's chapel. The performances on this disc use the presumed pitch of the period, A466, with a set of English viols (including two original instruments) tuned to this pitch and the vocal parts taken by women (treble and mean), high tenors, tenors and bass, and an ensemble of 11 singers and five viols, with sackbutts and cornetts used in some of the grander pieces. Follow this link to the complete review…
'See, see, the Word is incarnate,' with vocals by Charles Daniels, Catherine King and Samuel Boden, featured on In Chains of Gold by Magdalena Consort Fretwork, His Majestys Sagbutts and Cornetts
---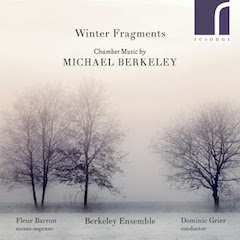 47. WINTER FRAGMENTS: CHAMBER MUSIC BY MICHAEL BERKELEY, Berkeley Ensemble, Fleur Barron (mezzo-soprano), Dominic Grier (conductor) (Resonus Classics)– Winter Fragments is the latest disc by the Berkeley Ensemble to feature music by Michael Berkeley. On this outing the ensemble (Sophie Matter and Francesc Barritt, violin; Dan Shilladay, viola; Gemma Wareham, cello; John Slack, clarinets; Andrew Watson, bassoon; Paul Cott, horn) is joined by Fleur Barron (mezzo-soprano), Luke Russell (flutes), Emily Cockbill (oboe and& cor anglais), Sarah Hatch (percussion), Helen Sharp (harp) and Dominic Grier (conductor) to perform Berkeley's "Catch Me If You Can" and "Clarinet Quintet," music spanning nearly 30 years of Berkeley's composing life.
In a fascinating article in the CD booklet, Michael Berkeley discusses his works and his approach to composing with the Berkeley ensemble's Dan Shilladay, though I would have welcomed a little more basic information about the pieces being performed.
Winter Fragments: VII. Time That Knows. More, Berkeley Ensemble with Fleur Barron and Dominic Grier, featured on Winter Fragments: Chamber Music by Michael Berkeley
Despite Berkeley's music here being intelligent and beautifully constructed, at times I felt we were being held at arm's length emotionally. But the pieces receive very fine performances all around, and the result enables you not only to explore Berkeley's art but also to experience how it has changed over the years. Follow this link to the complete review by Robert Hugill at Planet Hugill
---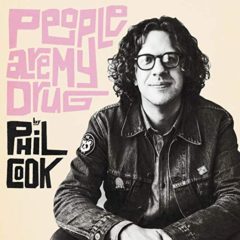 48. PEOPLE ARE MY DRUG, Phil Cook (Psychic Hotline/Thirty Tigers)— Rootsy gospel vibes abound on Phil Cook's second solo album, People Are My Drug. A native of Wisconsin now transplanted to Durham, North Carolina, Cook inspirations include classic gospel artists such as the Staple Singers, the Sensational Nightingales, Margaret Allison, Shirley Caesar and Brother Joe May. His touchstones are evident, too, in the album's sound, its lyrics and even in the quartet-like vamp on two tracks ("Steampowered Blues" and "Every Mother's Son").
"Tide of Life," written by Lloyd Woodard of the Original Five Blind Boys of Mississippi and issued on Peacock Records in the early '60s, is one of the choice covers here done justice by Cook and his ensemble. "He Gives Us All His Love" is a Randy Newman piece expressing gratitude to God for watching over everyone. The gorgeous "Tupelo Child," written by MC Taylor of His Golden Messenger (Cook was a member of this folk band), is an Americana track replete with apocalyptic images.
Cook himself contributes one of the album's most interesting selections in "Another Mother's Son." A protest/message/inspirational song that asks everyone to turn their apathy to empathy for the mothers who have lost their children, presumably to violence, it concludes with the ensemble singing a modern-day mantra: "No more silence." Follow this link to the complete review by Bob Marovich…
'Another Mother's Son,' a protest/message/inspirational song all in one written by Phil Cook, from People Are My Drug
---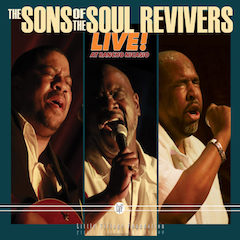 49. LIVE! AT RANCHO NICASIO, The Sons of the Soul Revivers (Little Village Foundation)– Formed by Walter Morgan Jr. in 1970 to carry on the tradition of the Original Soul Revivers, a quartet founded by his father, Walter Morgan Sr., and his uncles, Morgan brothers Walter Jr., Dwayne, and James are joined in song by Oliver Calloway on drums and DaQuantae Johnson on vocals and bass guitar. Little Village Foundation founder Jim Pugh assists on organ and Thomas Smith on guitar.
The group's quest is to achieve the kind of widespread visibility that the Blind Boys of Alabama and the Fairfield Four have enjoyed for the past three decades. Based on the sound of their new album, Live! Rancho Nicasio, the fellows are definitely on the right track.
'The Man in the Middle,' Sons of the Soul Revivers, as featured on Live! At Rancho NIcasio
Recorded during two sold out shows at the Rancho Nicasio roadhouse in Marin County, California (roots music being its specialty), the album was produced by the Little Village Foundation, a nonprofit record company whose mission is to release music that other labels do not typically feature.
Every other song on this 11-track album is in drive tempo, with the pulsating "Joy" being among the standouts, though "It's a Needed Time" is so effervescent, one doesn't want it to end. On the slower and softer side is the old standby, "Pilgrim and a Stranger," featuring creamy harmonies that evoke 1970s quartet singing. The most insightful lyrics can be found on "The Man in the Middle," a description of Calvary. Follow this link to the complete review by Bob Marovich…
---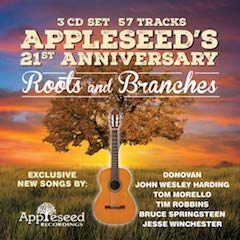 50. APPLESEED'S 21st ANNIVERSARY: ROOTS AND BRANCHES, Various Artists (Appleseed)– One of the outstanding American record companies of our time, Appleseed has thrived for two-decades plus releasing heartfelt, soulful roots music often of a socially conscious nature. Bravo, then, for this powerhouse 21st anniversary three-CD overview of its glorious history, featuring nine new tracks to complement rich entries from the Appleseed catalogue by the likes of David Bromberg, Jackson Browne & Bonnie Raitt, Joan Baez, Sweet Honey in the Rock, et al. Among the resonant new tracks: Bruce Springsteen's rousing "If I Had a Hammer"; a furious, joyous take on Pete Seeger's "Well May the World Go" by one fiercely committed Tim Robbins (Pete is omnipresent herein, as a songwriter, as a performer and as the label's guiding conscience); "I'm Gonna Get It Right One Day," a love song by turns touching, witty, gentle, warm and lyrical, from the late, great Jesse Winchester's archives; and a winsome guitar-bass-drums take on "Wild Mountain Thyme" by Donovan, returning to his deepest roots in addition to being represented by the rocking "Poorman's Sunshine" from his Appleseed concept album, Beat Café. Each disc—nay, each track–is a revelation. ––David McGee
'Poorman's Sunshine,' Donovan, from his Appleseed album Beat Café, and also featured on Appleseed's 21st anniversary overview, Roots and Branches
Follow this link to the Deep Roots Albums of the Year, 2018
Follow this link to the Deep Roots Elite Half-Hundred of 2018, Pt. 1