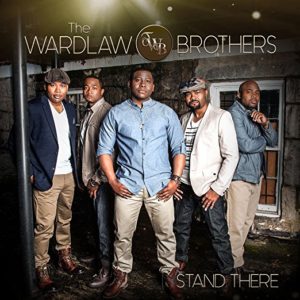 '…demonstrates the group's maturing style…'
STAND THERE
The Wardlaw Brothers
TWB Records/New Day Christian Distributors
There are traditional quartets and contemporary quartets. On their new album, Stand There, the Wardlaw Brothers fall within the contemporary category while maintaining links to the traditional side. The album also demonstrates the group's maturing style as defined by its robust harmonies and song quality.
The most surprising aspect of the album, and the most gratifying, is the a cappella singing. The album begins with a snippet of TWB moaning like they are leading an old-fashioned church service. Later, we hear "Only Believe," a song awash in richly textured harmonies, including the bass voice. The song is slow, serious and steadfast in its message of personal encouragement.
The brief interlude, "Everything to Me," is another a cappella gem, with the group approaching Take 6 complexity. This piece could easily have concluded the project, but this task is given to Martin Luther ("Lute") Wardlaw's testimony on "Lean on Him." Here, he gives general reference to the discouragement and serious challenges he and his family have been through, but also the healing power of prayer.  One senses that these challenges inform many of the songs.
'Stand There,' The Wardlaw Brothers
'Only Believe,' The Wardlaw Brothers, an a cappella gem from Stand There
For example, with its foot-stomp tempo and earthy harmonies, "God Has Kept Me" chronicles a litany of personal trials and disappointments but with the title retort: "Every time I almost let go, God has kept me." It is the album's first single and the most akin sonically to the traditional leaning intro.
"All of Me," "I Believe in You," and "In Awe of You" have P&W shades, while "Highest Praise," with Dorinda Clark-Cole, is conventional rhythm and praise. The title track offers James Fortune-esque musical drama that underscores Luther's later testimony.
With one exception, Luther is the sole composer of the songs on Stand There (brother Tony assists on "Only Believe"). His talent as a songwriter is best demonstrated on the pop-inspired "Angel's Wings," "Because of You," and "Heaven," featuring Fred Hammond, which lyrically evokes James Cleveland's "That Will Be Good Enough for Me" in its disdain for worldly goods in favor of eternal blessings.
Stand There is the most musically diverse of TWB projects, but it is also their best album to date.
Picks: "God Has Kept Me," "Only Believe."
***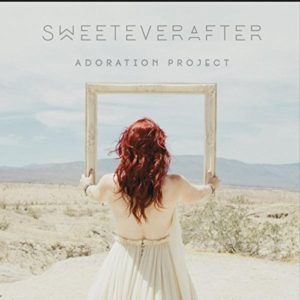 '…as much an admonition to humanity as it is an adoration of God'
ADORATION PROJECT (EP)
SWEETEVERAFTER
www.sweeteverafter.net
Nearly ten years ago, husband-and-wife team Ammee Pearl and Jay Huzil formed SWEETEVERAFTER, a Christian group with a hard rock center. They earned a Metal Song of the Year nomination from the Hollywood Music in Media Awards.
The duo's latest release, the Adoration Project EP, is decidedly mellower than their earlier output. They set aside their electronic gear to hone in on the nitty gritty of some urgent messages.
Huzil's acoustic guitar leads a low-key ensemble of strings, soft percussion, piano, a flute that floats around the music, and the high, lonesome twang of a steel guitar. Pearl's voice evokes Jewel Kilcher in its reflective and earnest resonance.
'Abandoned,' SWEETEVERAFTER, from Adoration Project
'American Prayer,' SWEETEVERAFTER, a topical song from Adoration Project
While some songs, such as the gorgeous "Abandoned" and the breezy "How Beautiful" are love ballads to the Most High, two tracks tackle current affairs head on. Pearl's "Desperate for Love," written in the aftermath of the Boston Marathon bombing, wears the residue of the tragedy in lines such as "when the world explodes all around me," "when the blood is spilled, flowing like a flood," and "as our hope in all we see comes crashing down." To a march tempo, the aptly-titled "American Prayer" is a folk elegy about the sorry state of a country that once pinned its beliefs on, and shed its blood for, "In God We Trust," but has "lost its way." SWEETEVERAFTER doesn't reference any specific tribulations, but "flattery of pride," "technology slaves," and "buildings, they are tumbling down" give the listener reference points for reflection (so get out there and vote).
If the melodies and arrangements on Adoration Project don't vary much from a lovely, lilting acoustic filament, the lyrics are poignant and pointed.  It's as much an admonition to humanity as it is an adoration of God.
Picks: "Abandoned," American Prayer"
***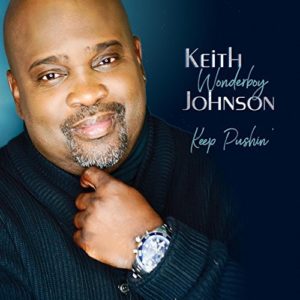 'Blending old school with the new…'
KEEP PUSHIN'
Keith "Wonderboy" Johnson
Shanachie/SRT Entertainment
www.shanachie.com
It's been 20 years since Keith "Wonderboy" Johnson appeared on the national gospel scene, introducing the traditional quartet sound to a new generation of listeners. He continues his crusade to blend the old school with the new on Keep Pushin'.
Though billed as a solo project, Johnson has plenty of help from a battery of singers, including Prathan "Spanky" Williams, Josh Miles, Ray Braswell Jr., and Karen Clark. Together, they traverse musically diverse territory, though most of it remains grounded in tradition—-none more so than the Holy Ghost workout, "You Ought to Testify." The funky title track has been garnering radio play over the past several months. And "Can't You See God Working" and "I'm Gonna Make It" have that long, drawn out, dare-I-say bluesy feel, though the message is anything but the blues.
Indeed, the album's main themes move from faith and encouragement in troubled times to gratitude for blessings bestowed. Be thankful for what you've got, Johnson sings, because it could have been different. For example, on "I Love My Life," he and the song's composer Josh Myles focus on the small pleasures of life in a world where there are unhappy millionaires. The duo shrugs: "I'm not rich—so what?" To which Johnson jokes: "I don't have hair—so what!"
'Keep Pushing,' Keith 'Wonderboy' Johnson
'You Ought to Testify,' Keith 'Wonderboy' Johnson
"God is Able" has a Morris Day and the Time vibe, while "The Man," a story song about a sinner seeking salvation, includes sweet and high doo-wop harmonies. "O Lord We Worship You" is Johnson's nod to the acoustic guitar-led praise sound that has risen in popularity of recent years, though it's clear his sweet spot is the earthier, rootsy gospel that brought him thus far.
Regardless of the musical backdrop, the constant is Johnson's voice: like the late Joe Ligon, Johnson can shout, squall and pull on the preacher's cadence to get his message across.
With a score of talented musicians to work with, the team of producers gives the album a big sound. Keep Pushin' is Wonderboy's first album for his childhood friend D.A. Johnson's SRT Entertainment, but the only change is the label.
Picks: "Keep Pushin'," You Ought to Testify"
***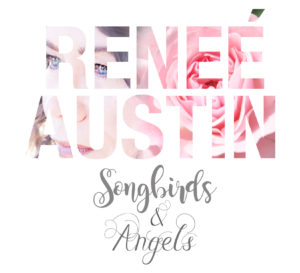 '…she's a witness…'
SONBIRDS & ANGELS
Renee' Austin
www.reneeaustin.org
In 2005, blue-eyed blues and soul songstress Renee' Austin was a rising star in the music business. She had signed a record deal with Blind Pig Records, shared the stage with top charting artists, and was featured in a PBS special called Blues Divas, hosted by Morgan Freeman.
But finding a lump in her throat, Austin underwent surgery. The result left her with a paralyzed left vocal cord and the diagnosis that she would never be able to sing again.
Heartbroken, Austin released a tear-stained letter informing her fans her condition was permanent, but she never stopped praying for a miracle. Lo and behold, after a while, she regained her speaking voice, and later got the miracle she was praying for—the return of her singing voice, "lower and with no range," as she said. That too turned out to be a temporary condition. And here she is.
On Songbirds & Angels, her first post-surgery CD and debut Christian album, Austin employs her gutsy blues voice to eke every emotion out of the thirteen songs she wrote for the project.
Renee' Austin tells her miracle story.
'Songbirds & Angels,' Renee' Austin, title track from her new album
Not surprisingly, Austin has plenty of praise to express. Several album tracks, notably "Destiny," "Why Oh Why" and "My Beloved," highlight her love for God and God's love for her. "Destiny," a duet with Pastor Douglas A. Smith, illustrates God's unconditional love through sympathetic story snippets about troubled young people. On the discipleship ballad "I'm a Penny," Austin compares herself to the widow's mite—-insignificant but God's penny to spend anyway he chooses.
In addition to spicing up the songs with her chesty singing, Austin interpolates audio from the African American folk church, notably samples of intense preaching, shouts and moans to give the project extra earthiness.
The album's finest moment appears at the end. "Aaron Blessing" is Numbers 6: 24-26 set to acoustic simplicity. Here, Austin interrupts her bluesy delivery to emote like a modern folk singer.
So after losing her voice and facing the prospect of never singing again, Renee' Austin emerges, like a butterfly, on Songbirds & Angels. Thus, when she sings that God's love is a "heart-shaped funnel," you know she's a witness.
Picks: "Destiny," "Aaron Blessing"
***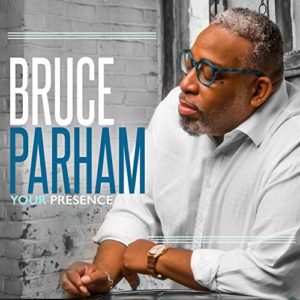 'Open up your mouth and sing!'
YOUR PRESENCE
Bruce Parham
We Here Now Music Group
An early impetus for Bruce Parham's solo career came from his grandmother, who instructed her grandson in no uncertain terms to "Open up your mouth and sing!"
Sing he did, before church congregations and annual gatherings at the Mt. Sinai Holy Churches of America convention. Bishop Bruce V. Parham Sr., PhD. parlayed his grandmother's admonition into an integral part of his ministry. Your Presence is the latest example of his beefy tenor and love for contemporary and traditional songs and hymns of the church.
Balladic songs old and new seem to be Parham's sweet spot. Two in particular stand out on this collection. Awash in strings, the title track is a lovely, gentle prayer delivered in almost recitative fashion by a Parham seeking a balm for the troubles of life through "quality time" with the Lord. On the equally appealing and melodic "Speak to Me," Parham receives ample support from his background choir, which delivers soft harmonies as live recording participants loft forward words of encouragement.
'Your Presence,' Bruce Parham
A lesson in ethnomusicology: 'Jamaican Medley,' Bruce Parham, from Your Presence
In today's gospel world, it seems almost compulsory to include at least one album track with an island groove. Mostly these turn out to be novelties but on Your Presence Parham and his choir give us a lesson in ethnomusicology. "Jamaican Medley" honors the Afro-Caribbean spirit of Jamaican music by opening with an antiphonic a cappella section of African harmonies that evoke South Africa's Ladysmith Black Mambazo, though without the polyrhythm. The medley eventually transitions to conventional reggae, but the first part makes for particularly fascinating listening.
The bracing radio single, "Have Your Way," is a disciple's declaration to open up his life through salvation and embrace change fully and completely.
The live audience really engages with Parham and company when they cover Thomas Whitfield's arrangement of "I Shall Wear a Crown." The sweet harmonies, crescendos, and decrescendos wash over the listeners like warm waves of water at dawn.
Parham concludes the album with a solo version of Raymond Rasberry's classic "Only What You Do for Christ Will Last." Accompanied by superb piano work from Brandon Jones, who follows the leader like a veteran music minister, Parham delivers a church solo that would have been right at home at the Mt. Sinai Holy Churches of America convention.
His grandmother would be pleased.
Picks: "Your Presence," "Speak to Me"
***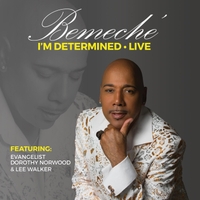 'When you need comfort, traditional songs provide it…
I'M DETERMINED—LIVE
Bemeche'
BGMN Records
www.Bemeche.com
It's rare these days for gospel artists to give over most of their full album to old-time songs, but that's what Bemeche' Hicks has done on I'm Determined—-Live.
The Virginia-based music minister even invited a bonafide church wrecker to assist with his debut CD. None other than Evangelist Dorothy Norwood joins Bemeche' on the Roberta Martin Singers theme song, "Only a Look." It's a treat to hear Norwood sing and squall her way through a classic that she may not have recorded before.
The Storyteller then moves into "Searching," from the Dorothy Norwood Singers songbook. She informs the live recording audience that she and her group sang the song 54 years ago. Gazing into the sea of faces in front of her, she notes: "Some of you not even 54!"
'I'm Determined,' Bemeche'
'Lead Me Guide Me,' Bemeche', from I'm Determined–Live
Accompanied only by piano, Bemeche' does a fine job soloing on the Doris Akers chestnut, "Lead Me, Guide Me." Having his six-member background group, Kingdom Royalty, as a second voice, however, would have made the selection even stronger.
The title track, which was a JGM Pick of the Week on May 14, is a 1980s gospel choir style workout that sends the congregation into an early and fervent praise break.
Lee Walker contributes to the album's contemporary gospel component with two songs of his own: "Arise" and "But God." The tracks are good but it's understandably difficult to follow traditional selections like "Lead Me" and "Searching."
Bemeche' Hicks is minister of music at Mount Zion 2nd Baptist Church in Greenbay, Virginia; and at First Baptist Church in Victoria, Virginia. I hope he continues to release albums of traditional fare because, as Norwood herself has said, when you really need comfort, the traditional songs are where you find it.
Picks: "I'm Determined," "Searching."
***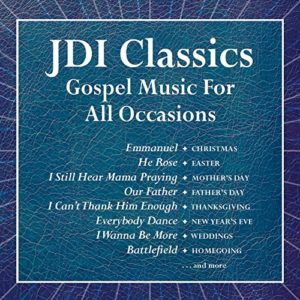 '…quality productions with rich choral backdrops'
JDI CLASSICS: GOSPEL MUSIC FOR ALL OCCASIONS
Various Artists
JDI Records
JDI Records founder and CEO James Roberson has been doing some spring cleaning. In the case of The Essential Beverly Crawford, Vol. 2 as well as with this new JDI Classics release, Robertson has been reissuing items from the company's estimable catalog.
JDI Classics: Gospel Music for All Occasions is a clever repackaging conceit and something of a greatest hits collection for the Los Angeles-based label.
Some of the songs are older. For example, Norman Hutchins' "Emmanuel" (the Christmas choice) is a 2009 release, as is Roberson's disco-ish gospel line rave, "Everybody Dance." On the other hand, Brent Jones's "He Rose" (an Easter pick, natch), has been marketed this year as a single, and the former member of T.P. Mobb recorded a live album with the Waco (TX) Community Choir this past February.
'He Rose,' Brent Jones, featured on JDI Classics: Gospel Music for All Occasions
'Thank You for All You've Done,' Beverly Crawford, featured on JDI Classics: Gospel Music for All Occasions
Of the set, two tracks in particular stand out. Hutchins' "Battlefield" is a congregational singalong (cited as ideal for a home going, though perhaps in lyric only), and Roberson's lovely and wedding-ready "I Wanna Be More" has plenty of Peabo Bryson polish on it. Beverly Crawford's simmering "Thank You for All You've Done," from the 2014 album of the same title, is another striking piece, and Chester D.T. Baldwin's "I Still Hear Mama Praying" (for Mother's Day) brings some traditional Sunday morning fare to the collection.
None of the ten songs presented here are so exclusive to their respective holidays or special events that they cannot be enjoyed on their own. So you might not want to hear "Joy to the World" in April, but "Emmanuel" is sufficiently neutral as to be welcome on the CD player in spring.
Even if you have heard these songs before, they are still quality productions with rich choral backdrops. And they come with programming suggestions.
Picks: "I Wanna Be More," "Battlefield"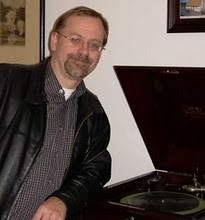 Bob Marovich is a gospel music historian, radio announcer and author. His "Gospel Memories" radio program of vintage black gospel music and artist interviews airs live first Sundays from 3 a.m. to 7:30 a.m. on Chicago's WLUW 88.7 FM, and streams live at the station's website. Snippets of recent broadcasts can be heard online at the Gospel Memories Radio Show. Bob is also the founder and editor of The Black Gospel Blog, now the Journal of Gospel Music, the source for the reviews published here with Bob's permission. Bob launched JGM on the tenth anniversary of The Black Gospel Blog, which he founded July 28, 2004, as the first blog to cover African American gospel music. His first book, Shout Troubles Over: The Birth of Gospel Music in Chicago, is scheduled for publication in March 2015 by the University of Illinois Press as part of its Music in American Life Series. Bob lives in Chicago with his wife, author Laurel Delaney, and their two cats.