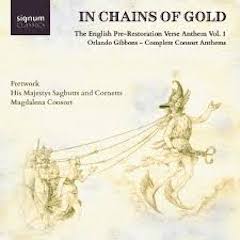 IN CHAINS OF GOLD
The English Pre-Restoration Verse Anthem, Vol. 1
Orlando Gibbons—Complete Consort Anthems
Magdalena Consort Fretwork, His Majesties Sagbutts and Cornetts
Signum
Gibbons' verse anthems restored to their original intimate, instrumental format in finely judged performances
Orlando Gibbons' verse anthems have rightly become popular with cathedral and collegiate choirs in versions for choir, soli and organ often transposed up from the original keys. This new disc from the Magdalena Consort (director Peter Harvey), Fretwork, His Majestys Sagbutts and Cornetts and artistic director William Hunt on Signum Records presents us with Gibbons' complete surviving consort anthems in a recording that aims to re-capture the more intimate, instrumental accompanied versions of the anthems. (Ed. Note: For the uninitatied, the sackbutt, or sagbutt, is a medieval form of trombone.)
What we know of Gibbons' anthems is relatively limited yet one important manuscript, probably copied for Gibbons' family some time after his death, provides us with verse anthems with instrumental parts. Gibbons worked for King James I and many of these anthems were written for court use, for the relatively intimate confines of the King's chapel. The performances on this disc use the presumed pitch of the period, A466, with a set of English viols (including two original instruments) tuned to this pitch and the vocal parts taken by women (treble and mean), high tenors, tenors and bass, and ensemble of eleven singers and five viols, with sackbutts and cornetts used in some of the grander pieces.
 'This is the record of John,' Charles Daniels (lead vocal), from In Chains of Gold, by Magdalena Consort Fretwork, His Majestys Sagbutts and Cornetts
'Lord, grant grace,' Eleanor Minney, Samuel Boden, Silas Woolston, from In Chains of Gold, by Magdalena Consort Fretwork, His Majestys Sagbutts and Cornetts
The results are quite intimate, more consort than choral, with the solo parts naturally emerging from the tutti vocal textures. With textures light and transparent, the result bespeaks chamber music more than any other style. The best-known anthem must be This is the record of John, here with Charles Daniels taking the highly expressive solo line and voice interweaving wonderfully with the viols. This is how it works; the sense of large scale chamber music is palpable, singers and instrumentalists working alongside each other. The anthems with sackbuts, cornetts and organ have a grander feel–Great King of Gods and O all true faithful hearts–whereas the final anthem on the disc, Lord, grant grace, uses viols, sackbuts, cornetts and organ.
We know a little about the circumstances of the creation of these works. O King of Gods was written in 1617 for King James's return to Scotland, while Do not repine was a welcome song for that 1617 progress. Blessed are all they was written for the marriage of King James' then favorite, Robert Kerr. This is the record of John was commissioned by William Laud (not yet Archbishop), and Behold though hast made my day was written for Dr Maxcie, Dean of Windsor, just before his death.
'See, see, the Word is incarnate,' vocals by Charles Daniels, Catherine King and Samuel Boden, from In Chains of Gold by Magdalena Consort Fretwork, His Majestys Sagbutts and Cornetts
The recording is completed with Gibbons' three In Nomines, wonderful evocations of a style that was old in Gibbons' day.
Despite the mystery of Orlando Gibbons's consort anthems, this new disc evinces a welcome curiosity for the possibilities of a more intimate madrigalian style of performance. It helps that all the performers are beautifully stylish, and the ensemble of soloists (vocal and instrumental) collaborate seamlessly to create something stylish and poised.
This is volume one of a projected series on the English Pre-Restoration Consort Anthem–I can't wait for volume two!
Posted at Planet Hugill, 7 February 2018
Reprinted by permission of Robert Hugill, a contemporary classical composer based in London. Recent performances of his works have included sacred motets, orchestral music and the opera The Genesis of Frankenstein. His 2017 album, Quickening, his settings of texts by the poets Ivor Burney, Christina Rosetti and A.E. Housman, has been widely acclaimed and came in at #25 on The Deep Roots Elite Half-Hundred of 2017. Click here for his full biography. For more of Mr. Hugill's classical reviews and interviews, visit Planet Hugill—A World of Classical Music.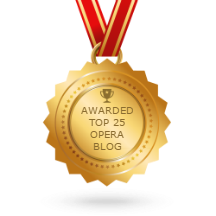 Congratulations to Robert Hugill for Planet Hugill being named as one of Feedspot Blog Readers' Top 25 Opera Blogs & Websites.