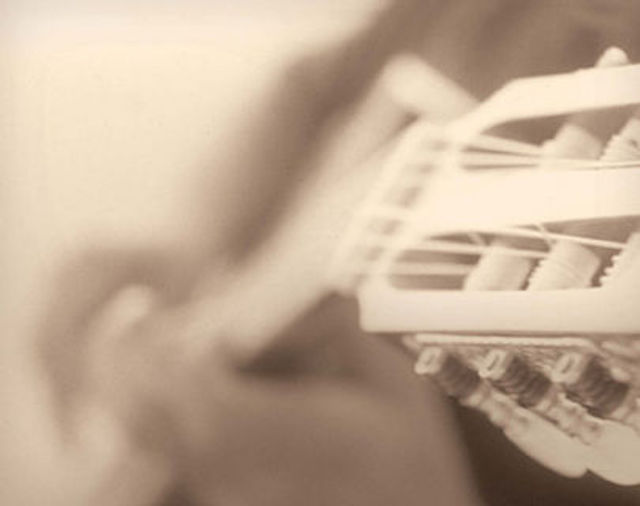 By David McGee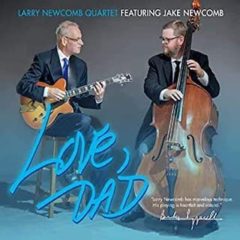 LOVE, DAD
Larry Newcomb Quartet
Essential Messenger Records
That Larry Newcomb records for Essential Messenger Records is entirely appropriate, given the degree to which Love, Dad and its 2017 predecessor, Living Tribute, could fairly be described as delivering essential messages. In Living Tribute, those messages were in the songs themselves, each of which was dedicated to someone important in Newcomb's life's journey, including his three sons, a spiritual mentor and a trio of guitar masters influential in shaping Newcomb's precise, sensitive, smart sound signature, not the least being Bucky Pizzarelli (who appeared on seven of the album's 11 tracks in what may have been his last appearance on record–he passed away at age 94 on April 1, 2020). On Love, Dad, the songs continue to carry the essential messages as well as the near-palpable sense of shared purpose between Mr. Newcomb, the outstanding pianist Thomas Royal, on-the-money drummer Dave Marsh and Mr. Newcomb's son Jake, who more than holds his own in this group of veteran players with some of the most tuneful bass work this side of Paul McCartney. Therein lies the other rub animating these performances. In Bill Milkowski's superb liner notes, the senior Newcomb reveals Love, Dad to be "a celebration" in the wake of overcoming some serious personal trials. Quoth Larry: "It's celebrating the healing that took place after my divorce and after some medical difficulties that Jake had. At one point we almost lost him. And now he's healing from that. We're all healing."
'Love, Dad,' the Larry Newcomb-penned title track from the new album by the Larry Newcomb Quartet with Jake Newcomb on bass, Royal Thomas on piano, Dave Marsh on drums
As I was writing these words while listening to Love, Dad, the Newcomb-penned title track gave me pause: Larry's cool, frisky sweep picking solo, mixing lean lines and single-note flurries, establishes a mellow mood before acceding the spotlight, around the four-minute mark, for a remarkable, richly textured solo by Jake that in turn sets the scene for Royal to work a series of far-ranging improvisations on the melody line before the guitar re-emerges to take the composition home with a warm concluding solo worthy of a song title that doubles as Larry's sign-off to every text he sends his sons. Jake's solo really stands out, though, for its near-seamless replication of dad's guitar solo preceding it and for the scintillating variations it works on what Larry had set up. This isn't the first time we hear him on Love, Dad, but it's a statement moment for Jake. Statement though it be, Jake has another immediately following "Love, Dad," on the combo's interpretation of Oscar Pettiford's 1954 bebop classic, "Tricotism." Statement and showcase alike, this number finds Jake leading the way with an extended opening solo mixing textures and phrases up and down the neck, setting the stage for another jaunty solo piano turn courtesy Royal.
'You Stepped Out of a Dream,' ," the Nacio Herb Brown-Gus Kahn pop-jazz standard from 1940 as performed by the Larry Newcomb Quartet on Love, Dad
In addition to six Newcomb originals, song selection here mirrors the sensibility he presented on Living Tribute. Whereas the latter kicked off with the Victor Scheretzinger-Johnny Mercer classic from 1949, "I Remember You," Love, Dadgets things rolling with "You Stepped Out of a Dream," the Nacio Herb Brown-Gus Kahn pop-jazz standard from 1940 that became Lana Turner's theme song as a result of it accompanying a memorable Turner descent of a grand staircase in the 1941 musical Ziegfeld Girl, although Turner never sang or recorded the song herself. But a lot of other iconic figures across the musical spectrum did, among them Dave Brubeck, Nat King Cole, Johnny Hartman, Sonny Rollins, George Shearing and Julie London. Amidst shifting time signatures, the Newcombs father and son, Royal and the solid drumming of Marsh all have featured moments, and it's especially nice to hear some robust Grant Green touches in Larry's soloing in a version true to the spirit of the original while taking it to some interesting new rhythmic and melodic places over the course of its 7:04 performance. Closing things out, the group bops through its take on "The Song is You," written by Jerome Kern and Oscar Hammerstein III for their 1932 musical In the Air but most famously associated with Frank Sinatra as the last song he performed with Tommy Dorsey before embarking on a rather successful solo career. This is a fabulous workout, with great energy animating all the solos, from Larry's sweep picking homage to Grant Green to Jake's quieter single-note excursions to a rousing conversation between Larry, Royal and Marsh to cap a high-spirited adieu to these proceedings.
'Secret Agent Man,' the Johnny Rivers hit from 1996, reimagined by Larry Newcomb Quartet with Jake Newcomb on bass, Thomas Royal on piano, Dave Marsh on drums, from Love, Dad
Elsewhere, Newcomb's "Hearts in Suspension" is a tender, ruminative ballad (titled after a Stephen King book inspired by the author's student days at the University of Maine, where Larry also studied) that serves as a cool-down from the energetic, even athletic displays driving the Love, Dad engine. Arguably the most surprising choice—arguably, only if you overlook Larry's rocker roots and his resume credits denoting work with Peter Noone and Lesley Gore (on the other hand, maybe it's more like a homecoming)—is a terrific reimagining of "Secret Agent Man," the 1966 Johnny Rivers classic penned by P.F. Sloan and Steve Barri (and subject of more forgettable covers than almost any other song in history). Rivers's fiery opening guitar solo riff with subdued but edgy 6/8 atmospherics conjured by guitar and piano, with Larry fashioning an evocative octave run over Marsh's jittery drumming and Royal's probing piano before Larry hews to the familiar melody before Royal takes it a bit farther afield in his variations on the theme. In a nice touch, as the song winds down Larry interpolates Rivers's original solo.
So welcome to the celebration and dig what goes down. My conclusion about Living Tribute applies in spades to Love, Dad: the more you listen, the more you hear. It gets under your skin in a good way. –David McGee
Related: 'Make That 'Loving Tribute,' review of LIVING TRIBUTE, Larry Newcomb Quartet with Bucky Pizzarelli, reviewed in Deep Roots by David McGee, August 13, 2017
***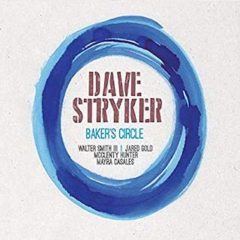 BAKER'S CIRCLE
Dave Stryker
Strikezone Records
In the pandemic summer of 2020 ace guitarist-songwriter Dave Stryker teamed with tenor sax man Bob Mintzer and Mintzer's WDR Big Band on Blue Soul, a medium-cool gem perfectly suited to the populace's collective need for healing tones. Despite some encouraging developments of late, the need for healing tones remains critical. Enter Dave Stryker again, with another worthy contribution to temper intemperate times. No big band this time, however; rather, Stryker steps out with his B3 organ group on a collection of well-turned Stryker originals and cool covers on which this guitarist nonpareil shines the spotlight brightly on his brilliant tenor sax man Walter Smith III complementing the redoubtable Jared Gold (organ) and McLenty Hunter (drums) from Stryker's regular working band, along with (on three tunes) guest percussionist Mayra Casales.
'Tough,' written by Dave Stryker, from Baker's Circle, featuring Dave Strykker (guitar), Walter Smith III (tenor sax), Jared Gold (organ) and McClenty Hunter (drums)
'Superstar,' written by Leon Russell, Bonnie Bramlett & Delaney Bramlett, from Baker's Circle, featuring Dave Strykker (guitar), Walter Smith III (tenor sax), Jared Gold (organ) and McClenty Hunter (drums)
Apart from his new compositions, Stryker continues to pay respects to his past, especially the '70s pop and R&B tunes he loves (and has honored in a trio of albums all bearing the title Eight Track), here represented by a tender, introspective version of the Leon Russell-Bonnie and Delaney Bramlett classic, "Superstar," with Stryker's rich-toned, measured soloing probing the melody while being quietly buttressed by Gold's austere, humming organ; and a return to the Marvin Gaye songbook (Blue Soul reprised "What's Going On" and "Trouble Man" from Eight Track II) via "Inner City Blues," a deliciously funky 5:46 workout propelled by Smith's sing-song sax setting the stage for Stryker's tasty solo romp of varying textures while Hunter keeps the groove in the pocket. And as he did on Blue Soul in "Stan's Shuffle," Stryker tips his hat to Stanley Turrentine, one of Stryker's former employers, with a strutting rendition of "Trouble (No. 2)," one of Turrentine's great numbers, herein being a showcase for rousing solos by each member of the basic combo, with Smith, Gold and Stryker mirroring each other's wide ranging variations on the main theme over Hunter's powerhouse groove before the assembled multitude, as one, brings it all back home in restating the original melody line. In fact, the album's cheery title tune, another Stryker original, is named after composer and educator David Baker, the guitarist's earliest mentor and more recently hiring him to take over as guitar professor at Indiana University.
'El Camino,' written by Dave Stryker, from Baker's Circle, featuring Dave Stryker (guitar), Walter Smith III (tenor sax), Jared Gold (organ), McClenty Hunter (drums) and Mayra Casales (percussion)
Guest percussionist Casales adds sizzle via the congas spicing the Latin-tinged Stryker original, "El Camino," which follows another Stryker piece, "Tough," the album opening ensemble showcase keyed by Smith's muscular, angular opening solo setting the stage for high-spirited solos by each of his mates, taking the melody about as far out as it could go, especially Gold with his heated, frenetic organ sortie five minutes into the workout.
No background music, this; Baker's Circle is designed for the mind and body, created by gifted players who get to the heart of the matter and leave the listener with something meaningful. –David McGee
Related: 'In Heavy Rotation: A Bucketful of Blues,' including review of BLUE SOUL, Dave Stryker with Bob Mintzer and the WDR Big Band, by David McGee, in Deep Roots, July 14, 2020
***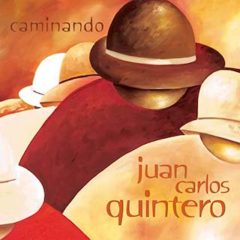 CAMINANDO
Juan Carlos Quintero
Moondo Music
Evocative, lyrical, transportive, soulful and masterfully nuanced by all concerned parties, Caminando, the 2021 reissue of Columbia-born virtuoso guitarist Juan Carlos Quintero's acclaimed, long out of print 1997 acoustic masterpiece, The Way Home, is something to celebrate. Though born in Medellin, Quintero's family moved to the U.S. when he was barely out of the crib; when he was eight, his father, a U.S. Army physician, was sent to Brussels, Belgium to run a NATO clinic, and during those Belgium years young Quintero began playing guitar; when he was 13, the family returned to the U.S. and settled in Freehold, NJ. After graduating from high school, Juan Carlos matriculated to Berklee College of Music and to the New England Conservatory, where his teachers included vibraphonist titan Gary Burton. At Berklee Quintero befriended Wrecking Crew stalwart Tommy Tedesco, who would later introduce the young guitarist to the L.A. studio scene, promote him to anyone who would listen and join him on Quintero's eponymous 1990 debut album. The Quintero sound signature would emerge to steady acclaim over the next decade-plus, drawing praise in high places for its seamless blend of Latin song styles integrated with smooth jazz and World music sensibilities—he was cool before it was cool to be inclusive.
There are so many amazing albums in Quintero's catalogue (not the least being an acoustic Christmas album, 2007's beautiful Joy to the World) as to make it a fool's errand to cite one as towering over another. But The Way Home/Caminando, originally issued in 1997, does boast that extra je ne sais quoi that places it a few notches above other Quintero long players. Whereas the beauty of Quintero's guitar work—its lyricism, its rhythmicity, its precision—invariably draws the listener's attention, the context supporting it is most remarkable, for its lyricism, its rhythmicity, its precision and its own beautiful empathetic sensitivity to the atmosphere Quintero is fashioning with his nylon string instrument. Consider one of the more intense exercises, "Hermanos," with Quintero's aggressive runs fueling a galloping pace and big sky expansiveness, to which pianist Joe Rotondi adds a cooling ripple of right-hand, Guaraldi-like runs for a few seconds at the three-minute mark of the five-and-a-half-minute tune, conjuring the feel of a rapidly flowing stream materializing miracle- and mirage-like in a foreboding landscape in fraught times. Or immerse yourself in the joyous groove of "Spring," with Quintero's lively expressiveness flitting around flirty fretless bass retorts (Eddie Resto and Alec Milstein are on bass) in a life affirming dance entirely fitting for the rebirth of nature. (Quintero has described this song as a "nursery rhyme run amok" written especially for his niece.)
'The Way Home,' Juan Carlos Quintero with Joe Rotondi on piano, from Caminando
'Hermanos,' Juan Carlos Quintero, from Caminando
Quintero and pianist Rotondi do another exquisite dance with and around each other in the celebratory, infectious "El Puedlo," which, like the album opener, "El Baíle," a more introspective proposition propelled as much by the unceasing, shuffling percussive backdrop as by the urgent guitar constructs on and around the melody line, are both beholden to Columbia's Cumbia folk dance tradition. Maybe it's time to point out the presence of no less than five percussionists participating on Caminando, given the extent to which those masters define much of the album's soothing atmospherics. Like Rontondi, Resto and Milstein, these musicians boast impressive resumes listing projects with Stevie Wonder, Miles Davis, Celia Cruz, Tito Puente and Herbie Hancock among their credits, and their inspired work here speaks to the magnitude of respect they've earned over the years. Listen to how the steady but understated pulse behind Quintero and Rotondi on the languid bolero-based beauty "The Way Home," enhances the poignance of Quintero's blend of octave chording and striking single-string bursts of emotion as Rotondi quietly probes deep in the mix; whistles, timbales and Quintero's repeated syncopated guitar lines take us farther south in "Caribbean Sun Dance," a real showcase for all the percussive elements at hand; an even harder percussive attack introduces a Latin jazz foray, "Little Indians," into which surges some rock elements as well. That these musicians understand each other and their respective cultures inside out is evident in the sheer togetherness, the esprit de corps, infusing the album's ten performances.
'Spring (For Vanessa),' Juan Carlos Quintero, from Caminando
Not least among its many attributes, Caminando was recorded on two-inch tape at Schnee Studio in North Hollywood, owned and operated by one of the great producer-engineers in recording history, 11-time Grammy nominee, two-time Grammy winner Bill Schnee, which featured custom gear and classic tube microphones. The sonics here being spectacular is no surprise. (Schnee Studio was recently purchased by its next-door neighbor, Larrabee Studios.) Like the sound, the musicians in question here are live, immediate and impassioned. By any name, Caminando is one of the all-time beautiful cross-cultural events. –David McGee