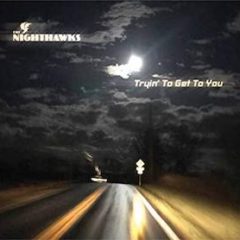 TRYIN' TO GET TO YOU
The Nighthawks
EllenSoul Records
If you don't like the Nighthawks, you probably should not be reading this publication. This is one of America's, and the blues', finest bands, still boasting founding member Mark Wenner (vocals and harmonica) and another long-term veteran in drummer-vocalist Mark Stutso, now completed by new arrivals Don Hovey (guitar, vocals) and Paul Pisciotta (bass, vocals). With all the personnel changes over the years since breaking in on the Aladdin label in 1974 with Rock 'n' Roll, the Nighthawks have consistently made solid albums (2011's Last Train to Bluesville was honored as Acoustic Album of the Year at the Blues Music Awards) and kept the faith with blues and traditional rock 'n' roll fans, year in and year out. No wonder, then, that Tryin' to Get to You is the latest in a long-line of memorable long players from a band that just keeps rollin' along in fine shape.
A great example of the Nighthawks' genius, if you will, comes on the title track, a tune with which this band has a long history—YouTube has videos of the band performing it 11 years ago, in fact. Best known from Elvis's torrid version cut for Sun in 1955 before he left for the RCA label (one could argue it might be better known from the incendiary performance he delivered of it on the "in the round" segment of his 1968 comeback special on NBC—there have been few televised rock 'n' roll moments to equal the ferocity of that moment in particular, save possibly for his red-hot eruption on "Tiger Man" in the same segment), the original version actually dates to 1954 and an R&B vocal group on Mercury called The Eagles. This version landed somewhere between country and R&B and became the model for Elvis's own take, albeit with some alterations that made it a definitively Elvis track. The Nighthawks, though, embrace the Eagles' version and then take it somewhere else completely—on the strength of Wenner's evocative, even plaintive, harmonica soloing, it heads west, out to the wide-open plains, sounding at the start like it might be a winsome lost tune penned by Bob. Nolan for the Sons of the Pioneers—before it subtly evolves into the R&B feel the Eagles brought to it, including the same close-knit backing vocals the Eagles employed and which foreshadowed the sound Elvis achieved using the gospel-rooted Jordanaires as his backing group. The Nighthawks' version is truly an inspired stroke, but such adventurous decisions dot their entire catalogue. Preceding "Tryin' to Get to You," the group rocks the joint with a fierce, stomping workout on James Brown's "Tell Me What I Did Wrong," with Wenner way out there emotionally on a powerful, gritty vocal and then enhancing the aching undercurrent with a shimmering, honking harp solo, beautifully textured to evoke the hurt and exasperation the lyrics have revealed. On a lighter note, the 'hawks do justice to the sang-froid T-Bone Walker brought to his depiction of a fraught relationship in his jump blues, "I Know Your Wig is Gone," from the matter-of-fact lead vocal, to Wenner's rocking harp solo and Hovey's cool upper neck workout. New band member Hovey also contributes the sole original songs here, one being a lively, percolating blues about seizing the love moment, "Baby It's Time," and, best of all, the album closing Delta-redolent lowdown blues, "The Cheap Stuff," which is indeed low and down (and out) and soaked in an alcohol haze in which the despairing singer ends on the hopeful note of doing well enough to buy "the whole top shelf" on his next visit as the song plays out to piercing harp and guitar solos punctuating the woeful sentiments. Here's hoping this iteration of the Nighthawks remains intact for a while. Messrs. Wenner, Stutso, Hovey and Pisciotta have something special going on, so carry on, men. Please. -–David McGee
A live version of 'Tryin' to Get to You,' The Nighthawks, from the album of the same name. Posted on YouTube by Barbie Butterworth.
***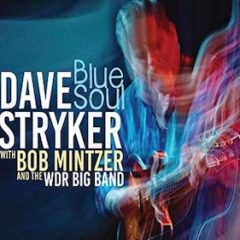 BLUE SOUL
Dave Stryker with Bob Mintzer and the WDR Big Band
Strikezone Records
It's summertime and guitarist Dave Stryker's new collaboration with tenor sax man Bob Mintzer and Mintzer's WDR Big Band takes us back to a time not long removed when the living was easy. Three Stryker originals; a Mintzer-led propulsive workout on the bandleader's "Aha"; and five not-so-obvious covers that the assembled musicians knock out of the park comprise a wonderful musical outing that serves as a soothing balm during the coronavirus summer of 2020. The Mintzer-led WDR Big Band is simply warm and wonderful throughout, whether keeping a steady, horn-driven groove going on an instrumental version of Marvin Gaye's "What's Going On," as Stryker, complemented by Billy Test's humming organ, fashions solos—single string runs, 16th-note flurries, long, lean cries—before giving way to a keening alto sax turn by Karolina Strassmeyer; or  engaging in a perfectly calibrated dialogue with Stryker's guitar and laying down a steady backdrop to Mintzer's robust tenor workout on the album closing treatment of Stanley Turrentine's "Stan's Shuffle." As always, Stryker is a master of tone, texture and feeling, ranging from thoughtfully crafted, thick-noted sorties on his "Came to Believe" to introspective runs given added emotional ballast by octave chording on a captivating take of Jimmy Webb's "Wichita Lineman." On a driving version of Prince's "When Doves Cry," Stryker's voice is equal parts octave chords and top strings discourses, whereas on another Marvin Gaye cover, the album opening "Trouble Man," Stryker, buttressed again by Billy Test's soulful organ support and striking bursts of horns, shadows the melody line before breaking out in a multi-textured solo almost equal parts cool and restrained and anxious and, well, troubled. With its persistent medium-cool approach, plus enough high-stepping passages in Mintzer's inspired arrangements to keep the proceedings unpredictable and engaging, Blue Soul immediately occupies the rarified air of a solid seasonal perennial. –David McGee
'Trouble Man,' written by Marvin Gaye, featured on Blue Soul by Dave Stryker with Bob Mintzer and the WDR Big Band
 ***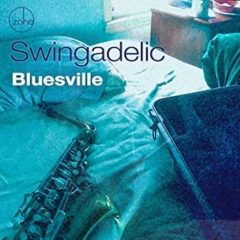 BLUESVILLE
Swingadelic
Zoho
Keeping things swinging with a collection of tunes that "evoke a blues attitude," as producer-arranger Dave Post writes in his informative liner notes, the Swingadelic big band romps through tunes from the '20s through the '60s, covering everything from Chicago blues, Kansas City blues, Mississippi-by-way-of-Chicago blues, straight-ahead jazz, classic R&B and some big band chestnuts of yore. For years now, Swingadelic, with its rotating cast of musicians, has held forth on Monday night at Times Square's Swing 46 dinner/dance venue, and to the regulars there, this long player is a reminder of what once was and shall be again when the coast is clear as well as being a terrific introduction for newcomers to the band's style. Players and vocalist alike shine throughout Bluesville: the Doc Pomus-penned R&B hit for Ray Charles, "Lonely Avenue," features both an intense John Bauers vocal, a burning sax solo by John DiSanto and some atmospheric, McGriff-redolent organ from Kyle Koehler. Speaking of McGriff and Koehler, the latter sets a spirited pace on a rocking instrumental, "Riffin on McGriff's," written by Dave Post and guitarist Andy Riedel, who dazzles with sizzling guitar work in a tasty B.B. King style as the tune settles into its driving pace before the horn section takes the baton and sprints towards the big, blaring finish. Cooling things down, Swingadelic settles gracefully into the slow, melancholy blues of "Fool's Paradise," familiar to some from Charles Brown's lowdown treatment in 1955 after its initial recording by Johnny Fuller, with Sam Cooke delivering a powerful treatment on his 1963 Night Beat album, and Mose Allison giving it his unique spin on Mose Alive! In '65. Here, John Bauers takes his cue from the slow boiling self-laceration Mr. Brown performed in '55 and does a terrific mea culpa confessional with support from a spare, seething arrangement and complementary soloing from alto sax man Ken Robinson and trombonist Rob Edwards. Speaking of Mose Allison, his classic "Parchman Farm" is a real highlight in a strutting arrangement featuring bluesy interjections from guitarist Andy Riedel and guest Mitch Woods shining in double duty as an earthy vocalist (bearing an uncanny resemblance to Master Allison himself) and on piano with a sparkling tour of the 88s, especially down at one end where the right hand fashions a flurry of exuberant high notes before giving way to a fabulous Riedel solo shadowing Woods's solo before heading into a honky-tonk burst to take it all back home. Add in the exotica of Duke Ellington's "The Mooche," from 1929, with Carlos Francis wailing on muted trombone; a stomping, stinging take on "You're Humbuggin' Me," best known from Lefty Frizzell's 1958 version, which followed co-songwriter Rocket Morgan's original release in the same year (after which Morgan left the business to become a preacher); it has since been covered by the likes of the Fabulous Thunderbirds, Sleepy LaBeef, Johnny Winter, Eddy "The Chief" Clearwater and Dale Watson, to name a few, but you can now add Swingadelic's Riedel to the list of notable interpreters, both for his delightful, accusatory vocal and trebly, sizzling guitar soloing. Many more such delights welcome all to Bluesville, where the swinging never ceases. –David McGee
'Parchman Farm,' the Mose Allison classic featured on Swingadelic's Bluesville, with guest Mitch Woods on lead vocal and piano and Andy Riedel on guitar
 ***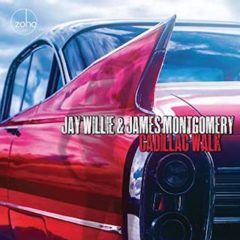 CADILLAC WALK
Jay Willie & James Montgomery
Zoho
Now these guys don't mess around. Although there are some calm moments on Cadillac Walk, when hotshot guitarist Jay Willie and legendary harp master James Montgomery decided to join forces for this project, they must also have decided they were going to burn up that quarter mile, so to speak, and attack their songs with righteous fury. Even the album opening cover of Leiber and Stoller's "Three Cool Cats" (the B side of the Coasters' 1959 novelty hit, "Charlie Brown") has a certain restrained intensity seeming set to burst forth from the slinky, noir groove, which is exactly what happens when the band tears into the Moon Martin-penned title track, taking its cue from Mink DeVille's seething 1977 version on his Cabreta album. Montgomery delivers it with cool, knowing aplomb while Montgomery honks and trills on the harp over Bobby T Torello's powerhouse drumming before giving way to a furious Jay Willie guitar attack. Spare and low down, the band's take on Tampa Red's talking blues from 1945, "Detroit Blues," advises men not to bring their women to the Motor City unless they're prepared to lose them to another, sentiments that bring out an epic harp howl—from rich, deep tones to piercing reedy cries–from Montgomery as Jay Willie keeps the ambience malevolent with his laid-back fingerpicked electric guitar. The band also happens to have a kickass lap slide player in multi-instrumentalist Paul Opalach, who makes his statement with gripping authority on terse rendition of Tracy Chapman's "Give Me One Reason," which is further embellished by Opalach's understated keyboard and "simulated horns" and Le-Ann Lovelace's rather haunting vocal shadowing Jay Willie's earnest pleas expressing hope and hopelessness alike in the space of a few bars in the way he delivers lyrics such as "this youthful heart can love you/and give you what you need/but I'm too old to go chasing you around/wasting my precious energy." Montgomery honors his long friendship with the late, great Johnny Winter on two occasions here, both sizzling and punishing, on the funky, suggestive blues of "I'm Yours and I'm Hers," a true tour de force showcasing the soul and virtuosity and fire of the entire band as the solos come around; and the frisky album closing shuffle, "Mean Town Blues," driven by Jay Willie's greasy resonator slide work (which includes a brief interpolation of "Hey Bo Diddley") and Torello's frisky, hard charging snare drum. These gents are so bold they even dare take on "(I Can't Get No) Satisfaction," turning it into a stomping blues of the sort the Stones used to play years before Keef and Mick came up with the megahit that assured their immortality, inserting, as their own statement, a soaring, honking Montgomery harp solo to set up Jay Willie's entrance a completely baroque guitar solo that takes the melody into places it's never been before. Walkin' the walk and talkin' the talk, Jay Willie and James Montgomery and their co-conspirators deliver on all fronts in what is one of this year's outstanding blues entries. -–David McGee
'Cadillac Walk,' Jay Willie and James Montgomery team up on the Moon Martin-penned title track from their new album, Featuring Bobby T Torello on drums, Paul Opalach on bass with vocalist Lee-Ann Lovelace.
***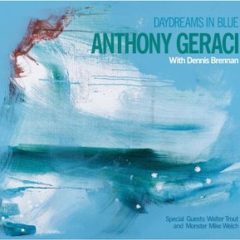 DAYDREAMS IN BLUE
Anthony Geraci with Dennis Brennan
Shining Stone Records
In no way does the serene, Impressionist cover art on Anthony Geraci's new Daydreams In Blue album prepare a listener for the near-unrelenting heat the pianist-songwriter and his bandmates bring to bear on the proceedings within. Whether the occasion is one of harsh, Latin-flavored introspection on "Daydreams of a Broken Fool" or that of a Homeric cry of serial betrayals revealed in the sinister grind-and-stomp of "No One Hears My Prayers" or a lowdown recollection of the haunting memory of fleeting passion in "Living in The Shadow of the Blues," Geraci's evocative piano work, underpinned by the solid rhythm section of acoustic bassist Michael Mudcat Ward and drummer Jeff Armstrong, speaks volumes about the issues at hand. He becomes a formidable second voice to the gritty vocals of Boston blues icon Dennis Brennan (who doubles on harmonica and makes you feel, down deep, every note he plays and sings) and a complement to the electrifying guitars of guests Monster Mike Welch (on eight of the dozen tracks) and Walter Trout (that's him piercing the sky with his plaintive, protesting solo for the ages punctuating the maelstrom created by Geraci's piano and the surging horns of Scott Arruda and Mark Early on "No One Hears My Prayers").
Heartbreak comes in many forms here, as you can see, and death rears its harrowing head from time to time as well. As per the latter, consider the slow, grinding blues of "Dead Man's Shoes" (wherein the lyric "the heel is high, but the sole is worn through" ranks as a classic metaphorical state-of-one-man's-union statement if ever there was one), which mostly asks the rhetorical question, "What kind of man would wear these shoes/dead man's shoes," and wonders if the deceased owner was someone of wealth and privilege or a humble, self-denying soul on a spiritual journey (the tale is spiked with Troy Gonyea's searing guitar solo, as fine and affecting a solo as can be found anywhere on Daydreams in Blue); in "Hard to Say I Love You" ("when I'm six feet in the ground," Brennan adds), a casually swinging groove of a tune allowing Geraci room for an expansive piano solo and Brennan casually accepting the fate he sings of at the outset in a narrative quite at odds with the track's upbeat tenor until the final minute or so, when the band elevates the intensity level a few degrees and Brennan rages vocally with, "I'm going back home, where the shepherd tends his sheep/I've waited so long/Lord, took my soul to keep—hey!/Took my soul, took my soul…" and completely turns the story inside out and takes it to a darker place; and in the mean woman blues of "Crazy Blues-Mississippi Woman," featuring a searing lead solo by Monster Mike Welch and a down-and-out, broken-hearted discourse on lethal solitude that finds the protagonist walking around a house devoid of all pleasures, of the flesh and otherwise, before concluding, "I guess I'll keep on walking/until I walk myself to death." After all this, Geraci closes the proceedings with a cool trio instrumental, "Ode to Todd, Ella and Mike Ledbetter," three departed friends of the artist, apparently, who are remembered in song with this 1:12 bright, upbeat sign-off, Geraci's fingers skipping nimbly across the keys with Ward and Armstrong lending subdued rhythmic support—a serene exit from the tumult preceding it, completely worthy of the calming cover art, in fact. Nice touch. –-David McGee
'Don't the Grass Look Greener,' Anthony Geraci & The Boston Blues All-Stars with Dennis Brennan on vocals and harmonica; Troy Gonyear (guitar); Michael Mudcat Ward (bass), Jeff Armstrong (drums). This clip is from the band's 2018 gig at The Fallout Shelter in Norwood, MA. The song is from Geraci's 2018 album, Why Did You have to Go. Video posted on YouTube by Bill Hurley.