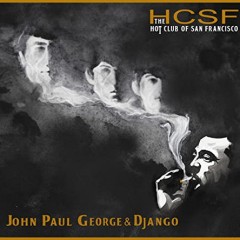 JOHN PAUL GEORGE & DJANGO
The Hot Club of San Francisco
Hot Club Records
We haven't heard anything new on disc from the venerable Hot Club of San Francisco since 2012's scintillating live disc, Live at Yoshi's (see the Deep Roots review here) but the quintet has now roared back with a beautiful new studio album, John Paul George & Django. Yes, the title is telling.
Founded in 1990 by Paul Mehling, former lead guitarist for Dan Hicks's Acoustic Warriors, the HCSF embraces the signature gypsy jazz and hot swing sound perfected by an earlier, fabled quintet, namely the Quintette du Hot Club de France featuring Django Reinhardt and Stephane Grappelli doing things on guitar and fiddle, respectively, that had never been done quite their way before. On this outing Mehling and company are projecting their gypsy jazz perspective onto 15 Lennon-McCartney and George Harrison tunes with captivating results. In the press release accompanying the disc Mehling, in commenting on the band's approach to this material, says, "We're looking to create an album that can be played repeatedly." On that count the HCSF has succeeded grandly. The beauty of it all is how it gives listeners well steeped in all things Beatles an even deeper appreciation of the structural and melodic perfection of the Fab Four's original repertoire while also impressing with an imaginative approach to the source material even as it takes a few improvisational liberties in underscoring the music's depth.
From John Paul George & Django, 'All My Lovin',' Hot Club of San Francisco
From John Paul George & Django, 'Because,' Hot Club of San Francisco
Whither Ringo, you ask? No offense was intended. With the aim being to honor the Beatles songwriters, well, let's face it, Ringo's contribution was minimal to say the least—"Don't Pass Me By" and "Octopus's Garden," either or both of which might have been cool to hear in gypsy jazz style. 'Twas not to be, although in a way Ringo does make a cameo appearance, in spirit, by way of the album's last tune, "Yellow Submarine," one of Starr's more memorable lead vocal turns back in the day. It sounds for all the world like the HCSF wanted to capture the joie de vivre Beatle Ringo always exuded by turning "Yellow Submarine" into, for lack of a better descriptive, a circus tune. It bounces along merrily for 1:15 mostly fueled by the jolly dialogue courtesy guest musician Michel Saga on a rollicking barrel organ. The smidgen of dissonance at the end of the track is a perfect touch, sending listeners home with a chuckle over the comic audacity of it all.
From John Paul George & Django, 'Michelle,' Hot Club of San Francisco
From John Paul George & Django, 'If I Needed Someone,' Hot Club of San Francisco
Up to that point the HCSF has made stops in almost every era of the Beatles' recording history, save for Sgt. Pepper's Lonely Hearts Club Band. Half the songs are from 1964-65; four are from Revolver and The White Album; "Fool on the Hill" emerges from Magical Mystery Tour; and from 1968, the first single released on the Beatles' Apple label, a ditty called "Hey Jude" that was #1 in the U.S. for nine consecutive weeks, no matter its seven minutes-plus running time, which has been truncated here to accommodate a few bars of Django's own "Duke & Dukie." For the most part this is an instrumental album save for basssist Sam Rocha's knowing vocal on "Things We Said Today" and rhythm guitarist Isabelle Fontaine taking an affecting lead and blending with Rocha and Mehling in three-part harmonies in a French language version of Harrison's "If I Needed Someone" and emphasizing a sultry undertone further enhanced by Evan Price's warm, lyric fiddle lines ahead of a dark-hued Mehling guitar solo wherein he interpolates the melody from another Harrison gem, "Within You Without You" (the one moment Sgt. Pepper's rears its head here)—it becomes very cabaret-ish and an altogether fitting homage to the Django era when the dust settles. She also adds a torch touch to a version of "For No One" done in a slow, bluesy mode augmented by introspective solos by fiddle and guitar. The male vocal on "Things We Said Today" is less satisfying in that it fails to capture the ominous undercurrent informing the Beatles' original version, with McCartney in one of his stellar early-era readings. This one seems to ride on the surface of emotions McCartney's vocal revealed as harboring some insecurity within what the lyrics portray as an otherwise loving relationship. I've always heard "Things We Said Today" as having something unsettling and ruminative about it, very much a harbinger of Rubber Soul's autumnal musings, an album still more than a year away when Americans first heard "Things We Said Today" in 1964.
From John Paul George & Django, 'You Can't Do That,' Hot Club of San Francisco
Thus the only quibble I have with John Paul George & Django, and a minor one at that. The swing version of "All My Lovin'" opens the album on a bright, uplifting note and things only get better when "Because" follows and gradually unfolds into a hot swing tempo with Sam Rocha click-clacking away on his driving string bass under Mehling's and violinist Price's fleet soloing. Versions of "Michelle" and "Here, There and Everywhere" add atmospherics courtesy Price's romantic violin (on the former) and a tender Mehling-Price guitar-and-violin dialogue (on the latter); and thanks to Mehling's banjo and a deliberate tempo "You Can't Do That" flowers with a country feel. Price's soft, introspective violin sets an elegiac tone for Lennon's touching "Julia" but a pristine McCartney love ballad from The White Album, "I Will," is done at a sprightly pace—effervescent, you might say—with violin, melodica and guitar taking turns in the spotlight, all expressive of the original's solemn vow of commitment while adding a cheery texture otherwise absent from the original.
From John Paul George & Django, 'Yellow Submarine,' Hot Club of San Francisco
This is not the HCSF's first venture into Beatlesdom. Back in 1994 the Quintet of the Hot Club of San Francisco album included a wonderful version of "And I Love Her"; three years later, 1997's Swing This album gave the full gypsy soul treatment to Harrison's "While My Guitar Gently Weeps" (certainly one of the finest covers of an oft-covered tune); and topping even these gems was a dreamy, irresistibly romantic rendition of "I'm Happy Just to Dance with You" on 2007's Yerba Buena Bounce long player. This new album-length exercise takes the promise of those two covers into rarified air, the finest excursion into reimagined Beatles songs since 2013's majestic Leo Brouwer: Beatlerianas by guitar virtuoso Carlos Barbosa-Lima and the Havana String Quartet, which itself is something of a landmark in this sub-genre (and was not only a Deep Roots Album of the Week but also ranked #16 in our Elite Half Hundred of 2013). To the Hot Club of San Francisco's distinguished catalogue add John Paul George & Django, the band's finest hour on record.