WHEEL OF TIME
Ernie Watts Quartet
Flying Dolphin Records
HANGIN' WITH THE BIG BOYS
Lafayette Harris Jr.
Airmen Records
Two respected jazz veterans are back with interesting albums that underscore why one of the jazz truisms is that the music is about the discussion. Under the direction of Ernie Watts and Lafayette Harris, Jr., the accompanying players have been together for a stretch, and their familiarity with each other, plus strong contributions by a couple of guest artists on Harris Jr.'s album, has made for two quite pleasing sessions of engaged and engaging music making.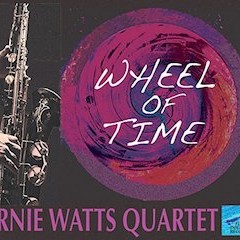 On Wheel of Time the Ernie Watts Quartet is having quite a lively get-together on nine tunes, four of which are the 70-year-old Watts's originals, with three from each of the other band members plus two tasty covers including a muscular workout on Joe Henderson's "Inner Urge" led by Watts's sputtering, sprinting, shrieking tenor sax leading the way while pianist Christof Saenger does his own lively dance across the 88s (those cascading right-hand runs in his solo are electric) as bassist Rudi Engel and drummer Henrik Koebberling construct a solid bottom to the proceedings. Though less driving than "Inner Urge, " Engel's "Andi's Blues" sounds like an epilogue to the Henderson piece but one in which the sax, piano and bass suggest a true inner urge via softer, thoughtful solos. Those seeking less frenetic stylings have great bounty from which to choose, starting with Watts's album opening "Letter from Home," an atmospheric, midtempo exercise in the kind of sensitivity you would expect given the song's title. Watts's sax is a marvel of moderate discourse, if you will, evoking emotions ranging from exuberance to breathless urgency before Saenger enters on piano to add a more measured feel to the correspondence in question. Saenger the songwriter contributes the album's arguably most captivating interlude with his exotic ballad "L'Agua Azul," perhaps inspired by the Cascadas de Agua Azul in Mexico, where the water is truly blue (unlike, say, the Blue Danube, which is in fact green or grey—so disappointing). At any rate, this expressionist treatise ebbs and flows gracefully, even tenderly, over the course of seven minutes, with Saenger, Watts and Koebberling (on brush drums) constructing an ambience mellow and soothing in bright but easygoing solos over Koebberling's subdued pulsations. Watts is strong throughout the album, and the level of comfort he feels with his bandmates is evident in the freedom of his playing. He obviously knows his mates will follow wherever he goes, and together they make the journey that is Wheel of Time memorable, doubly so in fact.
'L'Agua Azul,' Ernie Watts Quartet, written by pianist Christof Saenger. From Wheel of Time.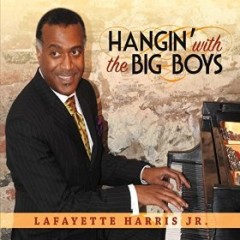 Recorded live in front of an invited audience, Lafayette Harris Jr.'s Hangin' With the Big Boys is a scintillating exercise in inspired musicianship, as Harris Jr., on piano, is joined by George Delancey on bass, Will Terrill on drums, Caleb Curtis on alto and soprano sax, Antoine Drye on trumpet, vocalists Jazzmeia Horn and Noel Whippler (now there are a couple of memorable names) and, the truly big boy in the lineup, on four tasty tracks, the legendary tenor sax man Houston Person, a soul-jazz master if ever there was one. The assembled aggregate kicks off in exuberant fashion with a spirited reading of Irving Berlin's "Blue Skies," featuring both female vocalists in full flight, Person darting in and around the melody and Harris Jr. romping across the keyboard in taking the song out into the ether before returning to Berlin's melody line as the singers take it home with an exciting give-and-take of lyric phrases leading up to a big finish. The applause at the end is well deserved, to say the least.
The tunestack leans heavily on Harris Jr.'s original compositions, with the Berlin number among covers of standards by Duke Ellington, Ray Noble and George and Ira Gershwin. That said, Harris Jr.'s songs cede no ground to the towering names bookending them. Dating back to a combo he led in the '90s, the title track is a swinging entry comparable in style and spirit to something Henry Mancini might have written for a '60s romantic comedy until the middle section when Caleb Curtis's soprano sax takes the arrangement into a hard, wailing turn to set up a frisky Harris Jr.'s piano solo. Another '90s tune, "We In the House," featured on the artist's 2015 album Bend to the Light and reprised here, is a sultry workout fueled by rapid-fire give-and-take between Caleb Curtis's horns and Harris Jr.'s piano, with a familiar recurring riff lifted, apparently, from The Association's massive '60s hit "Never My Love" (possibly appearing in the last place you expected to hear it). "Little Kevin's Blues," another twice-recorded Harris Jr. warhorse, cruises along gently on a moody wash of horns (Person and Curtis together) and Harris Jr.'s occasional glissandos designed to set up Person's probing, economical, sensuous tenor solo. "Drinking Wine Blues" indeed has a woozy feel about it, thanks in no small part to Jazzmeia Horn's vocal. She doesn't have much to sing about—"I'm drinking my wine/I'm feeling real fine/I'm drinking my wine and feeling real fine/and doing this all of the time" is as profound as it gets here—but true to her name, Ms. Horn's bright, cornet-like timbre makes hers akin to a soaring horn solo before Person and trumpeter Antoine Drye step in for their own soulful retorts, evolving into a warm to-and-fro between Person and Harris Jr. Person has his finest moment on the penultimate tune, Ray Noble's classic "The Very Thought of You." Harris Jr. has made this luscious ballad a Houston Person showcase, with minimal band underpinning while the tenor sax giant plays it softly and searchingly, tenderly exploring and tastefully embroidering the heartfelt emotions Noble expressed in his lyrics. No, there's no vocalist per se here, but Person's instrument does speak volumes of heartfelt sentiments.
'The Very Thought of You," written by Ray Noble, featuring Houston Person on tenor sax and Lafayette Harris Jr. on piano. From Hangin' With the Big Boys.
Neither one of these discs is a game-changer but there's something to be said for the commitment to good music and stellar musicianship on display here, and even more to be said for the heart and soul the musicians bring to their collaborative dances. There's much to be said, in fact, for timelessness.