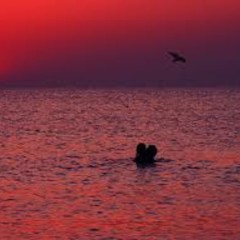 Four Seasons of Summer
By heykailin
Autumn
The first time I saw her was during the fall.
She was standing beneath an arch of fairy lights on the way to the carousel on the pier, and the lights twinkled on her dark, glossy hair and her paper-white skin. She was holding a huge camera in one hand, a half-smile on her face as she looked over at the crowd with bright eyes.
Despite her dark red pea coat and the grey scarf entwined loosely about her neck, I thought she looked and felt distinctly like summer.
Winter
I didn't see my summer girl until the winter, when we bumped into each other inside a cafe/bookstore on 11th Avenue. I was buying a peppermint-mocha latte, waiting in line and jiggling my car keys inside my pocket. I heard sparkling laughter behind me and turned.
There she was, as enchanting as ever. She was with a female friend, and her hairstyle was shorter – a drastic change from her previously waist-length locks of hair.
She ordered a green tea frappuccino with extra whipped cream and holiday sprinkles, which I found unusual. A cold drink for an even colder day.
"Happy holidays," she told me, giving me a sweet smile before exiting the coffee shop.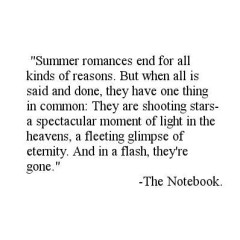 Spring
I was impatient to see her again, and finally I did. It was spring. I was a groomsman for my sister's wedding, and she was there.
It was an outdoor garden wedding, and the day was bright and clear. I was sleepy from fatigue and stuffed with too much cake, but when I heard a clear, haunting voice singing, I woke up.
She was onstage, singing. My summer girl was wearing a pale yellow one-shouldered dress that reached above her knees, belted with a golden satin ribbon. She was barefoot, but there was a halo of tiny white daisies askew on her head.
She was looking straight at me as she sang, and I felt my heart stop.
Summer
I looked for her for months, and I almost gave up on ever finding her. But this particular day, I felt the pull of the sea and made my way to the beach. I knew in my heart that I would find her there.
She was waiting for me on the boardwalk, holding two cones of bubblegum ice cream and trying to keep her hair from flying into her eyes. She had a trembling smile, as if she, too, was nervous about what was about to happen.
"I've been waiting for you," she said shyly, handing me my ice cream.
I ignored it and swept her into my arms. We kissed. When stopped to breathe, she giggled, and I kissed her again. We spent the day sitting on the pier, dangling our legs into the cold water and talking until the sun came down.
My summer girl fell asleep sometime before nightfall, and I carried her on my back as I weaved my way past the summer tourists on the boardwalk. Her arms were wrapped around my neck, her cheek warm on my shoulder.
She stirred sleepily and kissed me behind the ear. "You took so long to find me," she whispered.
I smiled.
I felt like I was the luckiest boy in the world, and I knew that it was going to be a perfect summer.
Posted at Booksie, Dec. 16, 2014
Shakespeare, Sonnet 18: Shall I compare thee to a summer's day?
Lifeguard Love
I fell in love with Sean when I was in high school and he was a freshman at UCLA — he was managing the pool where I worked as a lifeguard. When the summer ended, I didn't know what would happen to our relationship, as we lived three hours apart. Still, we decided to give it a go and spent the next year visiting each other as many weekends as we could. Here was our recipe for success: We'd spend one weekend a month together where I lived, one weekend a month together where he lived, one weekend together in a neutral site (such as visiting friends or away on a fun weekend getaway) and one weekend by ourselves catching up on all of our studying and hanging out with our friends. Keeping a schedule like that may seem less-than-spontaneous, but it gave us something to look forward to and a sense of knowing what was coming up, so we never had to agonize over when we would see each other next. We had a plan and stuck to it, and that is what kept us going. We've been together for seven years now!" –Sierra, 24, Los Angeles, CA
Gary Lewis & The Playboys, 'Save Your Heart for Me' (the bassist is Carl Radle, who joined the Playboys after Allan Ramsay died in a plane crash. Radle, from Tulsa, Oklahoma, later fell in with Eric Clapton and became a member of Derek & The Dominoes and played on the classic Layla album.
A Dog-Gone Good Story
Two summers ago I met Jacob while I was out walking my parents' dog. He was in from out of town and, strangely enough, was walking his parents' dog too. He was very attractive, so I began talking to him. Way after both of the dogs had done their thing, we were still standing outside talking to each other, and he asked me out for the next night. We had a great time together, but he left the next day. We kept dating long-distance that entire summer, and things moved pretty fast. I guess you could say that pretty early on each of us knew the other was The One. By the end of the summer we knew we were serious about each other and needed to live together, but I wasn't comfortable taking our relationship to that next level unless we were engaged. The next weekend, he was in town visiting me and invited me over for dinner at his parents' house. When I came over, he opened the door, holding his parents' dog, which had a diamond ring attached to her collar and a note that said, "It's because of me that Jacob met you, but it's because of you that he fell in love with you." That proposal solidified the seriousness of our relationship, and definitely put our relationship on a level way past summer romance! We're getting married this summer on the three-year anniversary of the day we met!" —Kristin, 29, Greensboro, NC
Johnny Rivers, 'Summer Rain,' a classic summer song inexplicably released out of season–it peaked on the Billboard chart at #14 in December 1967.
A Summer Romance
By Sylvia Sun Sol
I dressed up for you my heart and allowed it to sing
About all of the musings that you once did bring
During a season of love that surpassed any affair
We threw caution away and there was nothing that we feared
We were entitled to being only what we desired
We never stopped noticing how much we admired
Our love was too keen and set in its ways
It allowed for no compromise, we were caught in a daze
The fabrics of our souls were entwined at our very core
And we realized all the sunsets at our disposal, there was no discord
The illusion of happiness that we so gravely kept close
The feeling that we never felt any unnecessary remorse
For lost time in the past when we did not prevail
In overcoming our fears, for not being able to inhale
We lived and breathed our union, so alive and so free
So characterized by its depth that kept us together, lovingly
But as the season changed and our love had run its course
We no longer pursued what we once had passionately enforced
Our summer of romance flew by and our love left a trail
Of broken dreams and disillusions that could have prevailed
Over meddling circumstances that called for the cessation
Of our collaborative effort to make love a declaration
A commitment and faith that was torn apart
For a different path, a different journey, or a different start
So we ended up on terms that we had no choice but to allow
And our differences tore us from the truth of our vows
I used to cling to the memory of what could have been
It is now a slight nostalgia, it is not akin to losing a limb
So as time marches on I smile when I see
How that marvelous summer of romance did wonders for me
I move forward now with a hunger that is even truer than before
And I muster up the courage to once again enter through love's door
(Posted at Booksie, July 18, 2012)
Percy Faith, 'Theme from A Summer Place.' The single spent nine weeks at #1 on the Billboard Hot 100 Singles chart in 1960 and remains the longest running #1 instrumental in the chart's history.