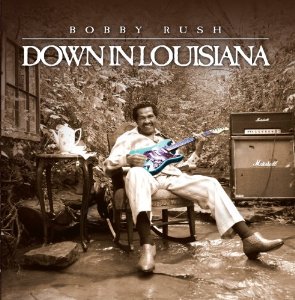 DOWN IN LOUISIANA
Bobby Rush
Deep Rush Records/Thirty Tigers
Experience counts for a lot in the blues, and 77-year-old Bobby Rush has a lot of it under his belt. This is a Louisiana man who grew up in Chicago and was mentored by the likes of Muddy Waters, Howlin' Wolf and Elmore James before he kicked off his own professional career in the '60s. Working with a tight, frisky quartet on his new album, Down in Louisiana, Rush beckons the listener to the junction where funk, soul and blues meet,  on mostly original songs, and sings with renewed vigor, defying his age and proving himself still formidable after all these years. It was only two years ago that his Show You a Good Time won Best Soul Blues Album of the Year at the Blues Music Awards, and not only has he not slipped an inch since then, he's even more imposing this time out.
Bobby Rush knows how to have a good time, a point he presses on the Cajun-flavored, groove-alicious album opener, "Down in Louisiana" (not one of Rush's originals, but an irresistible workout penned by Redbone's Pat and Lolly Vegas with Jim Ford), a funky accordion-flavored workout celebrating the good things that go on down New Orleans way, a point emphasized by Paul Brown's lively B3, Pete Mendillo's colorful percussion and Rush's sly, husky vocal that promises the good times will roll and hints at more earthly delights to be had. Conversely, and with a big atmospheric assist from his own keening harp, Brown's B3 and Lou Rodriguez's piercing, upper neck soloing, Rush serves up a tender blues love song in the gentle, healing sentiments of "Don't You Cry," in a performance that for some may bring to mind Percy Mayfield, the poet of the blues, and which is spiced throughout and at song's end with a familiar undulating riff from Hendrix's "The Wind Cried Mary." Still another tack is employed in "Raining in My Heart," not the Buddy Holly song but a Rush-Paul Brown co-write. All sharp ends and bruised feelings, the tough, funk-infused groove fuels a determined, gravelly Rush vocal in which he vows to emerge whole from a relationship gone south, even if he's not sure exactly how–"I don't know what it is, baby, but the sun is gonna shine in my back door some day," he proclaims with determination that brooks no argument. "Swing Low," another familiar title, is not the beloved gospel number–although Rush interpolates a bit of the spiritual's opening lyric in his first verse–but rather a grinding, ominous, rumbling treatise, falling somewhere between Fairfield Four severity and Staples transcendence (in his spare, stinging style, Rodriguez does a nice job evoking Pops Staples' shimmering guitar), employing gospel imagery in underscoring the singer's expressed desire to "move to the other side of town," which just might be Heaven.
From Down in Louisiana, Bobby Rush performs 'Tight Money' a thumping communiqué from the poor side of town that becomes a commentary on a society pricing out part of its population.
From Down in Louisiana, Bobby Rush channels Percy Mayfield in performing 'Don't You Cry'
Pure, get-down fun is the bill of fare in the rollicking "Boogie In the Dark," a rather self-explanatory title and narrative powered by Rodriguez's fat, fuzzy, explosive guitar soloing and Brown's hearty B3 pulse, along with Rush's own wailing harp and come-on vocal; a woman's infidelity is vividly, and hilariously, called out in the stomping "You Just Like a Dresser," as Rush complains about a gal being "just like a dresser/somebody always ramblin' in your drawers" and likening her to a taxicab "the way they be flaggin' you down/tryin' to catch a ride to the other side of town…" The song that will stay you with you is the socially conscious "Tight Money," a thumping communiqué from the poor side of town that becomes a commentary on a society pricing out part of its population. Rush's gravitas here is as compelling as his ebullience on "Boogie In the Dark" is infectious. Count Down in Louisiana as a landmark moment in an exemplary, distinguished career.