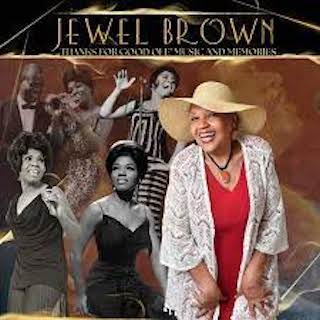 THANKS FOR GOOD OLE' MUSIC AND MEMORIES
Jewel Brown
NIC Allen Music Federation
What becomes an octogenarian most? How about a lively, life affirming, bluesy, jazzy, gospel-inflected workout that finds Ms. Brown giving no quarter to age; in fact, her performances here are so energetic a listener would think she's considerably younger than her 86 years. Working with Nic Allen, the late, great Joe Samples' long-time musical director, Ms. Brown owns everything she touches, including, in a career first, her original songs comprising the whole of this outing, her long-awaited return to recording after nearly a decade away, following 2014's Rollercoaster Boogie., which itself followed an interesting 2012 pairing with Lightnin' Hopkins's cousin Milton Hopkins for the Dialtone label, which included the first version of "Jerry," a horn-fueled R&B-based story-song about a rambunctious "working man's friend, an Arkansas mule" that kicks off Thanks for Good Ole' Music and Memories on a lively, disquieting, note certain to grab a listener's attention with its rowdy narrative and urgent presentation.
A native of Galveston, Texas, Ms. Brown began performing at age nine and became a local mainstay before moving in up to join Louis Armstrong's band as a vocalist in 1961 and staying on until Satchmo took ill in 1968. Come the '70s she retired to care for her aging parents and to go into business for herself, most successfully as an insurance agent. Music was never very far away during her "lost" years, however. In addition to resuming her recoding career, she was inducted into the Blues Smithsonian Hall of Fame in 2007; in 2015 came a Congressional citation for her contribution to the arts; and in 2020 the Mayor of Houston declared December 20, 2020 as Jewell Brown Day in the city.
'On the Road,' Jewel Brown, from Thanks For the Good Ole' Music and Memories
Though this album title may bespeak a nostalgic effort—and Ms. Brown does indeed plumb her personal history here and there—it's too feisty and assured vocally and the old school arrangements, with their jazz and blues foundations, are subtle and empathetic, always designed to showcase the vocalist at her best. "On the Road," the album's longest track at 5:04, finds Ms. Brown getting the most out of a sultry, sensuous groove—tender, understated keyboards, an atmospheric cornet, a silky smooth male background chorus cooing supportive responsive phrases—that frames a warm reminiscence of a paramour's special affections ("I enjoy your company/appreciate you lovin' me/the shows, the letters you wrote/believin' in me/it all shows up on the road…"), with Ms. Brown expertly deploying the upper and lower registers of her voice to add depth to certain key phrases. At the other end of the spectrum, "Pain and Glory," the album's shortest tune at 1:29, features only the male chorus singing a repeated refrain reminiscent of the opening chant in Paul Simon's "Diamonds on the Soles of Her Shoes" backing Ms. Brown's spoken word reading delineating lessons of faith learned in surviving hardships and advising, "Know the Lord is good, His mercy is everlasting/His truth endures through all generations and all over the land…find your own story/things will be amazin'!"
'Why Did You Do That,' Jewel Brown, from Thanks For the Good Ole' Music and Memories
Elsewhere, a cool Latin groove animates "Why Did You Do That," wherein the singer gets a bit heated over someone's dereliction of duty ("I know when you're being dumb and never come home!") as the men behind her try to make a case for the male point of view in a narrative that seems to speak to our divisive times as much as it addresses a domestic spat. "Which Way Is Up" might also be heard as social commentary growing out of a personal statement of self-affirmation over a funky organ and burbling percussion. "I Love Sunshine, Even More Rainy Nights," with its sexy, smoldering sax solo and steady, driving groove, is an occasion for Ms. Brown to cut loose with bold, sensuous longing for the fleshly pleasures nature can inspire, just as the lush, horn-inflected "Song of the Dreamer" reaches out to "that which I love/let this dream come true" in what amounts to a real torch moment here. So it goes on this collection of good ole' music and memories, a most welcome return of this distinctive vocalist who likely has much more where this came from. –-David McGee
***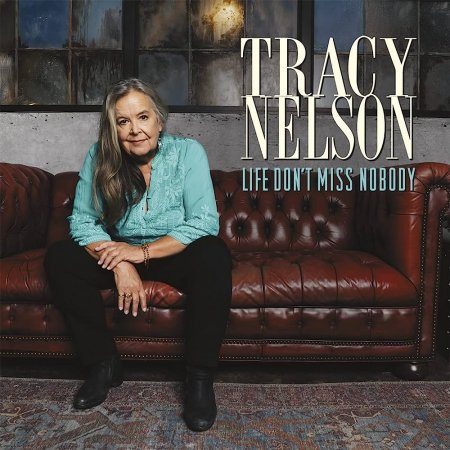 LIFE DON'T MISS NOBODY
Tracy Nelson
BMG Records
There are some artists a fellow just can't wait to hear from, and Tracy Nelson is one of those whose albums bring a warm glow when they show up in this precinct. For one, you know you're about to bask in the soulfulness of one of the great singers of our time. She's virtually critic-proof, she's so good, and it's hard to imagine the shame attending a writer who would dare put down Tracy Nelson. On this, her first album in a decade, she simply picks up where she left off in her previous appearance on disc, which, if memory serves, was with a beautiful reworking of her classic "Down So Low" with a string quartet providing gentle embroidery around her spare, bluesy piano and bruised, earthy vocal as presented on Corky Siegal's Chamber Blues's More Different Voices, a Deep Roots Album of the Year for 2022.
In her succinct liner notes for Life Don't Miss Nobody, Tracy itemizes her late-life priorities thusly: "Top of my bucket list was signing with Willie again. No. It was singing with Charlie on harp. No. It was singing with Marcia and Irma again. Top of my bucket list was all of the above."
'Life Don't Miss Nobody,' Tracy Nelson's self-penned title track from her new album
'Where Do You Go (When You Can't Go Home),' written by Tracy Nelson and Marcia Ball, performed by Tracy Nelson on Life Don't Miss Nobody
Well, job done. The list alone tells us a lot about what this album is, and that means it's quintessentially Tracy Nelson. Which in turns means it offers a taste of cross-generational classic country in trading warm verses with Willie on Hank Williams's "Honky Tonkin'," with atmospheric embellishments courtesy Willie's long-time harp master Mickey Raphael and Mike Johnson on pedal steel. It means there's some low-down, deep blues by way of Willie Dixon's "It Don't Make Sense (You Can't Make Peace)," an early '80s tune by Willie addressing the absurdities of war, here given a grinding treatment with Tracy's deeply felt vocal buttressed by Charlie Musselwhite's wailing harmonica to create the feel of simmering outrage ready to boil over. Another great blues comes from the pen of the late, great songwriter, Doc Pomus (with collaborator Ken Hirsch), "There Is Always One More Time," a song first recorded by Joe Cocker years earlier but better known as the title track of B.B. King's Stewart Levine-produced 1991 album. B.B. infused this song counseling faith and perseverance with a gospel feel, and Tracy begins right there, measuring each phrase for full message impact with profound backing support by the Angelics (Dianne Davidson, Vickie Carrico, Reba Russell and Isaac Ferguson), and Mickey Raphael again on harp emphasizing the struggle Doc's lyrics limn.
'I Did My Part,' written by Naomi Neville (aka Allan Toussaint), Tracy Nelson with Marcia Ball and Irma Thomas, from Life Don't Miss Nobody
As for Marcia and Irma, they show up twice, memorably so in what amounts to a brief reprise of their Grammy nominated 1998 project, Sing It! First there's a high-stepping workout on Allen Toussaint's (under the pen name Naomi Neville) "I Did My Part," with each gal taking a spirited verse and enjoying the backing of a rousing, loose-limbed horn section abetted by rollin' and tumblin' piano support courtesy Kevin McKendree (Steve Conn and Jim Pugh also play keys on the album). Taking the festivities out on a raucous note, Tracy is joined on Chuck Berry's "Brown Eyed Handsome Man" by Marcia and Irma, along with Dianne Davidson, Reba Russell and Vicki Carrico, in a freewheeling workout given a distinct New Orleans flavor rhythmically and attitudinally with additional oomph provided by a sizzling guitar solo and rowdy piano soloing throughout.
'Hard Times,' written by Stephen Foster, performed by Tracy Nelson accompanying herself on 12-string guitar, on Life Don't Miss Nobody
Apart from these fabulous guest turns, Tracy gracefully carries the weight of the project with her self-penned title track, a somber blues ballad, with nuanced horns and keys enhancing the noir-ish ambiance, that counsels never getting too settled in your own world because "the world has a way of takin' back its toys." A similar theme played out decades earlier, as in 1926, in Ma Rainey's "Yonder Comes the Blues," which warns of bad news coming every which way, in domestic strife, in the day's news, even in the mail ("When I get a letter, it never brings good news/Every time I see the mailman, yonder comes the blues"). It's the sort of deep, confessional blues Tracy has been hitting out of the park for six decades, and her impassioned vocal here does Ma proud in its evocation of ceaseless abject pain. A co-write with Marcia Ball, "Where Do You Go (When You Can't Go Home)" is arguably the album's most powerful moment. A keyboard-based gospel blues with a robust gospel chorus present, the song is a forceful appeal for salvation and redemption, confessing shortcomings as its plumbs the depths of its existential title query. With existential queries popping up repeatedly on Life Don't Like Nobody (itself an existential statement, no?), it any wonder Tracy includes not one but two versions of Stephen Foster's sad but hopeful "Hard Times," one coming midway through the proceedings and featuring a gospel chorus and nuanced band support dominated by what sounds like a pump organ or accordion; closing the album the second version featured Tracy accompanying her vocal with 12-string guitar, her voice miked close and commanding, stripped as it is of the glorious accouterments she's enjoyed heretofore. It jumps out at a listener, and you may hear something in the words Foster published in 1854, something you hadn't heard before, but words Tracy Nelson declaims as a clarion call in a troubled world: "Many days have you lingered around my cabin door/Oh-oh, hard times come again no more." Look around. –-David McGee
***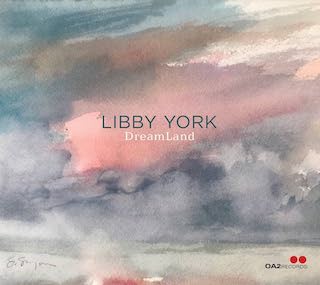 DREAMLAND
Libby York
Origin Records
With four critically acclaimed albums behind her, elegant chanteuse Libby York made sure her fifth would be equally memorable. In her liner notes, Ms. York says the oft-covered Johnny Mercer-Harold Arlen beauty, "Hit the Road to Dreamland" (written by Mercer and Arlen for the 1942 musical film Star Spangled Rhythm and first recorded by Mercer and the Mellowaires accompanied by the Freddie Slack Orchestra for what became a #16 single on the U.S. charts), "kind of evokes my state of mind during the two years of the pandemic lockdown and the thrill of coming out of it." She may have understated the case. Dreamland, as a whole, seems like one long exhale, an understandable response to the strictures of pandemic, in being mellow, straightforwardly romantic, and very much contained within its own world, musically as fashioned by a virtuosic trio of seasoned jazz players who play completely within themselves on guitar, bass and drums, lyrically according to the wit and literacy of some towering songwriters whose legends loom large in the Great American Songbook. To these attributes Ms. Libby adds the je ne sais quoi of great interpretive singing: immersing herself so thoroughly in each moment as to transform the songs into her own personal statements. And seeming to do so without breaking a sweat. Her voice, falling somewhere on the scale between Peggy Lee's breathy suggestiveness and June Christy's vivacity (Ms. York includes a stark, emotional reading [vocal-and-guitar] of "Something Cool," the title track from Christy's1955 Capitol album featuring her backed by Pete Rugolo's orchestra), engages the narratives as familiar texts she understands in her marrow and simply has to tell their stories, which may be hers. She engages in no vocal pyrotechnics beyond impressing with her imperturbable cool.
'Throw It Away,' written by Abbey Lincoln, performed by Libby York, from Dreamland
'Mountain Greenery,' written by Richard Rodgers and Lorenz Hart, performed by Libby York, from Dreamland
Backed by guitarist Randy Napoleon, bassist Rodney Whitaker and drummer Keith Hall (their collective resume comprises a Who's Who of contemporary jazz and pop titans), Ms. York assays a dozen chestnuts from the abovementioned Mercer and Hart, from Antonio Carlos Jobim and his collaborator Vinicius de Moraes ("Estrada Brance [This Happy Madness]," Rodgers and Hart, Abbey Lincoln (with whom Ms. York studied), Artie Shaw, Barry Manilow setting to music Mercer lyrics given to him by the Mercer estate following the songwriter's death ("When October Goes"), Schwartz and Dietz, among others. To these ears, Ms. Libby's notable deviation from the prevailing low-key mood she and her combo have established on the album comes via her stout reading of her former mentor Abbey Lincoln's song "Throw It Away," dating from 1984's Painted Lady album, released at a time when the activist Lincoln was exploring more philosophical themes in her music. In this case, her inspiration was the I Ching, a "magic book" in Lincoln's words, with a message that may have expressed the artist's own thoughts, and fears, about having at once ended her marriage and her career. Ms. York's version remains subtly upbeat and there's a striking lift in her voice when she sings "keep your hand wide open/let the sun shine through/you can never lose a thing/if it belongs to you" (a sentiment echoing the Cherokee philosophy of setting something you love free and awaiting its return to know if it's meant to be yours) and a bracing solemnity when she advises, "Throw it away/throw it away/give your love, live your life/each and every day."  It's arguably her best performance on Dreamland, and certainly the most thought provoking.
'When October Goes,' written by Johnny Mercer and Barry Manilow, performed by Libby York, from Dreamland
'It's Love," written by Leonard Bernstein, Adolph Green and Betty Comden, performed by Libby York, from Dreamland
Which is not to diminish the effect and affect of what she brings to the other tunes she's chosen to represent this moment in her post-pandemic life. There happens to be another "throw it away" sentiment on Dreamland, and it comes in the Rodgers and Hart tune "Mountain Greenery," introduced in the 1926 Broadway musical Garrick Gaieties by Sterling Holloway and Bobbie Perkins. In this instance, the suggestion to throw something away is not about anything metaphysical but rather physical, in pursuit of pastoral pleasures—"so blow your job, throw your job away/now's the time to trust/in your wanderlust/in the city dust we wait/must wait, just you wait…"—at which point the trio breaks into a high-spirited, finger popping strut as Ms. York elaborates: "in the mountain greenery, just two crazy people together." Herewith but one example of the clever wordplay populating these songs. Another would certainly be Arthur Dietz and Howard Schwartz's "Rhode Island is Famous for Your," penned for the 1948 musical revue Inside U.S.A., an upbeat love song masquerading as a travelogue citing the most famous products to emerge from the various States. The lighthearted reading here features Randy Napoleon's tart, concise hollow body guitar phrases complementing Ms. York's rhythmic attack in this engaging romp. Back in torch territory, so sad and beautiful, Ms. York delivers a poignant, measured take on the Mercer-Manilow entry, "When October Goes" (heretofore associated with latter-era Rosemary Clooney) with discrete backing by guitar and bass as the singer carefully navigates the bittersweet lyric that at first seems to be lamenting the change of seasons but is in fact a chronicle of lost love personified by the changing season. There's a touching moment when you feel Ms. York gets it just right when she sings, tenderly, "And when October goes, the same old dream appears/and I am in your arms to share the happy years/I've turned my head away to hide the helpless tears/oh how I hate see"—and her she pauses to enunciate "October" syllable by syllable—"Oc-to-ber"—before pausing again, only to return with a deadpan "go," weighted with lamentable, irrevocable finality more common to Harold Pinter dialogue. Not to worry—the album closes on an upbeat, positive note with "It's Love," penned by Leonard Bernstein, Adolph Green and Betty Comden, and at that a tune Ms. York performed with Maestro Bernstein on piano at a Key West dinner party some years ago. Lenny certainly would have approved of the combo's rhythmically astute support, of Napoleon's swinging guitar soloing and especially of the singer's carefree reading evoking the thrill of recognition when the real thing when it comes along. Dreamland is the real thing too, and it's easy to love. –David McGee
***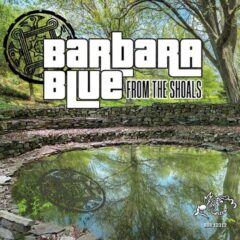 FROM THE SHOALS
Barbara Blue
Big Blue Records
Known as the Reigning Queen of Beale Street—an honorarium awarded in recognition of her quarter-century of performing at Silky O'Sullivan's on Beale Street in Memphis—Barbara Blue journeyed farther south and east to record her 13th independent release. From the Shoals is a product of sessions held at Nutthouse Recording Studios in Muscle Shoals, Alabama, where Grammy winning ace producer Jim Gaines commanded the board as Blue belted out her blues with the virtuosic assistance David Hood (bass), Clayton Ivey (keyboards), Will McFarlane (guitar) and Bernard "Pretty" Purdie (drums), a legendary lineup if ever there was one. The finished product is an attention getting showcase for the elevated songwriting of Blue and her collaborators, guitarist Davor "Hutch" Hacic and pianist Mark Narmore over the course of 11 new original tunes (and two tasty vintage soul covers). Blue pays tribute to her surroundings right off the bat in "The Shoals," a percolating uptempo blues with horns and some sprightly Clayton Ivey organ adding potent punctuation to the affair.
'The Shoals,' Barbara Blue, from From the Shoals
The pattern thus set, Ms. Blue and friends offer an expansive palette of blues and soul that makes the most of the talent at hand. The grinding "Nutthouse Blues" suggests she's where she is "to find my soul" and figure out what the future holds. A forceful reading of Etta James's "Tell Mama" (penned by Clarence Carter) is a heated soul workout fueled by a pumping horn section and accented by McFarlane's stinging guitar retorts as Ms. Blue belts the lyrics with commanding authority. "Steal Away," the Jimmy Hughes hit that put Muscle Shoals on the map in 1964, shows a softer side of Ms. Blue in her tantalizing, measured appeal to a love interest to sneak out against his parents' wishes for some late-night cavorting.
'Trail of Tears,' Barbara Blue, from From the Shoals
But From the Shoals is not all fleshly pleasures and personal dilemmas. In "The Shoals" she references the Trail of Tears ("this is sacred ground/where the Trail of Tears flowed/listen to the rhythm that mother earth has to show") and then completes the album's circle by returning to it more explicitly in the album closing "Trail of Tears." Herein she recounts the tragic relocation of the so-called Five Civilized Tribes in painful detail, e. g., "they agreed to peace and treaties/and the price is their blood." McFarlane adds to the conversation with a multi-textured guitar solo blending tear-stained sustained single notes, lower neck cries, and swooping chord effects as Ms. Blue repeatedly belts out "losing pride and power/working hard not to lose, not to lose the fire." Fade out. Steadfast in upholding Willie Dixon's axiom—"If it ain't about life, it ain't the blues'—the reigning Queen of Beale Street may be expanding her kingdom soon with more triumphs such as this. –David McGee