By David McGee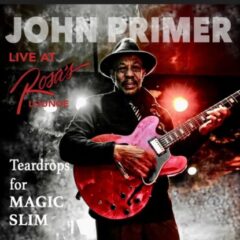 TEARDROPS FOR MAGIC SLIM
John Primer & The Teardrops
Blues House Productions
Forgive your faithful friend and narrator for quoting himself, but when John Primer's brilliant Hard Times appeared last year, my first thought was, "It's always a good year for the blues when John Primer surfaces on record." I'd say that's been true for 86 albums now, which is a lot of good years to be pondered, but the immutable fact about the artist of late is how much better he gets with each of those passing years, most recently from starring on Bob Corritore's Ain't Nothing You Can Do (2017) and The Gypsy Woman Told Me (2020), to his 2019 effort with his Real Deal Blues Band, The Soul of a Blues Man. Hard Times was a real stunner (and one of the Deep Roots Albums of the Year selections), with Primer at the very top of his art as a songwriter, guitarist and especially as a vocalist, the latter being a category in which he is rising above time by improving with age.
'Trouble of My Own,' a Magic Slim original, performed by John Primer & The Teardrops on Teardrops for Magic Slim
Primer fans will surely be whetting their chops at, and will have their enthusiasm justified by, the very concept of Teardrops for Magic Slim, an homage to Primer's boss of 13 years that reunites him with the surviving Teardrops and adds Slim's son, the impressive Shawn Holt, in a searing live set recorded at Rosa's Lounge in sweet home Chicago. The uncredited liner notes mention a quickly sold-out show and an "eager and excited audience," but those blessed souls' reactions are fairly muted in the mix. Which is fine, because there's still enough room ambience in the soundscape to capture the live feel, besides which Primer and company are hot enough on their own to carry the day—no need to have enthusiastic patrons impinging on, say, the ferocity of Primer's six-string attack on the positively monstrous stomp fueling the take on Elmore James's "It Hurts Me Too," with Shawn Holt's muscular, emotive vocal beautifully complementing Primer's intensity.
Apart from Shawn Holt, the lineup includes Jon McDonald on 2nd guitar, Earl Howell and Lenny Media sharing drummers' duties, and Danny O'Clonnor on bass. The repertoire offers varied takes on the blues from Chicago and beyond, with tunes drawn from the catalogues of Jimmy McCracklin, A.C. Reed, Elmore James (two numbers, in fact), Bo Diddley, Little Milton, J.B. Lenoir, Jimmy "Fast Fingers" Dawkins, Guitar Slim and Don Robey (under the infamous Duke/Peacock owner's pseudonym, D. Malone, so who knows who really wrote "Ain't Doing Too Bad"?)
'The Things I Used to Do,' by Guitar Slim, John Primer & The Teardrops, from Teardrops for Magic Slim
The Robey tune is a bit of an outlier here, being a high strutting, near-six-minute, mostly instrumental workout with a wry lyric that Primer puts over with the confident flair of a man who proclaims everything he touches "turns to gold." Mostly, this tune's a showcase for the two guitar masters on board, with McDonald really shining in the exemplary balance of tone and texture he brings to extended solos, taking the melody apart and putting it back together again when Primer steps up. In a nice bit of sequencing, "Ain't Doing Too Bad" is followed by the gently percolating "Buddy Buddy Friend," A.C. Reed's cautionary tale warning of how "friends" seem to disperse when the wallet thins out. Once again, the two guitarists enhance each other's conversation, with one fashioning a steady, repeating riff as the other weaves serpentine lines and heated flurries through the arrangement, underscoring what lies beneath the restraint Primer oozes in delivering Reed observations such as "I don't trust nobody/talkin' 'bout my buddy buddy friend/Lord, they'll stab you in the back…have no doubt/when your money run out/talkin' about your so-called friend…"
'Look Over Yonder Wall," by Elmore James, performed by John Primer & The Teardrops on Teardrops for Magic Slim
Elsewhere, there's nary a false step to be found here. The group kicks off the set on a rambunctious boogie-woogie note in assaying J.B. Lenoir's lighthearted, lusty romp, "Mama Talk to Your Daughter," which establishes the musicians' tight rapport and gives Shawn Holt a spotlight moment right off the bat with a sizzling solo turn about halfway through the performance that moves Primer to cut loose with a seemingly extemporaneous shout of "Someone say yeah!!!!" Indeed. Touching down in the Bay Area, Primer and company tip their hat to West Coast blues giant Jimmy McCracklin on the latter's slow grind of a mean woman blues, "Every Night, Every Day," with Primer squeezing every ounce of simmering sarcasm out of the lyric "Ain't it nice to be loved that way?" after he's made the magnitude of his hurt quite clear.
'Let Me Love You Baby,' by Willie Dixon, performed by John Primer & The Teardrops on Teardrops for Magic Slim
For the most part, though, Primer stays rooted in Chicago blues, ranging from a spirited strut through Willie Dixon's "Let Me Love You Baby"; two Elmore James gems in the ominous, malevolent blues of "It Hurts Me Too" and the stomping takedown of a two-timing gal in "Look Over Yonder Wall"; and a taste of Bo Diddley in the recriminations Primer reports authoritatively with unrestrained fury in a merciless, guitar-driven take on Bo's "Before You Accuse Me." Not least of all, in what is arguably the album's most affecting moment, Primer leads the band in a piercing, deep dive into Slim's "Trouble of My Own," opening with a long, probing instrumental exploration to frame his howling, declarative vocal coming from a depthless well of loneliness in the wake of his paramour having flown the coop, with Primer again deploying searing sorties on guitar to amplify the abiding ache the lyrics describe.
'Every Night, Every Day,' by Jimmy McCracklin, performed by John Primer & The Teardrops on Teardrops for Magic Slim
Fittingly, he closes the set with Little Milton's "The Blues is Alright," a spirited view of the blues as a healing force, even in heartbreak's wake. Primer takes liberties with the original lyrics by way of emphasizing the positive aspects, if you will, of being as blue as you can be. Because, in the end, the blues is alright, especially with John Primer and his mates amply demonstrating the truth of wise Willie Dixon's timeless aphorism, to wit: "The blues is about life. If it ain't about life, it ain't the blues." Duly honored, Magic Slim is up there smiling, knowing his man John Primer got the message and has spread the gospel righteously in his own time.