Ed. Note: For this holiday season of the pandemic year 2020, we've assembled what might otherwise be headlined "Robert Hugill's Holiday Hits." Herein you'll find a potpourri of Classical Christmas albums recommended by our Classical editor, Robert Hugill (a composer himself), not only from this year but ranging from 2013 up to the present day. These albums are timeless, rendering their year of release irrelevant. But it never hurts to be reminded of the bounty Mr. Hugill has discovered over time—including the King's Singers' instant classic, 'Frosty Vs. Rudolph, The Re-Boot,' featured below. Herein experience and enjoy a terrific mix of reverence, history and playfulness in the Christmas outpourings from around the globe. Buon Natale!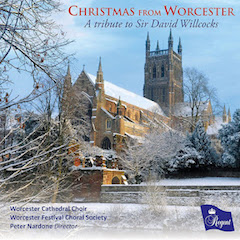 For many people, Christmas means carols, and carols means David Willcocks. As a result of his involvement with, and contribution to, the seminal volumes of Carols for Choirs, his versions of many carols have entered the communal consciousness, and the carols selected for inclusion in the book have become standards.
Between 1950 and 1957, David Willcocks was organist at Worcester Cathedral, and Christmas from Worcester (2013) has the subtitle, A Tribute to Sir David Willocks, with all the items being written and arranged by Sir David. Peter Nardone, Worcester Cathedral Choir and Christopher Allsop (organ) are joined by Worcester Festival Choral Society and Sennet Brass for the big congregational carols ending with a rousing rendition of Hark! the herald angels sing with Willcocks wonderful descant, but there are plenty of other smaller gems sung by Worcester Cathedral Choir alone.
The result is a wonderfully grand way to hear the familiar carols, with Willcock's brass and organ opening to "O Come, All Ye Faithful" making a great CD opener (Willcock's brass introductions to the carols were used with the Bach Choir which he conducted from 1960 to 1998). And the smaller items sung by the choir alone are equally appealing, a lovely way to remember a major musical influence on our Christmas music.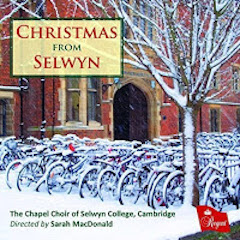 David Willcocks arrangements open and close Christmas from Selwyn (2013) too, where the Chapel Choir of Selwyn College, Cambridge, directed by Sarah MacDonald with organist Shanna Hart and Ben Comeau, mix the popular carols with other Christmas fare. So we get "Stille Nacht," "Angelus ad Virginem" and "In dulci jubilo" but also "Rudolph the Red-nosed Reindeer," "Santa Claus is Coming to Town" and "White Christmas." Using young women rather than Worcester's boy trebles, the choir is recorded in the chapel of Selwyn College and the result has a lovely intimacy, rather than Worcester's large-scale grandeur, and the Christmas songs in popular vein are a complete delight.
'Once in Royal David's City,' Choir of Selwyn College, Cambridge, from Christmas at Selwyn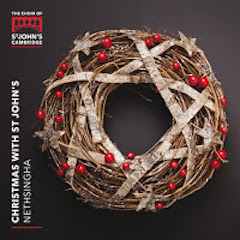 We return to an all-male choir for Christmas with St John's (2013), which features the choir of St John's College, Cambridge, director Andrew Nethsingha with Joseph Wicks (organ) performing a number of Christmas choral favorites ranging from William Mathias' "Sir Christemas" to Elizabeth Poston's "Jesus Christ, the Apple Tree." There is an attractive sprinkling of lesser-known pieces such as Andrew Carter's "Mary's Magnificat," and Carl Rutti's "I Wonder as I Wander," as well as the recent St John's commission, Michael Finnissy's "John the Baptist," plus Bob Chilcott's "The Shepherd's Carol" (commissioned for King's College Choir).
'The Shepherd's Carol,' The Choir of St. John's College, Cambridge, featured on Christmas with St. John's
We open with the Chilcott, which makes for a magical, almost spine-tingling start. I was particularly taken with the clear textures and spicy harmonies of Cecilia MacDowell's "O Oriens" and Finnissy's lively new piece is no either sing either with its tricky rhythms. This disc makes a fine showcase of a choir on the top of its form.
The King's Singers Christmas Songbook (2016) mixes songs such as "Santa Claus is Coming to Town" with popular carols in the Kings Singers own distinctive way, with arrangements by Alexander L'Estrange, Keith Roberts and Robert Rice. The ensemble's particular vein of intelligent close harmony singing still stands out as a beacon, and the selection manages to successfully encompass both the serious (Gustav Holst's "In the Bleak Midwinter" and "Silent Night") and the frivolous ("Frosty vs Rudolph, The Re-Boot").
'Frosty Vs. Rudolph, The Re-Boot' (arranged by Robert Rice), The King's Singers, from Christmas Songbook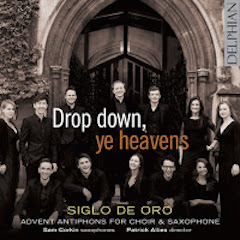 Another a cappella group, Siglo de Oro, director Patrick Allies, takes a rather interesting route. Drop Down, Ye Heavens, Advent antiphons for choir & saxophone (2016) is a collaboration with the saxophonist Sam Corkin. The centerpiece of the program is a set of the great O Anthems, for choir and saxophone, commissioned from Will Todd (born 1970), Matthew Kaner (born 1986), Samuel Rathbone (born 1986), Francis Pott (born 1957), Richard Allain (born 1965), Gareth Wilson (born 1976), Stuart Turnbull (born 1975) and Ralph Allwood (born 1950). The result is an impressive debut disc, with fine singing indeed from the twelve to fourteen strong group, and a lovely range of stunning textures in the works with saxophone. Definitely a hit for those looking for something seasonal and imaginative but not traditional.
Christmas Card Carols (2017) from Christopher Stokes and Intimate Voices on Divine Art is another disc of contemporary carols, this time with a twist. All the carols on the disc are composed by the distinguished recorder player John Turner, and each was sent as an annual Christmas Card gift to friends. There are 23 carols in all, some with just choir and some with choir and soloist, and there are instruments too. Stokes' style is tonal but interesting, lyrical with harmonic twists. He has a very personal style, and successfully avoids direct influence from the more major contemporary carol writers. The texts vary between specially written ones, and familiar ones; Turner does not shy away from the familiar, there are lovely settings of Lullay, mine liking, Susanni and Away in a Manger. A disc worth exploring.
'Christmas Lullaby,' Intimate Voices (directed by Christopher Stokes), featuring Philippa Hyde, from John Turner's Christmas Card Carols
Another vocal ensemble, The Queen's Six, presents Lo, how a rose e'er blooming: Music for Christmas (2017) on Resonus Classics. An all-male sextet, the group's name comes from their drawing their singers from the ranks of the lay clerks at St George's Chapel, Windsor. On this disc we have a combination of standard Christmas classics (the disc opens with Sir David Willcock's well-known arrangement of O come, all ye Faithful with the descant taken by the tenors), music from earlier times by Byrd, King Henry VIII, Tallis, and Tye, and more recent fare. Whilst the early music is beautifully and engagingly done, it is this later music which provides much interest, Tchaikovsky's Crown of Roses, Kennneth Leighton's The Christ-Child lay on Mary's lap, Thomas Hewitt Jones' Lullay, my liking and Richard Rodney Bennett's Out of your sleep. A beautifully produced and sung disc, if this combination of repertoire appeals then this is for you.
'Crown of Roses,' The Queen's Six, from Lo, how a rose e'er blooming: Music for Christmas
Papagena is a five-voice female vocal ensemble, whose music ranges from the Medieval to the present day, all sung unaccompanied.  On their new disc The Darkest Midnight: Songs of Winter and Christmas (2018) on SOMM they explore music for Christmas and for Winter. The music on the disc is eclectic, moving from traditional Irish and traditional German, through John Taverner to Joni Mitchell and Ravel arranged Clytus Gottwald, along with contemporary works by Oliver Tarney, Don MacDonald, Suzzie Vango, and Tone Krone. The music on the disc might seem crazily eclectic but they make it work, transitioning perfectly from Joni Mitchell to Ravel, and the group's musicality is never in doubt. They bring a beautiful sense of style and a focused intensity to the music.
Another female group, Juice Vocal Ensemble, provides a different perspective in Snow Queens (2018) on Resonus Classics. The music on the disc is all conceived for three female voice, unaccompanied, and suitable for Christmas and much of the repertoire is taken from the group's calls for new music along with a commissioned work from Emily Hall. So here we have almost an entire disc composed of music by young composers, with two exceptions all were born after 1970. Whilst we do get carols, Kerry Andrew's imaginative "Apples, Plums, Cherries" is hardly traditional in style, whilst Anna Snow's arrangement of "The Coventry Carol brings out the austere melancholy of the piece. This is a disc full of imaginative textures and striking arrangements, certainly not a conventional Christmas disc. Full of delights, it will please anyone interested in a contemporary take on seasonal celebrations.
'Hollyberry Song (Sans Day Carol),' Juice Vocal Ensemble (solo: Kerry Andrew), from Snow Queens
'The Darkest Midnight' (composer: Diarmaid O Muirithe). Papagena, from The Darkest Midnight: Songs of Winter and Christmas
A Spanish Nativity: Music from the Spanish Golden Age (2019) with Alonso Lobo's Missa Beata Dei genitrix Maria and music by Victoira, Guerrero, Mateo Flecha 'El Viejo' Rimonte, and Morales performed by stile antico. Centered on Lobo's Missa Beata Dei genitrix Maira based on Guerroro's motet of the same name (also on the disc), Stile Antico weave a seductive thread through the intensity of the Spanish 17th century music alongside a selection of villancicos (literally "peasant songs") by Guerroro (showing he had a lighter side) and others. The sacred music is beautifully sung in Stile Antico's familiar style with an emphasis on beauty of line plus a nice intensity. They change style for the villancicos, and you can't help wishing they had brought a little of that raw intensity to the sacred music.
'O Magnum Mystserium,' stile antico, from A Spanish Nativity
The Secret Life of Carols: 800 Years of Christmas Music, The Telling (2019): A delightful disc from The Telling (Clare Norburn – voice, Arianne Prussner – voice, frame drum, Jean Kelly – celtic & medieval harps, Kaisa Pulkkinen – baroque & medieval harps), which takes the carol back to its Medieval origins. One or two, such as the Coventry Carol, are still current today, but others are entirely unfamiliar. The main focus is England, but we also have carols from Germany, Catalonia, Finland, and Ireland. The material moves from the 12th century Gabriel fram evene king through to Franz Gruber's Stille Nacht (1818). A must for those interested in the history of carols, and a disc full of evocative performances.
The Secret Life of Carols, The Telling: CD preview
'The Secret Life of Carols: 800 Years of Christmas Music,' The Telling: The Secret Life of Carols brings together a mixture of the earliest medieval English carols and traditional carols from across Europe. The title is inspired by the fact that many carols have intertwined roots, dating back centuries, often to the Middle Ages, with melodies being adapted and reinvented, and new sets of words written.
Another imaginative disc is A Winter's Night: Christmas Music for Choir, Brass Quintet & Organ from Signum Classics (2020) in which Winchester College Choir (boy trebles, lay clerks, students at the school including at least one woman alto) and conductor Howard Ionascu, are joined by Onyx Brass for a disc of music for choir and brass (and sometimes percussion from Sebastian Guard and organ from Benjamin Cunningham).
The centerpiece is Cecilia McDowall's striking cantata "A Winter's Night," receiving its first recording in the original orchestration for choir and around it are well known works from the Christmas repertoire arranged for similar forces, and the choir benefits from the fact that composer Oliver Tarney is on the school's music staff.
'Past 3 O'Clock,' Onyx Brass, Winchester College Chapel Choir, Benjamin Cunningham, Howard Ionascu, from A Winter's Night: Christmas Music for Choir, Brass Quintet & Organ
Christmas Trilogy, Rustavi Choir, Mdzlevari Boys' Choir, Tbilisi Symphony Orchestra, conductor Vakhtang Kakhidze (2020 reissue): You only have to listen to the opening 30 seconds of the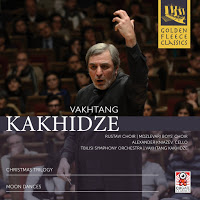 disc to know that Christmas Trilogy from CuGate Classics is something different. We have the resonant and distinctive sounds of a Georgian male-voice choir (there is a strong Georgian folk-tradition of polyphonic male voice ensembles) and brass instruments. This is the Christmas Trilogy by the Georgian composer Vakhtang Kakhidze. Originally written in 2000 to a commission from a Swiss brass band, the three-movement work combined male voice choir, children's choir and brass band. This disc features the composer's 2003 version for full orchestra.
'Glory Alleluia,' Rustavi Choir, Mdzlevari Boys' Choir, Tbilisi Symphony Orchestra, conductor & composer Vakhtang Kakhidze, from Christmas Trilogy by Vakhtang Kakhidze
It is a large-scale work featuring an exuberant opening movement, more intense Elegy and the long Advent Trilogy final movement. The text uses three languages, Georgian, Russian and German, and the musical style mixes Western classical with traditional Georgian idioms to striking effect. It receives a terrific performance from Rustavi Choir, Mdzlevari Boys' Choir, Tbilisi Symphony Orchestra, conductor Vakhtang Kakhidze. Any choir looking for something different for next year need look no further, and I would love to hear the original brass band version!
The recording dates from 2017 but the original issue was hard to get hold of, and this re-issue is available with far wider distribution.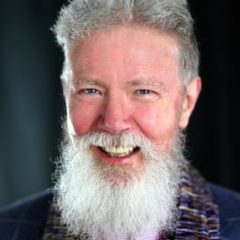 These reviews, originally published in Planet Hugill, appear in Deep Roots by permission of Robert Hugill, a singer, composer, journalist, lover of opera and all things Handel. To receive Robert's lively monthly This Month on Planet Hugill e-newsletter, sign up on his Mailing List. (Robert Hugill photo by Robert Piwko.