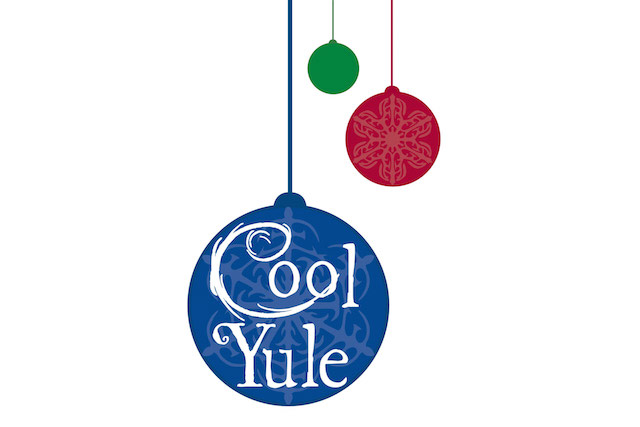 By David McGee
COOL YULE
Hot Club
Azica
(2009)
If I may quote the immortal Bard, Shakespeare, "What's in a name? That which we call a rose/By any other name would smell as sweet." Fair Juliet's words spring to mind when considering this supremely engaging and witty holiday album titled Cool Yule, billed as being by Hot Club; whereas on the back we find it features "appearances by a cavalcade of special guest-stars," and goes on to name Isabelle Fontaine, The Cool Yule Philharmonic, Pazzo and the Hotheads, Le Jazz Trio Hot, Duo Gadja, The Ivory Club Boys and The Cool Yule Philharmonic All-Stars. What's in a name is that these are all iterations of the Hot Club of San Francisco (HCOSF). Together, they comprise a very Hot Club indeed.
'Carol of the Bells/Skating,' Leontovych meets Guaraldi on the Hot Club's Cool Yule
Tchaikovsky's 'Sugar Rum Cherry,' from The Nutcracker, by Ivory Club Boys on Cool Yule
Working in these different guises frees the Hot Club musicians from strict adherence to approaching everything as le jazz hot. So, for example, you get a soothing, sensual treatment of "Baby, It's Cold Outside" complete with strings that give it a late night, saloon song vibe, although Paul Mehling's guitar and Evan Price's fiddle soloing adds a tasty Django-Grappelli feel. The flirty, engaging vocal duo delivering the goods here is billed as Duo Gadja, which is, in fact, Isabelle Fontaine and Jeff Magidson. Ms. Fontaine is a staple of the Hot Club of San Francisco's lineup, a fine rhythm guitarist and vocalist who shines on the group's new album (and Deep Roots Album of the Week selection, John Paul George & Django); Mr. Magidson is an occasional HCOSF member in addition to working with his own groups and teaching. Or you get "Don Rodolfo," a version of "Rudolph the Red-Nosed Reindeer" reimagined as a smoldering tango (it even includes a segment from Bizet's Carmen (really—the "Habanera" aria). Or dig a truly delightful take on Victor Herbert's "March of the Toys" from the Babes in Toyland operetta that breaks out of its stately march beginnings into a full-on hot swing romp fueled by Mehling's dazzling lead guitar, Evan Price's colorful fiddling and Sam Rocha's furious clacking bass steering this runaway sleigh. Or, in a most witty pairing, the mesmerizing ostinato theme of Leontovych's "Carol of the Bells" (aka "Ukrainian Carol," from 1914) mated to the soothing glide of Vince Guaraldi's "Skating," from the 1965 soundtrack to A Charlie Brown Christmas. As the Ivory Club Boys, the musicians have a go at Tchaikovsky's "Sugar Rum Cherry" from The Nutcracker, turning it inside out and into a brooding, New Orleans-style dirge, complete with muted, noir-ish trumpet howls.
'Don Rodolfo,' Hot Club of San Francisco on Cool Yule. Listen for the 'Habanero' segment from Bizet's Carmen.
Victor Herbert's 'March of the Toys' from his Babes In Toyland operetta. Hot Club of San Francisco as heard on Cool Yule.
These definitely cool moments are balanced out by cozy fireside gems such as the string-enriched "I'll Be Home for Christmas," featuring Mehling's tender lead guitar and Price's atmospheric fiddling, and the Le Jazz Hot Trio offering a mellow rendering of "The Christmas Song" with Mehling fashioning a lovely, romantic solo over the steady, understated chording of another guitar and muted pulse of Rocha's bass. On the reverent side, the Hot Club proper honors the majesty and mystery of John Jacob Niles's Christian folk hymn "I Wonder As I Wander" with a low-key, probing approach featuring, in one segment, bassist Sam Rocha in a spare, chilling solo moment ahead of guitarist Mehling carrying the reflective mood forward against a backdrop of flowing strings. And following a hot swing workout on "Auld Lang Syne," note that the track, clocked in at 7:41, seemingly ends at 6:04; but following a full minute of silence the HCOSF returns to take it all home with a joyful sprint through "We Wish You a Merry Christmas." Ain't it the truth, folks? Ain't it the truth?