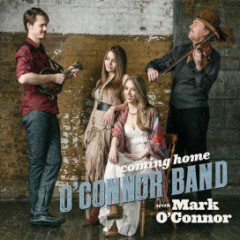 COMING HOME
O'Connor Band with Mark O'Connor
Rounder
Last year Mark O'Connor offered Duo, a scintillating album of fiddle duets with his gifted new bride Maggie (#10 on the Deep Roots Elite Half Hundred of 2015); this year, he's expanded the family conceit with Coming Home, teaming he and Maggie with Mark's mandolin master of a son, Forrest (former Tennessee State Mandolin Champion) and Forrest's fiancée Kate Lee, a young veteran fiddler-songwriter with deep roots in the Nashville scene.
Let's start with the album titles. Duo seems telling for Mark and Maggie's first joint effort as spouses. It could easily have been Duets, a purely musical designation, but Duo speaks of a deeper, more personal connection—not necessarily romantic but rather in-this-together. In the case of Mark and Maggie, it has both romantic and professional intimations. The music therein displays a remarkable synchronicity between the new husband and wife fiddlers, with one clearly knowing where the other was going and where to subtly insinuate his or her voice into the proceedings. Maggie is hardly a neophyte professional but working with Mark on Duo was a big-time debut, and both vocally and instrumentally she was ready for the larger stage inherent in accompanying Mark O'Connor.
Official video for 'Always Do,' the O'Connor Band, from Coming Home. Lead vocal by Kate Lee.
Speaking of big-time debuts, Forrest O'Connor steps up with one of his own here. Those fans that have been tuned into Mark's website know how dad has been trumpeting his Harvard-educated son's academic achievements (he graduated summa cum laude) but O'Connor fils pretty much kept his musicianship at low ebb while pursuing his degree studies. Two years ago he moved to Nashville, where he was born, and started pursuing music seriously. Lo, he won the Tennessee State Mandolin Championship, and shortly thereafter began touring with his father and brought into the fold his fiancée, Kate Lee, who has performed with an impressive roster of A-list country stars in addition to striking up a songwriting partnership with long-time hitmaker Pat Alger (best known for the chartbusters he penned for Garth Brooks).
Official video for 'Coming Home,' the title track, written by Forrest O'Connor, from the O'Connor Band's Coming Home. Watch for former skateboarding champ Mark O'Connor slaloming on the street while playing his fiddle part.
So Coming Home, as a title, has resonance for both Mark (in spades, because he's also returned to the Rounder label, where he began his recording career in 1974) and Forrest, and sure enough they and their familial (or soon-to-be-familial in Kate's case) female counterparts turn this endeavor into the warmest of unions-cum-reunions. The dozen songs are a mix of band member originals and venerable standards given new coats of paint via Mark's arrangements. Forrest's contributions especially stand out. His easygoing, fiddle-fired title song recounts the spiritual rejuvenation of a man who's realized he's nearly running on empty from his travels and needs some divine support. With his warm tenor exuding optimism, when the ladies pitch in the celebratory chorus soars on high, leading to a jubilant close with a flurry of cascading mandolins. This bracing performance is followed by another Forrest original, "I Haven't Said I Love You in a While," a plaintive confessional in the form of a dialogue between Forrest and Kate in which we learn the man realizes he's been living in something of an alternate reality, going through the motions of caring for his beloved without being fully present. With mournful fiddling weaving through and around the melody lines, the narrative reveals two parties adrift but cognizant of their issues and the remedy for what ails them, hence "I haven't said I love you in a while"—a sentiment remarkable for (when taken seriously) in its ability to alleviate a multitude of sins. True to the album title, the bulk of the songs find people coming together rather than drifting apart, recognizing the positive aspects of being a duo, if you will, rather than going it alone in life.
From Music City Roots, August 10, 2016, the O'Connor Band blisters 'Ruby, Are You Made at Your Man?' The equally incendiary studio version is featured on Coming Home.
Vocally, witness the powerful aural dynamic when Kate and Maggie's voices blend in ethereal, Alison Krauss-like crystalline cries on the album opening "Always Do," a soft, spirited vow of commitment with wonderful, uplifting interplay between the fiddles and mandolin and marvel at the strength in Kate's earthy, country-inflected timbre (so affecting amidst the poignant fiddling fueling her heartbreaking ballad "Blacktop Boy" and doubly potent when she howls and stomps through a furious take on "Ruby, Are You Made at Your Man?, an occasion for red-hot fiddle and mandolin solos as well in what is the album's scorched earth interlude). As potent as are the vocal numbers, the O'Connor Band really ups the ante on instrumentals, including O'Connor favorites "Jerusalem Ridge"—with Mark leading a high-octane romp through the Bill Monroe classic he's pretty much made his own by now—and the jubilant two-step sweetness of "Fishers Hornpipe," a vibrant multi-fiddle celebration. In the end Coming Home feels as intimate and welcoming as its title, with the players' affection and respect for each other enhancing the life affirming nature of this loving family affair.