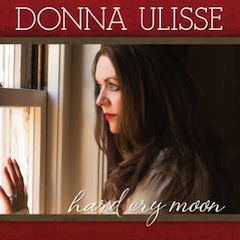 HARD CRY MOON
Donna Ulisse
Hadley Music Group
One of the rare breed known as bluegrass singer-songwriters, Donna Ulisse has been on a quite a roll these past few years (yes, years), starting with her moving interpretation of the Christmas story in 2012's All The Way to Bethlehem, an instant classic Yuletide concept album and a work of art to boot by a songwriter working at the peak of her artistry. The following year she released not one but two outstanding album-length projects, I Am A Child of God: A Gospel Collection and Showin' My Roots. The focus of the former should be obvious from the album title; the latter is a collection of country and bluegrass tunes that not only shaped her musical sensibilities but spoke to life as she knew it growing up in Virginia. (A woman of deep faith, Ms. Ulisse might well have titled the aforementioned gospel album Showin' My Roots, Vol. I. It's fortunate she does not solicit ideas from your faithful friend and narrator.)
Maintaining the glide in her stride of late, she's back in 2015 with Hard Cry Moon, a long-awaited collection of new original songs, two being her solo copyrights; four co-written with her collaborative mainstay Marc Rossi; three with her husband (and touring band member) Rick Stanley, a cousin of Ralph and Carter Stanley; and a catchy tale tracing a love affair's ultimate origins, "It Must Have Been the Mandolin," written with the estimable Jerry Salley. A dozen tunes in all, it is, with six-time IBMA Guitarist of the Year Bryan Sutton behind the board crafting a warm, full soundscape (and adding his own six-string wizardry as well), as defined by an all-star instrumental lineup featuring Stuart Duncan (fiddle), Dennis Crouch (bass), Scott Vestal (banjo) and, in a true star turn here, Casey Campbell, from Ms. Ulisse's touring band, on mandolin. Bringing it all home, Ms. Ulisse's earthy, expressive mountain voice has rarely sounded more captivating—all the better to add extra dimension to the stories she tells.
'Hard Cry Moon,' the dark-hearted title track from Donna Ulisse's new album
Though not touted as a concept album, Hard Cry Moon, could pass for one. Start with the hard-charging album opener, "Black Train," fiddle- and banjo-fired with room for Casey Campbell's red-hot mandolin solo, wherein Ulisse adopts a biting attack to underscore her narrator's determined flight from a failed relationship to a fresh start. "He thinks he's gonna flaunt new love right under my nose/I ain't stayin' here lookin' like some lost soul," she proclaims with unequivocal certainty before commanding, "Put these cars in motion, get this iron pony goin'…I ain't stayin' where I'm at." Not that she hasn't written a kissoff tune before, but the sense of empowerment she exudes over the course of nearly three minutes of fury is cause to sit up and take notice of the story unfolding. Ten songs later she winds up at "Whispering Pines" (from the pen of Howard Hausey, this was heretofore best known as a Johnny Horton classic), a tender mountain ballad replete with vivid evocations of the natural world's power not only to mend a broken heart but actually to effect a reconciliation, feelings made doubly aching by the plaintive cry in the singer's expressive mountain voice supplemented in harmony by the tender male voices provided by Greg Davis and Rick Stanley. It's as if the assertiveness of her stance in "Black Train" had given way to a deeper reality she can't ignore—the pull of a love she finally acknowledges as rare and worth fighting for. "Is my love still my love," she sings softly, like a prayer, "oh, this I gotta know/send a message by the wind, because I love him so…"
'We're Gonna Find a Preacher,' Donna Ulisse, from Hard Cry Moon
'It Could Have Been the Mandolin,' Donna Ulisse, from Hard Cry Moon
In between these thematic bookends—a wounded soul's journey to an ultimate truth—the song sequence can be read as reflecting, now with poignancy, now with affection, on the relationship's evolution. Following "Black Train" (and "Workin' On the C&O," not a companion piece to "Black Train" but an account of a couple's hardscrabble life together in what is a metaphorical tale extolling the value of discipline and focus) the story really begins with the mountain strains of Duncan's fiddle and Sutton's brittle, clawhammer banjo setting the stage for "We're Gonna Find a Preacher," wherein she sings of meeting "a boy from Mississippi, with Delta charm/when he worked here in east Kentucky on papa's farm," and cuts to an apparent elopement to Memphis "with his daddy's suit and my momma's gown/and we're gonna find a preacher." Her parents, of course, don't approve of the male in question—"my folks tell me that boy's a drifter, he'll leave some day" she sings in a lyric that presages the events of "Black Train"—and their fears as well as well as the singer's resolve are reflected in the austere soundscape. In one of the album's many beautiful bits of sequencing, this defiant moment is followed by a loving reminiscence of home and family in "Papa's Garden." Which in turn sends the artist a bit forward in time to her courting days in "It Could Have Been the Mandolin," a sprightly, humorous recollection of the halcyon time when the spark of love between her and her beau may well have been ignited by bluegrass music playing on the car radio on a certain night when they were parked alone under the stars—a lighthearted moment that is deftly, devastatingly and immediately undercut by the misery she articulates with searing emotion in the dark-hearted title track. The storyline continues in the touching love song "As Long As We're Together," a heartfelt treatise on the ties that bind, especially in hard times (in the context of Hard Cry Moon, perhaps a corollary to the elders' experiences as chronicled at the outset in "Workin' On the C&O").
'Whispering Pines,' a Johnny Horton classic reimagined by Donna Ulisse on Hard Cry Moon
'I'll Sleep In Peace at Night,' Donna Ulisse, the benediction song from Hard Cry Moon
There are detours along the way, notably in "I'm In For a Long Ride," another Ulisse solo copyright. Herein the steady plunk of Scott Vestal's banjo and the melancholy strains of Stuart Duncan's fiddle frame an interesting perspective on a weary troubadour's steely resolve to get her message across to a waiting audience in the next burgh, no matter the travails and trials of constantly being on the move with home but a distant memory. This sets up the denouement of "Whispering Pines," which in turn anticipates the album's—and the narrator's—benediction in the soothing hymn-like ambiance (God bless Campbell, Duncan and Vestal for the note-perfect subtlety and economy of their aggregate support) of "I'll Sleep in Peace at Night." Finally, at journey's end, she has arrived metaphysically at a place where she can believe, Scarlett O'Hara-like, in tomorrow being another day; a place where she can accept her faults and whatever fate awaits her, and "be okay with who I am/and to sleep in peace at night." It's the most valuable lesson she's learned en route, one that brings her to a healing moment, a revelation of truth, a springboard for moving forward clear-eyed and whole, still open to letting her broken heart love again. "Each new sun that peeks through my window/is a chance to set things right," vows she, and may it truly be said of us all.