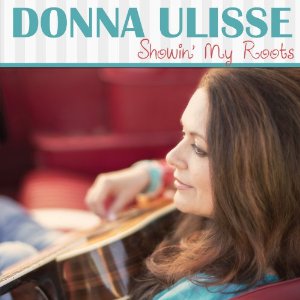 SHOWIN' MY ROOTS
Donna Ulisse
Hadley Music Group
In the song-by-song liner notes she's written for her exceptional new album, Donna Ulisse says something truly remarkable. In reflecting on the song "I Hope You Have Learned," co-written by her great-uncle Gene "Curly" Butler (and best known as a popular Bill Monroe recording released in 1954), she claims her fame to date in the bluegrass world "has been how I am related to the Stanley Brothers through my marriage to Rick [Stanley], who is a cousin of Carter and Ralph." This is a prelude to her revealing how she learned of her kinship with Mr. Butler via a Monroe biographer who had traced the family history to the Ulisse family. Unfortunately, only the part about her familial link to Curly Butler is accurate, for Donna Ulisse is an artist every serious bluegrass fan knows about, especially when it comes to her superior songwriting. But she's been putting all the pieces together—singing and songwriting—with regularity dating back to her mainstream country debut of 1991, Trouble At the Door; after concentrating solely on songwriting for a decade-plus, she broke out in a big way as a bluegrass artist with 2007's acclaimed When I Look Back, and since 2009 has really been on a major roll with her secular albums Walk This Mountain Down (2009) and An Easy Climb (2011), along with two religious albums (Holy Waters, 2010; and I Am a Child of God, 2013), all of which led up to her astonishing Christmas-themed album of 2012, All the Way to Bethlehem, an Album of the Week selection at Deep Roots and the top pick of 2012 Yuletide releases in the annual Christmas Music issue of our sister publication, TheBluegrassSpecial.com. Of All the Way to Bethlehem this publication stated, "Donna Ulisse's song cycle is not merely close to perfect, it's a work of art."
Donna Ulisse & the Poor Mountain Boys perform Loretta Lynn's 'Fist City' at the Dumplin Valley Bluegrass Festival in Kodak, TN, September 19, 2013. The studio version is included on Showin' My Roots. Posted at YouTube by Ted Lehmann.
So as far as yours truly is concerned, there will be no talk of Ms. Ulisse's bluegrass fame being in any way circumscribed or defined by her clearly fruitful musical and personal partnership with Rick Stanley. Apart from the reasons cited above the best evidence available in support of Ms. Ulisse being considered a major bluegrass artist is her newest long player, Showin' My Roots, a tribute to the artists and songs that inspired her own artistry. It does contain two Ulisse originals (co-written with Rick) including the sprightly album opening title track in which she name checks specific artists whose work made the most significant early impact on her youthful sensibility; and the tender, rustic closing track, the self-explanatory "I've Always Had a Song I Could Lean On," which soars aloft, straight out of the mountains, on the instrumental wings of Scott Vestal's banjo, Andy Leftwich's fiddle and Rob Ickes's dobro underpinning the poignant, warm rendering of lyrics looking back on the life sustaining properties of music. In between these bookends are eleven tunes of varied vintage, not all of them being obvious titles you might have expected to be featured in an album such as this. As you might gather from the triumvirate of musicians listed above, the band bringing new vigor to these timeless tracks is populated by bluegrass A-teamers: in addition to Vestal, Leftwich and Ickes, the lineup features co-producer Bryan Sutton on guitar, Viktor Krauss on upright bass and a number of harmony vocalists of great repute (such as John Cowan, Fayssoux McLean, Larry Stephenson, Larry Cordle, Carl Jackson, Greg Davis, Tony King, Jerry Salley, Frank Solivan and Rick Stanley). Since this is not a showcase for her songwriting, Ms. Ulisse reminds us she is also one of the outstanding bluegrass singers of the day no matter whose lyrics she's singing. From track to track the warmth, the soul, the sheer depth of feeling and understanding of each song's message, be it playful or poignant, she delivers is truly a wondrous thing to experience as a listener.
Donna Ulisse & the Poor Mountain Boys, 'Your Good Girl's Gonna Be Bad,' at the Dumplin Valley Bluegrass Festival, Kodak, TN, September 19, 2013. A cover of this Tammy Wynette classic is featured on Showin' My Roots. Posted at YouTube by Ted Lehmann.
In plumbing her roots, Ms. Ulisse does indeed go all the way back: as a three-year-old she made her public singing debut with the venerable "Take This Hammer," a prison-railroad-work song dating back to the turn of the 20th century. With Sam Bush adding a heart male duet voice to hers, Ms. Ulisse revisits it with an impassioned reading in an arrangement offering plenty of room for Andy Leftwich to make a robust statement of his own on fiddle. In her song "Showin' My Roots," she references Dolly Parton, Merle Haggard and Loretta Lynn as signal influences, and so gives them their just due in the tunestack. She takes care of Dolly and Merle in one fell swoop by way of Dolly's wrenching account of a hardscrabble childhood, "In the Good Old Days When Times Were Bad." With Rick Stanley and Frank Solivan contributing tempered harmonizing and Andy Leftwich and Rob Ickes adding backwoods atmospheric flourishes, Ms. Ulisse, with the slightest of cries in her richly personal reading, delivers not the straight Dolly version but Hag's slightly reworked cover rendition, which is not so reworked as to dull the singer's memories of the deprivations her family suffered or her resolve never to revisit those days again. Loretta has the honor of being represented twice, first with a fiddle-fired bluegrass workout of Lynn's chart topping 1968 hit, "Fist City," in which she threatens to cold-cock any woman intent on a dalliance with her man (which Lynn wrote out of frustration with her husband Doolittle's inability to spurn the advances of admiring females who tended to flock to him when Loretta was on the road), and, even more impressively, with an emotional reading of the Lola Jean Fawbush-penned heartbreaker, "Somebody Somewhere (Don't Know What He's Missing Tonight)," a 1976 chart topper for Lynn and a remarkable song for its time in speaking frankly of a lonely female performer lusting for companionship after "the late show" and drowning her sorrow in drink. Ickes's dobro is the sorrowful shadow voice to Ms. Ulisse's own despairing one in a remarkably effective instrumental-vocal pas de deux of a tear-stained nature.
Ms. Ulisse didn't have to marry Rick Stanley in order to be indebted to the Stanley Brothers—they were part of her life early on, an indispensable influence, and her nod to their legacy in her music comes by way of a hard charging "How Mountain Girls Can Love," with a frisky lead vocal and heated soloing from Sutton on lead guitar, Ickes on dobro and Leftwich on fiddle, and one of the album's most touching moments in her wounded delivery of the haunting breakup ballad "If That's the Way You Feel," in which the singer makes a show—but only a show—of coming to grips with losing a paramour, a pose that disintegrates in the piercing, soaring chorus.
Donna Ulisse & the Poor Mountain Boys (with harmony vocals by Larry Cordle and Carl Jackson) deliver a potent live rendition of the Stanley Brothers' haunting 'If That's the Way You Feel' at the Dumplin Valley Bluegrass Festival, Kodak, TN, September 19, 2013. The studio version is featured on Showin' My Roots.Posted at YouTube by Ted Lehmann.
In the self affirming mode of "Fist City," she takes on Tammy Wynette's "Your Good Girl's Gonna Go Bad," with banjo, fiddle and mandolin solos adding a bluegrass twist and the singer stating matter of factly her intention to be the kind of footloose gal to whom her man seems inexorably drawn. Hank Cochran's beautiful "Send Me the Pillow That You Dream On," a Ulisse family favorite, has a music box delicacy about it, due in part to Leftwich's soft mandolin flourishes, in part to Sutton's gentle guitar solo, and mostly to the aching lead vocal and Rick Stanley's gentle harmony support—a gem of an arrangement that heightens the beauty of Cochran's tune by emphasizing the wish in the title sentiment in a tender way. And of course Donna Ulisse could not sing of her principal influences without referencing gospel. She does so with a persuasive, firm reading of "Wait a Little Longer Please Jesus," a plea for time to bring sinners into the fold delivered with plainspoken earnestness and buttressed by plaintive solos from Ickes and Leftwich (on fiddle and mandolin both).
No holding pattern this, Showin' My Roots is a vital album by an artist described on her website as a "bluegrass poet." Even though most of the songs are not her originals, Ms. Ulisse, a savvy songwriter and gifted interpretive singer to boot, makes poetry of her time herein.