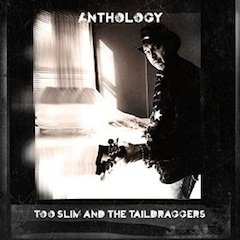 ANTHOLOGY
Too Slim and The Taildraggers
Underworld Records
We can't leave 2013 without acknowledging this vital overview of the 18-album career of Too Slim and The Taildraggers. In all incarnations one of America's best bands, Slim and his compadres have been at it since 1986, and are only getting better as the years pass. The past couple of years, especially, have been bountiful ones featuring the 2012 release of Slim's stunning solo acoustic album, Broken Halo, followed in 2013 with the monumental Blue Heart, on which all of Slim's artistry as a singer-songwriter-guitarist coalesced into a major career statement, as brutal as it was beautiful. Blue Heart was honored in this publication as both an Album of the Week selection and as one of our Album of the Year 2013 selections. In toto, however, the 34 choice tracks populating Anthology proves Slim and the Taildraggers to be exactly what the title of their 2000 album claimed—King Size Troublemakers.
For the better part of his career Tim "Too Slim" Langford was based out of the Pacific Northwest (Spokane was home, and he has been installed as a Hall of Fame member of three regional blues societies in that part of the world), only to blow the joint a few years ago for the unlikeliest locale, Nashville. It was a good move, though: he struck up a personal and professional friendship with Grammy winning producer Tom Hambridge (whose resume includes credits with Buddy Guy, ZZ Top and Joe Louis Walker, among others), and Blue Heart announced them as a team to be dealt with. In addition to showcasing the impressive body of work Slim has fashioned for the Underworld label over a 15-year time frame, the double-CD Anthology would seem to reveal that the Slim-Hambridge axis is gearing up for more sonic assaults and blistering social commentary. This comes by way of three new tunes cut especially for this project, two being Slim-Hambridge co-writes, the other a Hambridge co-write with Texas bluesman Jim Suhler.
'Good to See You Again,' Too Slim and The Taildraggers, with guest vocalist Jimmy Hall, from Blue Heart and featured on the Anthology retrospective.
One of those new songs, "Wishing Well," kicks off Disc 1 on a stomping note before Slim enters, as angry as he is ironic, inveighing and warning against getting taken for a ride by purported men of the cloth. "Pay for Heaven or go to Hell/throw your money in the wishing well" is the key observation preceding a classic Slim guitar blitzkrieg enhanced by a scintillating six-string dialogue with Nashville ace Bob Britt over the solid punch of his current rhythm section, bassist Eric "Stretch" Hanson and drummer Jeff "Shakey" Fowlkes. The other new Slim-Hambridge entry appears amidst the reflective fare on Disc 2, and ranks as one of Slim's most moving broken-hearted ballads. With his slide moaning deep in the mix and a lonely piano enhancing the stark ambience with ruminative fills, Slim's whiskey voice laments from well inside his heartbreak, "This big ole house needs your big ole heart/when you gonna track an empty vow/just a bunch of walls and empty halls/I need your loving in this big ole house"—a performance that underscores how affecting a vocalist Slim can be, singing being consistently the most underrated aspect of his artistry. Teaming with Jim Suhler, Hambridge gives Slim a heated boogie number with "Little Gun Motel," concerning the salacious goings-on at a lively, if crumbling, place on Elvis Presley Boulevard that "feels like Heaven, looks like Hell," where the maids "tuck in the sheets in high-heel stockings." Both bullets and unbridled passions are the order of the day (or night, as it were) here, and Slim emphasizes same with his white-hot guitar attack and bemused vocal.
'Wishing Well,' Too Slim and The Taildraggers, a new Slim-Tom Hambridge co-write featured on Anthology
Thus the new tunes. The other 31 tracks over two CDs (Disc 1 featuring the full-tilt blues-rockers; Disc 2, as mentioned earlier, showcasing Slim's relatively quieter, introspective moments). From Blue Heart's chronicling of bad romance, bad libations and bad vibes, Disc 1 features the high-octane confessions of trying to cleanse himself of a regimen of "women and whiskey and bad cocaine" in "Wash My Hands" ("I washed my hands in the muddy Mississippi/this life of sin don't wash off easy…tried to come clean but the dirty ol' devil/left a stain on me.") and the thumping "When Whiskey Was My Friend," wherein Slim turns to the bottle for comfort while awaiting his woman's certain return, seemingly oblivious to the shape of his blues to come while deep in his cups. Disc 2 features two Blue Heart gems in the exquisite blues ballad "Good To See You Smile Again" (a moment worthy of vintage B.B. King in style and content, with a scintillating guest vocal by Wet Willie's Jimmy Hall as he and Slim bolster the spirits of a gal struggling to regroup from a shattering breakup) and the cool, slinky title track with Slim's knowing wink of a vocal (when he sings, "she trusts in me, with my big blue heart") and support from his earthy harmonica work.
Too Slim and The Taildraggers with a live version of 'Shaking a Cup' filmed at Blind Willie's in Atlanta, GA, November 16, 2013, and posted at YouTube by stolibluesdog. The studio version from Broken Halo is featured on Anthology.
The bracing humanity on display in 2012's Broken Halo is represented fourfold: in "La Llorona," the ultra-evocative theme for an imaginary spaghetti western, a parched, foreboding slide workout that doesn't end so much as it rather abruptly ceases to be (you half expect to hear the sound of a rattler and Clint Eastwood saying, "Well, let's put it this way: they try to pay me off in tortillas, I'm gonna shoot 'em right in the eye."); in the spooky, driving "Shaking a Cup," wherein he skewers those who disdain the homeless and politicians who use them as pawns, his fingerpicked guitar as relentless as his wailing harmonica is urgent–without losing stride he observes how "people are gathered/taking a stand/raising their voices as best they can," inserting this lyric at points where it becomes a kind of marginalia warning of an imminent storm; in an arresting meditation on the songwriter's challenge, "Three Chords," wherein a weary sounding Slim reminds us he gets "three chords, to tell 'em about love and life and everything/three chords to make your case/and take 'em to some other place…you try to give 'em what they need/the moment they are listening." Well, job done here, in the smoldering intensity of his vocal aided by his spare guitar and mandolin accompaniment, which combine to provide the song's subtext, meaning Slim's accepting the responsibility he limns in the lyrics; and in "Princeville Seranade," another lovely instrumental, pastoral and soothing, gently unfolding with a sprightly strummed ukulele joined by a lilting slide uke into a theme-and-development piece that brings a bit of light to Broken Halo's shadowland.
From Shiver and featured on Anthology, Too Slim and The Taildraggers, 'Stoned Again'
From the Tales of Sin & Redemption album (2003) come the searing "Mississippi Moon" and a lighthearted blues reminiscence of old, carefree times, "Wish I Was Fishin'"; 2011's keeper, Shiver, contributes another evocative instrumental, the guitar-and-organ powered "Bucerius"; a brutal bump-and-grind blues treatise, "Stoned Again," wherein Slim posits a host of thorny theological and philosophical musings on the use of mood altering substances from the days of Jesus up to the present time; and a lush, earnest take on "Everybody's Got Something," a philosophical reflection on life and friendship featuring an impassioned lead vocal by one of our finest bluesmen, Curtis Salgado, backed by a robust soul chorus. 2007's The Fortune Teller provides one of Slim's funkier workouts in the form of the tropical flavored "Mexico," with its steel drums and sizzling slide behind our man's easygoing vocal extolling the rejuvenating powers of a trip south of the border.
'La Llorona,' Too Slim and The Taildraggers, with an ultra-evocative theme for an imaginary spaghetti western; a parched, foreboding slide workout that doesn't end so much as it rather abruptly ceases to be. From Broken Halo, featured on Anthology.
'Princeville Serenade,' a pastoral and soothing instrumental, gently unfolding with a sprightly strummed ukulele joined by a lilting slide uke into a theme-and-development piece that brings a bit of light to Broken Halo's shadowland. Featured on Anthology.
In 2005 Underworld released a Slim anthology titled Lucky 13. Nine years later this new overview is welcome and warranted, given the artist's impressive growth over the time span in question. Those who would write off Slim and the Taildraggers as just another blues band and dismiss the genre as being worn out might want to think twice. Slim, along with the likes of the North Mississippi All Stars and Moreland & Arbuckle, among others, demonstrates the vitality of the blues by working from a blues base while broadening the palette to include complementary stylistic flourishes from a multitude of other genres to the point where designating any of them as blues artists is way too limiting. Slim fans know this well; the rest of you, come join the party with Anthology. Your sins of omission and commission will be forgiven.