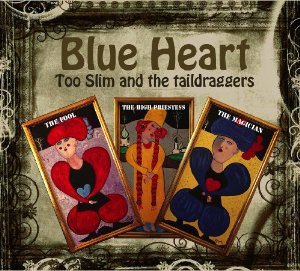 BLUE HEART
Too Slim and the Taildraggers
Underworld Records
The good news is that Tim "Too Slim" Langford, that most merciless electric blues guitarists and rawest of blues singers, seems to have been living on a ragged edge, which translates to some of the toughest, most challenging music he and the Taildraggers have ever made. On Blue Heart you know something's up with Slim when he kicks off the album's first song, "Wash My Hands," with a series of high-octane riffs, sputtering and anxious, to set the stage for his rough, whiskey voice announcing, "I used to be a sinner/yeah, and I liked it…" He goes on to explain how he was only out for self-amusement, "never wanted to hurt nobody," but a regimen of "women and whiskey and bad cocaine" left him trying to literally clean up his act. Only one problem: "I washed my hands in the muddy Mississippi/this life of sin don't wash off easy…tried to come clean but the dirty ol' devil/left a stain on me." The Godfather of all fallen angels, Satan has his hands all over Blue Heart, and even beyond its chilling closing number.
That his Mississippi ablution didn't yield the expected results shadows the rest of Blue Heart as Slim wends his way through noir-ish tales of bad romance, bad libations and bad vibes. Though he sounds like nothing so much as a tortured soul, he's a tortured soul fighting to rise above his self-inflicted misfortunes. Give him points for his honesty—or his characters' honesty—and never forget that Slim's always had a heart. We know this because we can feel it in full flower on the grinding B.B.-like blues ballad (with vocal support from Wet Willie's Jimmy Hall) "Good To See You Smile Again," a warm, assertive message from Slim trying to bolster the spirits of a gal struggling to regroup from a shattering breakup. When his thoughts turn to his own woman, Slim is less upbeat. "Minutes Seem Like Hours" is set against a spooky, heavily reverbed guitar plucked deliberately and sounding like an effect you might have heard in a Roger Corman horror flick, all the better to emphasize the nadir of hope Slim's recounting when he considers the one that got away in a whispery, ragged voice that is as desolate as the thick-textured soundscape. Despite its title, "Make It Sound Happy" does not achieve the hopeful sentiment of its title, but rather stomps and pounds its way through five-minutes-plus of stinging guitar and a checklist of miseries that leaves Slim opining wearily, "Sometimes life just gets in the way/why can't the sun just shine every day?"
Too Slim and the Taildraggers, 'Minutes Seem Like Hours,' from Blue Heart
Too Slim and the Taildraggers, 'Preacher,' from Blue Heart
By its title alone you would suspect "If You Broke My Heart" would be a tearstained ballad, but instead Slim and company romp through it over the insistent pounding of producer Tom Hambridge's drums and Slim's wailing upper neck sorties—arguably his most dazzling, electrifying soloing on the disc—as our man admits to fearing his fate if his gal should take a powder, to wit: "Why does love feel like pain/nothing but obsession running through my brain/don't want to feel/wanna be numb/couldn't stand the pain/if you broke my heart." Conversely, and most humorously, on the fiery, David Duncan-penned "Shape of Blues to Come"—a rich track enhanced by the soulful support of Reese Wynans on B3–a more seasoned narrator entertains no illusion of a happy-ever-after, growling, Soon as you said/you'd love me forever/a chill went up my spine/I've ben through forever before/same thing happens every time/blue skies to a nasty downpour/love gets dragged through the mud once more…I got a real bad feeling about the shape of blues to come. No kidding. On the thumping "When Whiskey Was My Friend" Slim's turned to the bottle for comfort ("no one to talk to except this dog") while awaiting his woman's certain return—or as he sings, "long for my woman, she's gone so long she's coming back/I think she will/that's what she told me/I'm waitin' still…"—seemingly oblivious to the shape of his blues to come.
AUDIO CLIP: Too Slim and the Taildraggers, 'Angels are Back,' from Blue Heart
Ross Sermons's "Preacher," the album's penultimate tune, is a nightmare scenario populated by hypocritical men of the cloth ("the preacher man come around/with a bottle in his hand/with a bottle in his hand"), easy women and a fevered narrator trapped in a desperate scenario that offers no aid or comfort to him at a desperate time—a fact underscored by the shifting dynamics in the fury of the nearly song-length guitar pyrotechnics Slim engages in for some six-and-a-half minutes. In the context of Blue Heart, "Preacher" is a tease, a setup, a cruel joke played on a man at his wit's end. It leads to the surprising finale, "Angels Are Back," which announces itself with Slim's resonator guitar, dark and desolate, hard strummed save for the sudden, lethal sounding slide swooping in out of nowhere and just as quickly retreating. In his most vulnerable voice, wary and reserved, Slim chants, "Angels are back, angels are back…angels are whispering, whispering in my ear/time to come/they don't need you ' "round here." The sound is somewhere between the eeriest Delta blues and the persistent, foreboding drone of an Ennio Morricone score. Since Slim has set up his narrative voice as that of someone whose world is chaotic and troubled, lacking much light or even purpose, we have to be skeptical of the motives of these "angels," especially when they beckon him to "come home" and later comfort him with a soothing "you'll be alright, don't you be afraid/love will surround you"; then, perhaps sensing his reluctance, they prod him with "your body is failing, failing you now/your soul will live on/don't worry now." Sure enough, at the three-minute mark, the drone rises to a malevolent shriek, the slide slashes angrily through the soundscape, again and again, as Hambridge's once understated percussion (bongos?) intensifies. The musical maelstrom reveals these angels as being of the fallen sort, aiming only to torment, possess and lead their prey away from any possibility of a spiritual awakening. That the music ends with a startling suddenness after Slim chants anew, "angels are back, angels are back," suggests a dire fate ahead. Last year Slim's solo acoustic gem, Broken Halo, was rife with songs of hope, compassion, introspection. On Blue Heart, the creatures sporting those broken halos, having exacted harsh revenge for the slights of Broken Halo, finally reveal themselves at the end. Slim chooses to leave his fate an open question. Always leave 'em wanting more being the operative phrase here, where Slim heads with the heavy themes he's been exploring of late is reason enough to declare his next long player already to be eagerly awaited. Nothing much is at stake, it appears, other than  his soul.