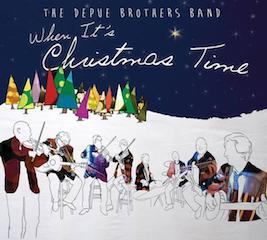 WHEN IT'S CHRISTMAS TIME
The DePue Brothers Band
Beat the Drum Entertainment
(released December 2013)
It begins with what will be for some listeners of a certain age the foreign sound of a disc dropping onto a turntable and being engaged by a tone arm's needle. A flurry of happy violins bouncing gaily along the track, and then a joyful banjo joining them, marks the start of the most rural version of Leroy Anderson's evergreen "Sleigh Ride" you might ever hear. Thus is the tone set for the album in the sense of its offering fresh twists on some beloved seasonal favorites secular and sacred alike. These are not all ruralized renditions however; the DePue Brothers are clearly at home in just about any genre, and those chops allow them to produce an album of diverse sounds and textures destined to become a seasonal classic.
The DePue Brothers' disarming arrangement of Vince Guaraldi's 'Linus and Lucy,' from When It's Christmas Time
Your faithful friend and narrator's only complaint, if it can be called such, is in the few vocal performances here being pleasant but not engaging at the deepest level. There's no plumbing for more complex emotions hidden in the pentimenti of these songs that would imbue them with ambiguities and moods you might not have expected to hear or have heard before. In fairness to the DePues, only a handful of artists have actually done this, none with more profound results than Frank Sinatra, whose body of Christmas work is dealt with in-depth elsewhere in Deep Roots. Don Liuzzo offers a fairly bland reading of "Have Yourself a Merry Little Christmas" that vocally doesn't even brook comparison with the Chairman of the Board's sensitive reading, but on the other hand it does soar over a very cool shuffling arrangement by honorary DePue brother Adam Glaser, featuring Jason DePue's lively fiddle work, ever engaging banjo interjections by Mike Mumford and a tasty, fleeting acoustic guitar solo (Alex DePue or Mike Mumford (listen close and you'll detect the additional atmospheric edge provided by guest Glenn Fischbach). Similarly, Wallace DePue's take on "The Christmas Song" won't have anyone forgetting Nat King Cole or Sinatra working wonders with the tune, but the laid-back arrangement is sumptuous and alluring in its spare, restrained quality, especially so when the violin adds a plaintive solo to the mix. The vocals do work, and wondrously so, however, on "When It's Christmas Time," a song written by the DePue Brothers' father, Wallace Sr., a former music professor at Bowling Green State University, to a funky pop-styled arrangement by his son Alex featuring violins aloft and zipping around the melody line, along with the brothers uniting in Beach Boys-style harmony on the choruses.
Banjo master Mike Mumford leads the DePue Brothers in a touching 'Medley of Carols' from When It's Christmas Time
Zach DePue's lead violin keys a cool take on 'Winter Wonderland' from When It's Christmas Time
However, belaboring the vocals needlessly detracts from the album's real strength, namely the exquisite instrumental renditions of holiday favorites—and exquisite they are. From the early music echoes blended with tastes of bluegrass in "Ding Dong Merrily On High"; to the Appalachian flourishes informing a majestic new take on Bach's "Jesus, Joy of Man's Desiring" elevating the tune into the spiritual realms explored in solo acoustic guitar versions by John Fahey and Leo Kottke; to Mike Mumford's breathtakingly beautiful banjo leading the way through a medley of sacred carols (including "What Child Is This," "God Rest Ye Merry, Gentlemen" and "Carol of the Bells," among others); to the disarming banjo-fiddle-acoustic bass-centered portion of Vince Guaraldi's "Linus and Lucy" that takes the song way up into the mountains before it breaks stride and charges headlong like the Wabash Cannonball jingling and jangling to its destination in the sort of jazz-based frenzy Mark O'Connor has mastered as an arranger. But nothing prepares you for the solemn, moving beauty of the closing track, a version of "Ave Maria" keyed by Wallace DePue's aching lead violin solo—all long, lean, weeping lines—enhanced by the delicate harmony violin support supplied by Jason and Zach DePue, as Alex DePue's piano supplies a reverent underpinning while at once heightening the emotional impact of the combined effort with Baroque embellishments of the melody line.
The DePue Brothers, 'Good King Wenceslas,' from When It's Christmas Time
Let nothing you dismay. When It's Christmas Time summons the spirit of the season with the best of 'em, even more so upon repeat plays. It's not too early to declare this one a Yuletide essential.