Bing Crosby popularized secular Christmas music, and then some, with his 1942 recording (later re-recorded in 1947 in the version most often heard today) of Irving Berlin's "White Christmas," but to Frank Sinatra goes the honor of making an art form of Yuletide music, sacred and secular alike. Crosby was on familiar turf when he cut "White Christmas" in an 18-minute session for Decca Records in May 1942, having already had a chart topping single with "Silent Night" in 1935. But Sinatra, then signed to Columbia Records, advanced an expansive vision of the import of seasonal songs by placing holiday-oriented fare and traditional carols together in settings alternately romantic and sensual, reverent and festive. Given his competitive nature, is it any coincidence that when Sinatra cut his first Christmas song in 1944, it happened to be "White Christmas"? And two years later, his second Christmas single release was… "Silent Night." Warnings shots of a sort were these, perhaps, to let his friend Der Bingle know Sinatra was ceding no ground to the only other singer in his league.
Unlike Crosby or any other popular artist, Sinatra went on to fashion an extraordinary legacy in Yuletide music, both in quantity and in vision, by introducing an album concept that remains the model for the contemporary Christmas album, spicing the repertoire with a dash of romance for extra sensual flavoring. In depth and all at once, he explored the full spectrum of the Christmas experience, even, in his later years, in the melancholy reflections of one who knows his time is short and acknowledges his treasured memories becoming more precious as the days dwindle down. Repeatedly he evinced a heightened understanding of the season's complexity–its festive rituals, its sacred tenets and its inward looking reflections centered on the bonds between family and friends–and made those the touchstones of his Christmas aesthetic. Moreover, especially on his later recordings, he approached his material with an understanding of the paradox of time: day after day we can mold it to our own designs, but we can never own it.
Sinatra recorded but one full Christmas album proper, 1957's A Jolly Christmas from Frank Sinatra, and it barely beat to market Elvis Presley's groundbreaking rock 'n' roll Christmas album (rock 'n' roll only on its A side, whereas its B side was comprised of traditional Christmas hymns alongside non-seasonal gospel standards by the likes of Thomas A. Dorsey). It was Sinatra, however, who established the holiday album template of sacred, swinging and reflective songs integrated in the sequence (as opposed to segregated on two sides) in such a way as to tell a richer, more nuanced story about the Yuletide experience by, in essence, using the sacred moments as soul searching pauses from the seasonal revelry. Granted this is but a small part of his gift to American pop music, but Sinatra put as much emotion into and gave as much truth to his Christmas endeavors as he did to the Great American Songbook so beholden to his stylings. "Throughout my career, if I have done anything, I have paid attention to every note and every word I sing–I respect the song," Sinatra once said, adding: "If I cannot project this to a listener, I fail." At this he rarely failed, and when he sang Christmas songs, never.
Frank Sinatra, 'Have Yourself a Merry Little Christmas,' from the Gordon Jenkins arranged and conducted 1957 album, A Jolly Christmas with Frank Sinatra (later reissued with a new cover as The Sinatra Christmas Album, as shown in this video).
As you visit stores this holiday season, listen for the number of times you hear Sinatra songs playing overhead. Or on TV commercials. Or on radio. His has become the voice of Christmas in America. No other artist has recorded so many Christmas songs so endemic to, so inseparable from, our annual holiday rituals, whether those be in our family circle, in gatherings of friends, or in church. His is the warm, soothing voice bringing a message of love and romance, the swaggering voice raising a glass and offering glad tidings to all, the humble, still voice solemnly evoking and invoking the Christian faith's most holy night and its larger meaning of "peace on earth/good will to all." This from a man whose life was fodder for a cottage industry of books and articles speculating on and documenting his many loves, his nefarious underworld connections, his boorish public behavior at times, to which he gave the only response that matters: "Whatever else has been said about me personally is unimportant. When I sing, I believe I'm honest." To flog the point one more time, the level of honesty Sinatra brought to his Christmas oeuvre set the standard for all who have followed him into this territory.
Despite pages upon pages of recordings available at amazon.com and barnesandnoble.com, Sinatra's Christmas outpourings are neatly contained on four CDs: Christmas Songs by Sinatra offers 15 tunes from his Columbia Records years, recorded not as an album but as singles, beginning with the 1944 "White Christmas" followed by the 1946 "Silent Night," (note: some are from WWII V-Disc recordings, and three are radio airchecks), with all the studio tracks under the aegis of the first great arranger/conductor in Sinatra lore, Alex Stordahl. From his near-nine-years with Capitol Records came the one planned Christmas album, arranged by Gordon Jenkins, 1957's A Jolly Christmas from Frank Sinatra, reissued in 1963 with a new cover as The Frank Sinatra Christmas Album, then in 1987 was restored, remastered and reissued with its original cover (a drawing of a jaunty, smiling Frankie amidst falling snowflakes with his fedora tipped at a rakish angle; versions with the original drawing's black background and a brighter red background are both available) with added bonus tracks in the form of two wonderful recordings from 1954, arranged by Nelson Riddle but excluded from the 1957 release. (Consider for a moment the good fortune of an artist who can leave Nelson Riddle arrangements in the can because he has a dozen superb ones from Gordon Jenkins at hand. The mind reels.) From his own Reprise label, two CDs offer overviews of the mature artist's holiday musings: 1994's The Sinatra Christmas Album, containing 13 tracks, and 1999's 18-track Frank Sinatra: The Christmas Collection. Regarding the latter two, during his Reprise years Sinatra released no dedicated Christmas albums, save for one he recorded in 1968 with his son Frank Jr. and daughters Tina and Nancy, The Sinatra Family Wish You a Merry Christmas, from which the trio's sprightly "The Twelve Days of Christmas" has become a holiday radio staple. In 1964 he participated in a now-long-out-of-print project released on Reprise titled 12 Songs At Christmas, teaming up on five cuts with Fred Waring and His Pennsylvanians (with Bing Crosby sitting in as well on two of those five), with the other selections being by Crosby and Waring together, sans Sinatra. The Christmas Album and Christmas Collection both contain Christmas singles Sinatra cut for Reprise and tastes of the Sinatra Family album ("The Twelve Days of Christmas") as well as multiple tracks from the 12 Songs endeavor; the Collection also includes three performances (two with Bing) from the 1957 TV special, Happy Holidays With Bring and Frank, and one seasonal favorite, the Dick Reynolds-arranged "I've Got My Love to Keep Me Warm," from Sinatra's first Reprise album (his label's first release, at that), 1960's Ring-A-Ding-Ding!, which was issued with a cover drawing almost identical to the illustration gracing the cover of A Jolly Christmas from Frank Sinatra, minus the holiday embroidery.
Columbia & Stordahl: Bright-Eyed and Bushy Tailed
Sinatra's first foray into Christmas music came during a November 14, 1944 session arranged and conducted by Axel Stordahl.
Born in New York City in 1913 to Norwegian parents, Stordahl, a trumpeter, joined Tommy Dorsey's orchestra in 1935 and became its primary arranger. Hired as a Dorsey vocalist in 1940, Sinatra found a comfort zone in Stordahl's arrangements. The two worked together on Sinatra's first recording sessions, for Bluebird, in 1942, and when Sinatra signed to Columbia as a solo artist, Stordahl followed and arranged most of the 300-plus sides Sinatra cut for the label over the next 10 years before bolting to Capitol (and taking Stordahl with him again, although their partnership petered out after the singer's early recordings flopped commercially). Almost all of the Columbia Christmas sides were initially issued as singles, then in a 78 RPM EP and, finally, on a long playing album. The best compilation available of these tunes is the 1994 CD/cassette, Christmas Songs by Sinatra, featuring the same cover used on the EP and LP, depicting a beaming Frank's visage on a red Christmas ball hanging on an evergreen. However, the content of this collection has made Sinatra purists bristle at its unexplained substitution of alternate takes of "White Christmas," "Jingle Bells" and "It Came Upon a Midnight Clear" rather than (in the case of the first two) the original hit singles. The release is fleshed out with three carols released on V-Discs recorded for broadcast to U.S. troops overseas and three airchecks from radio shows.
Frank Sinatra's first Christmas recording, 'White Christmas,' 1944, recorded for Columbia Records, with arranger Alex Stordahl. As heard on the album Christmas Songs by Sinatra.
That said, from the sound of tolling bells preceding the entrance of keening strings on "White Christmas," the first song in the collection, Stordahl makes lush settings the order of the day in realizing the full impact of Sinatra's approach to holiday fare. Here and elsewhere, the Chairman's vocals are smooth and airy, his voice lighter than it would be by the time he got to Capitol. Stordahl's strings were always active in Sinatra's Christmas songs, either complementing the singer's mood or serving as colorful, atmospheric flourishes–swirling, jubilant ascending lines and soft, soothing descending ones are Stordahl trademarks, along with close-miked male and female background voices typically supplied by the Ken Lane Singers (the same Ken Lane who later became Dean Martin's musical director and was a regular on Dino's popular '60s TV show, as well as the composer of Dean's timeless hit, "Everybody Loves Somebody"). But Stordahl, coming from a trumpet background, was one of the best brass arrangers Sinatra ever worked with, rivaled only by Billy May. He may never have been better than on the swinging 1947 alternate take of "Santa Claus Is Coming to Town," when he set up the singer's jaunty vocal with a burst of brash brass, a sputtering sax solo and cool, percolating woodwinds; or consider the alternate take of "Let It Snow! Let It Snow! Let It Snow!" with Sinatra at his most playful, romping through the vocal in a rousing, brass-driven arrangement punctuated by trumpet blasts, at one point answering the feisty vocal support of the B. Swanson Quartet by shouting extemporaneously, "Let it snow!" and generally making of this a moment of pure, infectious delight perfectly mirrored by the bustling arrangement. Rarely leaving Sinatra's voice unadorned, Stordahl instead kept it surrounded–pillowed, you might say–by strings, chorus, and to a lesser extent brass. There are exceptions–consider the first version of "Christmas Dreaming (A Little Early This Year)" Sinatra ever recorded, in 1947, in which the arranger crafts a delicate, romantic string and woodwind arrangement around Sinatra's dreamy, swoon-inducing vocal, and only rarely embroiders it, as at the end of the first verse, with a whimsical, descending pizzicato line resolving to the second verse.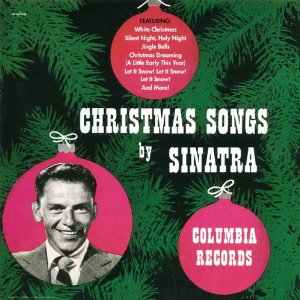 Five of the songs here are religious carols (not counting the snippet of "Joy to the World" we hear in a medley taken from a dress rehearsal of a December 1945 broadcast of The Frank Sinatra Show released on V-Disc); as he would throughout his career, Sinatra treats each one with care, aided and abetted in his humble approach by the beautiful alternating parts supplied by the Ken Lane Singers. He's at his best in a dramatic production of "O Little Town of Bethlehem," a song he would reprise on his first Capitol album, arguably even more effectively than he does here. (This album also contains his first recording of "Have Yourself a Merry Little Christmas," a standard he would revisit twice more in two different decades for two other labels. On this initial foray into the Hugh Martin song, in 1948, Sinatra sang the sad lyrics Martin had written for Judy Garland's 1944 version in Meet Me in St. Louis. In 1957, when he was working with Gordon Jenkins on his first full Christmas album project, Sinatra called Martin, informed him that his album would be called A Jolly Christmas and then beseeched the songwriter to lighten up the lyric "we'll have to muddle through somehow" to better fit the current theme. Which Martin did, for the requested lyric and a couple of others with a melancholy tinge.) The 1947 treatment of "O Little Town of Bethlehem" has a pleasing tension between Sinatra and the Ken Lane Singers' restrained approach to the story in contrast to the exuberance of Stordahl's full-bodied strings–whereas the voices articulate the wonder, majesty and meaning of the Christ child's birth ("the hopes and fears of all the years/are met in Thee tonight"), the strings proclaim His arrival in jubilant tones. But as the final verse begins, the orchestra recedes, so still it seems as if Sinatra is singing a cappella as he enters sotto voce, sounding awestruck by the unfolding drama as he intones, "How silently, how silently, the wond'rous gift is given…" and then adopts a firmer but no less gentle tone to underscore the larger meaning at hand, to wit, "God imparts to human hearts/the blessings of all His heavens/No ear can hear His coming/But in this world of sin/Where meek souls will receive Him still/The dear Christ enters in/Amen." Stirring lyrics delivered straightforwardly, avoiding subtextual shading where none is needed. Discounting the radio airchecks, when Stordahl did not accompany him, the songs collected here, in aggregate, suggest the template Sinatra would perfect when he recorded his first, and only, full-fledged Christmas album with arranger/conductor Gordon Jenkins for the Capitol label in 1957.
'Have Yourself a Merry Little Christmas,' from Sinatra's 1948 sessions with Alex Stordahl, doing the song as Hugh Martin wrote it for Judy Garland in the 1944 film, Meet Me in St. Louis.
'Have Yourself a Merry Little Christmas,' the second of three versions Sinatra recorded, this one with producer Gordon Jenkins for his 1957  A Jolly Christmas album. Before recording, Sinatra called songwriter Hugh Martin and asked him to lighten up the 'we'll muddle through somehow' lyric to be more appropriate for an upbeat album. Martin responded with "hang a shining star upon the highest bough."
Capitol & Jenkins: Shadows Amidst the Light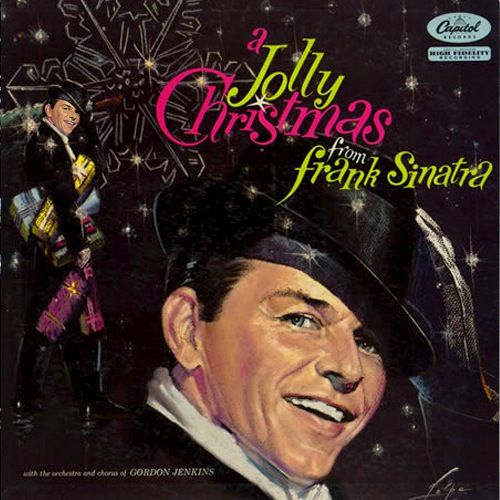 Someone at Capitol must have had an odd definition of the word "jolly" because half the songs on A Jolly Christmas from Frank Sinatra are solemn, lush productions celebrating the Christ child's birth. Veteran disc jockey Jonathan Schwartz, a Sinatra friend and authority who currently broadcasts on XM Sirius and on the New York City public radio station WNYC (and has continued the "Sinatra Saturday" show he launched during his days at the late, lamented WNEW-AM in Manhattan), has referred to A Jolly Christmas as being "almost like a torch album, so sad and beautiful." No argument with the torch part or the beautiful part of that statement, but where Schwartz hears sadness others will hear humility and reverence, an artist engaging his material fully in spirit and in spirituality. No matter the perspective, beauty ensues.
On board as arranger and conductor, Gordon Jenkins had inaugurated what proved to be a long-term relationship with Sinatra earlier in '57 with the album Where Are You? (Their collaboration spanned the Capitol and Reprise years, during which time Jenkins won a Grammy for his work on Sinatra's moving 1965 album, The September of My Years, and steered Ol' Blue Eyes' last truly great album, 1981's She Shot Me Down, a classic of saloon-style brooding.) Jenkins was in the midst of a stellar career when he joined Capitol in '57, having been successful as a songwriter, bandleader (with a million seller, "Maybe You'll Be There," in 1949), conductor and arranger; in 1949, when he was musical director (in effect, head of A&R) for Decca Records, one of his most successful and controversial signings was the unabashedly leftist folk group the Weavers, with Pete Seeger, and his fusion of the Weavers' pan-cultural music with his own pop-based orchestral arrangements led to several popular singles, including the group's best known recording, Lead Belly's "Goodnight Irene."
Jenkins's collusion with the Weavers, in its seamless mesh of vibrant pop backgrounds with the topical poetry of folk music, is instructive in considering A Jolly Christmas from Frank Sinatra, which has that same sort of penthouse elegance in its music and plainspoken eloquence in its lyrics. Jenkins's arrangements are unfailingly majestic but also soothing, the better to complement an approach Sinatra embraces throughout the recording: suitably obeisant, deeply introspective, his readings are sonorous and humble, subservient not to melody and rhythm but to the sacred event and the seasonal mood honored in the lyrics. Jenkins also makes artful use of the Ralph Brewster Singers, less as a background or atmospheric element than as a voice equal to Sinatra's–a typical pattern is for Sinatra to begin the song, then give way to the Singers for a verse, or even two, allowing the beautiful ornamentation of those blended male and female voices to set the stage for Sinatra's dramatic return. But Jenkins also mixed it up a bit, sometimes employing the full complement of voices at once or, as he does at the end of "O Little Town of Bethlehem," deploying only the sopranos to enhance the tenderness of the lyrics' closing sentiment. In "White Christmas," the arrangement unfolds at an easygoing pace, as distinct from the cheery, lighthearted tempo Sinatra and Stordahl favored on the Columbia recording 13 years earlier. Here too Jenkins makes effective use of the male-female chorus and a dash of atmospherics behind Sinatra's casual but searching vocal, discreetly injecting the sound of distant sleigh bells into the mix of gathering voices and dreamy strings. "A Christmas Waltz," now one of the most beloved of all Sinatra Christmas recordings, made its first appearance here–or rather, its first two appearances. The reissued recording now includes both the Jenkins-arranged song from '57 and Sinatra's original recording of the song in 1954, with Nelson Riddle, the legendary arranger of Sinatra's most important and daring recordings of the 1950s, landmark concept albums of American pop music such as Only the Lonely and In the Wee Small Hours. Riddle's "A Christmas Waltz" opens with a rush of descending strings and a flurry of woodwinds, then proceeds apace at a more, well, "jolly" gait than other songs here, whereas the Jenkins-arranged version provides Sinatra a bigger backdrop in its more prominent choral arrangement and heftier string parts–where Riddle offered feathery support, Jenkins fashioned a sturdier architecture. This Jenkins-arranged rendition also features Sinatra adding a cheery "Merry Christmas!" salutation at the end, whereas he closed the other recordings by singing his season's greeting as a soft, tender salutation.
Frank Sinatra, 'The Christmas Waltz,' from the 1957 album, A Jolly Christmas with Frank Sinatra, orchestra arranged and conducted by Gordon Jenkins, released on Capitol Records.
Amidst all this chatter about Gordon Jenkins and Nelson Riddle, Sinatra remains the story. Renowned for his effortless, swinging vocal style, the Chairman of the Board here occupies the middle ground, staying resolutely in mid-register throughout, singing beautifully and with great feeling but with little overt showiness. His effortless glide into his upper register in "Have Yourself a Merry Little Christmas" is startling precisely because his vocals have otherwise been so straightforward and unembellished, indicative of his high regard for the message the lyrics convey and his artist's instinct to know when to stand back and let it all be. Taken as a whole, the performances on A Jolly Christmas are fairly deceptive because they seem so controlled; the Chairman rarely plays with a song's rhythmic line or alters a lyric. But in fact the discipline he exerts over his own style gives the album a moral gravitas, if you will, by suggesting it's not the singer after all, but the song. Lacking colorful vocal flourishes but abundant in arresting interpretive choices, A Jolly Christmas stands among the recorded Sinatra's most deeply moving and intensely personal statements.
Reprise, Riddle & Costa: The Mature Caroler
From his later years as a mature caroler, Sinatra's seasonal discourses are compiled on two albums, 1994's The Sinatra Christmas Album, and 2004's The Christmas Collection. The latter obviates the need for the former, since it contains the same 13 cuts plus five new ones. An added inducement to opt for The Christmas Collection: nine Nelson Riddle arrangements, in contrast to the Christmas Album's six. Game, set, match.
The Oradell, NJ-born Riddle had spent most of a year with the Tommy Dorsey Orchestra in 1944-45 before being drafted by the U.S. Army; after his discharge in June 1946, he moved to Hollywood hoping to establish himself as an arranger. In 1950 arranger Les Baxter enlisted him to work with Nat King Cole, and the upshot was the single "Mona Lisa," one of the biggest hits of Nat's career and the start of a fruitful, decade-long Cole-Riddle association. Two years later Capitol executives brought him in to work with Sinatra, who was struggling commercially with Alex Stordahl. On April 30, 1953, Sinatra and Riddle initiated their partnership with "I've Got the World On a String," a career-reviving hit that was but prelude to a series of great, complex pop concept albums during that decade, notably the aforementioned Only the Lonely and In the Wee Small Hours. When Sinatra launched his Reprise label in 1962, Riddle came along with him and would remain his arranger of choice through most of the decade, before Sinatra turned increasingly to younger arranger/producers, notably Sonny Burke and Don Costa.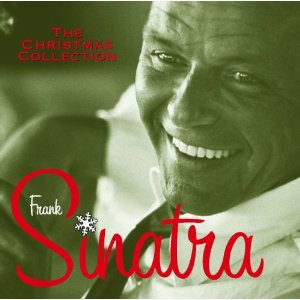 Riddle's arrangements for Sinatra were ideal dramatic backdrops for the songs' narratives. Employing a large orchestra and a healthy mix of male and female backup singers, Riddle also demonstrated a great sense of timing in knowing when to inject a dramatic burst of brass, a rush of woodwinds, a rumbling of timpani or a sprinkling of percussion effects (triangles, finger cymbals). One of his finest arrangements came in the June 16, 1964 session for "I Heard the Bells On Christmas Day," the powerful testimony of faith reborn originally crafted as a poem by Henry Wadsworth Longfellow and set to music by Johnny Marks, he of "Rudolph The Red-Nosed Reindeer" fame. As the strings ascend gradually the chorus of singers proclaims, "Ding! Dong! Ding! Dong!" four times, ahead of a sudden, instant calm preceding Sinatra's entrance. Deliberate but assured, he reads the lyrics with a solemnity that brooks little vocal coloration–his is a determined quest of conscience, to find a reason to believe in a better world when evidence around him suggests a further downward spiraling of civility. Between the first and second verse he pauses, the strings respond with a rapid glissando, the chorus repeats a hearty "peace on earth/good will to men" refrain, and Sinatra begins anew, "And in despair I bowed my head/there is no peace on Earth I said/for hate is strong/and mocks the song/of peace on earth, good will to men"–he bites down on the word "mocks," delivering it in a spiteful tone, as if he's ashamed of himself for being played a fool. Following another split-second pause, a bell tolls once, and Sinatra, his tone both stentorian and authoritative, extols the revealed message: "Then pealed the bells more loud and deep/God is not dead nor doth he sleep/the wrong shall fail/the right prevail/with peace on earth, good will to men," as the arrangement erupts in a triumphant crescendo of strings, bells and voices, the latter repeating their introductory "Ding! Dong! Ding! Dong!" as the song rises majestically, then slowly fades out.
Frank Sinatra, 'An Old Fashioned Christmas,' by Sammy Cahn and James Van Heusen, recorded with Fred Waring & His Pennsylvanians, conducted and arranged by Nelson Riddle.
"I Heard the Bells On Christmas Day" demanded of Riddle and Sinatra an extroverted arrangement and large gestures, figuratively speaking; but they had no problem taking matters at a leisurely, dreamy pace, either, as they did most effectively on the August 12, 1968 session for the singer's third run at "The Christmas Waltz" (and second with Riddle). Riddle's beautiful arrangement provided ample room for a straightforward, mellow reading by Sinatra, who adopts a soothing approach through most of the track; shadowing him are silky strings, flutters of woodwinds, and the harmonizing voices of the Jimmy Joyce Singers, all on a gradual ascent to the song's denouement, only to fall away after Sinatra finishes and the flutes surface with a sprightly few bars of "Jingle Bells" (an homage, perhaps, to the enduring signature guitarist Johnny Moore affixed to the end of Nat King Cole's "The Christmas Song," now a part of that classic's standard arrangement?), the male and female voices trade "Merry Christmases" and Sinatra returns to croon a tender "Merry Christmas" of his own. From the album 12 Songs of Christmas comes "An Old Fashioned Christmas" by Sammy Cahn and James Van Heusen (Van Heusen was the most recorded songwriter in Sinatra's history, with the Chairman of the Board favoring nearly 80 of his compositions on record; Richard Rodgers is a distant second with 55 tunes in the Sinatra catalogue). Recording with Fred Waring & His Pennsylvanians, Riddle opted for a medium flame–the arrangement uses the full orchestra and the singers are shadowing Sinatra throughout the entire tune, but true to the lyrics' longing for a simpler time, the presentation, while hardly lacking for energy, is tinged with melancholy at the memory of something now out of reach but vividly recalled for its comforts and security. Only a guarded crescendo in the final stanza betrays the roiling emotion implied in Sinatra's reading. When the mood was lighthearted, Riddle responded with wit and alacrity–from 1968's The Sinatra Family Wish You a Merry Christmas album (teaming Frank with his offspring, Tina, Nancy and Frank Jr.), an updated version of "The Twelve Days of Christmas" ("five ivory combs, four Meerschaum pipes, three golf clubs, two silken scarves and a most lovely lavender ties" for their loving dad) features one of the boldest, friskiest uses of brass (especially a tuba section harmonizing with the male voices on the "four Meerschaum pipes" segment) in the Riddle oeuvre, whereas "I Wouldn't Trade Christmas" (another Cahn-Van Heusen co-write), a lighthearted romp with a Broadway feel, waltzes breezily along on wings of woodwinds and chimes, as Frank and his kids ham it up on the vocal and are supported by a polyphonic cascade of male and female singers until it reaches its close, when Riddle turns the brass loose on a lively, trebly coda.
Both Reprise titles include selections from Sinatra's pairing with producer Don Costa, whose work on a handful of numbers earns him a spot in the pantheon with Stordahl, Jenkins and Riddle, at least when it comes to Christmas fare. One of the most powerful of all latter-day Sinatra performances came on The Sinatra Family Wish You a Merry Christmas, with Frank, sans children, deeply immersed in a torch reading of Jimmy Webb's wistful "Whatever Happened to Christmas." This might qualify as a Christmas classic were it less suffused with humbuggery, but as the saying goes, it hurts so good. So maybe it is a classic anyway. By any standard it's a stunning performance, and not coincidentally, Riddle's involved in it, although the heart-tugging, dark-hued arrangement is by Costa; Riddle is on board directing the Jimmy Joyce Singers and Orchestra.
As the story unfolds in a brooding minor key, Sinatra intones Webb's poignant lyrics, seemingly addressing a populace that had allowed the true meaning of the season to be fatally altered, for reasons unspecified, although coming in 1968, as this recording did, it's easy to hear it as a comment on a fractious society losing its bearings a year after the Summer of Love. "Whatever happened to Christmas/to the Christmas way of living/whatever happened to the giving/the magic in the snow/remember the sighs and the smells and the sounds/and remember the cheery call/remember how love was all around/whatever happened to it all," Sinatra laments over a somber, string-laden backdrop with low, humming voices resolutely in soft focus as the controlled intensity of his reading mounts. Only at the end, after he has enumerated all the ills afflicting the season, do we learn he's singing from deep within a broken heart, unable to feel or understand anything save his own despondency: "Whatever happened to Christmas," he queries again at the end, before adding the devastating P.S., "Where was I and whatever happened to you/whatever happened to Christmas, and you." Blindsided by a betrayal he cannot fathom, not only did he fail to see it coming, he still doesn't know what hit him.
Frank Sinatra, 'Whatever Happened to Christmas,' one of the Chairman's greatest Christmas recordings, of a song penned by Jimmy Webb, arranged produced by Don Costa, with Nelson Riddle directing the Jimmy Joyce Singers and Orchestra. Originally released on The Sinatra Family Wish You a Merry Christmas, the recording is now available on The Christmas Collection.
On a more positive note, the last Sinatra Christmas single released on Reprise was 1975's "Christmas Memories" b/w John Denver's "A Baby Just Like You." Costa was steering both, and did Sinatra proud with sensitive arrangements awash in soothing strings, atmospheric devices such as the joyful glockenspiel frolicking at the end of "A Baby Just Like You," as well as that song's festive choral support. Both tunes have strong nostalgic components but neither is, for lack of a better term, mushy. "A Baby Just Like You" is a bright, lullaby-like number with the singer reflecting on Christmases of his youth as he ponders "a little angel" who's "given back my joy in life and filled me with new meaning." The Christ child? No, but a child indeed–Sinatra's first grandchild, newly born at the time of this recording and memorialized in the last verse, when Sinatra substitutes her name–Angela–for the "Zachary" referenced in Denver's version. That's some kind of all-time present from your grandfather. "Christmas Memories," written by Alan and Marilyn Bergman and Costa, is a smooth, introspective ballad reminiscing fondly about Yuletides past. In his tender reading, Sinatra caresses each phrase gently and evokes memories burnished by the joys of many Christmases, from the smell of cookies baking, to "cards and ribbons everywhere," to the births of new children in the family. Costa frames these musings in a plush cushion of strings and voices, injecting lightly ringing sleigh bells here and there, but keeping it all restrained, and reassuring.
Bing Crosby makes appearances on both The Sinatra Christmas Album and The Christmas Collection. Each disc includes two cuts from 12 Songs of Christmas, both pairing the singers on a cheery, swinging "We Wish You The Merriest," and the fluffy, "Sing Along With Mitch"-style gospel celebration of "Go Tell It On the Mountain." Also included: three previously unissued cuts retrieved from a 1957 Sinatra-directed half-hour TV special, Happy Holidays With Bing & Frank, which aired only once, that December on ABC, and then retired to the vaults of Sinatra Enterprises and the Crosby estate. In 2003 the latter issued the show on DVD, with Sinatra Enterprises following suit in 2010 with a more vibrant color restoration announced by Nancy Sinatra on the Sinatra Family website. The Collection cuts include Frank solo on a bopping treatment of "Santa Claus Is Comin' To Town," and two easygoing duets between the principals on a low-key "The Christmas Song" (on which Bing gives a clinic in sensitive crooning) and a beautiful, string-enriched "White Christmas," Bing's signature Yuletide tune on which he gently goads Sinatra into dueting on the chorus (you can hear him chiding Frank with "Don't just stand there" before the chorus begins).
Promo for the DVD release of Happy Holidays with Bing and Frank, the 1957 Sinatra-directed half-hour TV special (Frank's first directorial effort, at that), Frank and Bing indulge in 'a little toddy for the body' and break into song, a lively 'Jingle Bells,' to be exact. Posted at YouTube by the Frank Sinatra Estate.
More problematic is the final cut on The Christmas Collection, a previously unissued recording of "Silent Night" recorded by Sinatra on August 27, 1991, as part of his daughter Nancy's project of holiday music to benefit a children's charity. Three years had lapsed since Sinatra's previous recording session, and he was reportedly under the weather to boot. In the liner notes Nancy recalls, "It was an emotional day, because he was doing it for the children. He was not feeling good that day and it was difficult for him to record. I hear the weakness and the frailty in his voice, and it is so sweet and tender it is just heart-wrenching." Sinatra managed to get his vocal done, but the track remained on the shelf until 2004, when producer Charles Pignone tried to salvage it. To arrange an instrumental backing he brought in Sinatra friend Johnny Mandel, who had been the arranger/conductor on Sinatra's first Reprise sessions, added another Sinatra associate in Terry Woodson, and assembled a group of musicians with long histories of touring and/or recording with Sinatra. With Frank Sinatra Jr. conducting the orchestra, the recording was completed, but remained unissued until its inclusion here. Nancy's appraisal of her father's condition is astute, to say the least. The great Sinatra voice is weathered and shaky, the phrasing is haphazard and ragged, it's almost painful to endure the performance knowing what the man could do when he was right. He was only four years from his death when he cut the vocal in '94, and all he had left was spirit. That's what comes through on "Silent Night," a Christmas carol of the sort that brought out the best in him, as he appealed to the best in us in singing, repeatedly, of peace on earth, good will towards men, the sanctity of family, the strength of friendship, and the quest for spiritual renewal. From the youthful longing of "White Christmas" in 1944 to the weathered, weary serenity of "Silent Night" in 1991–and everything in between in those 47 years–Sinatra revealed the Christmas song in all its beauty and complexity as no artist before or since his time. The season is richer for his voice telling its story, the music more meaningful for generations yet unborn that will hear what he wrought and, one hopes, appreciate the richness of the experience it describes. The Chairman of the Board's Yuletide report postulates beneficence on humankind's part that, no matter how idealistic, remains worth striving for. What greater gift could he have left us?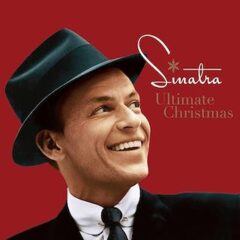 POSTSCRIPT: In 2017 the Sinatra estate in tandem with Universal Music released a double-CD collection titled Ultimate Christmas. There's nothing new here, but its 20 cuts do offer fans a nice overview of the Sinatra Yuletide recordings, from 1944's "White Christmas" to 1994's unsettling "Silent Night" sign-off, including four cuts from the often-overlooked The Sinatra Family Wish You a Merry Christmas. Much like the recordings on Elvis's two Christmas albums, which RCA/BMG has found ways to repackage a half dozen times or so as if they were new, Capitol has found multiple ways to repackage the Chairman's Yule catalog; but Ultimate Christmas is the most pleasing of these in its inclusiveness of key tracks from Sinatra's entire body of Christmas recordings.
In an interview with Variety published to coincide with the release of Ultimate Christmas, on December 21, 2017, Nancy Sinatra, in response to reporter Chris Willman's query as to whether she regarded her father as the preeminent voice of Christmas, replied not in a boastful way but rather by noting, tenderly, the enduring emotional impact of her father's Christmas recordings as proof of something being of a higher order, Said Nancy: "I really think he might be the voice of Christmas. Someone might argue that, because of 'White Christmas,' Bing Crosby's is. I don't know. I just think that the sentimentality of my dad's recordings is what grabs people. He was emotional when he sang them, and people are emotional when they hear them. That doesn't really change. And we can hope that every child who hears 'Have Yourself a Merry Little Christmas' will carry that through life to his or her family."
Again: What greater gift could he have left us?