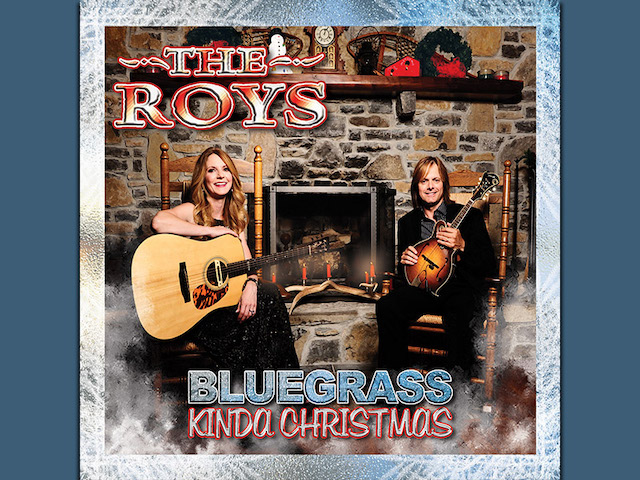 BLUEGRASS KINDA CHRISTMAS
The Roys
Rural Rhythm
This year's crop of new holiday releases has been one of the weakest in recent memory (thanks to eagerly anticipated but ultimately disappointing efforts from Idina Menzel and Renee Fleming putting the damper on the high-profile end of the market), but even in the strongest years the Roys' delightful Bluegrass Kinda Christmas would be a standout. The sibling duo of Lee and Elaine is ending 2014 on a high note, with a heralded new studio album, The View, making its debut in September (earning Album of the Week honors at Deep Roots) and now with their first seasonal effort, featuring one new original tune (the title track) amidst a thoughtful collection of country and bluegrass Christmas tunes of mostly recent vintage plus a couple of evergreens.
The Roys' own new tune ("Bluegrass Kinda Christmas," a co-write with Steve Dean) is a lively seasonal celebration, with Elaine taking a sprightly lead vocal, Lee providing a warm harmony and everyone taking the spotlight for lightning-strike solos that show off the precision and soul of fiddler Clint White, banjo man Daniel Patrick, bassist Erik Alvar and Lee on mandolin.
Elsewhere the Roys put their own stamp on some familiar secular seasonal songs and take time for some stirring reverent moments marking the signal event for Christmas being Christmas. One of these is the quiet ballad "There's a New Kid In Town," the Don Cook-Curly Putman-Keith Whitley co-write describing the townspeople of Bethlehem's puzzlement over the attention being paid the babe born in a manger "down the road" who might be the King foretold by prophets of old but right now is little more than "just another baby." Lee takes the lead vocal, never overdoing the emotion, the better to emphasize how strange that night must have seemed to everyone clued in to the unfolding drama, accompanying himself on mandolin, with Clint White adding a subdued fiddle part and Josh Swift making his lone appearance on the album with a poignant dobro solo. On a traditional note, "O Holy Night" is majestic and haunting for being so spare an arrangement, with Elaine's lead and Lee's harmony soaring over a subdued backdrop keyed by White's long, lean fiddle cries and touching solo moment.
The Roys, 'There's a New Kid in Town' (Don Cook-Curly Putman-Keith Whitley) from Bluegrass Kinda Christmas
Although the album is upbeat in attitude and mood, the Roys do take time to reprise a topical song about hard times that unfortunately remains as timely in 2014 as it was when Merle Haggard wrote and released it in 1973—"If We Make It Through December." The Roys slow the tempo and bluegrass it up with White's fiddling, Patrick's banjo and Lee's mandolin, all again low-key and in keeping with the melancholy mood. In his otherwise sturdy lead vocal Lee's voice wavers ever so slightly, revealing the brave face he's putting on at a challenging moment when he's lost his job, contemplates moving to "a warmer place come summertime" and laments disappointing his little girl who can't understand "why daddy can't afford no Christmas gift this year."
The Roys, 'If We Make It Through December' (Merle Haggard), from Bluegrass Kinda Christmas
On the upbeat side, there's a jubilant anticipation of homecoming and family reunion in the buoyant, fiddle-fired treatment of Dolly Parton's "With Bells On" (from her 1997 Once Upon a Christmas duet album with Kenny Rogers); a frisky treatment of Buck Owens's delightful "Santa Looked a Lot Like Daddy," with Lee tweaking listeners with an ever-so-slight dip into ol' Buck's familiar drawl and having as much fun with the narrative as Buck seemed to have in his original recording from 1965's Christmas With Buck Owens. Benjamin F. "Tex" Logan was a fiddling Bell Labs engineer who did pioneering work on digital audio in the 1950s, some time after he wrote "Christmas Time's A-Coming," which became a popular bluegrass and country Christmas tune after Bill Monroe cut it in 1951. The most amazing version is on Emmylou Harris's Light of the Stable album, mostly owing to Bryan Bowers's stunning autoharp solo on the first break. Lee's mandolin takes the place of the autoharp here in an easygoing midtempo arrangement keyed by the sibling harmonies and White's energetic fiddling.
The Roys, 'Christmas Time's A-Comin'' (Tex Logan) from Bluegrass Kinda Christmas
From Patty Loveless's essential 2002 Christmas album Bluegrass & White Snow: A Mountain Christmas the Roys have a high old time appropriating "Santa Train" (written by Loveless and her husband-producer Emory Gordy, Jr.), a fanciful interpretation of Kris Kringle's preferred mode of transportation complete with brisk solos by Lee (mandolin), White (fiddle) and Patrick (banjo). To close the album Lee and Elaine strike up the band on Charley Pride's "Santa and the Kids," from Pride's 1970 Christmas In My Home Town album. A cool, loving song about parents trying to settle down anxious kids at bedtime on Christmas Eve, its engaging bluegrass arrangement and the Roys' soothing harmony vocals sneak in a message relevant well beyond the Yuletide when they sing, "Don't look for Santa Claus, my mama used to say/'cause if he sees you peeking, he'll just go away/so listen to your mom and dad, every word they say/they will never lead you wrong in any kind of way/just close your eyes and go to sleep, with haste and no delay/and your presents he will bring on this Christmas day." Tasty solos from fiddler White and banjoist Patrick enhance the backwoods atmosphere and send A Bluegrass Kinda Christmas home on a properly thoughtful note and close out a most meaningful year for The Roys.