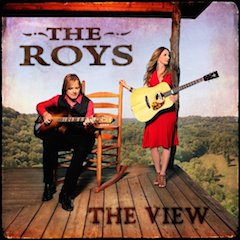 THE VIEW
The Roys
Rural Rhythm Records
Steeped in traditional bluegrass and existentialism, much-honored American-born, Canada-raised siblings Elaine and Lee Roy come of age as artists on their third album. That this is so may be only a matter of degrees from what they delivered on their terrific 2013 album, Gypsy Runaway Train (a Deep Roots Album of the Week, June 18, 2013), but it's due to the duo transferring their individual existential concerns from last year to the lives of others they write about on The View.
To recap, Gypsy Runaway Train reflected what the abovementioned Deep Roots review called "a true annus horribilis" for Lee and Elaine: the former lost his beloved father-in-law (and honored this giant of a moral man in his sweet, moving bluegrass ballad "Another Minute"); the latter lost her marriage, with the resulting upheaval and confusion informing three wrenching original songs she contributed to the Train and sang with wrenching emotion. The sense of cataclysmic loss ran so deep through those songs as to color all the album's other numbers, lending the proceedings a conceptual feel.
But over the course of two albums and an EP (New Day Dawning, 2012) The Roys have remained true to their traditional bluegrass sound while introducing subtle new wrinkles into it (on The View, for instance, Lee adds mandocello and mandola to the instrumental mix) and finding new ways to express their traditional values and spirituality in song.
The Roys discuss The View track-by-track
On The View what might have been heard as solipsism on Gypsy Runaway Train has given way to a point of view equal parts expansive, populist, existentialist and humanistic in songs pondering the burden of memory as time marches on, along with philosophical appraisals of quotidian troubles and joys. To accomplish this they've not enlisted marquee bluegrass instrumentalists such as Randy Kohrs, Andy Leftwich and Justin Moses, all of whom appeared on the previous album, but rather are working with a tight, efficient trio of standout fiddler Clint White, banjo/dobro master Daniel Patrick and bassist Erik Alvar. One big name does drop in for a memorable turn, when former Blue Grass Boy/now full-time bluegrass legend Doyle Lawson checks in on "Mandolin Man," Lee's bustling tribute to Bill Monroe, adding a spry vocal and spirited mandolin solo to the heartfelt salute.
Otherwise the star names are on the songwriting side: long-time country hitmaker (for himself and for others) Bill Anderson teams with the Roys on the touching title track, a folk-flavored ballad marveling at the natural world's ability to evoke poignant recollections of family and friends, rendered by Elaine with heart tugging emotion; Brad Paisley cohort Josh Thompson teams with Lee on the plaintive, spiritually oriented mountain ballad honoring a departed loved one, "Heaven Needed Her More," which also posits accepting death as a prelude to a rich eternal life (…"something else lies ahead/on that distant shore…"); veteran singer-songwriter Steve Dean, who's been writing hits for a staggering roster of top artists since the early '80s, pitches in on four of the album's finest numbers, including "Sometimes," a sensitive, poetic mountain ballad, keyed by White's fiddle cries, about a once-robust elderly woman now afflicted with Alzheimer's, and "Mended Wings," a song of faith featuring Elaine's evocative vocal and beautiful brother-sister harmonizing on the choruses ahead of another lovely White fiddle solo; fiddler Jenee Fleenor (who toured seven years with Terri Clark, toured with Martina McBride and is now part of Blake Shelton's band) teams with Lee on the loping bluegrass ballad "Those Boots," a tribute to working men of various stripes, from farmers to soldiers to artists that make it to the Grand Ole Opry stage.
At the Minnesota Bluegrass & Old-Time Music Association Festival in Richmond, MN, August 8, 2014, The Roys perform 'No More Lonely' from their new album, The View.
"These Boots" is only one of a trio of songs here tipping its hat to working folks. With singer-songwriter Keesy Timmer, Lee penned "Live the Life You Love," a driving ode to staying hard with your dreams and reaping the benefits of doing so, with Lee's intense vocal leading the charge over tasty banjo work by Daniel Patrick and still more soulful fiddle fills from Clint White. Lee, White and Patrick joined forces on "Black Gold," a respectful midtempo reflection on the hard life of a coal miner freed only by death from his grinding 12-hour/six-days-a-week drudgery—it's something of a sequel to the Roys' first outstanding homage to coal miners, "Coal Minin' Man," from their first album, which also extolled the indefatigable work ethic and unquenchable spirit of those "digging that dirty black coal" as Lee sings here.
SELECTED TRACK: 'The View,' The Roys, from The View
Before many even knew of The Roys Ricky Skaggs was singing their praises, saying the duo's music would "touch people and change peoples' lives." Some lives may indeed have been changed in the three-plus years since Skaggs's prediction, but there is evidence aplenty of people being touched by the Roys' songs and spirituality. They know whereof they speak, and they speak it with authority, and directly to their audience, on The View, a deeply philosophical statement couched in populist sentiments.