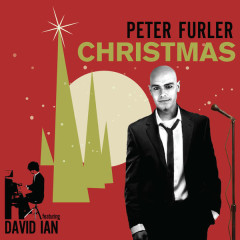 CHRISTMAS
Peter Furler
Prescott Records
To his first Christmas album Australian Christian artist Peter Furler brings a Grammy nomination and more than seven million albums sold, on the one hand, and on the other, a deep respect for the true meaning of Christmas as marking the birth of Jesus Christ. His simply titled Christmas is one tipoff of his straightforward viewpoint and strategy. Newcomers to his work who might not share his religious orientation are advised that he ties his songs together with a track of readings of Old and New Testament Bible verses from Genesis, Luke, Isaiah, Micah and Chronicles and another of verses 8-20 from Luke, or the Christmas story proper. Apart from this, Furler's choice of material focuses on songs anticipating or celebrating Christ's birth—that is to say, no "Jingle Bells" or "Sleigh Ride" here and the mood throughout is reverent, worshipful. The point is to think about the meaning of the day in question within the framework of how it's been considered since antiquity. This is all handled tastefully: if you take out the spoken word segments, Christmas becomes a soothing, introspective, jazz-based series of reflections centered on the events leading up to and occurring on that sacred night in Bethlehem.
SELECTED TRACK: 'God Rest Ye Merry Gentlemen,' from Peter Furler's Christmas
To achieve his aims here Furler has assembled a formidable band comprised of violins, cellos, a French horn (courtesy John Painter), the ancient Armenian woodwind instrument called the Duduk (played by Grigori Petrosyan), drums and percussion (Josh Hunt), upright bass (John Estes) and the key player, on piano and guitar—and this project's producer–David Ian, he of Vintage Christmas fame, whose 2014 EP, Vintage Christmas Wonderland, was both a Deep Roots Christmas Pick for 2013 and a Deep Roots EP of the Year honoree.
Do not be deceived, however, by the description of this work as being comprised of "soothing, introspective…reflections." It is that, to be sure, but it also has a subtle, swinging side, as if Furler and Ian were channeling the Vince Guaraldi of A Charlie Brown Christmas. We hear this connection right off the bat, when Ian opens the album's first cut, "God Rest Ye Merry Gentlemen," with a quick right hand figure on the 88s that for a split-second hints at Guaraldi's "Christmastime Is Here" melody before Furler enters vocally. Around the one-minute mark the whispery vocal has been augmented by cello and brush drums, until, near the minute-and-a-half mark, the whole enterprise breaks into a discreet shuffle and the specter of Guaraldi arises again in Ian's cool, restrained piano solo setting up Furler's final, understated reading that is actually in keeping with the song's original meaning. (See our two-part feature on the origin of "God Rest Ye Merry Gentlemen" here and here in this issue.)
SELECTED TRACK: 'O Come, O Come Emmanuel,' from Peter Furler's Christmas
The same approach applies to "It Came Upon a Midnight Clear," but Ian has given the arrangement added oomph by introducing violins in different forms—plucked; long, elegant, Riddle-like lines—along with chimes, then having those drop away to leave Furler singing tenderly over Ian's lone, spare piano musings. Furler doesn't take many chances vocally, focused as he is on the songs' message and dedicated to articulating it clearly, so little touches such as the aforementioned atmospherics by the violins, and the eerie Duduk materializing in haunting fashion to underscore the Twilight Zone nature of the kings' wandering over "field and fountain, moor and mountain, following yonder star." Similarly, "O Come, O Come Emmanuel," otherwise coloring within the lines, begins with the sound of chanting, disembodied female voices, sounding an otherworldly herald to this complex Advent hymn based on the O Antiphons, Magnificant chants possibly dating from as early as the first century A.D. and described by Fr. Wiliam Saunders bringing "intensity to our Advent preparation" and bringing it to "a joyful conclusion." "O Come All Ye Faithful," one of the most familiar of all the ancient carols, is broken up with unfamiliar pauses in the chorus that create an entirely different texture for the tune, as do the humming female background singers and the sturdy percussion flourishes as the song builds in intensity as it moves forward in a march rhythm.
SELECTED TRACK: 'What Child Is This,' from Peter Furler's Christmas
Among these selections the most unexpected and most contemporary choice is Katherine Kennicott Davis's (and Harry Simeone's) "The Little Drummer Boy," another song with a complicated history. Its gentle arrangement here, with Ian's sensitive piano punctuations, brush drums, soft violins, chimes, a rush of Beatles-like jabbing cello lines, frame Furler's gentle, laid-back vocal—he dispenses with the "pa-rum-pa-pa-pum" lyric until he's about halfway through the performance, letting silence speak where once there was the evocation of drumming. Those pauses put a new coat of paint on the old warhorse, adding tension and refocusing a listener's attention on the drama at hand. Other artists who will not be named here have tried to reimagine "Little Drummer Boy" in different styles with, shall we say, unsatisfactory results, but Furler's and Ian's version respects, and summons, the original's spirit while at the same time sounding fresh. Which, come to think of it, might be said about the album Christmas as a whole. This one is going to stand the test of time.