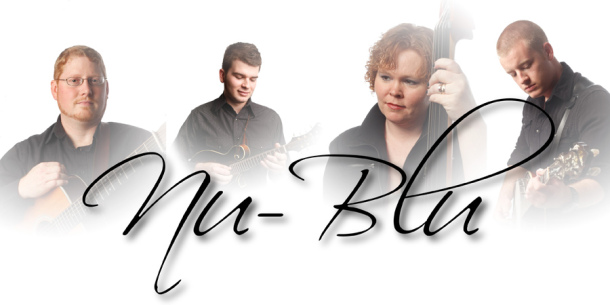 'Without a Kiss,' Nu-Blu, from the album Ten
The traditional bluegrass band Nu-Blu, led by stellar vocalist Carolyn Routh (who doubles on bass) and her husband Daniel (vocals/guitar), with the lineup further enhanced by Levi Austin (banjo-guitar-vocals) and Austin Koerner (mandolin), marked its first decade of musicmaking with a new album, appropriately titled Ten, released late last year on Rural Rhythm. Now comes a three-video blitz promoting songs off the album. The first of the videos, for 'Trains I Didn't Take,' appeared in Deep Roots on March 5; the second of the video trifecta, a warm, rustic ballad titled "It's a Good Day To Be With You," was posted here on March 28. Now the third and final installment, the powerful ballad addressed to a departed spouse, "Without a Kiss," is out. The tender arrangement sensitively frames an emotional Carolyn Routh lead vocal born of the impact  the song made on her the first time she heard it.
Each year of Nu-Blu's existence is another triumph for Carolyn, who in 2003 suffered a series of debilitating strokes that left her unable to speak and barely able to walk. Leaning on her faith and the support of her doctors, husband and family, she has made a remarkable recovery—so much so that in watching her perform here you'd be hard pressed to believe the story of her health crisis. In lauding the album, Bluegrass Unlimited noted: "Carolyn's show-stopping pipes and courageous powers of renewal are merely the tip of the iceberg. These ten well-chosen songs also highlight the highly accomplished picking and harmony singing that this four-member ensemble brings to the show."
Visit the band's website for more information about its current tour in support of Ten.