I
t didn't take long for Pete Seeger's detractors to go on the offensive following this past Tuesday's outpouring of heartfelt testimonials to Pete's humanity—including one from the President of the United States—dominated the news. Wednesday morning brought a hate-fueled missive from The Daily Beast's Michael Moynihan ("The Death of 'Stalin's Songbird'") bearing the subhead "Pete Seeger's love of Stalinist ideals endured through the nightmare of pograms and purge trials in the Soviet Union. His totalitarian sympathies should not be whitewashed." Not that Moynihan distorted the facts, mind you; he lifts most of his charges against Pete from a more nuanced lament published by former Seeger student Ron Radosh, now a historian, in the New York Sun of June 12, 2007 under the headline "Time for Pete Seeger to Repent." In it Mr. Radosh recounts how Jim Brown, who directed the lauded documentary Pete Seeger: The Power of Song, interviewed him but left on the cutting room floor all but his laudatory comments.
"In my interview, I praised Mr. Seeger's contributions to music and reminisced about being his student in New York while in high school and as a counselor at Camp Woodland, a left-wing summer camp," Mr. Radosh writes. "I also asked why, after supporting Stalin's tyranny for most of his life, Mr. Seeger had never written a song about the Gulag. He often introduces his song 'Treblinka' by saying how we cannot forget the past. Yet he still says nothing critical about Fidel Castro's Cuba, or any other 'socialist' regimes."
And why were these observations omitted from the final cut? "When I spoke to Mr. Brown a few days ago, he told me my remarks weren't appropriate for a tribute to Mr. Seeger's spirit and his contributions to America."
The Almanac Singers, 'Which Side Are You On?' Lead vocal: Pete Seeger. Posted at YouTube by Tradeofjane.
It is true that Pete was a Communist party member beginning in 1939, and that two years later he (and Woody Guthrie) were founding members of the Almanac Singers, a seminal folk group noted for purveying working man's anthems such as "We Shall Not Be Moved," "Union Maid" and "Which Side Are You On?" alongside folk chestnuts on the order of "Blow the Man Down," "I Ride an Old Paint" and even "House of the Rising Sun." The Almanacs were also avowed pacifists opposed to America's entry into WWII, and made their Songs for John Doe album a virtual diatribe aimed at President Franklin Delano Roosevelt for sending Americans in to fight the Nazis. When Germany violated the Comintern policy of non-intervention by invading the Soviet Union on June 22, 1941, and Comintern in turn threw its support to the Allies, the group made the astonishing decision not only to recall the album but to appeal for all purchased copies to be returned. A newly recorded version replaced it, one with a markedly revised viewpoint: in the song "Dear Mr. President," Pete sings of disagreeing with the Commander in Chief in the past but now is ready to "turn in my banjo for something that makes more noise."
From the Almanac Singers' controversial Songs for John Doe album, 'The Strange Death of John Doe.' Posted at YouTube by Ben Duvall-Irwin.
From Songs for John Doe, 'Liza Jane.' Posted at YouTube by Ben Duvall-Irwin.
Radosh, who, to be fair, seems as pained by these truths as any staunch Pete supporter would be, simply wonders why, even after drifting away from the Communist Party in time, Pete would not renounce the repugnant views he once held about the Party and especially about Stalin's bloody, genocidal legacy. "A sympathetic but accurate film would praise Mr. Seeger as an individual and an artist, and would honor him for his contribution to American music and for his dedication to causes he believed in. But it would dare to criticize him for his anachronistic and false political views," Mr. Radosh points out.
I don't know about the filmmaker's point of view, but I think I know why Pete's death struck such a nerve throughout the country. For one, Pete's political indiscretions—though I'm not sure he would consider them as such—were those of a high-minded youth, and many of us have been there. Joining the Army and fighting the Nazis does count for something in squaring the record. For another, and more important, several generations grew up knowing Pete as the activist artist who was front and center during the Civil Rights Movement, who spoke out, rightly, against the Vietnam War and whose environmental advocacy was ahead of the curve and ceaseless, right up to the moment he drew his last breath; in fact, his Grammy winning 2012 album Tomorrow's Children, recorded with kids from the Riverfront School in Beacon, NY, where Pete had long made his home, was inspired by Harvey Wasserman's book Solartopia: Our Green-Powered Earth, A.D. 2030. When Pete's soul fled this mortal coil on January 27, the old account listing had surely been squared by his being on the right side of history for the better part of his 94 years.
Pete Seeger on The Almanac Singers, in conversation with Tim Robbins for Pacific Radio in 2008. Posted at YouTube by folkarchivist.
As an aside, since Pete's regrettable and unsupportable advocacy of a genocidal regime and a discredited social system did no detectable harm—he and the Almanacs were quite possibly the least powerful voices beseeching FDR to maintain an isolationist policy as Germany brutalized Europe—consider one of the responses to Mr. Radosh's column, submitted by one Sandra Dickson and published on September 2, 2007. Opines she: "Even the very discussion of this ancient topic make me fear US government even more. Is a next regime, largely run by the Christian Crusade and fascists with special corporate interests, going to begin to send Democrats to concentration camps? It could happen here. I believe that the US government is using the "Patriot Act" to spy, not only on potential terrorists, but to listen into the telephone conversations of 100's of thousands of left of center (left-leaning Democrats). The current government make its own rules, condemns who they want, when they want, and no longer believes "in a government for the people and by the people." Here's betting that they manage to rig the next election. My friends and I are really uncertain, as to whether they can be stopped. They can listen into our phone conversations at any time! We are all happy Blue-State Democrats! Maybe they would learn a thing, or two."
Calling Edward Snowden!
Pete Seeger, 'Where Have All the Flowers Gone.' Posted at YouTube by Joe Stead.
I'll speak only for myself here. This publication and TheBluegrassSpecial.com before it would not exist without Pete Seeger. For me Pete was a man of conscience who as an artist stood for social justice and sang eloquently, often movingly about those that have been denied it. He sang of the lives people lived and the work they labored at, of how they maintained a sense of hope in the most desperate of circumstances. He made the songs relevant to all who gathered to hear him by using his musicologist's instincts (his father, Charles, was a prominent musicologist and teacher, and friend of the young Alan Lomax; his mother was a musician and librarian) to explain why the story informing an African ballad, for instance, said something about our lives here in America. He sang of heroic deeds, moral strength and of a day when we wouldn't have to wonder "where have all the flowers gone" (too bad Michael Moynihan regards this as a "treacly classic" and misses its poetry and power altogether) but would instead understand how that which differentiates one culture from another is exactly the point where our humanity intersects with that of worlds beyond our own. Much to my surprise, my own words came back at me as I was considering the pros and cons of Pete's life's arc. In a review of Tomorrow's Children published in the September 2010 issue of TheBluegrassSpecial.com, I had this to say about a disc I had enjoyed immensely: Anyone who's seen Pete Seeger perform knows "harmony" to be one of his favorite words—as in, "Sing it in harmony!" Or "A little harmony now!" He even talks harmony at one point on Tomorrow's Children. But Pete's exhortations in that regard are not merely about singing; in Pete's world, harmony is about various seemingly unconnected entities coming together and being productive as one—voices from America, from the Middle East, from South America, belonging to folks from the synagogue, the mosque, the cathedral, the country church, from the country club to the mountain holler. A bit like the Rivertown Kids assembled for this project, in fact. (Postscript: Tomorrow's Children won a 2010 Grammy as Best Musical Album for Children; Pete won two other Grammys in his career, the first coming in 1996 for his album Pete, the other in 2008 for Pete at 89. His numerous awards include induction in the Songwriters Hall of Fame in 1972l; a Grammy Lifetime Achievement Award in 1993; National Medal of Arts from the National Endowment for the Arts in 1994; and induction into the Rock and Roll Hall of Fame in 1996.)
Pete Seeger & the Rivertown Kids with Dar Williams and David Bernz perform 'Solartopia' as featured on Tomorrow's Children. Pete, Bernz and Harvey Wasserman co-wrote this anthem as a vision of a green-powered planet. Wasserman is the author of the book Solartopia: Our Green-Powered Earth, A.D. 2030. Video filmed in the Jeff Haynes Studio in Beacon, NY, October 24, 2009 and posted at YouTube by Pete Seeger.
There's more. In the warm months of the year up here in New York City, I'm engaged in long distance bicycling. I especially enjoy riding the length of the Hudson River bike path, from the Battery to the George Washington Bridge, across the Bridge and into New Jersey. Many's the time I've been tooling along enjoying the sights of people fishing off the riverbanks, of kayakers out for pleasure and practice both, even, once in a blue moon, a foolhardy swimmer defying the swift currents. But this is not really what I see. Rather, I see Pete's Clearwater sloop sailing down that golden river, back in the '70s, and hearing Pete and his beloved wife Toshi and their mates demanding that the 315-mile Hudson be cleansed of the PCBs dumped in it over the years by industrial manufacturers, with GE being the primary culprit. "During a 30-year period ending in 1977, when EPA banned the production of PCBs, it is estimated that approximately 1.3 million pounds of PCBs were discharged into the Hudson River from two General Electric (GE) capacitor manufacturing plants located in the towns of Fort Edward and Hudson Falls, New York," notes the website for the Environmental Protection Agency. I wasn't here when the Clearwater made its maiden Hudson River voyage in 1969, but I certainly was in 2002 when the EPA decision lit a fire under GE and the corporation began dredging the River; as of last year, according to The Hudson River Dredging Project, four seasons of dredging in the river north of Albany has resulted in the removal of more than 1.9 million cubic yards of sediment, some 70 percent of the sediments targeted for dredging in toto. Now, this is not Pete's and the Clearwater's triumph alone; some dedicated legal eagles and the commitment from the EPA put the muscle into the movement. But in this effort of some 30 years' duration, Pete's voice was the loudest and his was the face of the Hudson River cleanup. I think when spring arrives in New York City, and I'm pedaling up to the bridge, when the sun glints off the water I'll see Pete smiling in there. Our publication's commitment to promoting the wonders of the natural world as a way of reminding our readers of its sanctity (in Nature's Temple and to a certain extent in Native American News) is our way of honoring the examples set by John Muir and Pete Seeger, the best sort of poet-activist models. 
II
First and foremost, Deep Roots is a publication covering roots music, broadly defined to include classical, classical pop (a la the Great American Songbook) and what's termed world music as well as traditional country, folk, blues, bluegrass, gospel, early rock 'n' roll…whatever you see on this site. With all the verbiage published during the week of Pete's passing, what pinpointed a grievous omission in the form of a guide to maneuvering through his massive album catalogue. According to Wikipedia, he left behind 52 studio albums, 23 compilations, 10 live albums and five singles. This list does not include his recordings made as a member of The Weavers, the most popular folk group of its time. Formed in 1948 by Pete, Ronnie Gilbert, Lee Hays and Fred Hellerman, the quartet had two lives, the first from 1948-1952, a run that was aborted by the Red Scare sweeping the nation: Decca terminated the group's recording contract and went so far as to delete all Weavers material from the label catalogue, radio refused to play Weavers records and their career was dead. Reuniting in 1955, a sellout crowd for their rousing reunion concert at Carnegie Hall, resulting in a recoding contract with Vanguard. On this go-'round Pete's tenure would be short-lived: when his mates decided to do the vocals for a TV commercial hawking cigarettes he bowed out, citing his concern over the dangers of tobacco (once again ahead of the curve—the Surgeon General wouldn't confirm suspicions such as Pete's until 1964) and his dismay over the group's commercial sell-out. On April 1, 1958, he became an ex-Weaver (in a magnanimous gesture, he recommended Erik Darling replace him, and the group had several more productive years with Pete's hand-picked successor). One sublime reunion remained, however, in November 1980, as captured on both the album Together Again, with an ailing Lee Hays now wheelchair bound (he died the following year) but all parties otherwise in good voice, and in the moving documentary, The Weavers: Wasn't That a Time, available on DVD.
The Weavers in 1951: all the videos made by Snader Telescriptions: 'Tzena, Tzena, Tzena,' 'Around the World,' 'So Long (It's Been Good to Know You),' 'Goodnight, Irene' and 'The Roving Kind.' Posted at YouTube by Carlo Schena.
As for the essential Seeger-era Weavers original recordings, the recommended title here is The Weavers: Greatest Hits, a double-vinyl set when originally released but now contained on a single CD. Thirteen of the 25 tracks are live (including some from the legendary 1955 reunion concert at Carnegie Hall) and though the big hits in the chart sense were only "Goodnight Irene" and a joyous adaptation of the Israeli folk song "Tzena, Tzena, Tzena"  (the former was a #1 single, the latter—the B side—peaked at #2) were big hits in the chart sense (the former was a #1 single and the latter, the B side, peaked at #2, although several others here did land in the Top 30), these are the basic Weavers texts, ranging from "This Land Is Your Land" and "So Long It's Been Good To Know You" from the Woody songbook to revitalized readings of "When the Saints Go Marching In" and "Michael Row the Boat Ashore" to powerful socially conscious statements in "Brother, Can You Spare a Dime" and "If I Had a Hammer." (Note:"Tzena, Tzena, Tzena" was written by a Jewish soldier in 1938—before Israel existed—its English language lyrics were penned for the Weavers by conductor-arranger Gordon Jenkins, who directed many of their Decca sessions). On the other hand, there is no more vivid an aural document of the Weavers' power and passion than the entire, unabridged 1955 Carnegie Hall concert as captured on The Weavers at Carnegie Hall. This is something of a Rosetta Stone for the folk revival of the '60s, and as potent a live album as any ever recorded. This is how music shapes the conscience and inspires activism while never forgetting to be musical. The Weavers were artists of great nobility, and the proof is on this disc. A must-have. A pricey alternative at $60, the Bear Family import Goodnight Irene: The Weavers 1949-53 document's the group's first golden era thoroughly in five discs encompassing sides cut for the Charter and Hootenany labels in addition to the classic Decca sides when the quartet was backed by the aforementioned Gorden Jenkins and his orchestra and chorus; one of the discs is a DVD featuring early TV appearances. For those who don't want to break the bank, MCA's single disc, 16-track overview The Weavers: Best of the Decca Years is an effective demonstration of how the group (and, to be sure, labelmate Burl Ives as well) laid the groundwork for a later pop-folk hybrid to emerge and contains the signal recordings from the years in question.
Before there were Weavers, however, there were Almanac Singers, most accurately described by writer Mary Katherine Aldin as "a very loose-knit bunch of singer-musicians and song collectors with diverse backgrounds…"). They came together in 1940, Pete, Woody, Lee Hays and Millard Lampell, with guitarist-vocalist Pete Hawes sitting in on some live dates and a few recording sessions (he referred to himself as "a part-time, occasional Almanac"), with a focus on songs extolling the virtues of labor unions and the might and plight, of the working man. A 36-track import on the Rev-Ola label, Which Side Are You On, contains many of the early labor-oriented songs as well as the complete Songs of the Sea and Soil album. Domestically, two titles are musts. Smithsonian Folkways is the source for the reissue of Talking Union & Other Union Songs, which features the most pointed collection of working man's anthems in the Almanacs' catalogue—timely gems such as "I Don't Want Your Millions, Mister (All I Want"," which goes on to say, "all I want is my old job back"; "Solidarity Forever," a union anthem sung to the tune of "The Battle Hymn of the Republic; and Woody's wry "Talking Union." In July 1941, in order to earn enough money to buy a car so they could drive to California, the Almanacs recorded 14 songs at New York City's Reeves Sound Studios under the aegis of producer Alan Lomas. Issued on the General Records label and collected on MCA's 1996 reissue, Their Complete General Recordings, these tracks show a lighter side of the quartet, as the labor songs take a back seat to story songs and folk chestnuts such as "I Ride An Old Paint" and "Blow the Man Down," a sea chanty ("Blow Ye Winds, Heigh-Ho"), even a blues ("House of the Rising Sun").
But on to Pete. How, exactly, does one navigate through a half-hundred releases and say this, this and this are the ones to own? Not easily in this case. Pete's is a different case than that of some other artists with deep catalogs in that his isn't fattened by anthology after anthology of hits albums duplicating tracks from one to the other, or thematic titles cobbled together from various albums to commemorate holidays, special events and so forth (the way Sony has done with Elvis who, for instance, recorded only two Christmas albums in his lifetime but now has more than half a dozen in his catalog). The variety in Pete's catalog is staggering, which further complicates the task of saying these comprise a definitive listener's guide. In the end it's probably best to suggest each reader explore Pete's catalog and pick out what suits his or her fancy, but do consider what we have to say here as a starting point. Give us credit for not being as lazy as Rolling Stone and offering only select tracks as representative of Pete's work. As much as any artist, Pete used albums as statements and meant for them to be considered whole, not as a collection of unrelated songs. Consider this, then, as One Listener's Guide, and have fun assembling your own.
Once was a time when traditional folk songs were not only part of mainstream culture but were also taught and sung in secondary school music classes. A few generations have grown up without having any, or very little, exposure to those songs, many of which are based on actual historical events and characters, but there are also signs of a classroom folk revival at least at the grade school level. Between 1957 and 1962 Pete recorded five volumes of American Favorite Ballads that are perfect for kids and adults alike. These are available separately, but Vanguard also has packed them all five in a box set as American Favorite Ballads Vols. 1-5. In typical Pete fashion, the songs range from well-known evergreens such as "E-Ri-E Canal," "Buffalo Gals" and "Go Tell Aunt Rhody" to darker fare along the lines of "House of the Rising Sun" and "St. James Infirmary." Five volumes may be too much for some tastes, but it's amazing how easy 100 songs go down when performed with the enthusiasm and conviction Pete brings to them.
From American Favorite Ballads Vols. 1-5, 'Buffalo Gals.' Posted at YouTube by Smithsonian Folkways.
Those ballad albums were not specifically pitched as children's albums but Pete did make a cottage industry of recording albums for children and even playing shows billed as Children's Concerts. You can't go wrong with any of his albums for little ones. The 1960 long player Song and Play Time is especially enjoyable for the sheer joy Pete exudes in imparting the messages of 16 songs from traditional sources ("Skip to My Lou" and "She'll Be Comin' 'round the Mountain," for example) as well as some by Lead Belly ("Little Sally Walker," "Ha-Ha, This-A-Way") and Malvina Reynolds ("Let Us Come In" and "Birthday Polka"). It's just Pete, his voice and his banjo, as it is on most of his solo work, and you can't get enough. Two others in this realm enjoy a special status with Pete's fans. In part one of our Seeger tribute, posted in these pages on Monday night, Deep Roots contributor Ira Mayer, in a piece he titled "I Wanted to Be Pete Seeger," wrote: Today, I give a copy of the complete Pete Seeger Town Hall children's concert CD to every newborn I know. Everyone should hear "Abiyoyo" growing up. Everyone should know what it means to sing along. I've had young families tell me they knew some of those songs, but never knew where they came from. It's my own small contribution to what Pete called "the folk process." "Abiyoyo," a story-song about a gentle giant, is on Abiyoyo & Other Story Songs for Children (titled Sleepy-Time: Songs & Stories in its original 1958 release; re-titled for its 1967 and 2012 re-releases). Despite containing only seven tracks (but clocking in at around 50 minutes), this album's special allure has made an enduring impression on several generations of listeners. At Amazon, a woman who identifies herself only as A Customer writes: "This CD is great for the whole family! We've been listening since before our 7-year-old was born. There are marvelous songs for newborns and toddlers—'This Little Baby' is a sweet lullaby, and 'Sweepy Sweepy' makes a terrific upper-body aerobic workout for new moms (gently swing the baby as a 'broom' and act out the song). The story/songs like 'Abiyoyo' and 'Sam the Whaler' are wonderful for older kids. And adults don't get tired of listening to it over and over (which you surely will). Our 17-month-old can already say 'Abiyoyo.' I use the old tape a lot in my job as a librarian, especially in our story programs for newborn-to-24-month-olds. Pete Seeger is an American treasure and his musical art is timeless–please pass it down to the next generation!" Her sentiments are echoed repeatedly in other customer reviews and get two thumbs up here. The Children's Concert at Town Hall mentioned by Ira Mayer features live version of many of the songs (including "Abiyoyo") from those studio albums comprised of what Pete called "childrens' songs," but were first folk tales set to music and handed down from generation to generation, from families to their friends, for everyone's enjoyment; only decades later were they promoted as being for kids. The Amazon readers' comments about this album reveal how well Pete succeeded in making "childrens' songs" meaningful to adults in furtheirng "the folk process," as Ira noted.
Pete Seeger, 'Abiyoyo,' from Abiyoyo & Other Story Songs for Children. Posted at YouTube by UltimateSerge.
From Song and Play Time, Pete sings Lead Belly's 'Little Sally Walker. Posted at YouTube by UltimateSerge.
Granted there is no business more serious than singing for children, but Pete's other albums are replete with moments of beauty, poignancy, sorrow, triumph and hope—works resonating with historical sweep and advancing socially and environmentally conscious message made all the more stirring by the poet's touch Pete put to them. In this category three key titles to focus on are If I Had a Hammer: Songs of Hope and Struggle; Headlines & Footnotes: A Collection of Topical Songs; and American Industrial Ballads. If I Had a Hammer: Songs of Hope and Struggle (1998) is a breathtaking overview of Seeger's activist art. Its 26 tracks are arranged thematically in sections titled "Solidarity Forever (Unions and Labor)"; "Study War No More (Peace)"; "We Shall Overcome (Civil Rights)"; "I'd Hammer in the Evening (Hope)." The cuts from Pete's '50s and '60s Folkways albums (save for two new tunes recorded for this project) and feature him with the Almanac Singers and with his grandson Tao Rodriguez, always accompanying himself on either 5-string banjo or 12-string guitar. You and your friends might not break into glorious harmony on "Solidarity Forever," but the intensity of Pete's reading of "Which Side Are You On" will get you thinking, and the 1964 recording of "We Shall Overcome" is majestic in all its stark glory and undaunted spirit, and too few people have heard Pete's version of his own "Turn, Turn, Turn," presented here in a thoughtful vocal-and-guitar treatment in a previously unreleased version from the Smithsonian's Folkways Archive. These, along with "If I Had a Hammer," are only the most familiar songs; you might be surprised at how many of the other topical numbers stick in your mind and touch your heart. Headlines & Footnotes: A Collection of Topical Songs (1999), a less-issue-oriented companion volume to If I Had a Hammer, collects from Pete's catalog 23 of his most memorable historical songs inspired by actual events in his time and before. His anti-Vietnam War communiqué, "Waist Deep In the Big Muddy" (which got him in trouble, again, with some hawkish types on these shores), is here, alongside beautiful interpretations of "Guantanamera" (from a previously unissued recording of a performance at the 1963 Newport Folk Festival) and "Wimoweh." But there is also Pete's spirited take on Woody's "The Sinking of the Ruben James" (about the first U.S. naval casualty of WWII); a surgically precise and altogether hilarious sendup of the KKK's clownish, cowardly ways when the white-sheeted bigots confronted some angry Native Americans in "The Battle of Maxton Field"; and from Pete's acclaimed Songs of the Spanish Civil War two-volume set, a rousing broadside about the Lincoln Brigade, "Viva La Quince Brigada," in a live version from one of his finest live albums, 1960's The Complete Bowdoin College Concert 1960. Of note here: a riveting, dramatic take on "Bells of Rhymney" from 1969's Pete Seeger at the Village Gate Concerts with Memphis Slim & Willie Dixon in which his driving, double-time 12-string guitar and discords add searing intensity to the story. Headlines & Footnotes is also one of the finest annotated of all Pete's albums, with song-by-song notes and historical background by Mark Greenberg. Few albums in the Seeger oeuvre really prepare one for the often harrowing experience of the epic American Industrial Ballads, an album first issued in 1956 and reissued on CD by Smithsonian Folkways in 1992. Your faithful friend and narrator cannot put it any better than does a back cover note: "Recorded in a period of Pete's supreme artistic flowering, these songs largely came out of the coal mines, the textile mills, and the highways of a land in agony." And as Irwin Silber elaborates in his excellent annotation: "[The songs] provide a matchless documentary of one aspect of the twenty years from 1920-1940 which is reflected nowhere else in our music—and only sparsely in our creative literature. Three occupations dominate the song selection in this album: coal mining, textile, and farming. This is no accident or caprice. These three pursuits likewise dominate the great body of industrial folk song which exists in our country."
Pete Seeger, 'Turn, Turn, Turn,' 'If I Had a Hammer,' 'We Shall Overcome.' Posted at YouTube by HALIDONMUSIC
A Smithsonian Folkways promotional trailer for Pete Seeger's The Complete Bowdoin College Concert 1960.
Pete is quietly, even soothingly devastating in his treatments of these hard hitting tales. You might eve detect a wry, ironic tinge in his delivery—he must have known he didn't need to make a big show out of these tunes but only needed to sound weirdly upbeat in assessing how little his pittance of pay would buy in "Seven Cent Cotton & Forty Cent Meat," or unusually sanguine in taking the role of a mother that can't make ends meet on a mill worker's pay in "Mill Mother's Lament." On the other hand, you don't even have to listen hard to feel the depthless sorrow Pete imparts in "He Lies in the American Land," based on the true story of an immigrant worker who, after finally saving enough to bring his family here from Slovakia, was killed in a carriage accident before they arrived. We're a long way from a time when the eight-hour workday was not standard in this country, but it was a hard-won victory for workers in the late 19th century. The eight-hour-day movement arose during the Civil War when 340,000 workers staged a mass demonstration in more than a dozen cities on May 1, 1866; eleven years later, in 1877, four of Chicago's movement leaders were executed. What it all meant is preserved in Pete's "Eight-Hour Day," sung in a proud and defiant voice in a succinct 1:01. Songs with titles such as "The Death of Harry Simms," "Hard Times in the Mill," "Beans, Bacon and Gravy" and "Raggedy" tell an unforgettable tale of hard times and the plight of working men and women unprotected by unions or the law and at the mercy of their bosses. You may not ever cue up American Industrial Ballads as background music but next time you read about what appears to be a Republican-led attack to undermine labor unions from sea to shining sea, return to these songs for a reality check.
From American Industrial Ballads, 'He Lies in the American Land,' based on the true story of an immigrant worker who, after finally saving enough to bring his Slovakia family to America, was killed in a carriage accident before they arrived. Posted at YouTube by Stefan Kuchar.
Among Pete's live albums three in particular have a special vibe that makes them indispensable. These would be the joint concerts with Woody's son Arlo, beginning with arguably the best of the three, 1975's Together in Concert, an amazing double-CD (double vinyl in its original incarnation) of inspired music making culled from concerts at Chicago's Opera House, Carnegie Hall and Montreal's Place des Artes. Pete takes the lead as expected on the likes of "Joe Hill," "Well May the World Go" and "Guantanamera" and Arlo leads on, of course, Steve Goodman's "City of New Orleans," stunning fingerpicked renditions of Dylan's "Don't Think Twice, It's All Right" and his dad's "Deportee (Plane Wreck at Los Gatos)" and they're pretty much equals on other songs, such as the rousing, yodeling workout on the great Bob Nolan western song "Way Out There" at the start of the festivities. Seven years later, in 1982, they were back on record together with Precious Friend, a set of live recordings (double-vinyl again) from four different venues edited into a seamless, emotionally resonant set. After opening with a barnburning "Wabash Cannonball" (into which they insert the wailing train whistle sounds they emitted on "Way Out There" on the first live album), Pete gets the assembled congregation to sing along on a gospel-like rendition of Harry Chapin's "Circles," which was preceded by a sensitive introduction from Pete in remembrance of Chapin, who had died in a car accident that same year; Pete follows "Circles"—and in affect completes a circle–by offering a touching, meditative flute instrumental take on the Scottish love ballad "Hills of Glenshee." Spiritually oriented songs occupy an honored place on Precious Friend, including "Old Time Religion," Blind Blake's "Run, Come, See Jerusalem," "Will the Circle Be Unbroken," "Amazing Grace," "Wimoweh," even Pete's humorous "Precious Friend You Will Be There." On the other hand, Arlo squares the account with lively band versions of Woody's "Pretty Boy Floyd" and Tom Paxton's prescient observations about income inequality, "I'm Changing My Name to Chrysler." By the time of Pete and Arlo's two-volume More Together Again (now available on Arlo's Rising Son label) in 1994, Pete's voice is starting to show decided wear but not his spirit, and that carries him through the set in fine shape. He does a splendid version of "Abiyoyo," which earns him applause as soon as the audience recognizes it, and gets that same audience rocking the house on "If I Had a Hammer" following a wistful version of "Sailing Down This Golden River" by Arlo's daughter, Sarah Lee Guthrie. In one of the album's priceless moments, Arlo interrupts his tender reading of Elvis's "Can't Help Falling in Love" to talk about performing the song for European audiences and how it was received: "So there we was, thirty thousand drinkin', laughin', cryin', screamin' people, all singin' an old Elvis tune somewhere in Europe. Boy, there was something wonderful about that. And I suddenly realized how proud I was to come from a country where our songs are known and loved and sung all over the world by all kinds of people. And I also learned a little bit about what folk songs were about, and even what they're not about. Because sometimes they're not even about anything. Here we were singing an old Elvis tune that didn't have much to say about the state of the world or something like that but boy more was being said by who singin' it and how they were feelin' than trying to sing lots of songs that try and say a whole lotta stuff, y'know. So maybe help me sing this old Elvis tune. I'll give you the worlds, like Pete would—ha! 'Wise men say…'" The audience chimes in, in tune and in harmony, as Pete would like it, and the moment that ensues is so beautiful it justifies the price of the album. And then there's a boffo windup that begins with Arlo's funny story about his first meeting with Steve Goodman, which was also the first time he heard "City of New Orleans," which in turn leads into another great version of the Goodman classic. Then, a powerful audience singalong on "Wimoweh" as a prelude to a staggering set closing trifecta of the gospel monuments "Jacob's Ladder" and "Amazing Grace" with the stars getting everyone out of their seats, clapping and singing along to "This Land Is Your Land" in an invigorating burst of energy and enthusiasm, and hope–the feeling Pete valued most.
Pete Seeger and Arlo Guthrie, opening a 1975 concert with Bob Nolan's 'Away Out There' as featured on the duo's first concert album, Together in Concert
From Pete and Arlo's third live album, More Together Again, Arlo's version of Elvis's 'Can't Help Falling In Love with You' and his accompanying text as only Arlo could construct it.
A late entry in the best Pete live albums competition is a concert recorded in 1960 but unreleased in any form until 2011, thanks to the erroneous notion that the original tapes had been lost. This would be his 1960 concert at the small liberal arts college in Brunswick, Maine called Bowdoin College. A double-CD release by Smithsonian Folkways, The Complete Bowdoin Concert captures Pete in his prime before a mixed generation audience of students and civilians of varying political and musical tastes. As always he's a genial host, coaxing the multitude to sing along, offering friendly, often informative anecdotes between songs, taking a few potshots at an inept Congress (to the tune of "What a Friend We Have in Jesus" he offers a satiric "What a Friend We Have in Congress"—some things never change), and worrying about the fate of the world ("The Bells of Rhymney") in an impressive, provocative passel of tunes ranging from the traditional ("Big Rock Candy Mountain," "Michael, Row the Boat Ashore") to the topical ("Quiz Show," "Viva La Quince Brigada," "He Lies In the American Land") to his songbook staples ("Goodnight Irene," "Wimoweh"). The selections and structure here form the basic template of a Pete concert, and as the years rolled by the set list at Bowdoin College would accommodate additions and deletions but many of the songs heard here became the key texts of Pete's live shows for the ensuing decades.
AUDIO CLIP: From the Grammy winning Paul Winter-produced Pete, 'Sailing Down My Golden River'
One hesitates to single out of his three Grammy winning albums as more essential than the others, but 1996's Pete has a mystical, spiritual pull unlike almost any other Seeger album, Grammy winners and others. On his Living Music website ("Celebrating the Creatures and Cultures of the Earth"), Paul Winter, who produced Pete, once had an essay posted in which he detailed a 30-year friendship with Seeger that was something of a gestation period for the album they finally made together. Winter met Seeger at the Newport Folk Festival in 1966, and it was with Seeger's encouragement that Winter pursued a dream of his own in forming the now-celebrated Paul Winter Consort. "In the early 90s, sensing that Pete's recordings were not being heard by younger generations, I suggested to him that he record an album of his Earth songs," Winter wrote. "He said, 'My voice is shot, but if we can have a chorus to carry the melodies, I could sing along.' My Living Music colleagues and I produced the album Pete in 1996. It won a Grammy, Pete's first. The final song, 'To My Old Brown Earth' is one Pete had written for a friend's funeral. It's the most moving 'goodbye song' I've ever heard." First impressions on listening to Pete then and now: (1) his voice isn't shot, even if he says it is. His singing is confident, expressive and as affecting as it is on 1956's American Industrial Ballads, to cite one example. (2) The rich but understated choral backing (by the Union Baptist Church Singers and The Cathedral Singers) has struck some fans as being too Mormon Tabernacle Choir-like—those fans would never consider it "understated," but maybe they haven't really heard the MTC—but Pete's clearly comfortable in his relationship with the background singers; more to the point, the choral arrangements by the masterful Paul Halley, otherwise distinguished as the Winter Consort's long-time keyboardist and composer, are as aesthetically pleasing as they are pragmatically concise and perfectly in tune with Seeger's vocal temperament. (3) Pete had a lot of life left to live when he cut this record in '96, but it has a reflective, autumnal mood about it, almost as if Pete were visiting old friends for the last time. Many of the songs are among the monuments in his catalog but none have ever been given readings as sensitive and probing as Pete offers here. The solemn 12-string guitar-and-vocal take on "Sailing Down My Golden River" brings chills and spurs thoughts anew about how profound are this song's describes nature's live giving properties; when the chorus joins him on the first chorus of "Of Time and Rivers Flowing" and a keening tin whistle line floats around the melody the song transforms into a spiritual challenge to clean up the planet ("And we who would join in/Can stand aside no longer/Now let us all begin"). "My Rainbow Race," soft and lilting with a decided urgent edge in Pete's vocal, is the most effective treatment yet of this classic broadside advocating for a world both green and peaceful. On the other hand, you can hear the joy Pete's having honoring his buddy Lead Belly in one of the new songs he wrote for this project, "Huddie Ledbetter Was a Helluva Man" and feel the energy of his convictions when he recounts the perils of pollution in the concert favorite "Garbage." The redoubtable veteran multi-instrumentalist Paul Prestopino joins Pete on several cuts, none more delightful than the album opening celebration on "Well May the World Go" with its two principals engaging in some dueling banjo play en route to teaming again on the transcendent "My Rainbow Race" arrangement.
AUDIO CLIP: From the Grammy winning Paul Winter-produced album Pete, 'Of Time and Rivers Flowing'
For the past couple of decades other artists have joined together to pay tribute to Pete on record, and any Listener's Guide would be remiss failing to recommend a few of these as belonging in any serious Seeger collection. Most recently, 2012's A More Perfect Union teams Pete with fellow folksinger Lorre Wyatt and a smidgen of other artists, only one of whom, Tom Morello, botches his big moment, but that's fairly typical of Morello. Otherwise, Bruce Springsteen, the most powerful of all Pete interpreters, does it again in a riveting performance on the album's opening cut, "God's Counting on Me, God's Counting on You"; Steve Earle and Dar Williams shamble wryly into a humorous reconsideration of a nursery rhyme favorite titled "This Old Man Revisited"; Emmylou Harris has a beautiful moment on "Somos el Barco." Otherwise it's Seeger and Wyatt carrying the day, and though Pete's voice is shaky (what he feared in '96 had come true by 2012) his sense of a song's drama remains keen, and so makes items such as "Keep the Flame Alive" and the album closing "Bountiful River" striking nonetheless.
Roger McGuinn, 'Bells of Rhymney,' live in Glen Allen, VA, 2008. Posted at YouTube by emmylunatic
Nineteen-ninety-eight saw the release of the first of what has evolved into three volumes of albums subtitled The Songs of Pete Seeger as interpreted by a galaxy of some of contemporary music's best-known artists. The first and in many ways grandest of all these is the double-CD Where Have All the Flowers Gone: The Songs of Pete Seeger (1998), which was in fact Springsteen's maiden voyage into Seeger land, with a memorable take on "We Shall Overcome." The Indigo Girls on "Letter to Eve" and actor Tim Robbins (really) ("All My Children of the Sun") are terrible but their catastrophic performances aside, the other artists all turn in credible readings, with Roger McGuinn ("Bells of Rhymney"), Judy Collins (with a haunting "Oh Had I a Golden Thread"), Tish Hinojosa ("Festival of Flowers"), Sweet Honey in the Rock ("Step by Step"), John Stewart (a gritty "Old Riley") and Jackson Browne & Bonnie Raitt (a slinky "Kisses Sweeter Than Wine") do stand out, although that's not to say the other tracks are of lesser quality—it's a remarkably consistent double album. The Songs of Pete Seeger, Vol. 2: If I Had a Song… (2001) is a single-disc, 16-song anthology highlighted by Steve Earle's ferocious "Walking Down Death Row," Kate & Anna McGarrigle's tender "Little Boxes (Petites Boites)," and Kim and Reggie Harris & Magpie's edgy "Old Devil Time." Pete and Arlo are together on this one too, with a spirited "Highway 66 Blues" and a loosey-goosey country/talking blues, "This Old Car." Vol. 2 is a bit of a letdown after the inspired renderings of Vol. 1, but Vol. 3, Seeds: The Songs of Pete Seeger (2003) is as good as or better than Vol. 1. Going back to a two-disc formulation, this set includes some spoken play-by-play, if you will, by Pete along the way, along with a 28-page booklet with annotation by Pete himself detailing the true-life stories informing many of the songs. The concept's a bit different here, in that Disc 1 features Pete, family members (grandson Tao Rodriguez-Seeger, his half-sister Peggy) and friends on the order of Arlo, Tom Pacheco and Anne Hills) making hay of some original Pete numbers and others associated with him, either by adaptation or adoption. Even the most lighthearted of these—"English is Cuh-ray-zee," the joyous "Maple Syrup Time"—have something to say, and others, especially the anti-war clarion call "Bring Them Home" and Pete reading a passage from Dr. Martin Luther King on violence, are profoundly moving. And then there are those interludes of beauty and, yes, hope, most vividly conjured in a soaring "Over the Rainbow" and a meditative "Sailing Down My Golden River," its arrangement inspired by the version he cut in '96 for Pete. Disc 2 brings the guest artists aboard, these being more folk-oriented than any of the lineups on Vols. 1 and 2. Tony Trischka on banjo and vocalist Jennifer Kimball are stunning in their stark treatment of "Jesu, Joy of Man's Desiring"; Last Forever (Dick Connette and Sonya Cohen) craft a haunting, wistful "When I Was Most Beautiful," a melody Pete wrote to accompany a poem he found by poet Noriko Ibaragi when he was touring Japan in 1967; Janis Ian is fully immersed in "Who Killed Norma Jean" to an unforgettable degree; Tom Paxton's laconic rendering of "Times A-getting Hard, Boys," about a fellow who loses his job and hits the road with his gal in hopes of finding something somewhere out there could not be more timely now (Breaking Bad fans might recognize it from Episode 14 of the show's final season). Natalie Merchant, Pat Humphries, John McCutcheon, Carolyn Hester, Holly Near with the Weavers' Ronnie Gilbert are equally memorable in their contributions.
Bruce Springsteen, live at St. Luke's Church in London, 'My Oklahoma Home' from The Seeger Sessions album. Posted at YouTube by MrEagleEye012.
Of all the musical tributes to Pete, however, none surpass Bruce Springsteen's 2006 epic, We Shall Overcome: The Seeger Sessions. Who would've guessed in 2006 arenas all over America would be filled with fans of all ages singing along to "Old Dan Tucker"? Springsteen made it happen in a live show in which he seemed to set an even higher standard for himself and his magnificent string band in service to Pete's music. What remains now is the memory of those shows, and this double-disc set containing a CD and a DVD (documenting the making of the album and worth the price of admission alone) in a deluxe edition with extra tracks including a stunning version of "Bring 'em Home." After cutting "We Shall Overcome" for the first Songs of Pete Seeger album, Springsteen dug into Pete's catalog and found a trove of now-forgotten lore that told a glorious story about the persistence of the human spirit. He understood an essential truth about this wealth of vivid material too: as he says in the documentary on the DVD side of this DualDisc, "This music has been lost because it hasn't been recontextualized." Thus enlightened, he set out to do exactly as Seeger had done in advancing the song as a source of information, positing it as a link between the past and the present, a window into other worlds that still had resonance in ours. A mostly acoustic endeavor, with only the horn players, fiddler Soozie Tyrell and his wife Patti Scialfa being familiar presences from the E Street Band world amidst a solid septet of stringed instrument and keyboard wizards, Springsteen first locates the heart of these numbers, then marks them as his own, in terms at once old-timey and right on time for the moment, assuming a listener's cup of tea is folk, country and gospel played with a pronounced rhythmic thrust. Taking a cue from Johnny Cash, Bruce doesn't merely tell the story of "John Henry," he embodies the grit and guts of the steel-drivin' man in a fierce, fiddle-fired, howling "recontextualizing" of this most American of tall tales. In a shambling, stomping version of the old gospel standard, "O Mary Don't You Weep," Bruce weds the Fisk Jubilee Singers to the Preservation Hall Jazz Band with a free-swinging group singalong in an arrangement bristling with bayou grandeur courtesy barrelhouse piano, accordion, celebratory horns, banjo and fiddle support. As the documentary shows, the sessions were loose and spirited, cut live over three days at the Springsteen farm house ("horns in the hall," Bruce quips in his liner notes). Sonically it feels live but without even a smidgen of hollowness, and the 5.1 surround mix is rich in depth and detail, especially in regard to Bruce's deeply affecting vocal performances, which underscore his emotional commitment to the stories he's telling. In a moment of inestimable beauty, his spare, hymn-like treatment of "Shenandoah," both a wistful love song and a prayer offered to the land of which it sings, achieves transcendence in its aching solemnity. If you cry, you get it.
Bruce Springsteen, 'Bring 'em Home,' from We Shall Overcome: The Seeger Sessions. Posted at YouTube by Scott Robert.
Recording continuously since 1940, Pete constructed a catalogue that is some kind of repository of the entire history of song. A surge of interest in African music in the late '80s and early '90s must have amused (and pleased) him, since his recording of Bantu Choral Folk Songs (once long out of print, it was reissued in 2012 by Smithsonian Folkways) dates from 1955. And when Ken Burns's epic The Civil War series became a cultural phenomenon in 1990, Seeger could look back to 1960, when he contributed to Songs of The Civil War. There's no end to this: pick a Pete Seeger album and on it will be something of interest virtually unavailable anywhere else. In addition to being replete with those whimsical but enlightening children's albums mentioned earlier, his catalog includes instructional albums (How To Play the 5-String Banjo, from 1954; another how-to on Lead Belly's 12-string guitar technique, The 12-String Guitar As Played By Lead Belly, still in print; and for good measure there's 1955's Folksinger's Guitar Guide, Vol. 1: An Instruction Record); blues-folk summit meetings (1958's Pete Seeger and Sonny Terry), work songs, protest songs, Christmas songs from all lands, nature songs, numerous tributes to other artists, even a self-interview album, Pete Seeger Sings And Answers Questions. And by all means, fans should own what may be Pete's last album, Pete Remembers Woody, a fascinating double-CD release featuring Pete's spoken reminiscences of his long friendship with Woody interspersed among musical selections by Pete solo, Pete and Arlo, the Work O' the Weavers vocal group and producer David Bernz (also a banjo player of note, as well as a member of Work O' the Weavers and producer not only of Pete Remembers Woody and A More Perfect Union but also of the Grammy winning albums Pete At 89 and Tomorrow's Children, whose three-part composition titled "Woody's Ghost" serves as a kind of musical connective tissue at the beginning of each disc and at the end of the journey.
In one of his last interviews, Pete Seeger remembers his beloved wife Toshi on July 9, 2013, at the age of 91. He also performs 'We Shall Overcome.' Posted at YouTube by democracynow.
Even with all the albums recommended here, so many more excellent and important Seeger albums are sitting there in the catalog. Few may feel a need to own so many albums by one artist, but when you start listening, you find you want—nay, need—to hear more. You dive deeper into the repository, and find things even more exciting than what you expected, or what you knew existed. A world comes alive, your heart stirs, and you realize there was no one like Pete Seeger. Let his detractors have their day. Pete's irrefutable rebuttal is here, in the music he made, which survives him and anyone that would dare suggest his grave not be kept clean.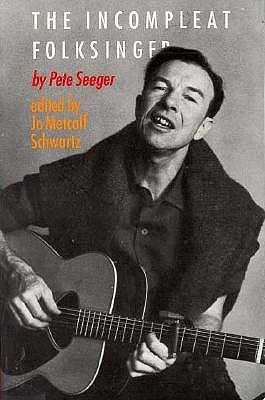 Pete Seeger has sung as courageously as anyone has ever spoken, always in defense of the poor, the oppressed, and the exploited. His songs have enriched his life and his life has filled his songs with every emotion dear to the soul. But his deep understanding of sorrow and injustice have not spoiled a single note. He sings to enliven and encourage, to delight and tell tales. He snatches the riches of folk singing from as many sources as he can find and gives them freely and gladly to any audience that cares to listen. Herein he describes his friends and inspirations, his conflicts with the bosses and the government, his favorite songs, stories, and instruments, and the kind of learning that comes from listening carefully. "Any fool can get complicated," he writes. "We are born in simplicity but die of complications."­ –from the publisher
The Incompleat Folksinger by Pete Seeger (1992, University of Nebraska Press), available at Amazon. One customer describes it as "interesting in different ways"; in a detailed and critical review, another customer slams it, saying "its self-conscious folksiness and superficiality become cloying and smarmy eventually." More balanced reviews are online at goodreads.com.