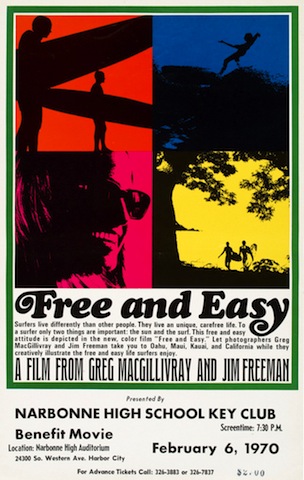 Directed by Greg MacGillivray and Jim Freeman
Featuring: Midget Farrelly, Leroy Achoi, Bill Fury, Ricky Grigg, Fred Hemmings, Felipe Pomar, Greg Noll, Miki Dora, Herbie Fletcher, David Nuuhiwa, Joyce Hoffman, Billy Hamilton, José Angel, Butch Van Artsdalen, Jackie Eberly, Nat Young, Rusty Miller, Jock Sutherland, Corky Carroll, Steve Biggler, Mark Martinson, Johnny Fain, Micky Muñoz & Mike Doyle.
Deeply indebted to Bruce Brown's surfing classic The Endless Summer in style, tone and attitude–and even featuring some of Brown's (and surfing's) key players (e.g., Miki Dora, Australian Nat Young, Butch Van Artsdalen and Corky Carroll of "El Rollo" fame) along with counterparts to Brown's stars Robert August and Mike Hynson in Bill Fury and Herbie Fletcher–Free and Easy nonetheless belongs in the hierarchy of surf movie if only for its frequently breathtaking footage of surfers riding, and surviving, some of the biggest waves in the world. Its "original music" is evocative as well, as you might expect when a film makes ample use of instrumental versions of Beatles songs ("Penny Lane" and "Here There and Everywhere" are especially popular with the filmmakers, but "Good Day Sunshine" gets a long, jazzy workout as well in a memorable sequence; the movie opens with a haunting scene set to "Strawberry Fields Forever") and variations on Ennio Morricone's themes for Sergio Leone's spaghetti westerns, along with a snippet of the Batman TV show theme.
Free and Easy was released straight into the summer of love with all its free-wheeling decadence and inner-space discoveries. If it doesn't quite capture that moment in cultural  history, then credit that to it being filmed and produced in the years prior; such it's a largely innocent and fun-loving affair. All the expected elements are in place: Johnny Fain, Micky Muñoz and Miki Dora at picture-perfect Malibu, David Nuuhiwa parked on the nose in a brilliant study of style and catlike balance, the riotous mayhem of a summer swell at the Wedge in Newport, and of course, Hawaii in all it's glory. It's a simple life lived in nothing but shorts, climbing palm trees for coconuts and discovering perfect uncrowded waves just around the corner. Only a few years later surfers would realize this fleeting dream lost and go back to the countryside en masse, desperately holding on to something that was clearly slipping away.
A sure sign that a seismic change was fast approaching is found in the psychedelic post-production techniques. Colorful monotones and double exposure are widely used to great effect, and an inversion of colors and experimental overlays separates the two parts of the film in a classic intermission. This feeling of balancing on the edge of impending change is further accentuated by Nat Young at the 1966 world championships on a 9'4" board he'd named Sam, sharply cutting back and driving around sections with unparalleled aggression and determination in clear contrast to the smooth, catlike cross-steps of Herbie Fletcher, David Nuuhiwa and Bill Hamilton. But it's only a premonition of things to come for now and MacGillivray/Freeman stay firmly on course.
Free and easy is described as both an attitude and a lifestyle. Much like in Dale Davis' opus The Golden Breed, it's an attribute of surfers and their way of life: "A surfer accepts failure and flows with the tide, for his life is dictated by the sun, the tide and the surf," the narrator croons and concludes, "surfers live the life they love." It's a bit like talking to somebody who refers to himself in the third person; a little odd but strangely endearing. And while Free and Easy is undeniably a little rough around the edges it clearly points the way to bigger and better things. Not only would MacGillivray/Freeman go on to release one of the most popular surf movies of all time, 5 Summer Stories, but would also create a cinematographic legacy that would last until today. Anyone who has ever been to an iMax theatre has likely seen a movie produced by MacGillivray/Freeman, a production name kept intact although Jim Freeman sadly passed away in a helicopter accident many years ago.
In Free and Easy, Greg and Jim take turns on the mic with occasionally awkward, off-the-cuff narration, peppered with dry wit and corny jokes. Not quite living up to the pitch-perfect delivery of Bruce Brown, but still doing a good job and lending an absolute surf movie identity to the film; Thomas Campbell would use this legacy of peculiar live narration to his advantage as he nasally narrated his debut The Seedling, which sparked the rebirth of the surf movie, some thirty years later. Campbell also pinched another traditional constituent in sixties surf movies–the skit. In Free and Easy it comes in the form of The Great Race, filled with gags, rudimentary trick-filming, car crashes, explosions and fun-filled mayhem, brilliantly wrapped up by a suave Miki Dora in the end. It's not winning any Academy Awards but it certainly lends an undeniable charm to the experience.
(Source: review by Andreas Linnell posted at The Tunnelist, June 10, 2011)
Selected Short Subjects
The Beatles, 'From Me to You'/'Boys'
(episode 19, season 1, 1965-66, of the Beatles cartoon series; for more on the Beatles cartoons, see last month's Deep Roots Theater)
In Hawaii, a surfer named Surf Wolf challenges George to a surfing duel; The Beatles participate in a Mr. Hollywood Contest in California. Sing Along: "Please Mr. Postman"/"I Saw Her Standing There"
'Oceantics' by Joseph Ahlman
'Today will be special, transformative, epic'
Multimedia artist Joseph Ahlman created this minute-plus contemporary love letter to surfing. A surfer himself, Ahlman has posted a poetic, evocative ode to the experience as part of a lengthier post on his website.
Ahlman writes:
Then morning wakes you with the solacing thunder of waves breaking. You peek your head outside the tipi as the brine of cool ocean air enters your nostrils. You rub your eyes twice to ensure that the vision of turquoise perfection is not just a dream. You step outside, chose your board, and begin to wax it as you time the sets. Then you rise to your feet and drink it all in. In that moment of repose and mental preparation, you connect to the present in ineffable ways. Today will be special, transformative, epic. 
Perhaps that is one of the qualities of big wave surfing–you connect to the present. Everything else fades. The past doesn't exist once you rise to your feet. The future is probed only in terms of split seconds as you judge the wave unfolding before you.

When you kick out, your concept of time expands back to normal parameters. It is then that you typically feel the elation of what transpired. Indeed, in the maelstrom of compressed time, adrenalin, and focus there is little time to process emotion, even the distraction of fear lingers somewhere in the distance. It is a rare experience–many describe it as spiritual.  It is different from the rush of other extreme sports, because every wave is unique. It's not like jumping out of an airplane where the parameters remain basically the same every time. It's different from skiing down a mountain, cause the mountain isn't moving. To truly understand it, you have to experience it. 
Another deep seated intrigue with surfing is the nomadic experience of "surfari" and how that weaves its way into the feeling of "tribe," family and friends. It's equally hard to explain the nebulous connection I feel with Native American culture, art, and spirituality. They seem to mirror in mind. Indeed, as I analyze the strands of subconscious thought many images begin to flash.
Mickey Mouse, 'Hawaiian Holiday' (1937)
Goofy goes surfing!
Mickey and his friends are vacationing in Hawaii. Minnie dances in a grass skirt while Mickey plays a slide guitar and Donald plays a ukulele. Meanwhile, Goofy tries to go surfing, but continually misjudges the waves and lands on the beach instead of on the water
Back on the beach, Donald takes his turn dancing in a grass skirt, but accidentally catches it on fire. After extinguishing the blaze in a shallow pool, Donald pulls up a starfish and is chased by Pluto. Meanwhile, Goofy continues his attempts at surfing and winds up getting the board caught in his swimsuit. Pluto continues to harass and be harassed by a crab. Finally, in Goofy's last attempt at surfing, a wave throws him under the sand and the other friends hold a mock burial for him.
Hawaiian Holiday is a 1937 American animated short film produced by Walt Disney Productions and released by RKO Radio Pictures. The cartoon stars an ensemble cast of Mickey Mouse, Minnie Mouse, Pluto, Donald Duck, and Goofy while vacationing in Hawaii. The film was directed by Ben Sharpsteen, produced by John Sutherland and features the voices of Walt Disney as Mickey, Marcellite Garner as Minnie, Clarence Nash as Donald, and Pinto Colvig as Goofy and Pluto. It was Disney's first film to be released by RKO, ending a five-year distributing partnership with United Artists.