BY DAVID MCGEE
Whenever Annette had doubts—and she often did in those tender years—Walt Disney was always there to ease her fears. He was her guardian angel, and it was because of him that she came to regard the Disney studios as a safe and wonderful place, "my second home." She addressed him as Mr. Disney when they were first introduced and never addressed him any other way. Even after he asked all the Mouseketeers to call him "Uncle Walt," Annette couldn't bring herself to be so familiar.
He would guide her throughout her career. He steered her away from acting lessons, afraid they might ruin her natural charm. It was his idea to cast her as Mary Quite Contrary in Babes in Toyland, her first (and all-time favorite) movie role. He gave her a guest role on Zorro as a sixteenth birthday present and arranged for her to receive her high school diploma—delivered by the Rockettes—on the stage of Radio City Music Hall.
He talked her out of changing her name to "Annette Turner" when she became convinced the American public would never be able to pronounce "Funicello." "It's a beautiful Italian name, young lady," he told her, "and when people learn to pronounce it correctly, they'll never forget it."
And when The Mickey Mouse Club ended its run, he was the one who decided only Annette's contract would be renewed. It was always expected that she would continue to appear in Disney television productions and feature films, but the notion of turning her into a recording star had never been discussed, at least not until one of the final episodes of the "Annette" serial aired in the spring of 1958, featuring a hayride scene in which she sang a little song called "How Will I Know My Love?"
Annette's first single, 'How Will I Know My Love?' (1958)
"It was a very cornball song, and it was meant to be laughed at," Annette remembers. "The whole point was that the other kids on the hayride were snickering while I sang." But Annette's fans weren't snickering at all. They were calling, writing, demanding to know where they could find a recording of the song. No one had anticipated such an onslaught of enthusiasm. In fact, the original plan had been to use somebody else's singing voice for the scene, with Annette simply lip-synching along. It was Salvador "Tutti" Camarata, the staff producer for Disney's record company, who suggested letting Annette try the song herself. "She lacked confidence," Camarata recalled of her first recording session, "and she didn't have the most powerful voice in the world. But there was a quality to her voice—a sincerity—that I thought would work."
Annette, 'Amo Que Paso'
Annette, 'O Dio Mio,' a #10 single from 1960, in English and Italian, from her Tutti Camarata-produced album, Italiannette.
Released on Disneyland Records in May 1958, "How Will I Know My Love?" sold more than 200,000 copies without the benefit of much promotion or radio airplay. And if there had been any doubt about the next step in Annette's career, there wasn't anymore. The shy little girl who didn't think she could sing was about to become a pop music star. And in Tutti Camarata, she had a producer who was also a gifted musician-arranger-composer, a musical mind who understood her limitations and her strengths, then set out to minimize the former and enhance the latter. Rarely have a singer and a producer been so perfectly matched.
Enter 'Tutti'
Nicknamed by bandleader Jimmy Dorsey, "Tutti" Camarata was truly a jack of all musical trades–instrumentalist, orchestrator, arranger, composer, producer, and even record company executive.
Perhaps his drive had something to do with being born the youngest of his seven siblings. He began studying violin at the age of nine and switched to the trumpet at twelve. He managed not only to be heard above the din of family noise, but to earn an invitation to attend the Juilliard School of Music in New York City. Working in stage and radio studio orchestras to pay the rent, he completed Juilliard and matriculated to Columbia University, where he studied orchestration.
At 21, he was hired by Charlie Barnet, whose band was just starting to gain fame. Known then as "Toots," he worked briefly on Bing Crosby's radio show and as an arranger for bandleader Paul Whiteman until Jimmy Dorsey offered him a chance to work in twin roles as an arranger and as Dorsey's first-chair trumpet player.
Tutti Camarata discusses his unique three-tier arrangement of the Jimmy Dorsey Orchestra's classic 'Green Eyes,' the original recording of which follows, with vocals by Bob Eberle and Helen O'Connell
Camarata's arrangements were one of the crucial ingredients in the Dorsey band's quick rise to success in 1939. The sponsor for Dorsey's radio spots wanted the last number of the show to showcase all of the band's top talents–singers Bob Eberle and Helen O'Connell, Dorsey and several other top instrumental soloists. Camarata came up with a three-part structure–a slow intro featuring Eberle, a mid-tempo section with O'Connell, and a finale with a full, upbeat swinging band–that resulted in two of Dorsey's biggest hits, "Green Eyes" and "Maria Elena."
In the early 1940s, Camarata left Dorsey's employ to become lead arranger for Glen Gray's Casa Loma Orchestra, followed by a similar role with Benny Goodman. His engagement with the best of the era's big bands came to an end in 1942, however, when he became a civilian flight instructor for, and then enlisted in, the U.S. Army Air Force.
Hired by Jack Kapp in 1944 as musical director of Decca Records, Camarata went on to arrange and orchestrate for a number of the label's biggest acts, 1 including Crosby, Mary Martin and Louis Armstrong. During this period, he arranged and conducted Billie Holiday's first sessions backed with a studio orchestra.
Within a year of hiring him, Kapp dispatched Camarata to the U.K., where he scored the film London Town, starring Sid Field, Kay Kendall and a very young Petula Clark. The big band Camarata assembled for this film later became the core of Ted Heath's band. He became close friends with Sir Edward Lewis, CEO of the U.K. arm of Decca, and together the two founded London Records with the aim of distributing classical music from the U.K. in the U.S. market.
London did indeed become a major classical label, both in the U.S. and internationally, but it also evolved into one of the U.K.'s most prominent and diverse record companies, with artists ranging from Edmundo Ros to the Rolling Stones. Camarata himself recorded for London as a classical performer, usually preparing original settings for full orchestra of pieces ranging from Erik Satie's solo piano works to chamber pieces by Bach and opera overtures and airias by Verdi, Puccini and Rossini.
His stay in the U.K. was short, however, as he returned to the U.S. in 1950 to rejoin Decca. He set up a studio big band, dubbed the Commanders, which had success with a series of albums such as Meet The Commanders. He also began working in television, arranging and conducting a number of the nascent medium's more spectacular musical productions, including "Together With Music," which featured Mary Martin and Noel Coward. He was also the musical conductor for several television series, including Startime, The Vic Damone Show and The Alcoa Hour.
From his album 33 Great Walt Disney Motion Picture Melodies, Tutti Camarata arranges and conducts a medley of songs from Cinderella
From the album 33 Great Walt Disney Motion Picture Melodies, Tutti Camarata conducts 'When You Wish Upon a Star'
These shows caught the attention of Charles Hansen, an executive working with Walt Disney, who had been looking for someone to run a record label that could release soundtracks of his movies on the then-new LP format. Camarata then moved to southern California, where he established and ran Disneyland Records for nearly twenty years. Soon after the label's formation, Disney stumbled into a huge popular hit with its Mickey Mouse Club television series, and Camarata was soon busy producing singles by most of the show's featured performers, including the young Annette Funicello.
The Shermans March on Disney
During the summer of 1958, Tutti Camarata and Jimmy Johnson, head of the Walt Disney Music Company, issued an all-points bulletin to their field representatives on both coasts, advising them to be on the lookout for songs tappropriate for Annette to record. That's how the Disney people came across two struggling songwriting brothers, Richard M. and Robert B. Sherman, and a novelty rock 'n' roll song they'd penned called "Tall Paul."
The Shermans, trying to get a break any way they could, had produced an independent record of the song (featuring Judy Harriett, a former guest Mouseketeer) and pressed about 2,000 copies, which they sent to radio stations across the country. A New York representative of The Walt Disney Music Company came across "Tall Paul" at a small radio station in New Jersey, liked it and sent a copy on to Camarata. This 90-second dose of cotton candy about a girl in love with the tallest guy on the high school football team struck Camarata as a perfect fit for Annette's unschooled voice
Given a choice, Annette probably never would have recorded at all, not because she hated the song but rather was terrified of the process. With Mr. Disney encouraging her, she forged ahead, cringing every time she heard herself on playback, convinced the whole thing would be a disaster.
"She used to say all the time that she couldn't sing," Richard Sherman remembers, "and I used to tell her she'd better, because you can't dance on a record."
But Annette's fears weren't completely unfounded. She had, in Camarata's words, "a tiny voice, particularly in the beginning. And to say that she was not full of confidence is putting it mildly." Camarata, who had years of experience working with the fragile artist egos, gently eased Annette into the process, making sure she had plenty of rehearsal time to learn the songs, reassuring her that could always re-do anything she didn't like.
"I don't think I ever would have attempted half the things I recorded without Tutti at my side," Annette says of the man who oversaw every recording she made from "Tall Paul" through the Beach Party soundtracks. "Without him, I probably never would have opened my mouth. He was so soothing and comforting that I really did start to think of him as a second father."
But Camarata's greatest innovation may have been what came to be called "The Annette Sound," his solution to the limitations of her teenage voice. By recording her vocals twice, the second time with large amounts of echo thrown in, Annette's voice suddenly sounded bigger, more powerful, better able to stand up to the increasingly elaborate orchestrations Camarata crafted with each successive album. The technique was so effective that pop stars everywhere—from Connie Francis to Annette's friend Shelley Fabares, and even, years later, the Beatles—began to copy it.
Annette, a puppet on strings maneuvered by Dick Clark, performs her first hit, 1959's Sherman brothers-penned 'Tall Paul,' a #7 single on the Dick Clark Beech-Nut Show
Another Sherman Brothers gem, 'Pineapple Princess,' a #11 single in 1960, from Annette's Hawaiiannette album
Whether it was the sound, the song, or Annette's built-in audience, "Tall Paul" soared into the Top 10 within weeks of its January 1959 release, peaking at No. 7. The Sherman Brothers were immediately called back to write more hits, launching their long association with the Walt Disney Company. Although they'd be best known years later for their songs from Mary Poppins, Jungle Book and Winnie the Pooh, the Shermans always referred to Annette as their "lucky star." It was their songs, everything from "Pineapple Princess" to the theme song from The Monkey's Uncle, that defined her hit making years.
By the end of 1959, Annette recording career was succeeding beyond anyone's wildest expectations. She was racking up hit singles—"Jo-Jo the Dog-Faced Boy," "O Dio Mio," "First Name Initial," "Train of Love"—at a pace unheard of for a teen female star. Other female voices—Connie Francis, Lesley Gore—would grace the Top 40 with greater regularity in years to come, but Annette got there first.
Annette, 'First Name Initial,' written by the Sherman Brothers (1959, #20), arranged and produced by Tutti Camarata 
The albums kept coming, one after another, but Tutti challenged her in the studio by coming up with concepts such as Annette Sings Anka, a "songbook"-style album along the lines of single composer showcases released by the likes of Sarah Vaughan and Jo Stafford; an album of Hawaiian folk songs with a pop flavor, Hawaiiannette, and a similar concept of pop-styled Italian numbers in Italiannette, along with the spirited Dance ANNETTE (her personal favorite), all recorded and released in less than two years.During this time she began her film career, starting with The Shaggy Dog and Babes in Toyland. She was everywhere, it seemed–on the covers of all the teen magazines, doing countless "date layouts" with the male teen idols of the moment. There she was with Fabian…with Frankie Avalon…with Bobby Rydell. She was friends with them all, even went out with Frankie on a couple of legitimate not-for-the-camera dates. But her real crush, the only one the magazines were right about, was on Paul Anka.
"I was crazy about him," she says simply. And the feeling, it turned out, was mutual. There were backseat kisses on the 1959 Caravan of Stars tour bus, and in 1960 she recorded Annette Sings Anka, which included a jazz swing number called "It's Really Love" written by Anke especially for Annette. A few years later, stripped of the lyrics, it would be repackaged as Johnny Carson's Tonight Show theme.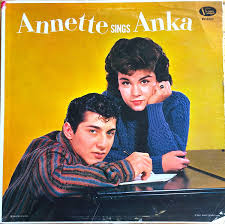 Annette says she doesn't know what might have happened if their careers hadn't constantly kept them apart or if, as Anka remembers it, certain people hadn't suggested that a serious relationship might not be the best thing for a teen idol's image. "They told us we were too young to be that serious," Anka says, "which was tough to hear at the time." The result was the last song Anka wrote about and for Annette: "Puppy Love."
"The public was ready for her," Anka says now, trying to explain why Annette was such a phenomenon in those innocent years. "In some way it was about style and imaging and packaging, and she did have the power of television behind her. But it wasn't as if she was trying to put something over on the public. She could sing, no matter what she might say. And she never pretended to be anything other than what she was. People could see she had integrity, and they responded to that."
From Annette Sings Anka (1960), the Paul Anka-penned 'It's Really Love.' Stripped of its lyrics and repackaged, the song later became the theme song for The Tonight Show with Johnny Carson.
The instrumental version of Paul Anka's 'It's Really Love,' titled 'Toot Sweet,' became the Tonight Show theme song. Arranged and conducted by Tutti Camarata.
As the Sixties progressed and Annette entered her twenties, pop music was beginning a new era. The teen dream days were ending, at least on the rock 'n' roll charts. After 1962 the only songs she recorded were spin-offs from movies or television shows. There was the soundtrack from Babes in Toyland, Victor Herbert's light opera that Annette called the most difficult singing she'd ever attempted. She recorded theme songs for The Parent Trap (a duet with her Babes in Toyland co-star, Tommy Sands) and The Misadventures of Merlin Jones. She was thinking about getting married and having kids, about leaving her fantasy world behind.
But not quite yet. Not before Annette hit the beach.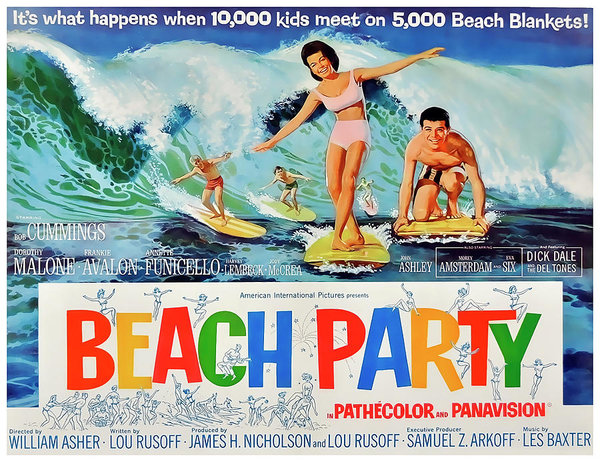 In late 1962 partners Samuel Z. Arkoff and James H. Nicholson of American International Pictures, which had made its reputation on low-budget teen horror flicks and drive-in movies on the order of Dragstrip Girl and Invasion of the Saucer Men, brought to Walt Disney a script titled Beach Party. It was to be the first in a series of movies that, they assured Walt, would be wholesome enough to appeal to the Disney audience while at the same time tapping into the surf music craze that was just beginning to make its way from California to the rest of America. They wanted to cast pop singers with teen appeal in the leads and already had their eyes on a young heartthrob named Frankie Avalon. He'd be perfect, they insisted, co-starring with Annette.
"Mr. Disney came to me and said he thought the script was wonderful, that it was good, clean fun," Annette remembers. "But he had a request to make. He said, 'I know all the girls in these movies will be wearing bikinis, but you have an image to uphold. I would appreciate it if you'd wear something a little less revealing.'"
Trailer for Beach Party (1963)
Surfin' all day and swingin' all night: Frankie and Annette sing the theme song from Beach Party
It may be the way she's remembered best, in her one-piece swimsuit with her hair always dry, her navel always covered, calmly telling Frankie, "not without a ring, you don't." In real life, she says, she hated the beach. The sea spray frizzed her hair and the bonfires never really kept her warm. But she loved the movies, especially the original Beach Party, shot for $350,000 in only 15 days. "They really became cultural landmarks," she says. "I think to this day, people kind of expect to see Frankie and me at the beach, wandering around in the sand. Some things get frozen in time."
When the Beach Party producers cast Annette, they didn't realize she and Frankie had once been kind of an item (the two had met in 1958, when both were on the bill at the Hollywood Bowl.) Their onscreen chemistry was strong enough to carry half a dozen beach movies that were, essentially, remakes of a single plot: Frankie loves Annette (or Dee Dee, as she was known in the films) but doesn't want to settle down. He chases another woman for a while until he realizes that Annette, "the good girl," is the one he really wants. Keeping her frustration in check, Annette/Dee Dee plays hard to get, benignly flirts with other boys to make Frankie jealous until the scales from fall his eyes, and they walk into the surf sunset together.
From Beach Party, Annette sings 'Treat Him Nicely'
"There was a lot of goofy stuff going on in those movies, the music, the dancing, the wild characters," Avalon says, "but I think it's interesting that what people always remember is Frankie and Annette. The movies were about young love and that's why they've lasted all these years."
They cranked out the movies at a dizzying pace. Beach Party was released in August of 1963, followed by Muscle Beach Party in March of 1964, and Bikini Beach four months later. There was Pajama Party in November of 1964, and Beach Blanket Bingo the following April. It was, as it had always been, a joyride for Annette, but she knew it had to come to an end. It was time to move on to other things.
Annette and the Beach Boys perform the Sherman brothers-penned title track  from Annette's final Disney movie, The Monkey's Uncle (1965).
By the end of 1965, Annette Funicello was 23 years old, married, and about to have her first child. That was the year she made her last Disney film, The Monkey's Uncle (whose title song she performed with the Beach Boys), and her last beach movie with Frankie. When How to Stuff a Wild Bikini was filmed, she was three months pregnant and desperately trying to hide her condition under capri pants and long tunic tops.
There would be other movies in years to come and occasionally other records. But because she was Annette, she thought being a mom was more important than being a star. The spotlight turned elsewhere, as it always does, and she found she didn't miss it at all.
"In a lot of ways she was way ahead of most of us," says Fabian. "Stardom never affected her, not even for five minutes. There was never anything phony about Annette. She radiated who she really was."
Follow this link to Part 1 of our Annette tribute, "Annette: Trailblazer. Dig It."
Epilogue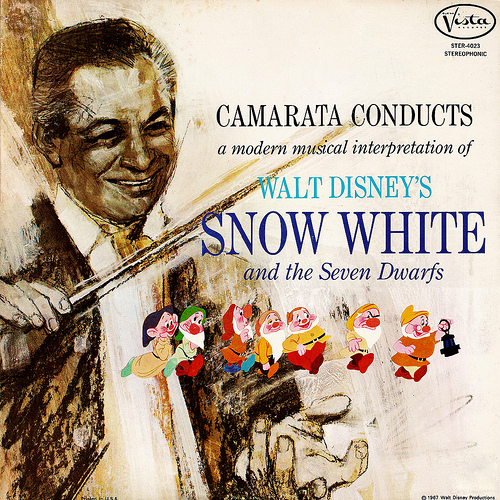 Tutti Camarata was more than just a record maker for Disney. He played an important role in building up the studio's already well-known library of original music and provided some significant additions to the studio's casts. He introduced Sterling Holloway, who became the voice of Winnie the Pooh, and helped convince Louis Prima and Phil Harris to provide the voices for King Louie the Ape and Baloo the Bear in The Jungle Book. He also expanded the label's repertoire to works outside the Disney oeuvre, including a series of Broadway musical soundtrack albums he recorded with the Mike Sammes Singers. Over the course of his time with Disney, Camarata's recordings earned a total of eight Grammy Award nominations.
Even with his hectic schedule as an executive and musical director with Disney, Camarata managed to return on occasion to his big band roots. Of particular note are the albums Tutti's Trumpets and Tutti's Trombones. Trumpets dates from 1957 and features a trumpet choir manned by some of the best jazz and studio musicians in Hollywood: Mannie Klein, Uan Rasey, Pete Candoli, Conrad Gozzo, Joe Triscari and Shorty Sherock. In 1970, he reprised the approach with Trombones, using a stellar ensemble featuring Dick Nash, Joe Howard, Tommy Pederson, Ernie Tack, Kenny Shroyer, Frank Rosolino, Hoyt Bohannon, Herbie Harper, Gil Falco and Lloyd Ulyate, plus Tommy Tedesco on guitar, Red Mitchell on bass and Hal Blaine on drums. Despite the solid jazz credentials of most of the players, the two albums stay on the easy listening end of the Space Age Pop spectrum.
From the Camarata Collection, 'Bugle Blues,' from the Tutti's Trumpets album (1957). The trumpet section is Mannie Klein, Uan Rasey, Pete Candoli, Conrad Gozzo, Joe Triscani and Shorty Sherock
In the early days of Disneyland Records, Camarata relied on recording studios rented from other firms in the L.A. area, but continued pressing Disney to invest in its own studio as a means of reducing costs and providing a consistent quality of recordings. "Why would I want to own a studio?" Walt Disney queried. "I'd rather be a client." It has also been reported that Disney encouraged Tutti to build his own studio. For one reason or the other, Camarata decided to take action himself. He bought an old auto repair shop on Sunset Boulevard in Hollywood, built and equipped several studios, and, in 1960 opened Sunset Sound Recorders.
Although Disneyland Records was the studio's principle customer at first, it quickly became known, along with Gold Star, as one of the best independent recording facilities in Hollywood. Soon a wide range of artists began to pass through the space. Sunset Sound was an early adopter of the more sophisticated mixing technology used as rock shifted its focus from singles to albums, and apart from the many Disney soundtrack albums recorded there, over the years the studio drew as customers some of rock's biggest names, including the Rolling Stones, the Beach Boys, Prince, and Van Halen. In 1981 he repeated this feat by buying The Sound Factory in Hollywood and turning it into a destination of choice for a veritable Who's Who of artists from all genres of popular music.
From the Tutti Camarata-produced and –arranged Disney Songs the Satchmo Way (1968), Louis Armstrong performs 'When You Wish Upon a Star,' written by Leigh Hartline and Ned Washington for Pinocchio (1940).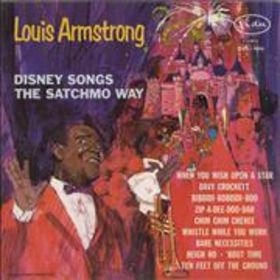 Once Sunset took off, Camarata found it increasingly difficult to juggle its demands with those of Disney, resulting, in 1972, him leaving Disney to concentrate on his own company. He continued to arrange and conduct accompanying groups as part of his work at Sunset Sound, but his energies returned to his earliest interest, classical music.
One of his last creative endeavors was the orchestration of a number of the most popular numbers from the Church of Latter Day Saints' hymnal. Camarata then traveled to London, where he recruited and conducted an ensemble including a 100-piece orchestra, a choir of 180 adults, a children's choir, a pipe organ, and a brass section for the resulting recording, The Power and the Glory. "This is the most important album I have ever done," he said of the project when it was completed.
Camarata continued to work on classical recordings into the mid-1990s. He eventually ceded control of Sunset Sound to his son, Paul, who still heads the studio today. Following a brief illness, Tutti Camarata passed away on April 13, 2005.
Follow this link to Part 1 of our Annette tribute, "Annette: Trailblazer. Dig It."
Sources: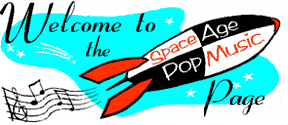 Bio of Salvatore "Tutti" Camarata at Space Age Pop.com.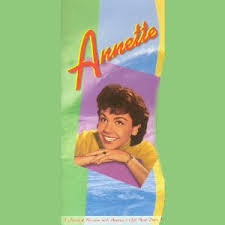 Liner notes by Joe Rhodes for the box set A Musical Reunion with America's Girl Next Door (Walt Disney Records, 1993).