In addition to Donna Ulisse's All The Way to Bethlehem (this week's Album of the Week), TheBluegrassSpecial.com/Deep Roots Christmas Picks for 2012 are listed below, with links to the full reviews published in TheBluegrassSpecial.com's special December 2012 Christmas issue. Follow each link to TheBluegrassSpecial.com's home page, then click on Contents in the navigation bar below the logo and scroll down to the "Christmas Picks 2012" section for each individual review.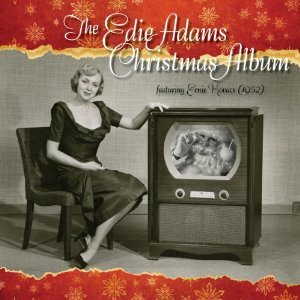 THE EDIE ADAMS CHRISTMAS ALBUM with ERNIE KOVACS— Edie Adams also did a great service for historians in paying a transcription service to record the Ernie Kovacs TV show's audio so she could review her musical performances with an eye towards improving her presentations on future shows. From these surviving transcriptions, Adams's son, Josh Mills, has compiled a delightful collection of Yuletide songs his mother sang on the Kovacs show in its early years. Warm, intimate and memorable, this pieced-together Christmas album not only shines a well-deserved spotlight on Adams's vocal artistry, but its songs and uplifting spirit give it a cozy, homey feel. What better recommendation for a seasonal outing? (Also featured in Deep Roots.)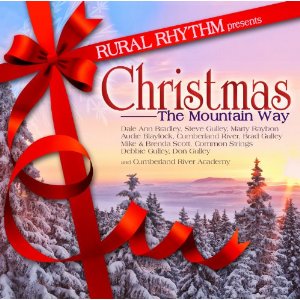 CHRISTMAS THE MOUNTAIN WAY (Various Artists)—A CD/DVD combo from a show earlier this year in Pineville, Kentucky, featuring some of the top names in traditional bluegrass celebrating the true meaning of Christmas in familiar carols and a couple of new tunes written especially for this occasion. DALE ANN BRADLEY, STEVE GULLEY, MARTY RAYBON, COMMON STRINGS, CUMBERLAND RIVER, MIKE SCOTT and DEBBIE GULLEY are among the impressive roster of top-tier bluegrassers who make this an essential Christmas offering from the Rural Rhythm label.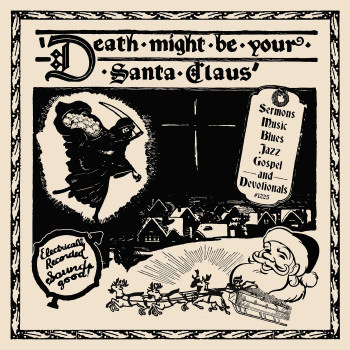 CHRISTMAS IN DEEPEST BLUE HUES—A new collection from Legacy Recordings, Death Might Be Your Santa Claus, anthologizes recordings largely from the '20s and '30s by blues artists (and preachers) both familiar and obscure, most of whom have a decidedly dyspeptic take on the holiday season—dyspeptic, but captivating all the same. VICTORIA SPIVEY, LONNIE JOHNSON, BO CARTER, THE REV. J.M. GATES, BUTTERBEANS AND SUSIE are a few of the stars of this irresistible entry into the annals of seasonal fare. Two earlier releases from Document Records, Blues, Blues Christmas 1925-1955 and Blues, Blues Christmas 1926-1958, offer several of the same tracks as Death Might Be Your Santa Claus plus a whole lot more, but are altogether more swinging and light hearted than the new kid on the block.
DALLAS WIND SYMPHONY, Horns for the Holidays— If you are a lover of Christmas music—carols, popular songs, and all manner of medleys and clever arrangements of such—and you miss this extraordinary recording by the first-rate Dallas Wind Symphony, then your holiday listening stands to be just a bit more dull, less festive, and more ordinary than it could have been. This is a terrific program, in exemplary sound, that not only celebrates the Christmas music tradition but exemplifies the best of the wind ensemble genre.
HEREFORD CATHEDRAL CHOIR, Christmas from Hereford—A lovely and unusual disc, this cozy, gentle and varied collection of Christmas music from Hereford Cathedral is broken into three sections: Advent, Christmas, and Epiphany. The music ranges from the 14th-century Resonemus laudibus, a joyous piece arranged with a fanciful organ part by David Willcocks to offset the rigidity of the medieval melody, to a work by John Tavener (his glorious—and only—brief masterpiece, The Lamb), with stops in between, in each of the three sections, for one of Mendelssohn's short but imposing Op. 79 motets.
HEY ROSETTA, A Cup of Kindness (ATO Records)– Since making its debut in 2006, Newfoundland's Hey Rosetta has been racking up an impressive list of awards in the indie rock world and refining its sound along the way. In the studio the band's basic quartet (Tim Baker, vocals, guitar, piano; Adam Hogan, lead guitar; Phil Maloney, drums; Josh Ward, bass, backing vocals) is supplemented by a string section of Kinley Dowling on violin and Romesh Thavanathan on cello, and the resulting sound is a hybrid rock and world music mélange that can be quite intriguing in service to one of Baker's well-crafted songs and expressive, blues-tinged singing.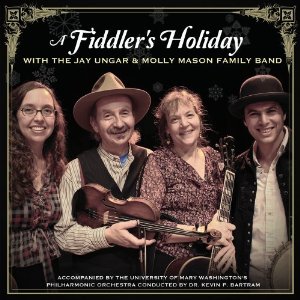 THE JAY UNGAR & MOLLY MASON FAMILY BAND, A Fiddler's Holiday–A thing of beauty is a joy forever, so it's said, and what Jay, Molly and their offspring have fashioned here has the timeless feel of deeply personal music that will continue to reveal itself as the years wear on. A Fiddler's Holiday is airing on PBS throughout the holiday season. Check your local PBS schedule for dates and times of its broadcasts in your viewing area.

LOS ROMEROS, Christmas with Los Romeros— In a world whose centrifugal globalizing powers are stretching the fibers of closely-knit tribal units to breaking point, the final days of December don't just mark a time of stability, but of unity: Having mostly sacrificed its religious meaning in favor of commerce, Christmas, to most, has retained its significance by remaining a family ritual. So it should seem only consequential that Los Romeros should finally record their first Christmas album after half a century at the pole position of the guitar quartet, a genre they have made their own like few others. (Christmas with Los Romeros is a former Deep Roots Album of the Week.)