One of gospel's "triple threats," VaShawn Mitchell could barely contain his excitement during a phone interview about his new album, Created 4 This, his fourth long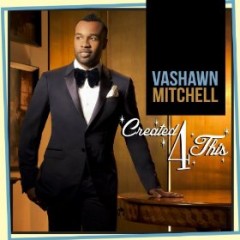 player.
Mitchell developed Created 4 This as a thematic follow-up to the smash hit and the you-can-make-it attitude of 2010's Triumphant.  "Created 4 This is a body of work to encourage and inspire people to do what they are supposed to do, especially as we come out of the recession. I can't wait for people to hear it!"

The album, recorded live at Thornton High School, where Mitchell wrote "It's Only a Test," brings the artist full circle and back to his Harvey roots. This past spring, a Harvey street was renamed VaShawn Mitchell Avenue in his honor.
Several top-shelf gospel artists join Mitchell on Created 4 This, notably Israel Houghton, who is featured on "Greatest Man."  "It's one of those songs," Mitchell said, "that the first time you hear it, you will think you know it." Fantasia and her mother, Evangelist Diane Barrino, join Mitchell on V. Michael McKay's classic, "The Potter's House." "I Will" is a contemporary praise and worship song featuring contemporary praise and worship singer Kierra Sheard.
"Turning Around For Me" is the first single from the new album.  Mitchell calls the prayerful, passionately sung ballad his testimony, but says it is applicable to anyone "ready for a turnaround. We are created to handle and to overcome. I want the song and the album to encourage people that it won't always be like this."
VaShawn Mitchell, 'Turning Around for Me,' the first single from his new album Created 4 This. 'We are created to handle and to overcome. I want the song and the album to encourage people that it won't always be like this.'
Produced by Mitchell and his pals Calvin Rogers and Philip Feaster, Created 4 This hit stores August 28. A deluxe edition of the project, released at the same time, contains two bonus songs on the CD and a DVD that features videos of live performances and behind-the-scenes footage of Mitchell gearing up for the live recording session and reflecting on growing up in the Chicago area.
Born in Chicago, gospel music's birthplace, Mitchell got his first taste of directing choirs and singing at thirteen or fourteen years old, working as assistant to Lonnie Hunter at St. Mark Baptist Church in Harvey, Illinois. Mitchell began writing songs as a student at Thornton High School. His first composition was "It's Only a Test."  He laughed: "I wrote it because I was going to take a test that I didn't study for." Two years later, Mitchell recorded the song with his church choir and it became a hit.  Aretha Franklin sang it for an NAACP television special.
Mitchell joined Chicago's Nu City Mass Choir and served as music minister for Sweet Holy Spirit Church, under the leadership of Bishop Larry Trotter. Along with Donald Lawrence, Trotter is one of Mitchell's musical inspirations.  "Bishop Trotter was the first to allow me to teach and record his choirs," he said.
By 2005, Mitchell felt he had learned so much from the artists with whom he worked that it was time to try his hand at a solo career. It was a smart move: since then, Mitchell has earned six Stellar Awards for his three albums, and in 2011 garnered 11 Stellar Award nominations, the most any artist received that year.
From VaShawn Mitchell's acclaimed 2010 album Triumphant, the official music video for the song 'Nobody Greater,' the #1 most played gospel song of 2011.
Billboard named "Nobody Greater" from Mitchell's third album, Triumphant, the #1 Most Played Gospel Song of 2011. He explained that "Nobody Greater" was a clarion call to those so beaten down by the economic downturn that they lost their focus. "The song is about focusing on God," Mitchell said, "and depending on Him as the source."
Mitchell is especially excited that Walmart sees the album as more than music but also a brand. They will offer fans a chance to purchase an exclusive Limited Deluxe Edition of Created 4 This that contains the CD and DVD plus a T-shirt that riffs off of the Created 4 concept.
"Created 4 This is not just the next level of Triumphant," Mitchell said. "It is also the next level of VaShawn Mitchell."
Bob Marovich is a gospel music historian, radio announcer and author. His "Gospel Memories" radio program of vintage black gospel music and artist interviews airs live first Sundays from 3 a.m. to 7:30 a.m. on Chicago's WLUW 88.7 FM, and streams live at the station's website. Snippets of recent broadcasts can be heard online at the Gospel Memories Radio Show. Bob is also founder and editor of The Black Gospel Blog.